X Games floods the ESPN airwaves with moto stuff all weekend, starting tonight. For this week's Bench Racing Ammo, here's a spotters guide for each moto event—but at X Games, of course, not knowing what you're going to see is half the fun!
Step Up: The first moto event to roll out at XG, Step Up is on tonight at 7 p.m. Eastern. Racer-types like Ricky Carmichael and Jeremy McGrath (who have both won gold in this previously) no longer compete, so the favorite list features two men: Matt Buyten and Ronnie Renner. Buyten has three XG golds in Step Up (2003, 2006, and last year) and Renner has two (2007, and a controversial co-gold with Carmichael in 2009). Last year Buyten and Renner, as advertised, had to settle the battle in overtime when they both maxed out at 33'6'. But Buyten dug deep and got over the bar on his bonus attempt, while Renner hit it again. Gold to Buyten.
The course designers say this year's Step Up design should allow the riders to jump even bigger, and there are rumors of 35 feet leaps or more. We'll see. Also, if Renner and Buyten falter, look for some others, such as Todd Potter or Myles Richmond, to do well. The ultimate wild card is Tommy Clowers, who owned this event back when it started in 2000. He is the only rider with 4 gold medals in this event, but his last came in 2005.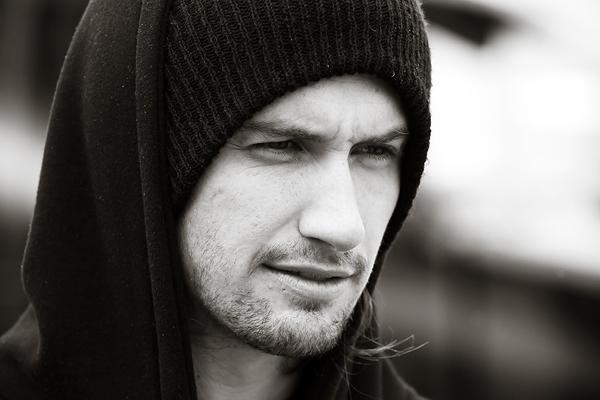 Hansen will be competing in Best Whip at X Games 17.
Photo: Simon Cudby
Best Whip: This one is determined by fan votes via text messaging, and Todd Potter usually wins because he plays up to the fans better than anyone. He has the '09 and '10 gold in this event, even outdoing Carmichael and James Stewart in the voting in 2009. Two international riders are set to throw big whips, though. Jarryd McNeil, a 19-year-old Aussie, actually beat Potter at a Best Whip comp at the Nitro Circus event in June, and Frenchman Thomas Pages has some skills, too. Twitch Stenberg is in the field and is always solid. Oh, and Josh Hansen is competing as well, but what you'll mostly see from Hanny is sadness over the fact that they don't hold the Super X race around here anymore.
Best Trick: This has to be the scariest event to watch—not just of X Games, but of any event, anywhere. Dudes will seriously be hanging themselves on the line in this one. It's an unpredictable show because you don't know who is ready to throw what, and, even if they're willing to do it doesn't mean they will actually pull the trick off. And judges do not give points for Best Crash. If everyone actually completes the trick they plan, Kyle Loza would be the fave because he's planning the "Bike Flip," where he actually flips the bike while he remains stationary in mid air next to it. We'll see. Travs Pastranathon is still determined to throw his Rodeo 720, which has punished him here before. NASCAR peeps have to be praying Travis doesn't bust himself up in this comp in advance of his Nationwide Series car debut on Saturday.
How crazy is this event? Two Australians are planning to try Front Flips and that's not even considered the craziest part of the event! Jackson Strong and Mark Monea are gonna' try variations on it. And Cam Sinclair won this event last year with a Double Backflip, but that's not considered enough to win anymore (!). You'll have to watch this one. Starts at 9:15 p.m. EST tonight.
Freestyle: Instead of the big LA Coliseum track last year, Freestyle, like all the moto events, takes place in Staples Center. The smaller track could hurt some riders, but not Nate Adams, who is as solid as solid gets in this business. Travis is also entered, but since he's not a full-time freestyle pilot like Adams, the battle, as it has between these two in the past, will come down to Travis' charisma and overall crazyness versus Adams' polish. There's a similar matchup with others, like Blake "Bilko" Williams, who is spectacular like Travis. He's also had some injuries, like Travis. Andre Villa, of Norway but a man who does most of his training in Spain, is solid and could do well here. Throw in a new course and the general unpredictabilities of freestyle, and this one, is, well, unpredictable.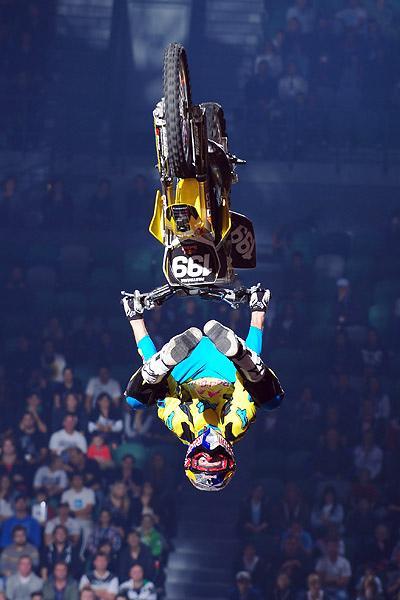 What does Pastrana have in store for X Games 17?
Photo: Sport The Library
Women's Racing: Super X (Hanny's specialty) is gone, but Women racers like Ashley Fiolek, Jessica Patterson and Tarah Gieger still get a place to race. With the big supercross-style track gone, they'll race on the Arenacross-like Speed & Style track, which, yes, features a ramp. The girls don't have to throw tricks on it, but they will have to jump it as part of the race. Heats will qualify the field down to a four-rider, six-lap final. They race Saturday at 9 p.m. EST.
Speed & Style: Originally designed to pit racers against freestyle riders, the racers don't really go for this one anymore, either. You may recall Josh Hill's gruesome femur break last summer trying to learn a backflip? So now it's all freestyle guys, racing for fast lap times, and then with freestyle trick scores thrown in. Total the lap times and the trick scores and you have race winners. Nate Adams in the fave here—he may be the most consistent man in freestyle and also has great racing chops—but Twitch is always impressive. Mike Mason, an Arenacrosser-turned-freestlye rider will also be strong. Last year, Pastrana won it, but this year he's a little busy on Saturday night with that whole –racing-a-car-in-Indy thing. They race right after the Women on Saturday.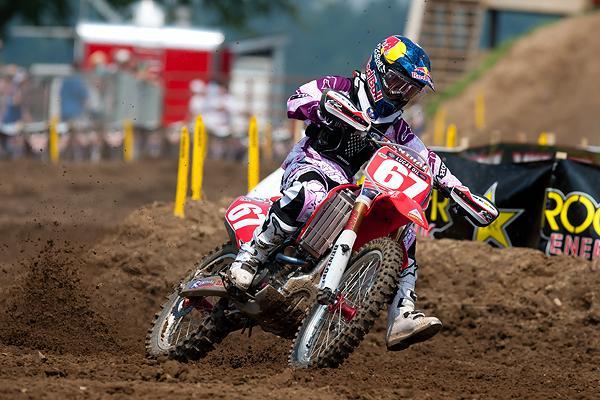 WMX points leader Ashley Fiolek will be competeing at X Games 17.
Photo: Andrew Fredrickson
Enduro X Women: Endurocross is the replacement for Super X, and they're putting on a Women's event on the track, too. The field is a mix of moto girls and off-road girls, but Fiolek, who was invited, choose not to compete. Sara Price, Vicki Golden and Elizabeth Bash will represent the moto side, but the favorites come from off-road. GNCC Women's Champ Maria Forsberg has ridden Endurocross before and is tough to stop on any terrain. Same for Amanda Mastin (ex GNCC Champion and current Enduro Champ) and Kacy Martinez (WORCS Champ). They race Sunday at 9:15 EST, then the men come out next.
Enduro X Men: Go get some, Taddy Blazusiak. The super Pole is the favorite here since he has won the actually AMA EnduroCross Championship the last two years. He is switching from a KTM 250 two-stroke to a 350 four-stroke this year, though. Former AMA Trials King Geoff Aaron is usually second-best behind Blazusiak in Endurocross, and he rides smart, so if Taddy goes down he can capitalize. Big Swede Joakim Ljunggren is also consistent like Aaron and is second-best at this deal (behind Taddy) when they run these races in Europe. The bigger threat could be a bunch of young kids who are the first to be raised as Endurocross racers—guys like Justin Soule, Colton Haaker and Kyle Redmond. You also have Mike Brown in this field. How can you not root for Brownie to get an X Games medal?