Washougal, WA
Washougal Motocross
Lucas Oil AMA Pro Motocross Championship
This week it was round eight of the 2011 Lucas Oil AMA National motocross championships at
Washougal
, Washington deep in the heart of the Pacific Northwest. A few questions we had going into the race were:
1-    Can Ryan Villopoto get his first win at his home track?
2-     What was Chad Reed going to do for an encore after Millville to get more press for himself? Fly a space ship into the track?
3-    Was Dean Wilson going to be able to win his first national of the year or was he going to go the route another #15 went when he won his first and only AMA championship?
4-    Was Bigfoot going to be there watching in the woods?
I love going to this race, I used to live in Victoria, British Columbia and worked for a privateer named Ty Birdwell for a couple of years and he was from Astoria, Oregon. So suffice to say, I've spent quite a bit of time in the upper left hand side corner of America over the last 15 years or so. I can handle the rain, no problem, to get the fresh air, green trees and those delicious little coffee stands that are in parking lots everywhere. Great area and as far as the Washougal track itself, well I don't have to ride it so to me, it's cool!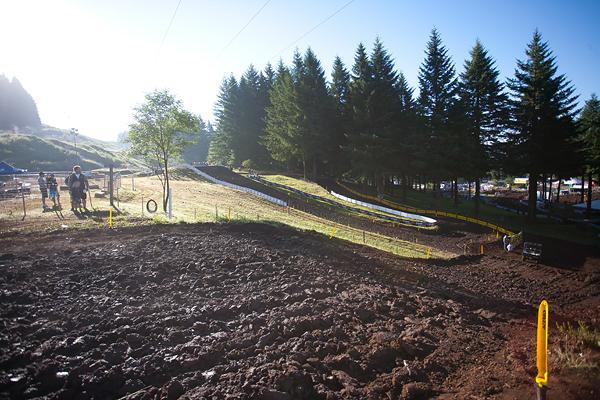 Washougal is far and away the most picturesque track on the circuit.
Photo: Andrew Fredrickson
But seriously, one of the hardest tracks to figure out on the circuit, that is Washougal in a nutshell (or pinecone if you will). The track goes in and out of the trees, which creates shadows for the riders and makes it difficult to see the track. Add in the fact that it's slippery in spots and I don't remember any rider ever in the history of Washougal saying, "Man, I love my tires out there today…" It's just a difficult track to go fast on and it's no surprise that those who lay off the throttle and apply it judiciously are rewarded with some solid results. See Windham, Kevin for more on that theory.
As I've been writing, these last two races were going to be very important in the points as we were coming into Millville (Ryan Dungey's home track) and Washougal (Ryan Villopoto's home track) so it was imperative that Chad Reed get through these two races with the points lead and it was going to be looking good for him the rest of the way. So how did it all shake down after four motos?
Points earned at Washougal and Millville
1-Ryan Dungey 94 points
2- Ryan Villopoto 89 points
3- Chad Reed 64 points
So clearly thanks to Reed's crash and the subsequent side effects, he's lost a ton of ground to the Ryan's and now sits third in the points. Luckily for Reed, he's got two weeks to heal up and get his mojo back to make a run at this thing. But right now, where I sit, he looks to have a steep uphill climb. But it's Chad Reed and we've all counted him out 3,734 times this year so better not do it now.
Now onto the Ryan's and even though Villopoto and Dungey left Washougal tied in the overall points (Villo's one up in the series) one would think that one guy is very happy and one guy has to be a little downtrodden. First moto RV had a nice lead going when Dungey got into his Dungenator mode where he just doesn't stop going until he has the lead. Nothing can stop him and he doesn't quit, get tired or let mans puny weapons stop him. He caught Villopoto and was all over him with a couple of laps to go when he applied too much throttle and spun out.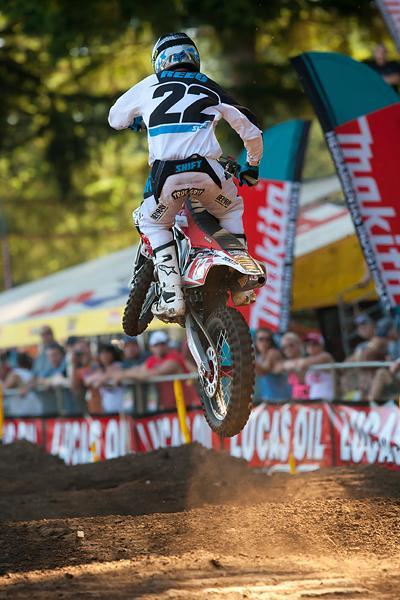 Reed has lost valuable championship points over the last two rounds.
Photo: Andrew Fredrickson
Second moto RV again got the drop on Dungey and was leading him around the track with Mike Alessi in second when the race was red flagged (more on that later) and the riders went back to the gate. The third start of the day produced a holeshot by Dungey with RV right behind him. RV went a little berserk on the first lap to try and make the pass but couldn't do it.  At that point all of us fans settled in for a long race to the finish and were eager to see the battle.
Only there was no battle, Dungey slowly pulled away from Villopoto in, to me, a stunning fashion. In front of his archenemies home fans, Dungey laid it down and rode away from RV. That noise you heard at the end of the second moto was the collective sobbing of a bunch of lumberjacks across the great state of Washington.
Great ride for Dungey and he's now got the momentum in the series having won the last two races and in a impressive fashion at that. Ryan's going to be tough to beat the last four races because he seems to be getting stronger and stronger as it goes on. After Millville Dungey told me that he thought that his fitness won him that second moto and honestly to me, I thought it was more of a case of RV having trouble with lappers and Dungey having some better lines but now I'm starting to wonder.
Is there anything to this "Aldon Baker is wearing RV out" talk that is going around the pits? The way that RV lost one might think so but I'm still on the side that instead of just crucifying Baker or RV for some rides that seemed like they were RV's for the taking, how about we just tip our hat to Dungey for the amazing job he did?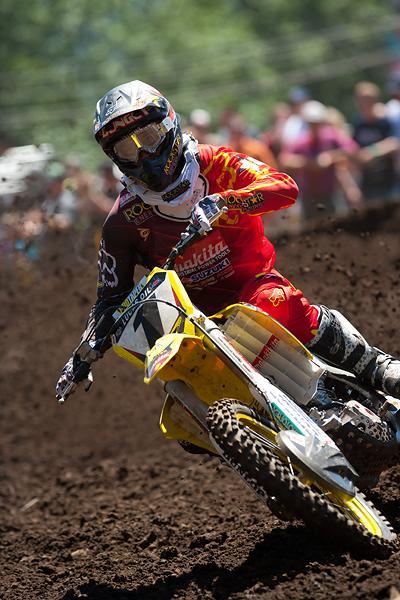 Dungey has the momentum as we head to the break.
Photo: Andrew Fredrickson
Ricky Carmichael didn't seem to wear out when Baker worked with him and Blake Baggett and Tyla Rattray (also Baker's clients) seem to be holding up fine (especially Baggett, all of 130 pounds soaking wet holding a brick with a piano on his back) so I'm not buying it.
Maybe it's a bike issue and Ryan needs to do some more testing. Here's the telltale sign as to whether or not he's working on a bike problem. If he goes out to Southern California or if Kawasaki guys head to Florida, we'll know that he's not happy. How will we know if that happens Matthes you ask? Just stay tuned to Twitter, it's where we all get our news.
Why was there a red flag? Well unfortunately Honda's Trey Canard crashed hard while trying to scrub a jump and the medics couldn't get to him safely and in a timely manner so the race was red-flagged. It was the right decision for sure, Canard was in a vulnerable spot and although I'm sure there was much scrambling in the TV truck (motos were live on SPEED) and with MX Sports, it was for the best.
In an absolute soul crushing crash, Canard re-broke his femur right where the rod is which is just like his crash he did earlier in supercross. So we just got the 41 back and now he'll be out until supercross while he heals up again. It was a nasty crash and there isn't really anyone in the pits that follows this thing week in and week out that is not a Trey Canard fan. He's a good guy and this ugly crash really depressed me because you just knew he did the same thing again. Get well soon Trey!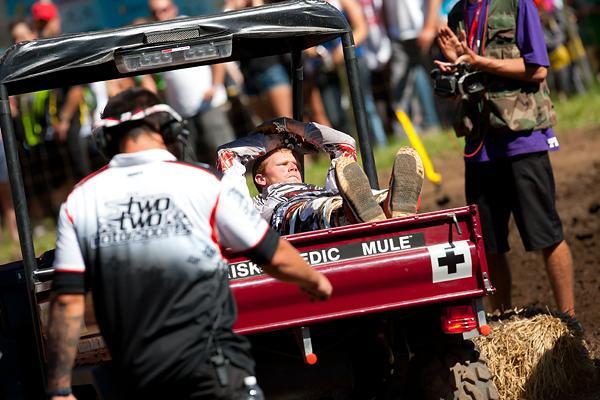 Canard re-broke his femur at Washougal. Get well soon TC.
Photo: Andrew Fredrickson
You have to feel for Dean Wilson as he just can't seem to get an overall this year but to ease that pain, he does have five moto wins and the points lead with four races left. Wilson has been by far the most consistent guy in the class but I know he's a little frustrated with the lack of wins. That's ok Dean, if you win the title, the bank is not going to refuse the bonus check because you didn't win any overalls.
Blake Baggett won again and again, he hauled ass from the back to get Gareth (Gareth's dad wanted a son named Garth, mom wanted son named Seth so they settled in the middle I suppose) and clinched the overall on the day. Baggett's an awesome rider, we covered that angle many times but something to think about is that he's been a bit banged up the last two weeks so when we pick this back up in two weeks, he's going to be healed and it could be, as they say, on.
To me though, I sort of subscribe to the "Moto Gods" theory, as any regular reader of the column knows. In that everything comes around at one time or another and you finish where you're supposed to in the end. The breaks of life all equal out one way or another and you get what you deserve let's say. Where I'm going with this is that Wilson hasn't won an overall but has been all over the bulls-eye all season without hitting one. In short, he's due. And I believe that he'll start getting some wins here shortly and start to extend that points lead.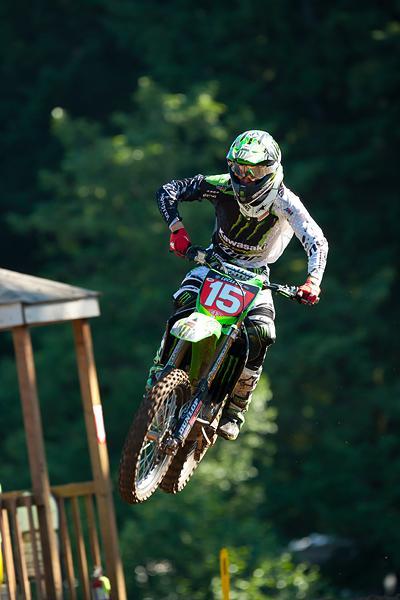 Wilson is heading down to Reed's house to prepare for Southwick.
Photo: Andrew Fredrickson
Worried about his sand riding skills, Wilson's and his mechanic are heading out to stay with Chad Reed for a few weeks before Southwick to get in some serious sand practice. This should be good for some Twitter laughs, no doubt about it as the Scots try to figure out Dade City and all its, uh, charm. I wonder if anyone told Dean that Reed's outdoor tracks contain jumps that you wouldn't find in a video game, never mind at Southwick?
Hey, Mike Alessi rode very well at Washougal, maybe the best he's ridden all year although with a sixth overall, you might not know it. Alessi came from a crash in the first moto and was outside the top twenty to get inside the top ten. In the second moto, he was really good as he blitzed past some good riders to get right up behind Justin Brayton and Chad Reed by the end of the moto. Alessi was very good this weekend, no doubt about it.
Let's take a look at the results shall we?
250 Overall
1. Blake Baggett (1-3) Kaw
2. Tyla Rattray (2-2) Kaw- Wilson said it best I think "Tyla's a bad dude and that's too bad for me but he's a bad dude."
3. Dean Wilson (5-1) Kaw
4. Kyle Cunningham (3-7) Yam- Look at this, yet another fourth overall for Cunningham who is riding very well this mx season. God I hope he has a top five-bonus clause in his deal because if it's top three only, his 459th 4th overall is going to cause him to go nuts.
5. Gareth Swanepoel (7-4) Yam- Gareth "Garth" Swanepoel is very quietly having a pretty good outdoor series. Better than I expected anyways. He's eighth in the series.
6. Justin Barcia (4-10) Hon- Barcia was fast and then he crashed. Stop me if you heard that before. Hey, you can never say that Bam-Bam lacks effort!
7. Malcolm Stewart (8-8) Suz-I'm starting to get Mookie fever again, just when I thought I was cured, it comes right back. MOOKIE!
8. Martin Davalos (13-5) Suz- Davalos always does well at Washougal or at least has good times in qualifying. And a fifth in the second moto is legit.
9. Darryn Durham (11-9) Hon- Durham has slipped a bit back to earth after his amazing riders earlier this season. The most impressive thing to me is that some poor sap had to drive the flat black Eleven-10 Mods box van from Millville to Washougal and then to NY. The gas bill was probably enough to feed Guam for a year.
10. Broc Tickle (9-16) Kaw- I wonder if Tickle is going to make a belt with his 250 west supercross title plate as the buckle and start wearing it around like a wrestler would? Just to show the other three yahoos on the team that he's the only one with a title and he doesn't suck that bad.
11. Tommy Weeck (6-19) Hon
12. Gannon Audette (12-14) Yam
13. Alex Martin (21-6) Hon- What's that you say? Martin only finished where he did last week because it was his home track? Suck on that sixth in the second moto hater.
14. Marvin Musquin (10-18) KTM- Number of motocross fantasy teams that Marvin wrecked in his comeback this weekend? Over or under his number of 125? I'll take the over.
15. Jason Anderson (20-11) Suz- Hey Anderson rode really good this weekend as he fell in the first turn and passed 19 riders on his way to a 20th. He'll probably get an RC hard charger award for his efforts. Second moto he was up there a bit early before getting 11th. After his rides earlier this season, he'll take this result!
16. Travis Baker (18-13) Hon- T Bakes had a sweet looking bike and gear anyways!
17. Eli Tomac (16-15) Hon
18. Wil Hahn (14-17) Hon- Wilbur's worst race in his comeback from injury. His starts were so terrible he should have just gone into the pits.
19. Nick Paluzzi (27-12) Suz
20. Ryan Sipes (27-12) Yam- Sipes was leading the first moto! Then he went backwards bad and is going to go get checked out for some sort of problem because that's not the Ryan Sipes that I know and love.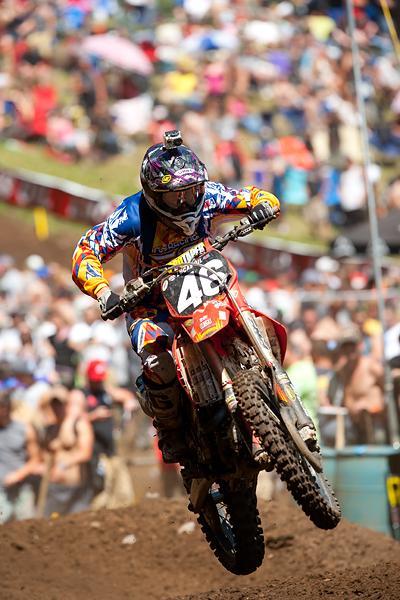 Martin backed up his solid results at Millville with a sixth in moto two.
Photo: Andrew Fredrickson
450 Overall
1. Ryan Dungey (2-1) Suz
2. Ryan Villopoto (1-2) Kaw
3. Brett Metcalfe (4-3) Suz- Yeah Metty! Great ride for Brett as he tracked down, passed Reed and left him behind. So much for the invites to the compound!
4. Chad Reed (7-4) Hon
5. Justin Brayton (6-5) Yam- Brayton rode very strong all day. Two very good motos and it's needed as he's talking contract for next year.
6. Mike Alessi (9-6) KTM
7. Tommy Hahn (8-7) Yam- Hahn had a minor blow-up with his team owner over some stuff that was out there in the internet world and I can't help but think some of it was from his interview he did with me after Millville where he was frustrated. All is well and if he keeps putting in these types of days, he and the team will be much happier.
8. Andrew Short (5-10) KTM- Short got a great start in the first moto and rode strong to his best moto finish this year. Second moto he was working hard to get up there before he stalled it. That was all she wrote. Did you know that Shorty's contract was up next year? Yeah neither did I until he was on the Pulpmx Show last week.
9. Jimmy Albertson (11-9) Yam
10. Michael Byrne (10-12) Suz- Byrner is slowly getting better and starting to be a top ten guy, which has to make him and his team happy.
11. Trey Canard (3-38) Hon
12. Jake Weimer (15-8) Kaw- Weimer's officially reached the point where we can say he's struggling. He seems to be hitting the deck a lot lately, which is a disturbing trend. More so for him than me.
13. Weston Peick (12-15) Kaw- Best finish of the season for the middle linebacker.
14. Tye Simmonds (14-14) KTM
15. Nick Wey (16-13) Yam- Wey is clearly frustrated with himself right now; he's searching for answers. Listen to him in THIS podcast, he sounds like he's going to fashion himself a noose right after I hit stop. http://www.pulpmx.com/podcasts/washougal-pulpcasts
16. Kevin Rookstool (13-16) KTM
17. Jake Canada (21-11) Yam- Canada won the Muscle Milk recovery award for his comeback in the second moto. It was a good ride for the guy named after a country. He had some nice flo-orange goggle frames out there as well.
18. Ben LaMay (17-18) Yam
19. Ricky Dietrich (35-17) Yam- RD's season is going from bad to worse right now.
20. Kyle Partridge (18-31) Yam
Some of you may remember before a national at the beginning of the year, I had some soil geek break down the race for all of you in terms of the dirt the racers are riding on. Well because Washougal is so tricky, I thought it would be good to get an educated mans take on what causes the soil to be so tough to ride on and without further adieu, here is the break down:
Washougal is a pretty interesting track, and I think that comments from people who have ridden it previously shed a lot of light on two distinct facts:  The soil is basically hammered, and it is slicker than a Monster girls bikini wax.
One of the reasons for this you already know, and that is that the track has been used and abused for a long time. The second reason is the unique soil type, that is heavy on volcanic clay, and that means that when it gets wet, it gets slick.
Technical (geek speak)
The Washougal track is built on a soil type called the Olympic Silty Clay Loam, which may not sound that bad, but the scientific taxonomy, Fine mixed active mesic xeric palehumult, tells us that just below the surface lies a heavy, slick clay.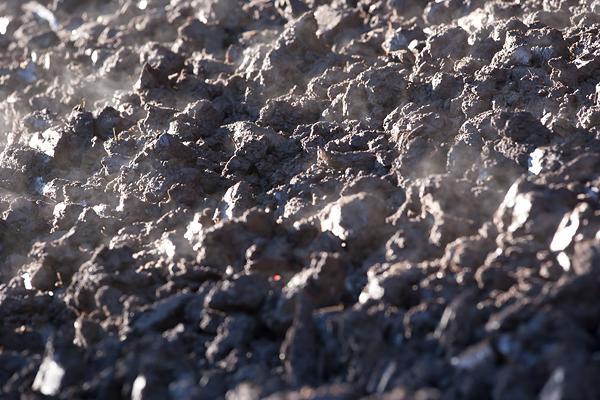 Photo: Andrew Fredrickson

Breakdown
On unadulterated soil, the top 13 inches are silty clay loam, meaning that they have pretty heavy texture that slicks up and holds water, gets ruty, and slimy if you overwater.  It takes more time for these soils absorb water than say a Redbub sandy loam of Millville silty loam.  The extra clay also means that once it is wet, it will hold the moisture longer.  This upper layer, when worked right, would look pretty good and would make nice lines…However…
The subsoil is often what gets exposed in a motocross track that sees a lot of traffic.  That appears to be the case at Washougal.  Texture is clay loam, silty clay loam, silty clay, or clay, with blocky structure, that is sticky and plastic.  The parent materials are volcanic in origin, and that usually means clay that feels very slick.  The clays don't like to absorb moisture.  That often leads to slick spot and pooling.  The soils wets up slowly, and once over-wetted, will stay slimy for a long time.  A track like this ruts up when wet, will be very slick in areas where the sub soil is exposed, and when drying it will develop harsh square edges.  The depth of the top horizons will vary based on the slope, tree cover, etc.
The Dirt
This track is built in a high rainfall area with lots of clay on slick soils.  The trees are beautiful, but the combination of eroded topsoil and volcanic clay subsoils can lead to surprises.
And Just in case you wondered, the diagnostic horizons and features recognized here are: umbric epipedon from the surface to 13 inches; an argillic horizon from 13 to 100 inches. Base saturation (by sum of cations) is less than 35 percent to 1.8 meters in all pedons sampled. This soil was previously classified as clayey, mixed, mesic Xeric Haplohumults. Classification change based on National Soil Taxonomy Handbook, Issue No. 12, re-establishing Palehumults.
Thank you, PulpMinion, Nephi…el guapo
Eyes glazed over yet? Well take that for what it's worth broseph.
Privateer hero Top Jimmy Albertson had been doing pretty well on his Honda since coming back from injury but had no plans to hit Washougal due to a lack of funds. Well, Albertson doesn't have to worry about that anymore as he got a Valli Yamaha try-out with the team, everyone was happy and he went to Washougal to ride for the guys. Looks like it's for the rest of the season as well. I do have a couple of things that I'm wondering about though.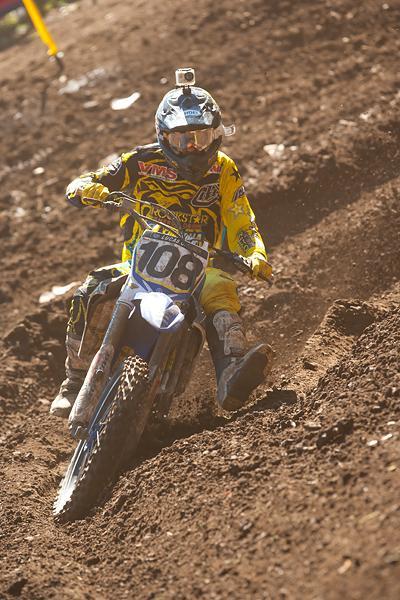 Albertson finished 9th overall in his first ride with Valli Yamaha.
Photo: Andrew Fredrickson
1-    How was Jimmy able to adapt to the definitely-different-than-the-other-bikes Yamaha so quickly (one ride) to go out there and top ten a 450 national? Very good job I'd say and
2-    When we last saw Albertson and Valli Yamaha together, it ended quite badly with all parties upset at the other. I'm not saying that people can't kiss and make up but I have to admit that I'm shocked they wanted to work with each other again. Next thing you know, Kyle Regal's going to be under the tent again!
Thanks for reading, I'm off to Lommel for the GP this weekend and right about now, I'm wondering why. Email me at matthes@racerxonline.com if you got something to say.