Vicki Golden in for Moto X Racing and Enduro X at X Games
Bend, OR-
MotoUSA.com/Langston Motorsports/Kawasaki's
Vicki Golden
# 4 is confirmed to race two events at the upcoming espn X Games this Saturday and Sunday, July 30
th
and 31
st
at the Staples Center, in Los Angeles, CA. Golden will first race the Women's Moto X event and then the new Women's Enduro X event the following day.
The 18-year-old from El Cajon is currently in 5th place in the Motorcycle Superstore WMX National point standings despite not finishing the second moto at Hangtown. She has posted a 3rd and several 4th place moto finishes the last few rounds of the WMX Nationals. Golden also raced the AMA Pro Arenacross West Coast Lites this past fall making the main events and capturing some top ten finishes amongst the men.
Vicki, explain the Women's Moto X event and how have you been getting ready for Women's Moto X?
VG: This year the women's Moto X is in the Staples Center stadium on a course that is really similar to Speed and Style course of last year. There are heat races and then a main event of four girls.  To get ready I have been riding a lot at the Kawasaki Supercross test track with my coach Sean Hamblin and Livia Lancelot from France. I have also been hitting ramps at Renner's out at Pala Raceway. There's a freestyle ramp in our race and it is super fun to hit!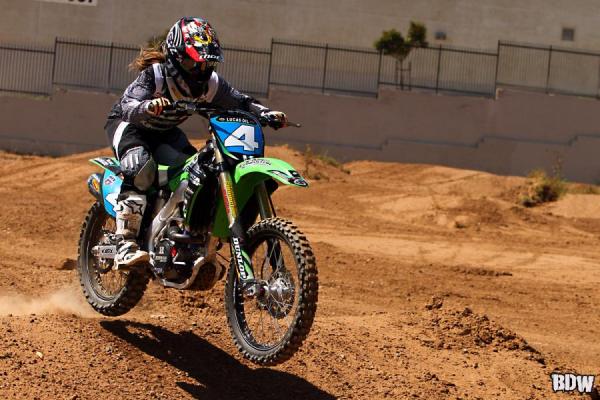 Photo: BrownDogWilson
How has racing Pro Arenacross helped you to get prepared for X?
VG: I think it really helped. I got to ride different tight tracks in the off-season. I got better in the whoops and rhythms. Plus I got more aggressive.
What do you think about the competition in X Games?
VG: Well the class is stacked. Even though it is only eight women, they are some of the best.  We all want to win. I know JP, Ash, and Tarah, are gonna come in strong, and Livia is a world champion so you know she wants to win. I am just ready to give it my all!
What does X Games mean to you?
VG: Racing the X Games is amazing. X Games is all about progression and the fact that they put us on Saturday night is such an honor. I love Supercross or indoor racing so I am really looking forward to the race. I am lucky, I have a good team, a good bike, and I also got some extra help for X Games from MBM out of North Carolina, and HRT out of Biloxi, Mississippi.
You just found out that you are doing the Enduro X race at X Games as well. What do you think about that?
VG: It's really cool that X Games has a women's pro class in Enduro X as well. I think it will be really fun. I grew riding in the hills because I didn't live near any tracks. Getting to the riding spots was really technical, we had to go through rain ruts, over rocks, you name it. I think it made me a pretty good technical rider.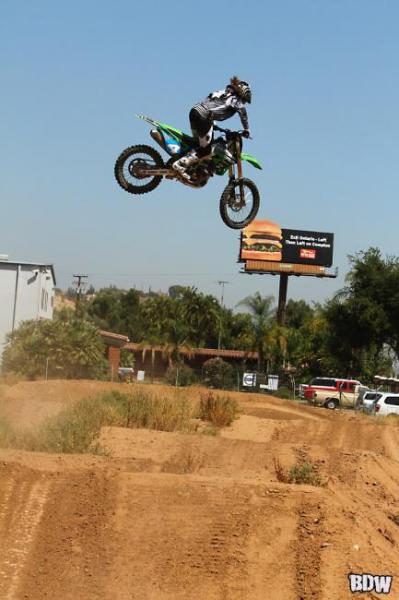 Photo: BrownDogWilson
Vicki is sponsored by MotorcycleUSA.com/Langston Motorsports Kawasaki, Parts Unlimited, Thor MX, MBM, NTS-inc, HRT, Dunlop Tires, FMF, Dirt Freak, Zeta, DRC Hardware, Alpinestars, Resner Builders and Hardware, SPY Optic, Maxima, MotoTassinari, Factory Connection, Vortex, RK Chains, Excel Rims, Hinson, One Industries, LightSpeed, K&N Filters, X Factor and Viper Tool Box.
Women's Moto X Racing airs live at 6:00pm PST on ESPN 2 Saturday, July 30th and Women's Enduro X airs live at 6:15pm PST on ESPN 2 Sunday, July 31st.
For X Games updates join Vicki Golden Athlete's page on Facebook.
For more information contact Miki Keller 541-223-8375 or miki@bendbroadband.com.