Washougal MX Park
Washougal

,

WA
Washougal Motocross
Lucas Oil AMA Pro Motocross Championship
Manage: to control or guide, to have charge of, to succeed in doing. That's how Webster's Dictionary defines the term, and when it comes to the points lead this year, Chad Reed has followed that description so closely that his butt patch might as well say, The Manager.
Last week we posted some midseason championship predictions right here on Racer X Online, and while the general consensus was that it was too close to call, the reoccurring theme seemed to be an underlying confidence in Reed's ability to get the job done. He's held the undisputed points lead since the close of the second round in Texas, and he's been managing that lead smartly ever since. If you look at the ebb and flow of the points, you'll notice a pattern that has developed. Reed's lead has been bouncing around in the ten to fifteen-point range, and every time that lead starts to run a little lean, he richens it up with a healthy dose of points. After the first moto at High Point, Ryan Villopoto was within twelve points of the championship lead. Reed responded by winning the second moto, bumping his lead back up to fifteen points. The same thing happened the following round at Budds Creek.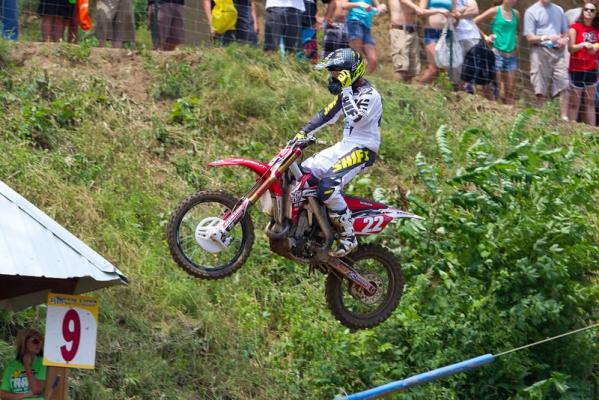 Reed still holds the red plate as the series makes its way to Washougal.
Photo: Brian Robinette
After the first moto, Reed's buffer was down to ten, but at the end of the day, was back up to fifteen. Coming into Red Bud, that lead was down to a mere eight points. What did Reed do? He took full advantage of RV's early first-moto crash to take the win, despite heavy pressure from Ryan Dungey.
Then, things got ugly in Millville. After padding his points lead with a win in the first moto, Reed made an uncharacteristic mistake right before a jump, ejected from his bike and shot into orbit. Just watching it sent a shot of adrenaline surging through my veins, and the feeling Reed must have had as he soared through the air is something that most of us will never even get close to experiencing. After the race, Reed said it was the scariest crash his entire career. Television commentator (and Racer X Senior Editor) Jason Weigandt said that Reed was airborne for so long it was the first time he was able to give the play-by-play during a crash. I thought he was kidding until I went back and watched the broadcast again. Weege had time to scream, "Ohhh! Reed Launches! We got trouble!" before Reed's body came to rest in a heap on the ground.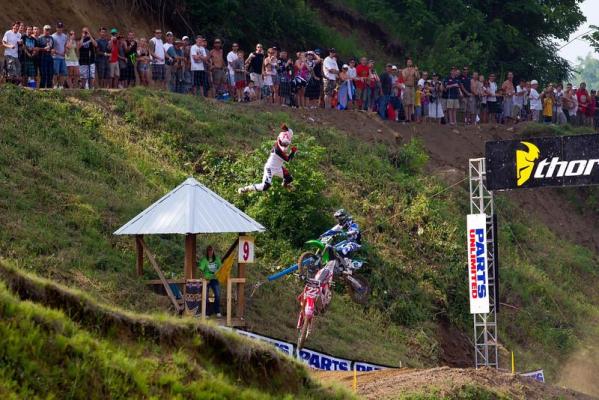 The crash.
Photo: Brian Robinette
At this point, nobody would have blamed Reed for pulling out of the race. After a crash like that, it would be shocking if he didn't. But Reed had a points lead to manage, and after taking a moment to regroup, he was back in the race, salvaging valuable points. After suffering a get-off that looked like it absolutely should have ended his day, his season, his career, and possibly even his life, Reed didn't even lose the points lead.
Of course, the incident didn't come without its consequences. Reed is no doubt battered and bruised and has no time off to recuperate before Washougal, and the twenty-one-point lead he enjoyed after the first moto at Millville has shrunk to just six points. The championship battle is unbelievably tight at the moment, and we're no closer to naming a favorite than we were seven rounds ago at Hangtown. What we can be sure of is Reed's unquestionable resolve and determination to take this championship to the wire. Ladies and gentlemen, The Manager is in.