Washougal MX Park
Washougal

,

WA
Washougal Motocross
Lucas Oil AMA Pro Motocross Championship
Kyle Cunningham has been fast this year, but aside from a third overall in Texas, he still hasn't had the results he believes he is capable of. The DNA Shred Stix Star Racing Yamaha rider feels he is on the verge of changing all that however, and two fourth place finishes (and back-to-back holeshots in Millville) in the last two races back it up. Of course, racers want to win, and Cunningham is no different. We spoke with KC this week to get his thoughts on Millville, his improving results, and what he expects for the remainder of the season.
Racer X: First of all, congratulations on another fourth place!
Kyle Cunningham: Yeah, there's been a lot of fourths, whether it's been fourth overall, or fourth place motos. The last two weekends have been a lot better since I got sick. I got strep throat real bad before Budds Creek, and I was pretty sick after the first moto there. I'm just trying to get back to where I need to be. We had two consistent races in the last two weekends which moved me up to fourth in points, so it's been going a lot better.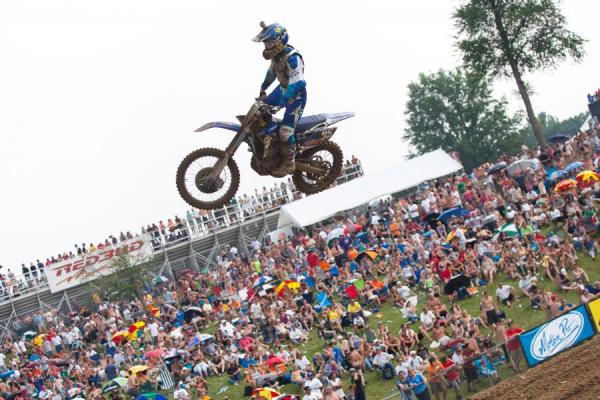 Cunningham now sits fourth overall in the point standings behind the three headed PC monster.
Photo: Andrew Fredrickson
With the way things are going for the Pro Circuit team right now, getting a fourth is almost like winning, but I'm sure you don't see it that way.
No, not at all. I rode a little tight last weekend, and it's been a long time since I got a holeshot, let alone two. We've been doing a lot of practicing on my starts, and a lot of suspension testing to try to get me more comfortable on the bike. Last weekend I rode good at the beginning of the race, made a few mistakes and got a little tight. In both motos I didn't really ride the way I would have liked toward the end of the moto, especially with the starts that I got. But I got to get up there and mix it up and feel the pace, and my lap times were there at first. So now it's back to the drawing board. I went through three weeks of only riding one day a week and not being able to train. We're trying to get back to the motos and get back to where I need to be, but I can't be bummed on four motos, four fourth-places, and two fourths overall and getting back up to fourth in points. I'm just looking forward to keeping the momentum going and putting in consistent rides.
It looked like you had tearoffs flapping all over the place in the first moto. Did that have an impact on your race?
No, actually I grabbed two instead of one. It was the gap in between the laminate. I still had some left, I thought I ran out! It took me about a lap and a half to realize I actually had some more on there. That didn't affect me, I just rode a little tight and started making a few more mistakes than I should have. Whenever you're doing that, you're not really riding your race, and that set me back a little bit. But I didn't have tear-off issues, I'll take the goggles off and keep pushing if that's what I have to do.
As far as tightening up and making mistakes, how much of that was due to the heat?
It was definitely hot. As you guys know, at Freestone I dehydrated really bad, and I was lucky to race the second moto and end up where I did (Cunningham went 3-4 for third overall at Freestone). Two good starts there really helped me. Anyway, (at Millville) the heat was bad, but it was more the humidity. The heat index was so hot! We made it through the motos, there was quite a few people pulling off and struggling, and we managed to make it through with two consistent rides. I think it was one of the hottest ones, and the track was pretty demanding the way it was running. I have to give it up to Shane Schaefer and the Martins and everybody else who worked on that track. They did a great job for how much rain they got. We got there and we were like, man, the track is going to be underwater! The way the track turned out for the motos was awesome.
I've been watching you for a while, and I've interviewed you a few times, and it doesn't seem like you are the kind of guy that races for top tens, or even top fives. You want the win.
Definitely. I finally have the chance to stay on the same bike now, and I feel like the comfort zone is going up and right now I'm getting to where I need to be. We've made a lot of progress. I'm 22 now, and understanding it more, but I'm still hungry to win and that's really what I want to do. I'm not going to be fully happy on the weekend until I go out there and win. But it's kind of like Jerry Masterpool and my dad say; whether you're winning, running fourth, or third, there's always things you can work on. That's what we're going to keep doing. We're going to keep working toward that win and mixing it up there with those guys and keep moving forward in the points.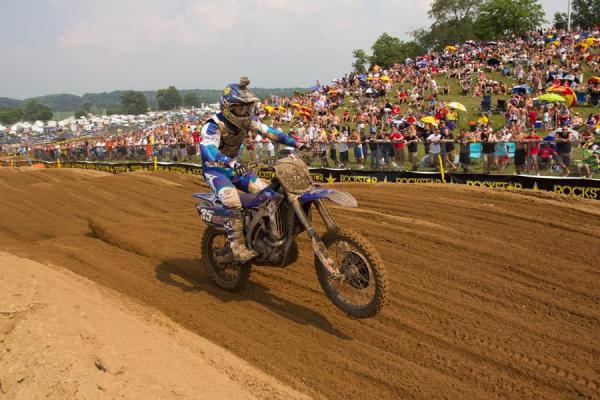 Can Cunningham win an overall before the season is over?
Photo: Andrew Fredrickson
You've been close this year, in motocross and supercross. Do you feel like you're right on the verge of breaking through as a consistent podium finisher and even race winner?
Yeah, I think so. There's some little things, like I said. Sometimes I feel really good on the bike, and I make some little mistakes and I'm still going fast, so I think if we can perfect some of those mistakes we'll get to feeling better on the bike and doing better during the motos. For the most part it's about working on the same tempo, the same things, and keeping myself comfortable. I was strong the last few supercrosses, a fourth in Seattle with a crash, and a third at Vegas when I came from fifteenth. I struggled at the beginning of the supercross season getting caught up with people, and getting caught up on my own, and it was a little bit of a struggle to pull out of that, but we managed to do it in the last three, and I think that's what's helped my outdoor season. The 4-4s have been really good, but obviously I want to be standing on that podium. There's five left, and a lot can happen in those five races so I'm just going to keep working hard and keep things going the way that they're going. I'm hungry to win, I haven't had a win yet, and that's something that I want to accomplish. We're going to keep fighting and working hard to get up on the top step of that podium.
Who do you want to thank?
Bobby Regan, Alan Brown, my mechanic Andy VendeBerg, and the whole team for backing me and helping me to keep pushing through the bad races and getting sick. My trainer Mark, my family, my mom, dad and sister. I want to thank the Masterpools, too. We go out there two or three days a week, and the track is never the same out here in Texas. They've put a great facility together, and anyone who is out this way, they have a really good track. It's never the same, and it's always over two-minute lap times. I have to thank Jerry and Tara Masterpool. Jerry, especially, this weekend for helping me this week at the track. I think that's going to be a good help on the weekends. He's got some good knowledge, and between him and my dad, I think we've figured a few things out. Scott, Dunlop, Brian and all those guys do a great job on the weekends as far as helping me figure out what tire to run. Cosworth, they've put together a really good motor package. Renegade fuels, N-FAB, Sycuan Casino, and everyone else who backs the team.