Washougal MX Park
Washougal

,

WA
Washougal Motocross
Lucas Oil AMA Pro Motocross Championship
GEICO Honda's Kevin Windham has been riding for factory Honda in the nationals as a fill-in rider. He's had some ups and downs this summer and admits that the series is starting to take something out of him. The late start, some hot races and some really fast riders have conspired to keep KW off the box so far through seven rounds.
He's doing what he can to stay positive. With supercross coming back to New Orleans in 2012, on Monday Windham made the trek down to the Superdome to talk to the local media about his hometown race in the Big Easy. When SX PR guru Denny Hartwig asked Racer X if they would like to speak to Windham about the race next year, we jumped at the chance because talking to Kevin about supercross, the nationals or the color of his couch is always a good time.
And oh yeah, tickets are on sale now for the New Orleans race, which takes place on April 14, 2012. You think there will be some cheers for Kevin at that race next year? Make sure you visit supercrossonline.com for ticket details.
Anyway, as you can tell from this interview, Kevin was feeling it after seven grueling outdoor rounds. Lo and behold, this afternoon Honda announced Windham was going to shut himself down for the rest of the summer. Check out our Between the Motos interview here and you'll have an idea of what's going on.
Racer X: KW, I would assume that Millville didn't go the way you wanted it to right?
Kevin Windham: No, I'll tell you, ever since Redbud, my tank has been on empty and I was lethargic the whole two weeks before. I tried to recharge the batteries but it didn't seem to work. I went in there knowing I was down and depressed and it was just another hot race. Thank god we had cloud cover the first half of the day but then it got hot again. There was a reason I stepped away when I did and it's not getting any easier with time. Part of me thinks that I just overloaded myself with the thought of racing and every time the gate drops without me, you feel like you're missing out. The numbers don't lie, there aren't a lot of guys my age doing it week-in and week-out and that's because it's difficult. The dog days of summer are beating me up.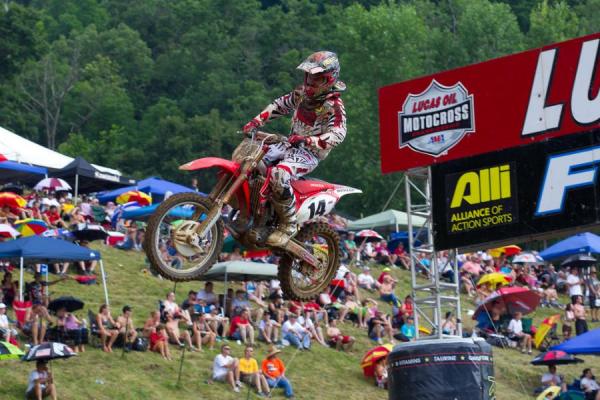 A bid farwell. See you in 2012.
Photo: Brian Robinette
Hey at least you had John Dowd out there!
I honestly wasn't seeing very well and I wouldn't know if I went by him or he went by me. I came off the track and I pulled my goggles off. I went to Kyle from Spy and told him I'm sorry and I hope it doesn't look like a negative for the goggle company but I just needed some airflow! I was so hot and both Redbud and Millville I just came off and I feel like I was ready to pass out. I couldn't even hardly maintain myself and hold it together.
Let's talk about the New Orleans supercross and it's back on the schedule this year, which has to make you happy.
I'm very excited, it's great to be back for me and you know, even for the whole industry. I think everyone enjoyed going there, it's a fun city and we all go to work and a majority of us go out afterwards and let our hair down a bit. It's a good time, one of the good stops and it's great for supercross to be back. I hope the numbers get up and I know that everyone that goes to supercross, goes back. The trick is to reach the new people, get them there and they'll be back. I know we have the ability because 2011 was the best season ever and there's no reason why people shouldn't go and check it out.
I've been going to New Orleans since it debuted and it seems like the crowd is a little hit and miss each year, sometimes it's great and sometimes it's just okay. Any idea why that is?
I don't know exactly what is behind that. The attendance there was always better than the race its replacing in Jacksonville and I'm doing whatever I can do to get the numbers up and make sure the race stays for years. That's why I'm doing this press early and will continue to work with people to make sure they show up. Whatever it takes, it's something that I hope keeps happening. When I go to the Saints football games, I sit there and still envision where the triples and finish line would be. This race is good for me, good for the sport and good for the city.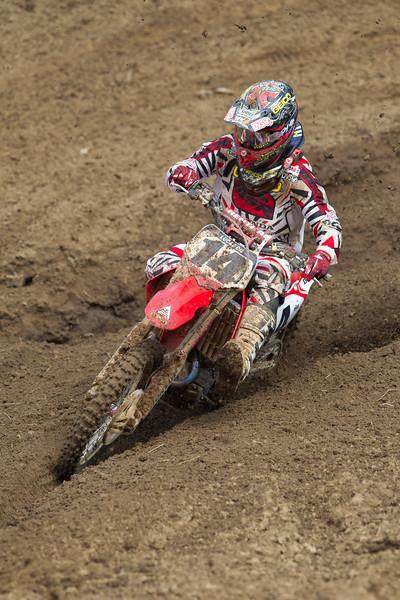 Supercross returns to New Orleans for the 2012 season.
Photo: Brian Robinette
Is it a distraction at all for you on race day with all the friends, family and people you sort of know trying to get a part of your day?
Not really, thankfully Dottie (his wife) handles most of that. She makes sure everyone is handled although it is a little busy for me. It's a positive thing though, there's some pressure and you can turn it into feeling like it's a burden on you or turning into the fact that all those people are there to see you. I'm going to be 34 when the race is on and it might take the energy of that many people to get me going. After being through it so many years, to be honest, I feel like the pressure it off my shoulders. You have to go back to 1998 to the last time I won there but look at Houston this year, where I really felt like it was my race to win. That's the closest to my hometown as you could get on the 2011 schedule, and I came as close as you can to winning it without winning it. I channeled the cheers of the crowd and everything else and it enabled me to go out there and put my best foot forward.
What about the dirt there in New Orleans? It seems to be a little unique, is it at all like the stuff at your house?
No not at all, where I live now the dirt is sandier and there's no relation to the dirt there and the stuff at my house. Feld has done an amazing job of finding good dirt and storing it to keep it that way. Back in the day, the St Louis, Pontiac races were really like mud races. And they were inside domes! They've done a good job of providing us with tracks and good dirt. Even when it's raining outside. I'm looking forward to it, for sure.

This afternoon, Windham and American Honda Racing produced a press release announcing that the Millville race would indeed be his last of the summer. He had this to say:
"I would like to thank both American Honda Racing and GEICO Honda for allowing me the opportunity to fill in for Canard and Grant while they were on the mend," said Windham. "I would also like to thank all the fans at the races for cheering so loudly with every lap I raced. It was always factory Honda's plan to have me around until their riders came back. I got so overwhelmed by the warm reception I was receiving at all the nationals that I thought I could race them all. The racer inside of me wants to be behind every starting gate that drops. However, throughout the season it has become obvious to me why I stepped away from racing the Motocross Championship a few years back. I feel that I'm struggling through the grueling Motocross season and it's bringing me down mentally. Riding at less than 100 percent is a great way to bring on an injury. It is a must to always have your head in the game. I've had a blast at Motocross and now can start recharging my batteries for the 2012 Supercross season. I still want to focus on making 20 years as a professional racer by making it to 2014."
American Honda Racing Team Manager Erik Kehoe praised Windham's efforts throughout the Motocross season. "Kevin has done a tremendous job for the team at the first seven outdoor rounds," said Kehoe. "I've always been a K-Dub fan and I'm proud of Kevin and his willingness to fill in on the factory team in times of need, even if it is on a part-time basis. The whole team has had a lot of fun working with Kevin. We respect his professional-life decisions about how and where he wants to focus his racing efforts, plus the fact he has a young family to take care of and a lot going on in his home life that requires much of his time and energy. We are fully supportive of his decision to now focus solely on training and preparing for the 2012 Supercross season."