Spring Creek MX Park
Millville

,

MN
Spring Creek Motocross (Millville)
Lucas Oil AMA Pro Motocross Championship
10. IT RAINS IN MINNESOTA:
Judging by the veritable monsoon that took place going into the Spring Creek weekend, it's no wonder the area is called the land of a thousand lakes. It rains in Minnesota, and then it gets hot. And really really hot down at the Creek, where the humidity sits in the bowl like warm milk over soggy cereal. With no slight to
Red Bud
,
Millville
must be mis-scheduled by two weeks because there's just two seasons in Minnesota: Winter, and the Fourth of July.

9. LET'S HEAR IT FOR THE HOME TEAM:
And while we're talking location location location... There's
Ryan Dungey
's wildly popular win – his fourth consecutive national win in his home state. Iowa native
Justin Brayton
hails from Fort Dodge, about three hours away from Spring Creek, and considers
Millville
his home race too. Brayton put in a strong ride after crashing in the first moto and managed to put the sole JGR entry – teammate
Davi Millsaps
sitting out with a sore knee – into the top ten with a 12-7 for ninth overall. From zero hours away, and leading the way for the small bore division, was the stellar fifth-place ride by sometimes-resident
Alex Martin
in the 250 class. Due largely to reasons pertaining to number ten, above, Martin spends much of his time training in South Carolina and other warmer climates, but technically he resides on the Spring Creek property. Minneapolis's own
Gannon Audette
also put it in the top 10 for the home crowd with a 15-10 for ninth overall in front of the home crowd.
Dungey took the overall at
Millville
for yet another win in front of the home fans.
Photo: Brian Robinette

8. AND THE AWAY TEAM: Fredrik Noren from Sweden posted a 14-17 for 15th. Evgeny Mikhaylov from Russia just missed a top 20 overall finish despite finishing in the top 20 in both motos. Mikhaylov, riding with a cue ball white helmet and no graphics on his Suzuki, finished 19th in the first moto and 20th in the second for 21st overall. Let's repeat that: A Russian with a plain-wrap lid and a no-wrap bike finishes in the top 20 in both motos. Maybe Fro and Weege should get Larry Maiers back into the announcer's booth to see what he thinks about all this Euro-Russian incursion stuff.

7. TOMMY HAHN IS MAD, AND HE'S GOING HOME: Or at the very least, to another team. A different team with a different bike. Whatever the reason, it's not working out with Hahn and the Yamaha. The merits of the machine can be debated, but not every rider seems to mesh with the motorcycle. Hahn's frustration was palpable – and verbal – after he lost the front end (for reasons unknown to him) and crashed hard in the first moto. The usually mild-mannered Tommy threw his helmet, and a little bit of a tantrum. He said he was going home! Instead Hahn came back out and soldiered to a strong eighth place second moto. Hahn has proven he's got podium potential by putting it on the box in the past. His future likely lies elsewhere.

6. TREY CANARD IS BACK: And, news flash, the kid is still lightning fast. Scoring a podium in your first ever 450 race is no small feat. Doing it coming off the couch after re-breaking the biggest bone in your body? That's something, huh? And how about silencing doubters who said you wouldn't be up to speed right away by right away posting the fastest lap time in qualifying? Pretty good stuff. Canard's podium may or may not have happened without Chad Reed's burgeoning frequent-flyer miles, but the Oklahoma kid hung with the lead pack in the first moto before fading ever-so-gracefully to fifth. And in the second moto, he was in his own lead pack of one for much of the race – behind the rival Ryans but ahead of everybody else. With Canard's return, an outdoor season that couldn't get any better just did.

5. MIKE ALESSI DENIED: Since returning to his favored 450cc of displacement, Mike Alessi has regained most of his holeshot mojo and shown that he still has what it takes to start at the front and hold onto his position like a pit bull clenches a rib eye. After missing the first four motos of the year after his Hangtown practice crash, Alessi has finished fourth in five motos so far, including twice at Millville. Unfortunately for Mike's checkbook, it's said that he only gets bonuses for top three finishes – a pretty tall order with Chad, Ryan, and Ryan splitting up the podium positions like loot from a heist. On that rare day when Reed abdicated his spot on the box, it was bad for Alessi that there was another works Honda waiting to take his place. Alessi tied with Canard for points, but lost out on the overall position.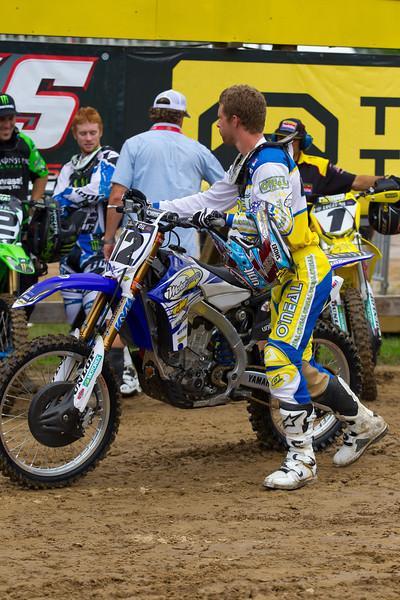 Hahn has had a tough first year on the Yamaha.
Photo: Brian Robinette
4. VET CLASS: And on the subject of finishing fourth... Fan favorite Kevin Windham's two best finishes of his extended outdoor non-vacation were 4-4 fourth place finishes at both Mt. Morris and Lakewood. In the last two rounds, K-Dub's results have fallen off by just a bit: 12-6 for ninth at Red Bud and 11-10 for 10th at Spring Creek. Now he's announced he's putting it on the shelf for the rest of the season, which means he won't have to ride the sand at Southwick. Conversely, if the plus-30 class Windham isn't looking forward to sand whoops the size of Volkswagens, Massachusetts's own plus-40 hero John Dowd almost certainly is after a tough – but points paying! – day at Millville.  Dowdy explains that he won his first ever "legit" national at Millville all the way back in 1994. (No, the Hangtown one-moto River Run doesn't count.) A mere 17 years later, Dowd still managed a top twenty moto finish with an 18th in the first race. He'll want to do much better at Southwick, and to keep that 16 he'll have to. And finally... Chad Pederson. Nice try Swap! Good to see you again buddy!

3. TOP (JIMMY) PRIVATEER: Top privateer one week, having to skip the next for lack of funding. The life of Jimmy Albertson is kind of a mixed blessing at the moment. You want proof? Well, trading moto finishes with one Kevin Windham does not suck, even if Windham's 11-10 edged Jimmy's 10-11 in the overall results. But on the downside, Albertson had planned on skipping the Washougal round and saving his energy – and his pennies – for a push at the east coast rounds of Southwick, Unadilla, and Steel City. On the upside, his strong finishes since returning to action at Lakewood have earned Albertson a try-out with the Valli Yamaha team this week. So that's pretty good. But then again, switching from a Merge Racing Honda 450 to the Yamaha will be a big big adjustment. So that's kind of a push.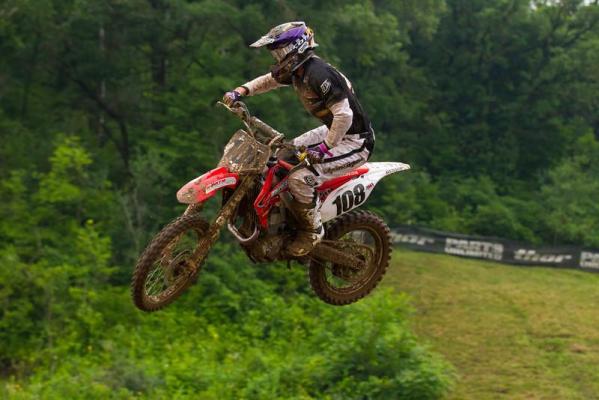 Will Albertson be on a Yamaha soon?
Photo: Brian Robinette
2. MOTOCROSS HAS A 40 RIDER FIELD: Mr. Reed's wild ride has prompted comparisons to James Stewart's crash and subsequent push through the pack at Daytona earlier this year. But the circumstances are as dissimilar as the trajectory. In either case, you had to wonder how anyone could get up from something like that and still race. In either case, it was one hell of an impressive swing from "Oh man... he's done" to "Wow. How did he do that?" But maybe it's time to mention that Reed effectively made up 26 positions – six more positions than there are riders in a supercross main – in his last to 14th ride. So, you know, there's something else for the internet to argue. Just what it needed, right?
(Here's a little more fodder, just to beat the beaters to the punch: Yes, 11 riders failed to finish the second 450 moto. That means... pick one... A) Chad 'only' had to pass 15 riders, or B) Reedy is even more of a man for finishing out the moto in that heat, after that vicious impact. Discuss.)

1. EVERY POINT COUNTS: In 1996, then defending outdoor national champion Jeremy McGrath's one-year reign effectively ended when the tour stopped at Millville. In one of those pivotal moments that can define an entire season, MC elected to turn two tabletops into a giant double – a gap no one else even considered jumping. Jeremy came up just short, turned his foot under, and his title defense began to unravel. McGrath, hobbled, struggled to finish that day. At the next round, McGrath pulled off the track altogether – and he would eventually lose his number one plate to Jeff Emig by just 10 points… points he could have easily salvaged had he kept riding at Washougal. Steve Matthes did a great podcast with the King at PulpMX where Jeremy says his decision to pull off is one of the biggest regrets of his career. When Chad Reed remounted after his huge crash to salvage seven points, did he save his chance at the 2011 crown? Whatever happens at the end of this wild and unpredictable outdoor season Chad Reed will be able to look back at his roller-coaster races at Millville – outgunning local hero Ryan Dungey in the first moto only to be shot into space in the second – and know that on his worst day, he gave it his best.