Spring Creek Motocross
Millville

,

MN
Spring Creek Motocross (Millville)
Lucas Oil AMA Pro Motocross Championship
Welcome to Racerhead, where the hits just keep on coming (note the sarcasm). In a long week following the tragic passing of Josh Lichtle after the
RedBud
National, it was time to focus on making sure something like this never happens again. Needless to say we have received a lot of ideas and suggestions on how to prevent any kind of heat exhaustion or hyperthermia—the cause of death according to a post by Bill Lichtle, Josh's death—or a stroke or anything related from happening again. They have ranged from the difficult (mandatory water stops, manage fluid intake of the athletes) to the impossible (run outdoor races in the winter and supercross in the summer); from interesting (using a heat index formula to gauge the length of the motos) to the already-doing-it (allow drinking devices and cooling vests, allow riders to stay in their rigs and come to the starting gate as late as they like before a moto, so long as their mechanics can pick their gate and they understand that the parade lap and even the race will start without them).
Also, the Lichtle family announced the organization of an educational campaign through which they hope to  bring life-saving information about pre-race hydration and hyperthermia to riders and fans, starting at next month's Red Bull AMA Amateur National Motocross Championship at Loretta Lynn Ranch. The campaign is called Godspeed 811: Proactive Injury Campaign. (www.Godspeed811.com)
And then there was this very logical and easy-to-do suggestion from reader John Griffin:
"Maybe when a rider signs up at a race, he could be given a handout / sheet of paper with tips on proper fluid intake on and before race day. It would only cost a sheet of printed paper and it may jog the mind of a few racers about the dangers of heat stress and racing...."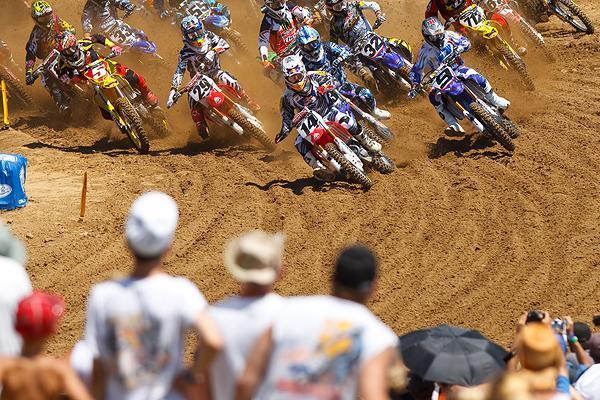 Kevin Windham and the rest of the field return to Millville for Round 7 of the Lucas Oil AMA Pro Motocross Championship.
Photo: Simon Cudby
The race officials are going to offer verbal reminders throughout registration and tech today (though it is raining in Minnesota right now) and then of course during the riders' meeting tomorrow morning. The hydration reminder is also on the sheet Jeff Canfield will use in his his riders' meeting. Thanks John, and thanks everyone else, for their notes and suggestions. Please keep them coming: DC@mxsports.com
And with Ponca City and Loretta Lynn's around the corner, and summer still upon us outdoors, now would be a good time to catch up on all of the features Racer X Virtual Trainer Tim Crytser has been posting on the topics of hydration, heat stroke, hot-race preparation and more:
1. 4 Strategies for Optimum Hydration
5. Hydration: Get Your Drink On
6. Racing in the Heat: How to Stay Properly Hydrated
Tomorrow's 7th round of the 2011 Lucas Oil AMA Pro Motocross Championship, the Spring Creek National at Millville, will be aired live (first two motos) on FUEL, beginning at 2 p.m. ET as well as live and free online at www.Allisports.com.  The second 450 moto will air at 11 p.m. ET of SPEED, with the second moto next-day on SPEED at 6 p.m. Sunday.
The good news is that next week's Washougal National will see all four motos air on live TV here in the States, with the first motos on FUEL and both of the second motos on SPEED. More on that next week.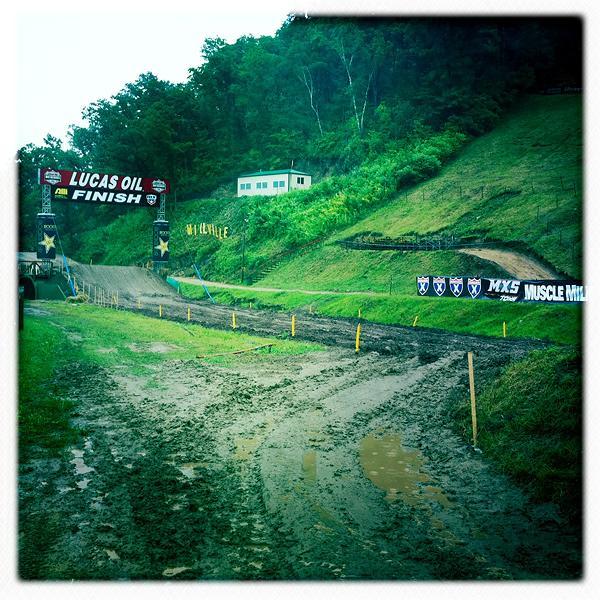 Here is an early look at the finish line jump at Millville. Hopefully everything dries out by tomorrow.
Photo: Courtney Zollinger
Okay, here's where the job of moto journalism becomes uncomfortable, because even though we're an enthusiast-based news outlet at Racer X Online and Racer X Illustrated, we have an obligation to report bad news too. And the news was ugly this week.
According to several news reports in the region, multi-time amateur champion Kevin Walker was arrested for reportedly placing cameras in a Kingsport, TN, bathroom while at a Fourth of July Weekend party. The news caused shock waves to ripple through the industry at all levels, as Walker is widely known and well-liked on the amateur circuit, and Loretta Lynn's is right around the corner. As fate would have it, he was not racing this year as injuries kept him from qualifying. We have no idea what's going to happen next.
And then there was the news that police in Southern California had picked up Ricky Dietrich on a domestic dispute charge.  He will be racing this weekend at Spring Creek and I hope that this issue is resolved quickly and he can put it behind him. Remember, this is an accusation, and the courts will determine the validity of the charge.
Did I mention it's raining in Minnesota right now?
Honda factory rider and 2010 Lucas Oil AMA 250 Motocross Champion Trey Canard will finally make his outdoor debut this summer at Millville, bringing a new element to a very crowded 450 class battle at the front, where Chad Reed leads Ryan Villopoto and Ryan Dungey in a three-way battle for the lead. From the hints I've been hearing around the pits and on the boards, Trey might just play the wild card here.
Muscle Milk/Toyota/Yamaha rider Davi Millsaps will miss Spring Creek due to a knee injury sustained during the second moto at RedBud. Davi told me that he actually turned it at the very beginning of the second moto, after doing a fine job of leading the first and landing on the 450 podium. Here's a get-well-soon for Millsap; hopefully we'll see him at Washougal.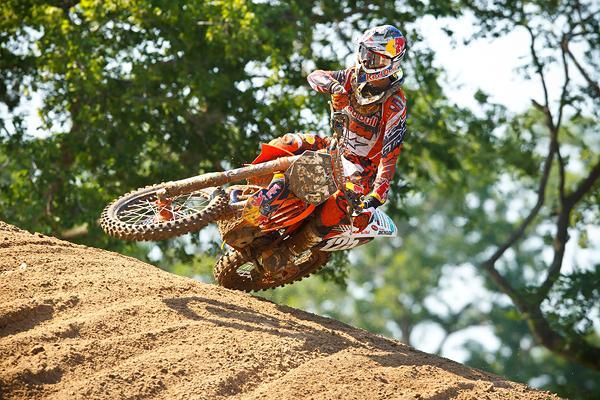 Musquin will be back in action next week at Washougal.
Photo: Simon Cudby
Also, Marvin Musquin will be back in action next week at Washougal, and from what I heard from my friend Kirk Chandler at Pala Raceway, he's already going at a very nice clip. But Marvin has not had much luck in America since he decided to vacate his two world titles and give the AMA circuit a shot. He had bike problems in both motos of last year's Motocross of Nations at Thunder Valley, then after his knee injury at the Bercy SX, he missed all of the 2011 Monster Energy AMA Supercross tour. He finally made his AMA Motocross debut at Hangtown and rode two solid motos, including a last-to-sixth ride back to the front after a second-turn crash. He got a great start in the first moto at Freestone, only to have a cartwheeling Justin Barcia's motorcycle clothesline him off his KaTooM, leaving him with a broken thumb.
So finally Marvin is coming back, and having been to a few tracks in France, I can tell you it's his kind of terrain (he'll probably love Unadilla and Steel City too). At some point Musquin is going to get to show American Motocross fans just how fast he and his counterparts, like the incoming Ken Roczen and down-the-road Jeffrey Herlings, really are--as if the MXoN didn't give K-Roc that chance already!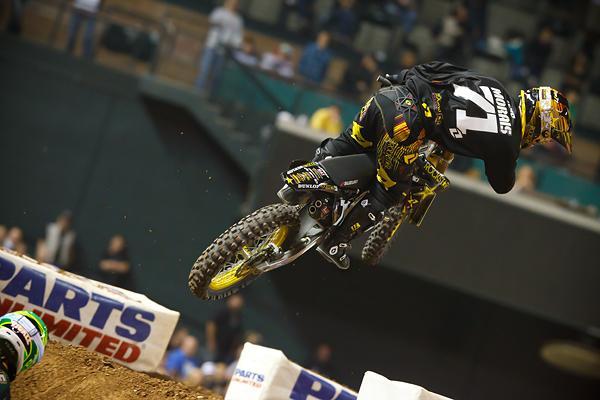 Ryan Morais will be back at Unadilla.
Photo: Simon Cudby
And finally, there's one more feature attraction coming: Rockstar Energy Suzuki's Ryan Morais is back on the bike and doing the work as he prepares for a return at Unadilla. For my bench-racing dollar, there's never been a faster Lites SX rider without a win that Morais, who probably also has more Lites podiums than anyone without a win. I hope the man comes out flying, stays healthy, and then finally makes his mark in 2012. He's put a lot of years into his career without getting very many good breaks, so here's hoping it happens for one of the nicest and most professional riders we know.
Time for Weege:
Whoever writes the press releases for Team CLS Kawasaki in Europe deserves a raise. It's been a rough season for their 450 rider, Ben Townley, which has led to countless "Ben Townley to sit out this weekend" PRs from the team, all written in a positive manner and showing that the team still has BT's back. Now it's time to throw Christophe Pourcel's name into the spin machine, as they just announced he's sitting out this weekend's GP in Latvia. The PR even referenced Townley missing time earlier in the year, which is what put the team behind in 450 testing, which is what led to Pourcel not being able to race this weekend. That's not banging on a keyboard you hear, it's the PR person banging their head against the wall.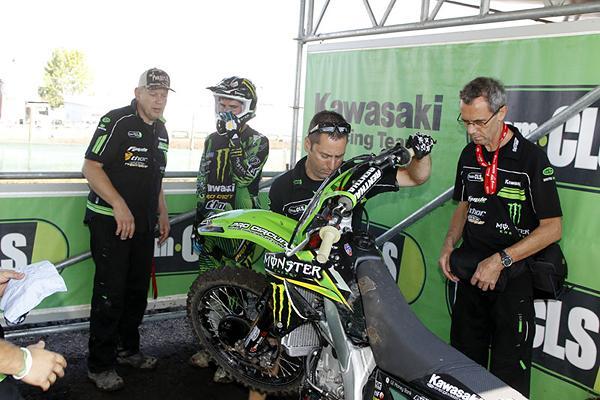 Pourcel is out for the Grand Prix of Latvia.
Photo: CLS Kawasaki
Of course, I could say that Pourcel pulling out of motos in a warm-up race last weekend and choosing not to race this weekend is part of a problem with the rider, not the team or bike, but how can I argue with a press release?
Most people in this industry have grown to hate airports and airplanes, but Friday morning travel is one of the highlights of my week. And I'm not joking. It's the only time of the week I have a logical excuse on not outputting more work. They literally announce that I have to turn my computer off!
Trips have become even more fun now that I'm flying out of Charlotte and running into the JGR guys. I was talking to Justin Brayton, who is pumped for this race since it's the closest national to his hometown of Fort Dodge, Iowa. But Brayton won't be the only Flyin' Iowan this weekend. JB has convinced 1993 Tampa 125 Supercross winner Chad "Swap" Pederson to come out of retirement for the weekend!
Apparently Pederson bet Brayton that if he ever finished on the podium on a 450 outdoors, Swap had to come and race one more time. Brayton did that at Steel City in 2009, but Pederson was injured last year. Brayton podiumed again at Steel City in 2010, so Pederson, who now operates a pizza restaurant, was still obligated to race, and he's going for it this weekend. I'm sure this is massive news in Fort Dodge!
Too close to call. That was almost everyone's thoughts as our staff tried to break down the 250 and 450 class title battles for our Insight column this week. But we're willing to make the tough decisions, so we picked a favorite in each class and put some facts behind it. Two of us selected Chad Reed as the 450 fave, one selected Ryan Villopoto, and everyone put money on Blake Baggett in the 250s. But the breakdown is close, very close, as we all know one simple crash or bad moto could change everything—just look at what Freestone did for Ryan Dungey.

Brayton is starting to find his form after missing the first couple of rounds due to injury.
Photo: Andrew Fredrickson
But since we're now merely journalists (even Ping), we grabbed even more analysis from two men who have seen and done it all in this industry. Big credit to Matthes for getting thoughts from Ron Lechien and Larry Brooks. But guess what? Even those two experts thought the championship was too close to call!
Okay, I'm at a McDonald's trying to cram in some last-minute work on the Loretta Lynn Ranch event program before heading to the track. I really wish I could get that "you must turn off your laptops" announcement more often. See you this weekend.
Over to Steve Matthes:
We're back in Millville, which is, to me, the best track of the series. Not the best track for viewing, but it's got it all for the riders. Hills, sand whoops, jumps... you name it and promoter John Martin makes it happen. I could be a bit biased, though, because I've spun my fair share of laps at the track, both at nationals and at local races.
It's a great facility, and to me, the series really starts now. Reed, Dungey and Villopoto are all kicking it into a higher gear and are settled in as the favorites. Spring Creek is a track that's very familiar to Dungey, as he's from Minnesota, has ridden there quite a bit, and quite simply hauls ass there.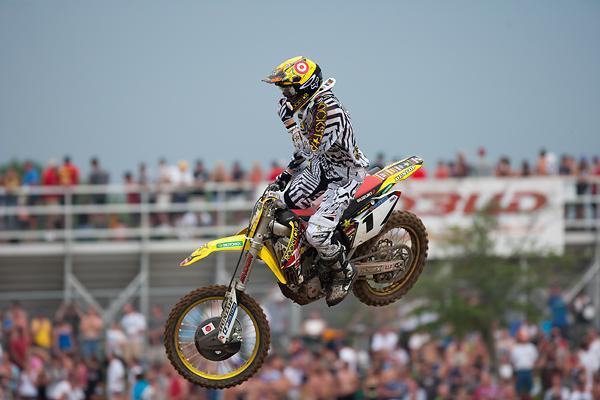 Can Dungey take advantage of home track conditions?
Photo: Andrew Fredrickson
To me, this race is key for Dungey, as he needs to make it happen right here, right now, and assert his will on the other two guys. If Ryan can go 1-1, he'll really start gaining confidence and momentum the rest of the way. If he gets beat, well folks, we'll start having a clearer idea of this title chase. Next week it's Washougal and Villopoto's home track, where he gets after it (although never winning there as a pro due to some mechanicals, crashes and a goggle malfunction). So if Reed can come through these next two races and limit the damage (or even pull away a bit), he'll start to feel good as the series hits some of his favorite places (Southwick).
As I write this I'm in Denver airport where I'm waiting on a flight to Minneapolis that's delayed. Luckily for me, I have Mike and Tony Alessi here to keep me comfy. We've been shooting the crap for the last hour or so, and who would have thought that a few years ago, as Tony probably wanted to set me on fire for some of the things I wrote during the Suzuki days.
I think I've come around a bit on Tony and he's come around a bit on me. We've met in the middle, and he's paid me some compliments in the form of, "You're just writing it the way you see it," which is what I was trying to tell him years ago.
Anyway, silly season is in full swing for the Alessis as they (and everyone else) are waiting to see where Dungey goes. As we know, KTM is making a strong push for Ryan, and that might mean the end of Alessi at KTM. If Dungey doesn't go orange, then I could see Mike staying on the team another year. Tony did make a good point as we were talking, though. Guys like Dungey, James Stewart and Ryan Villopoto are making (or going to make) upwards of a million dollars and more a year, while guys like Brett Metcalfe, Alessi, Tommy Hahn and others are making sometimes as little as a tenth of that. Sure, you say that none of those guys that I just mentioned can win races, but trust me, they are very, very fast, and without them, would the gate just fall for three riders?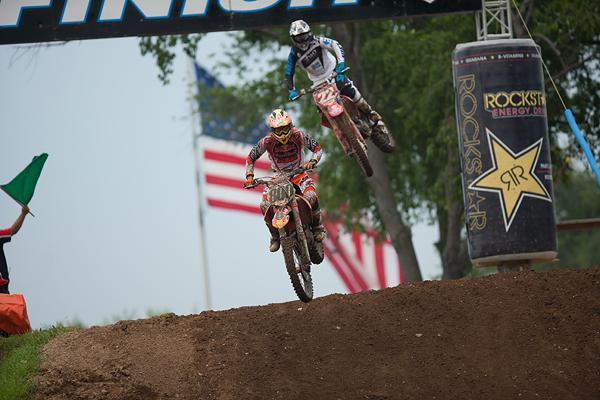 Where will Alessi land next year?
Photo: Andrew Fredrickson
I don't know what the solution is for this, and I'm not claiming OEM collusion or anything, but this is a topic that a lot of riders (including Chad Reed) have talked to me about. We need a strong healthy field of twenty or thirty riders making a nice living and we'll all be better off, methinks.
Hey, there's Blake Baggett!
Ok after speaking with Blake, he's ready to go this weekend, but he did crash last week and hurt his collarbone a bit. It was serious enough to keep him off the bike last week and I guess we'll see how it affects him out there tomorrow.
I wrote a little story over on PulpMX about silly season and everything that I've heard going on. Some true, some probably not, but it's there anyways.
Make sure you tune in Mondays over there for the Pulpmx Show brought to you by BTOSports.com. Myself and Kenneth Watson will have all the news that's fit to talk about in the sport. Tune in, you just never know what's going to go on!
Okay, on to Ping.
I'm going to start with a little blatant self-promotion: I've got two motocross schools scheduled in Canada this summer. The first one is July 23 in Manitoba at the Grunthal track. For information on that event contact Jason Matthes at matthesjason@hotmail.com.  The second one is August 24 at a private track near Woodstock, Ontario. Bill Jenkins is heading up that class and he can be reached at billjenkinz@yahoo.ca or at 519-535-9426. The schools have a limited number of entries and will turn you into a top-level pro by the end of the day. Okay, maybe not, but you will improve your riding and it will be a good time.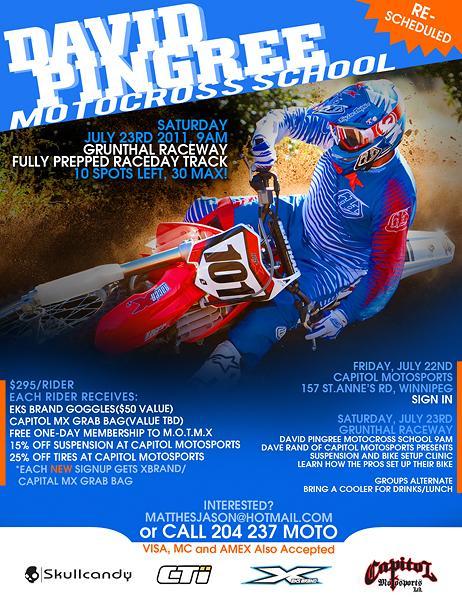 Speaking of good times, I got to ride the new two-stroke offerings from KTM this week and, man, what a fun trio of bikes. After dropping it temporarily, KTM brought the 125SX back for 2012 and it features a completely new frame, swingarm, cylinder porting, and the same new linkage that graces all the two-stroke SX models. It also got slightly stiffer fork valving, which has been a setup issue in the past.
The 150 receives the same changes to the frame, swingarm, forks and linkage as the 125, but with a few extra ponies under the hood. This bike is so fun! More on that later. The 250 also gets the frame, swingarm, forks and linkage, as well as some cylinder mods and the new style of V-Force reed block. It also has adjustable power valve springs that change the delivery of the power based on rider preference. It is an incredibly versatile, nimble, and lighting fast bike to ride.
"Factory" Phil Lawrence came out to help with testing duties, as did Skull Candy front man Jason Kimball. KTM's PJ Larsen even parked his 250F to come over and play with us for a while. Matt Francis posted a video of it you can watch right HERE.
After getting used to revving bikes to the moon once again (sooo fun), we all sat down and did some bench racing about which bike we liked best. After all, it isn't often you get to ride all three bikes back-to-back like that. Our answers probably made KTM's Tom Moen laugh, because we all liked something different. Kimball was ready to lay the credit card out for a new 125, Factory Phil liked the 250, and I was doing my best to load the 150 into my truck as the day came to a close. One of KTM's strengths is having the right tool for every job and every rider, and the two-stroke line continues with that tradition. For more details on all of KTM's 2012 offerings, visit www.ktmusa.com.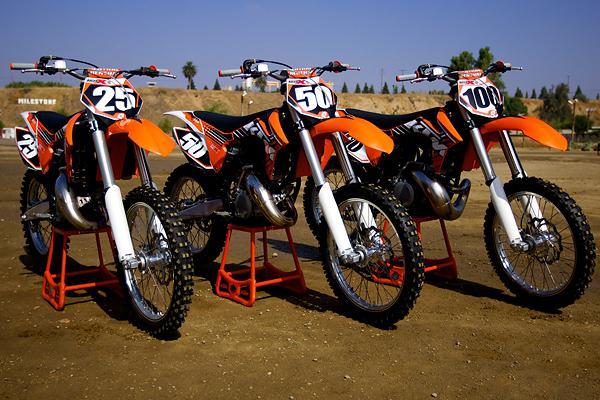 The new 2012 KTM's.
Photo: Matty Fran
I'm not going to go all commie and lay out a manifesto for you, but if it's been a while since you've ridden a two-stroke, you should do yourself a favor and just try one again. Borrow your buddy's bike or buy one out of the paper for $1200 and clean it up. Good luck wiping the smile off your face.
There's a big wild card this weekend in the form of Trey Canard. "The Duck" is making his return, finally, after fracturing his femur during pre-season testing, and I don't think anyone knows where to place him. Trey had the speed to win in supercross, but will that translate outdoors? I don't see any reason why it wouldn't, except for the fact that he has been off the bike for a while. If Trey hadn't gotten hurt, I think he would be up in that mix for the lead and definitely stealing points and podium finishes away from the big three from time to time. I don't know if he has the stamina right now to do that, but after a few rounds I think it's safe to say he could play the spoiler role in this title. Top five for this weekend? I think so.
I talked to Chris Blose this week. He is currently job searching for 2012 and hoping to get back to a team that races the full season, indoors and out. He's been golfing with his spare time this summer. Well, that and working on his washboard abs. Dick.
Silly Season update: MC and Larry Brooks to start new team on Hondas? I keep hearing it and the way LB was stroking Chad Reed's bike in the latest 'Insight' right here on Racer X Online, it certainly seemed curious. Who would they get? If Dungey goes to KTM and Stewart goes to Suzuki and Reed stays with his own team, you have to wonder who they would be going after. Canard? Pourcel? Evgeny Mikhaylov? Jaborg Jaborg? This is going to be an interesting few months coming up.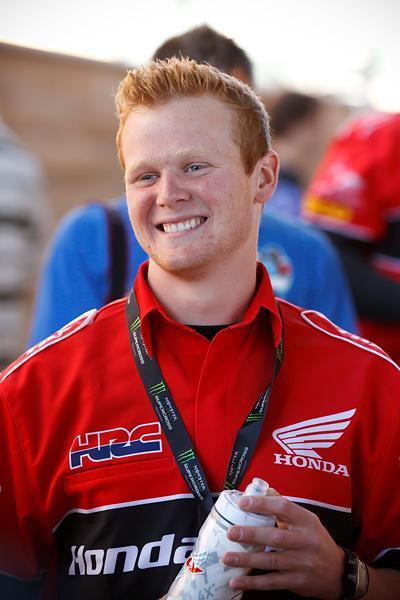 Canard makes his 2011 debut at
Millville
.
Photo: Simon Cudby
Okay, here are some random items to finish up the week:
We just got this note from our friend Stacey Baker, whose new PR company, The Inside Line, is working with Andrea Leib and her popular On Track Private School:
"On Track would like to congratulate all of our students for their dedication to not only having athletic goals, but educational goals as well. The students at On Track work so hard on and off the track, and we would like to thank them! As a reward, On Track is purchasing all of our enrolled students, and any students who enroll for the 2011-2012 school year, a one-year subscription to the digital edition of Racer X!"
That's awesome, Stacey -- maybe Andrea can find a way to work Racer X into the students' curriculum! To learn more about the On Track Private School, check out their website (www.stayontrack.net), Like them on Facebook, follow them on Twitter, or email Andrea Leib direct at andrea@stayontrack.net.
Glenn Kasin, a Racer X freelance contributor, is over in France for the Tour de France with Team RadioShack. If you feel like seeing what the team is up to, check out their site: www.teamradioshack.com or FB to see the "Behind The Lines" photos Glenn is shooting.
My friend Chris "Sarge" Carter, the man behind Alien Workshop, sent me a link to a very cool story about the history of BMX and one bicycle in particular, a '63 Schwinn Sting-Ray. But it also discusses the influence of "On Any Sunday" and what a scene in that film meant to the popularity of bicycle motocross. Check it out: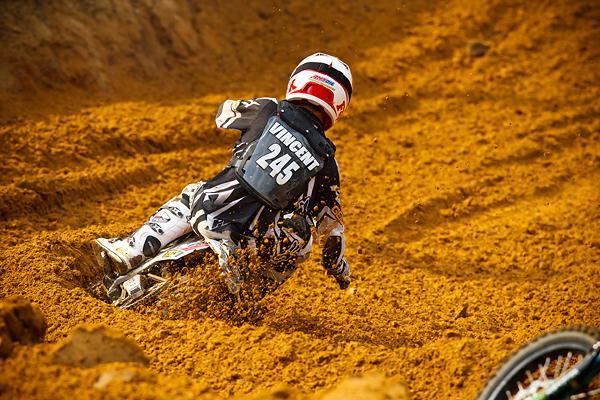 Lance Vincent is finished with his "fill in" role for GEICO Powersports Honda.
Photo: Simon Cudby
Lance Vincent finished his "fill in" role for GEICO Powersports Honda and is back with the Moto Innovations/Ankle-Savers Honda team. Hopefully he can carry over the fast speed that he showed at RedBud and other rounds to the rest of the summer.
Back to the topic of heat and hydration. The Biese brothers are rolling out their new Heat-Beaters under-garment that can keep you cooler with very simple steps. Check it out right here:
And we also got a note from Paul Lindsey at Leatt to remind us that Leatt now has two different version of our hydration system; one that completely integrates with the Leatt neck brace, and one that can be used with nothing at all. Both of them are "hands free" and very easy to install and use. Leatt also had a standing policy that any AMA Motocross pro could get one from Leatt for free, whether they wear a Leatt brace or not. Paul goes to most races and has plenty of each style, so if anyone is interested in trying one, they can go see him at any time, or he can send them one, no strings attached.
And don't forget EVS's CTR Cooling Vest, a Core Temperature Regulator that helps prevent dehydration and heat exhaustion while allowing optimum strength & performance. You can learn more about it at evs-sports.com.
"SteveS" posted this on Vital MX, and it's worth checking out for your own personal education on what heat stroke and heat exhaustion can do to you or your friends, and what you can do to treat it when you're out and it happens:
There's a big race next week just before Washougal that pays a $15,000. The race is on Thursday night in Portland and you can learn more about it right here:
"There's a little patch of land in Western Michigan that past world champion Mike LaRocco likes to call home. GEICO Honda's Lites riders have been calling that same area hell for the last 10 days...." Now that's how you start a press release! Somewhere near Ann Arbor, our pal Pat Schutte just teared up a little.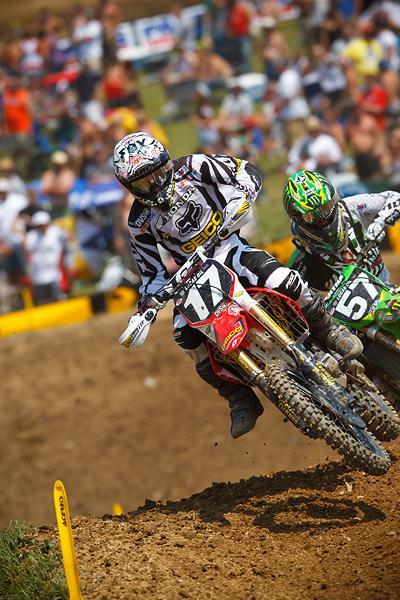 Can Barcia break the PC streak?
Photo: Simon Cudby
On a lighter note, Travis Pastrana is one of the most charismatic, funny, and talented people we know. Ken Block is one of the smartest, most creative, and talented people we know (and he's pretty funny as well). They are good friends, great rivals in rally-car racing, and will match up again at the X Games. But their competitiveness goes beyond that, and their friendship goes back to when Block started sponsoring the young Pastrana-the-motocross-rider through his company DC Shoes. Pastrana became an action sports' icon through the X Games and his Nitro Circus, while Block has become an action sports and rally sensation in his own right. His Gymkhana driving videos are already the stuff of online legend.
Well, at some point Block said something about cool cars and hot chicks equaling out to more exposure, and Pastrana took it to heart.... Then he took it to a studio and turned out one of the funniest rebuttal videos we've ever seen. If you haven't seen this, well, prepare yourself:
For what it's worth, I hope Ken does get the better of Travis at the X Games this time around, because it will only help rally car racing grow if their rivalry goes up another notch, and so will their funny online feud!
Here's a very interesting piece on the economic impact that a race like the Spring Creek National brings to its community:
Josh Hansen is over in Holland racing, as is our own Bad Billy Ursic. Here is a video of his first day on the track.
And if you follow Hanny on Facebook, you know he's having quite the adventure over there...
Finally, there are good days and bad days, but then there are also GREAT days. And Alpinestars' Gabriele Mazzarolo had a great day this week when he went sport-bike riding all day with his friend Michael Schumacher in France.... Yes, that Michael Schumacher, as in the 7-time Formula 1 world champ who retired for three years, then came back last year to drive an MGP W01 for the Mercedes GP PETRONAS F1 team.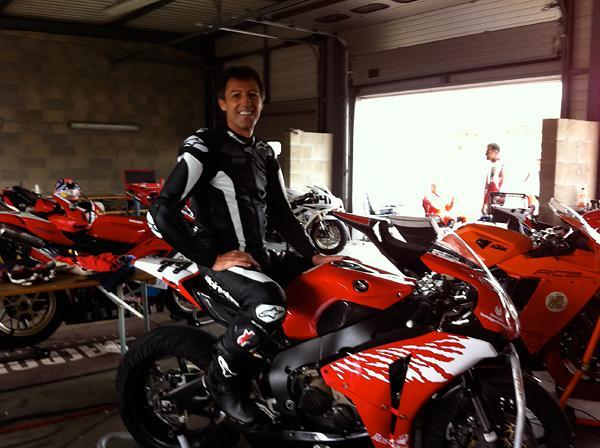 That's Gabriele Mazzarolo, with his friend and fellow sport-bike rider Michael Schumacher milling about in the background.
Okay, that's it from a busy week in motorcycling... Let's hope we have no more surprises and everyone gets back to focusing on the task at hand, which are the big races ahead. And it's still raining in Minnesota as we close this. Thanks for reading Racerhead. See you at the races.