Spring Creek MX Park
Millville

,

MN
Spring Creek Motocross (Millville)
Lucas Oil AMA Pro Motocross Championship
We're not math majors here, but three Monster Energy Pro Circuit Kawasaki riders hold a 66-point lead over anyone else in the standings in the 250 class of the Lucas Oil AMA Pro Motocross Championship. And they have won every moto this year. Other title faves, like Justnin Barcia and Eli Tomac, scored zero points at RedBud, so that adds up to a three-rider championship fight in our minds. Even Trey Canard's amazing 2010 comeback didn't come from this far back!

But who will win out of the Wilson/Baggett/Rattray trio? Once again, our staff weighs in: Contributing Editors Steve Matthes and David Pingree, Online Editor Jason Weigandt, and Online Content Manager Chase Stallo.

Matthes:

Dean Wilson: It's got to be frustrating if you're Dean Wilson. First is the fact you're Scottish and you're a little off kilter. Or maybe just off kilt. I'm not sure but the Scotsman has been consistently right there every week but doesn't have a win to show for it just yet. Four straight second places and counting. After his pretty awesome rookie season last year, most thought Dean was one of the favorites for the 2011 250 motocross title and here he sits with the points lead halfway through the season. Yet, I know he's not happy.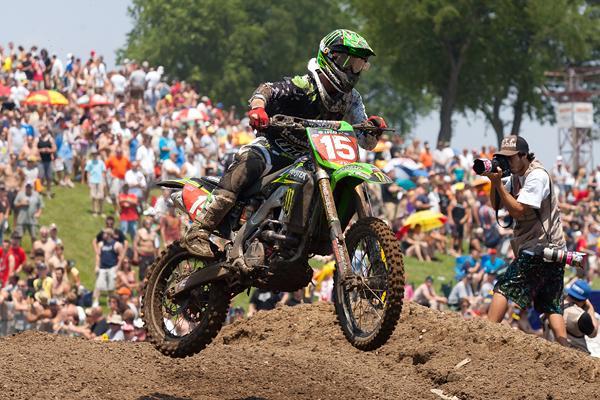 Four straight second places and counting for Dean-O..
Photo: Andrew Fredrickson
His teammate and amateur moto rival Blake Baggett has four wins to his none and his other teammate Tyla Rattray has two wins. Wilson has been shut out but like he was telling me, he's gone 1-3 at two races this year and has yet to win. Chad Reed's gotten the same score three times and won all three races. The fates are just not with Wilson so far.

That's the bad news. The good news is he's shown that he has the speed to rip through the pack and get to the front. He's got everything you want to see from a championship contender. He just doesn't have the wins. More good news. He's got a 14 point lead in the series! The mental part of the series starts now. There was a week off to try and cool down Baggett's speed and get Wilson ready for the second half. This weekend's race in Millville is huge, Baggett goes 1-1 there and it might be over. Wilson needs a stop and he needs it ASAP.

Unfortunately for Dean, I put him at a smaller percentage to win this title than Baggett. Blake's got the wins and the momentum. And no, this has nothing to do with Wilson turning down Team Canada for the Motocross des Nations. I would have done the same thing if I were him.

Chancibility of Wilson winning title- 40%

Blake Baggett- El Chupacabra has been the man so far this year, right from the very first drop of the gate at Hangtown, Bagget has been there going very fast. I don't want to give him too much credit and make Ping's massive Sean Coombs-like ego any bigger, but David Pingree called this. He knew that Baggett would come out and kill it and that's exactly what he's done. The races that Baggett hasn't won have been because he's A) crashed or B) crashed.

His speed is as good as anyone in the class, maybe a bit greater but when you factor in his incredible ability to just sprint around the halfway mark, it makes for long tough days for Wilson and crew. Blake's got the ability to raise his game seemingly at will and even though Wilson knows it's coming, he's powerless to stop it. It's hard enough maintaining your speed throughout a moto, never mind dropping your times halfway through. What's that you say? Baggett's never been to the tracks in the second half of the series? Yeah, well he'd never been to RedBud either and look how that turned out.

Choo, choo the Blake Baggett train is coming. Next stop is titletown!

Chancibility of Baggett winning the title- 45%

Tyla Rattray: Hey he's only two points back of Baggett, what's there to worry about the Rattray fans cry out. Well, it's only two points but it seems like Rattray is a world apart from the speed he needs to start getting up there with Blake. One thing that's not going Tyla the Styla's (cool nickname by the way) way is the starts. He just hasn't gotten them lately, almost from the moment he got the points lead after Texas. The reactions have gone the way of an elephant hunted by the CEO of GoDaddy.com in South Africa for the South African.

I really thought Rattray was going to win the title after he won Texas. He just seemed to have it all, the speed and endurance was there but that was before Baggett started getting all freaky on us with his speed and endurance. Would I like to see The Styla (still cool) win the title? Yes I would. I admire what the former World Champion has done in leaving money and fame in Europe to come here and learn the American game. It would make for a good story and I'm a sucker for stories that involve underdog South Africans going against the world. I even liked Blood Diamond but I'm afraid Rattray needs to get his starts going again to have a chance.

Chancibility of Rattray winning the title- 15%

Stallo:

It's bizarre to think that the series point's leader is the only title contender yet to win an overall. But in a season with more twists and turns than an episode of Days of our Lives, is it really all that surprising? Wilson continues to pound the podium, but has no overalls to show for it. His speed is there—he consistently tops the lap charts. His consistency is there—six podiums through six rounds. But podiums alone don't win championships; just ask Ryan Dungey and Chad Reed during their Supercross campaign. His consistency may lead him to the promise land but if he continues to fall short of the top spot he won't be drinking the holy water at the end of the year.

Wilson's odds of winning championship – 30%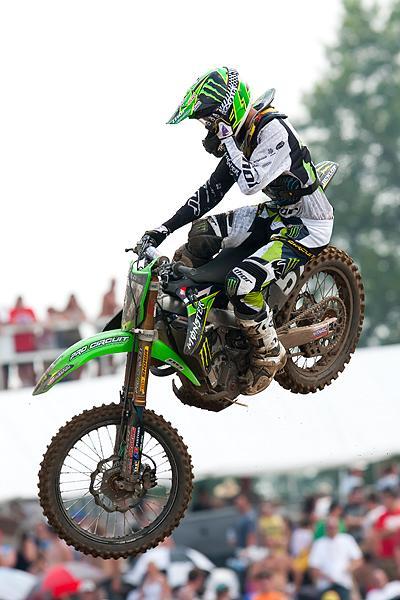 Blake Baggett
throwing a tear-off in the second moto at
RedBud
.
Photo: Andrew Fredrickson
Some call him El Chupacabra. Some call him BB Gun. At the end of the season Blake Baggett will add a new title to his name "El Champion."  That's right I'm calling it right here, right now. Blake Baggett will win the 250 class outdoor championship. The hottest rider in the country has proven he can come from behind, see Hangtown and High Point. Has proven he can take it to the house when up front, see Thunder Valley and RedBud. And he has proven he can salvage points when his game is not quite there, see Freestone and Budds Creek.

Baggett has won four consecutive motos and grows stronger as each race passes. Some will point to his inconsistency or lack of experience, but with twice as many overalls under his belt than his nearest competitor (Tyla Rattray) the inconsistency argument holds little validity. Baggett won't walk away with this title, but he definitely holds the advantage as we make the home stretch.

Baggett's odds of winning championship – 45%

Just a few short weeks ago Tyla Rattray looked primed to add to his championship repertoire. But since taking over the red plate after High Point Rattray has seemed a bit… off. He has struggled the past two rounds to get the early jump off the gate and has had to make hard charges through the pack to salvage points. Even though Rattray is one of the fittest riders out there, having to put on charges like he has eventually takes its toll on a rider.

The off-week has probably benefited Rattray more than any other championship contender because of the reasons mentioned above, and if he can come out of the break firing on all cylinders he may be able to reel in the red-hot Blake Baggett and series points' leader Dean Wilson. Rattray's championship experience could prove vital down the stretch, but when it's all said and done Baggett, or should I say "El Champion" will prove to be the straw that broke the camel's back.

Rattray's odds of winning championship - 25%

Weigandt:

Man it doesn't get much harder than picking this one. With the 450 class you're looking at three proven commodities, riders with history that can be used to make an informed decision. In the 250 class, you have one rider with a major pro championship, and two others who weren't even professionals 24 months ago! How will they all react when the pressure is on? How am I supposed to know? The riders probably have no idea themselves.

Look at Wilson. He's leading the points but coming up oh-so-short on overall wins. In supercross, he was just the opposite, winning races here and there but lacking the consistency to get Justin Barcia for the title. Dean was once frustrated with inconsistent starts, but it looks like he has figured that out. Now he's frustrated with Baggett's consistent speed. A dude in the points lead at the halfway mark should be much happier!

With Baggett you're looking at crazy speed but somewhat unknown consistency. With Rattray you're looking at assured consistency but maybe not the same speed as the kids. With Wilson, you have a good mix of both. Basically, Wilson is really good, all around and it wouldn't shock me at all to see him win this. The problem is, if Baggett keeps bringing it like he did at the last two rounds, Wilson will need to bring some more, and it's not easy to find speed at midseason. Most importantly, he has to not let that frustration mess with his riding or training. If he keeps doing his own deal, riding consistent and not get caught up in what Baggett is doing, the title could end up being his anyway, no matter how fast Baggett goes.

Wilson's chances of winning the 250 Championship: 37%

I still can't even figure out Baggett's speed, and that's what scares me on this championship run. He shouldn't be able to go this much faster than everyone else. He's crazy fast! So it makes me wonder if it can really last. It's part of the deal with this Chupacabra thing. Is it for real? RedBud went a long way toward proving that it is, because he admitted he has little experience on muddy, rutted tracks and he still worked everyone over. I think he knows what went wrong at Freestone and Budds Creek and prevent it from happening. Baggett may be back a bit on points, but it's his title to lose. If he keeps it up, there's no stopping him. But one big crash and he'll be too far back in the standings to pull it out. It's all in his hands—but they're hands that have never lifted a pro championship trophy before.

Baggett's chances of winning the 250 Championship: 43%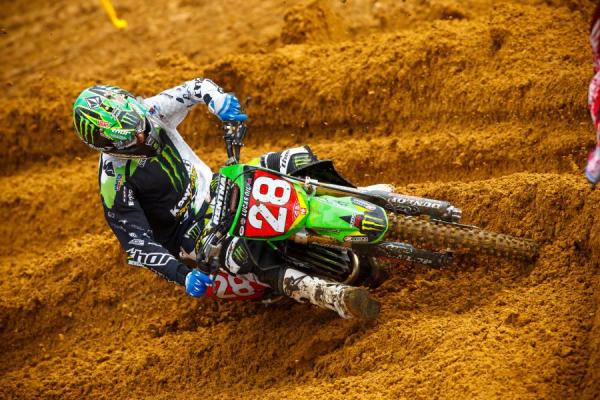 It's Rattray's steady hand against the crazy speed of Baggett and Wilson's mix of speed and consistency.
Photo: Simon Cudby

At the beginning of the season I said this class would boil down to Tyla Rattray versus whatever kid figures it all out and finds crazy speed. I thought that kid would be Eli Tomac, but he has just not been the same rider after that tough supercross loss. The two Lites SX Champions, Barcia and Tickle, haven't been the same, either.

So now it's Rattray's steady hand against the crazy speed of Baggett and Wilson's mix of speed and consistency. I actually don't think he's as far off, speed wise, as some of the other's here think, and as for the starts, hey, you're gonna' get a few bad ones through a 24-moto series. The problem is, he may be close on speed, but I don't think he's faster, and that's gonna make it tough to jump past two riders in the standings. He'll fight to the end, though.

Rattray's chances of winning the 250 Championship: 20%

Pingree:
I had good intel that Baggett was going to be fast from the drop of the gate at Hangtown. But still, every time he grabs another gear at the twenty minute mark and waves buh-bye to Wilson, Rattray and whoever else is within sight of him I can't help but let out a Joe Dirt inspired, "Dang!" Blake is clearly faster than the rest of the field and he has shown that as long as he stays off the ground he can find his way to the front.
Dean Wilson has been surprisingly consistent. He hasn't scored a win yet, but I think it's just a matter of time. It has to be frustrating to go 1-3 and not get the overall, right? His consistency comes as a little bit of a surprise since his supercross series lacked it. My opinion is that Dean needs to keep doing what he's doing. If he tries to go after Blake when that little guy hits the afterburners there is a good chance he'll wind up on the ground. He is the points leader because he's been consistent and if he can stay on the box every moto he will be right there at the end.
Tyla Rattray is the guy I would have picked for the title at the beginning of the series. He is the most experienced rider, he's fit and his consistency has always been a strength. But for the past few weeks the kids have been kicking his ass. Ratters needs to get some starts and reel off some wins if he wants to get back in this one.
I don't want to overstate this: The chance of anyone else, aside from those three riders, winning this title is about as good as me finding the lost city of Atlantis in my toilet. Can we all agree on that?
So, who will it be? I wouldn't bet any of my money on this championship right now. There is still 300 points up for grabs and that can change a whole lot. So, do you bet on speed, consistency or experience? Cue the Jeopardy music while I think about this?
Okay, Alex, I'll take Blake Baggett for $200, please. Blake has the right people in his camp, the right trainer and the right mindset going forward. He knows he has extra speed in the tank and as long as he can avoid major carnage I think he is going to squeak this one out over his teammates. But, like I said, I wouldn't bet with my money. If only there were a Russian rider sponsored by an obscure Soviet meat company that could come in and challenge the Pro Circuit team...