FLY Racing Introduces Andrew Short & Trey Canard Replica Helmets
Boise, ID –
FLY Racing is proud to introduce its new
Andrew Short
and
Trey Canard
Replica F2 Carbon and Kinetic Pro helmets. Now you can wear the same helmet graphic scheme as
Andrew Short
and
Trey Canard
with these replica helmets. Both riders worked directly with the FLY Racing design team to develop their replica graphics and were given full creative freedom to incorporate personal touches into the designs.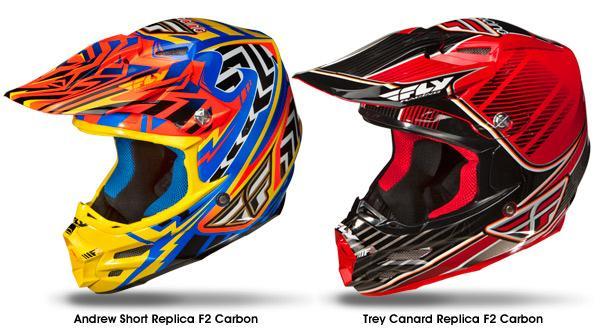 Short and Canard will each race in their state-of-the-art F2 Carbon Replica helmets, which utilize aircraft grade woven carbon fiber and Kevlar® composite materials and meet the toughest safety standards on the market. Andrew Short chose to debut his F2 Carbon Replica helmet at the Red Bed National over the July 4th weekend, and Trey Canard is slated to debut his helmet upon his return to the outdoor nationals. Both the Short and Canard Replica F2 Carbon helmets will be offered in three colorways and retail price ranges from $259.95-279.95. Both will be available at your FLY Racing dealer in mid-August.
In addition to the Andrew Short and Trey Canard F2 Carbon helmets, FLY Racing is also pleased to offer Andrew Short and Trey Canard replica graphic schemes in its new entry level Kinetic Pro helmets. The Kinetic Pro is DOT and ECE approved for the USA and features a poly alloy shell, plush embossed pattern liner, aluminum visor hardware, and an amazing $119.95 retail price. An entry-level helmet never looked so good! Kinetic Pro helmets will be available in mid July at a FLY Racing dealer near you.
FLY Racing products can be found at your local WPS dealer. See FLY Racing's entire 2012 collection, beginning July 15th, by visiting FLYRacing.com. You may also follow FLY Racing on Facebook, Twitter, and watch FLY Racing videos on its You Tube Channel.
About FLY Racing
Established in 1996, Fly Racing began as a manufacturer of motorcycle handlebars and helmets. The brand has quickly developed into one of the fastest growing off road motorcycle riding apparel and hard part brands in the powersports industry. Fly Racing develops high quality products for the competitive and demanding North American market and is distributed in 40+ countries. Fly Racing products are distributed exclusively in the United States by WPS (Western Power Sports).