RedBud MX
Buchanan

,

MI
RedBud Track 'n Trail
Lucas Oil AMA Pro Motocross Championship
Hello, everyone, and welcome to the Rev Up. Big weekend, folks. The Fourth of July weekend is quite the show, but in the racing world she really carries the steam. In the motocross world it simply means one word: REDBUD! I've said all along that all of the venues on the tour carry nostalgia, but
RedBud
is truly special. The rolling green confines, the gigantic American Flag, and one of the sweetest tracks in the world awaits us this Saturday afternoon.
Like most of you, I grew up loving the Fourth of July because of fireworks. My brothers and I would go nuts every year and had the gnarliest bottle rocket wars you can imagine. I've read some books since then, visited the Antietam Battlefield and Arlington National Cemetery and have grown to appreciate why they call these United States the "Land of the Free" and "Home of the Brave." I ride a Harley, I take my hat off every time I hear the National Anthem, and I always take time to watch a 60-foot American Flag dance with the wind. I love our country and I'm grateful I was lucky enough to be born here.
On with the charge.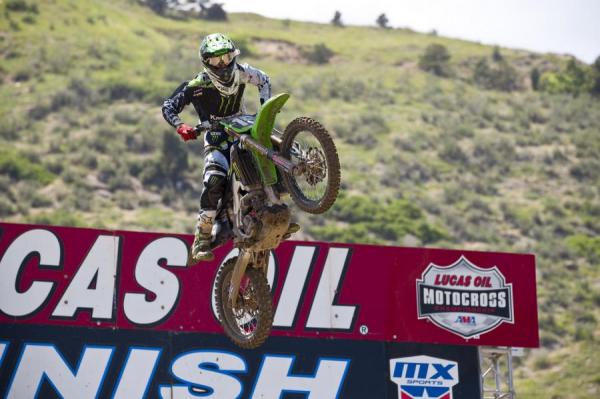 Dean Wilson will be bringing the red plate with him to RedBud.
Photo: Garth Milan
250
How about "Bad" Blake Baggett? Hey, nothing for nothing, what stoked me out the most was when he threw pan over the huge triple step up on the last lap of the second moto. I haven't seen anyone lay one out on the last lap of the last moto since Carmichael showed drain plug over LaRocco's Leap in 2007. If you win, you must claim it and pan that son of a bitch. Blake did. [Golf clap.]
I think this is the weekend we see Justin Barcia go berserk and get it done. The rough, wide open, and multi-lined course favors Justin's "pin it and pray" style, and I think he's ready to put one down—mononucleosis or not. That said, I remember how fast Dean Wilson was at RedBud last year and he will carry the red number plate with force. Like Barcia, Wilson's style favors this track. He uses his lanky frame to carry his front wheel wherever he wants it to go—and wherever that may be, it will be fast.
Plus, my boy Wil Hahn will be making his return to the fire. Wilbur came into the 2011 season ready to contend for both titles but got busted up at A1. He's back now and he'll be fast. How fast? Go show them how we do it in Kansas, bro.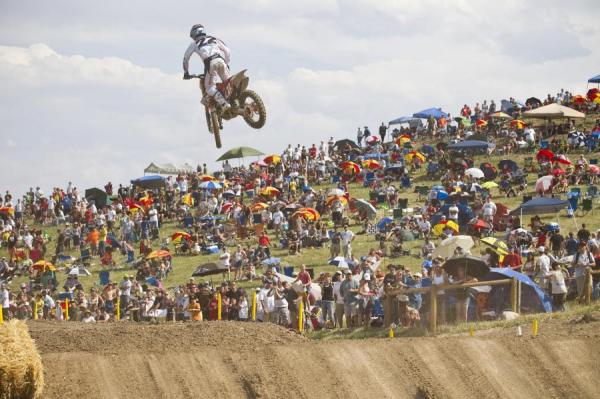 Will Reed take home yet another victory in 2011?
Photo: Garth Milan
450
How good do you think it felt for Ryan Dungey to hold his index finger to his lips last weekend and say, "Shhhh...." and quiet all of us down. He wasn't riding aggressively enough. I was watching the first moto with my brother Casey and he said, "Look, not aggressive enough. Not even close to RV." Well, he went out in the second moto and beat Chad Reed heads up, and threw pan over the finish line with his first victory of the season.
With these guys, it's pretty much the RV, RD, and CR show. But it's a good one. We may see Mr. Alessi get in there and fight for a while. Don't forget #800 was on James Stewart's pace when he got TKO'd at RedBud '08.
Ah man, there's so much going on. I have my heart beating for the show over at RedBud, then little brother Clint will be down in Daytona this Saturday night. It's the Firecracker 400 and it's about the time a year for the wheelman to go get one. He'll have them on their feet; I just hope he has the luck at the end. Good luck, son.
Meanwhile, I'm leaving for Northern California tomorrow to see my pals. I've been lucky to make friends all over the world, but I only have three or four real pals. My pals have been the greatest muse in my life. We've seen more, done more, and laughed harder than you can fathom. I'm always going to miss something when I take a week away, but I'm so stoked to be spending the greatest American weekend with my pals, doing American shit. Love you guys, can't wait to see you.

Or will it be the Villopoto show?
Photo: Garth Milan
All that mushy fodder aside, it's time to light the candles, folks. It's time for the biggest weekend of the year and it's time for the damn Rockstar Energy Drink RedBud National! I raced the RedBud National in 1996—the year Jamie Dobb won the first moto, then opted out of moto two—but I digress. RedBud is awesome, folks. I've hung my ass off the back of my bike around that nasty start stretch and I've been in a bottle rocket fight in the infield. Pick your poison; RedBud is such a great, great event.
Who is going to be the man this time around? It better be a Yankee I tell you that, and I tell you whoever wins better twist that pig upside down over LaRocco's Leap and claim it for the home team.
Happy Independence Day, my friends. Take care of each other and let's get ready to blow this weekend out of the park!
Thanks for reading, see you next week.