Thunder Valley Motocross Park
Lakewood

,

CO
Thunder Valley Motocross
Lucas Oil AMA Pro Motocross Championship
Ryan Villopoto Monster Energy Kawasaki 1-2 for Second Overall in 450 Class
The track was tough. It seemed like in years past there was more sand put it in, this year there was more hard clay. As the day went along the ruts dried out and they were super long so you had to pick good lines

I didn't get a time in at all in the first practice, we thought it might have been electrical [problem with the bike]. I just had to do some laps in the second practice just to get a gate pick. When I came back they tore the bike completely apart, and it turned out it was electrical. Just a small problem.

Yeah that was the best second moto I've had this year. Ryan was riding really good, it kind of seemed like he was quicker on one side of the track than I was and I was quicker on the other. I made a mistake and he made up like two seconds right there. But I was happy because I felt so much better in this second moto than I have been at any other race this year.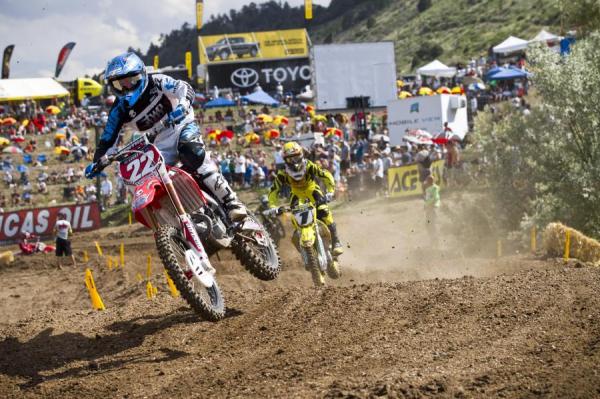 "For me, I'm happy to be honest." -Chad Reed
Photo: Garth Milan
Chad Reed TwoTwo Motorsports Bel Ray Racing 3-3 for Third Overall in 450 Class.
For me, I'm happy to be honest. It's a tough race track for me. I enjoy I I like it and I really like ruts, I just felt a little off. I threw down one fast lap in practice, but I just struggled to do that consistently in the races. I ripped a holeshot in the alttitude, and I think Hondas have ripped every start here since like '09. Obviously my bike is fast enough, we just need someone good enough to ride it! I truly feel you learn more on the days when you get your ass kicked. When you're winning, you don't want to reinvent the wheel. Today I know there were improvements that we need to make, and I think we can make them. But I'm excited to get after it and try some things this week and come back to Red Bud.
I was the third place guy, those guys had a great pace going, and I wasn't that comfortable going that fast in these ruts. That's an area I have to work on. In practice they were soft and wet, and in the race they kind of dried up. I think I got caught off guard by that.
Dean Wilson Monster Energy Pro Circuit Kawasaki 2-2 for Second in 250 Class
My day was pretty good, first moto I suffered a little bit of arm pump and rode kind of tight. Second moto I worked my way past a few guys at the beginning. Blake just rode phenominal today, I felt good, but I need to maybe get a little bit faster, maybe start the race a little bit faster. But I can't complain I have the points lead, and I'm pumped. I'm happy about that, and it looks good. I was actually eight points up going into the second moto at High Point, then I crashed when I was in the lead, that was my fault. I want to hold on to it now.

Eli Tomac GEICO Powersports Honda 3-3 for 3rd overall in 250 Class
I struggled with my starts. Being the home race seemed to fire me up a bit, I was excited to get out there for the first practice. But Phoenix Arizona is closer to my house than here so I've only been here a few times, just Loretta's qualifiers and the national.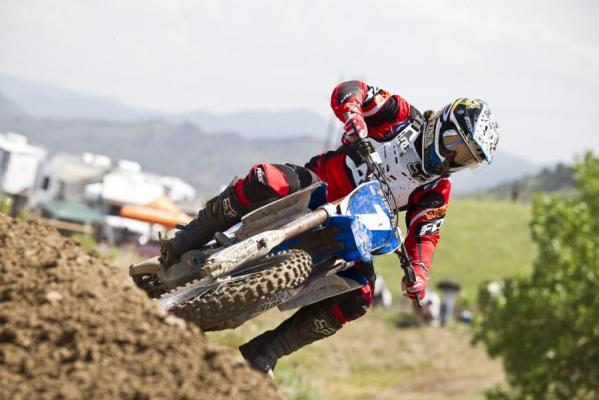 "I have one goal now and that's to get the points back." -
Jessica Patterson
Photo: Garth Milan
Jessica Patterson DNA Shred Stix Star Racing Yamaha 1-1 for first overall in WMX Class
It felt good for me. I had to work on some things, but I felt good coming in and it's good to come out with a win. It was such a bummer that I lost so many point there in Texas, I have one goal now and that's to get the points back. I'm putting that behind me and just trying to focus on doing what I did today, winning the motos, so I can make up as many points as possible.

Ashley Fiolek American Honda Racing 2-2 Second Overall in WMX Class
It went pretty good, not exactly what I planned. It was super rough. I got good starts and just rode my own race. Jessica rode good today. I'm excited to still have the red plate and I'm looking forward to Red Bud.  The ruts were really, really gnarly, I was just trying to find the best ones I could, but it was tough all over the place on this track.

Tarah Gieger Lucas Oil Troy Lee Designs Honda 5-3 for Third Overall in WMX Class
Yeah in the first moto, I was in third, but I hit a haybale and ended up going down. I turned it around in the second moto. Vicki (Golden) went down on the last lap and handed me third overall. I started right behind Patterson but I bobbled a bit, and it was just so rough that anything could happen, so I just tried to stay safe. Maybe des Nations at Budds Creek may have been the last time I rode on a track this rough and rutted.

"I was happy with the way I rode but I got horrible starts." - Nick Wey
Photo: BrownDogWilson
Ricky Dietrich, Valli Yamaha 450 class  8-17- 13th Overall
The weekend was mixed, it was up and down but honestly I'm stoked with how it went, I'm learning as I go. My first moto was by far the best one I had all year. Decent start, worked my way into the top ten. Got to eighth and was keeping the pace with the top five guys. I was putting pressure on Short to make a pass but I spoded out in a corner, lost time and he was gone. I almost got him in the end. I felt good, I was in the race and I left that moto thinking it was the best one I had all year.
Second moto, it didn't go good, I ended up crashing on the first lap. Slid out in a corner and then five laps in I cartwheeled in the first turn. I looked up at the tower and saw Jimmy Perry looking down at me. It took me a few seconds to catch my breath, I caught a bar to my chest. Ripped my jersey open and everything. I got up and saw Weimer in front of me and we're battling in the points so I kept pinning it and I ended up getting seventeeth.
Nick Wey, Valli Yamaha 450 class  13-11- 11th overall
I usually have a super hard time because of the altitude but this weekend was alright. I think with some better starts I could have been seventh or eighth. I was happy with the way I rode but I got horrible starts. I had a bunch of close calls out there for sure, the track was tough. I rode ok, I could have ridden better I suppose. Peace out.I have one goal now and that's to get the points back