Thunder Valley Motocross Park
Lakewood

,

CO
Thunder Valley Motocross
Lucas Oil AMA Pro Motocross Championship
10. RED DAWN
: Whether a product of altitude or attitude, Holy Honda Holeshots. In each Lakewood 450 moto, the first four bikes into the first turn were red.
Christian Craig
was credited with the holeshot in the first moto, with the 14, 33, and 22 bikes sliding around alongside. In the second race,
Chad Reed
took the point early. With
Josh Grant
sidelined – more on that down the page – privateer
Jimmy Albertson
stepped up and tucked in behind Reed, with
Kevin Windham
and Craig also starting strong in the first turn. That's three teams up front for the red riders – Troy Lee Designs, TwoTwo Motorsports, Factory Honda – plus one private entry partially backed by an absent Factory Honda rider.
9. TOP JIMMY: Jimmy Albertson was making his first appearance since badly breaking his leg before ever getting out of practice at the Anaheim supercross opener. Riding out of a motor home so far back in the pits that it wasn't even in the paddock – Albertson's rig was parked way out in spectator parking – and backed up by Merge Racing and a little extra help from good friend Trey Canard, Top Jimmy made his re-debut on the American scene with good starts, solid finishes, and a bitchin' theme song-slash-nickname.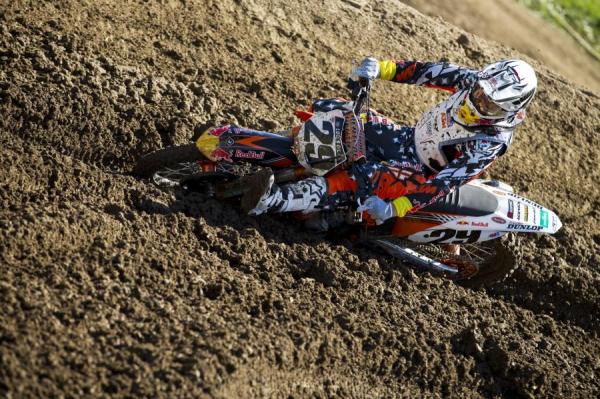 Short was back in top form at Thunder Valley.
Photo: Garth Milan
8. TOMMY-GUN: One week previous, at the Budds Creek round, Tommy Hahn looked to be back on form and going to the front. Then, an innocuous low-speed crash nonetheless managed to put the crossbar pad right into the same area he'd badly injured earlier in the season, and Tommy Gun was shot. But it was ricochet time at Thunder Valley. Hahn was firing on all cylinders after falling in the first turn, rifling through the field for 11th in the first race and returning to aim for the front with a fifth in moto two. Okay, enough gun puns... great ride for Hahn and a good result, finally, for MotoConcepts.
7. HOME STATE HEROES: Andrew Short now resides in Texas, and Eli Tomac's Colorado home is something like six hours away from Denver. But while neither is exactly a local at Freestone, each rode Thunder Valley like every bit the fan favorite they are. When Short was throwing big flat whips to the cheering crowd on the backside of the course in opening practice, you almost had to wonder if that'd be the highlight of his day. Instead, Shorty came out and hustled the heavy-breathing and short-of-stature 350 around the mile-high Lakewood course to his best finish of the year. And while it was teammate Justin Barcia with the early leads, it was Tomac standing on the 250 podium at the end of the day with a 3-3 for third overall. Much earlier, Tomac was so close to the fastest qualifying time that he was actually off the track and on the microphone being congratulated by the trackside announcer – and then Rocket Rob Buydos broke in from above that Dean Wilson had just taken away the top spot on the very last lap of the last session.
6. CONSISTENCY AIN'T CONSISTENT: A week earlier, at Budds Creek, six 450 riders in the top fifteen posted identical moto scores and another eight finished no more than two spots off between the first and second moto. At Thunder Valley, you can toss that idea. Only four riders in the entire 40-rider field posted identical scores: Chad Reed's 3-3, Kevin Windham's 4-4, Jimmy Albertson's 12-12, and Calle Aspegren's 40-40. For the rest of the field, it was a mismatched mix for overall scores, ala Andrew Short's season best 7-8 for fifth, Tommy Hahn's season best 11-5 for sixth, and Christian Craig's 6-15 for eighth.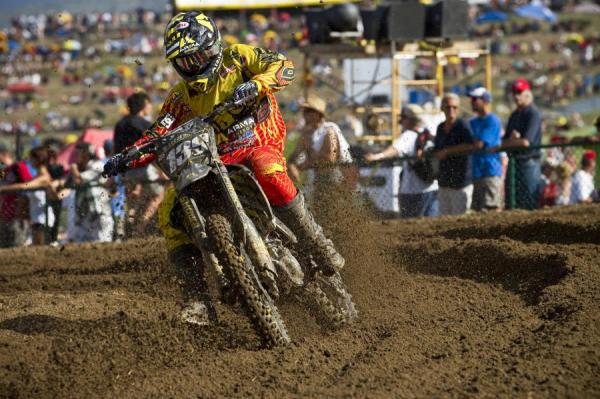 Stewart scored his first career top-ten overall at Thunder Valley.
Photo: Garth Milan
5. MOOKIE IS TOP SUZUKI: Also posting an uneven finish, but nonetheless impressing, was one Malcolm Stewart for the ARMA Energy Suzuki City team. After flirting with top ten overall finishes in the last two rounds – with moto scores of 9-10 and 16-6, both times for 11th overall – Stewart posted his first official top ten finish in the outdoor nationals. Moreover, Stewart's 13-7 for seventh is the second time in the last three outings that he's been the top placing rider on a Suzuki in the 250 class. Meanwhile, the factory backed Rockstar squad continues to struggle with rookie Nick Paluzzi scoring 11th this week; veteran Martin Davalos going 36-9 for 17th; first-time on the team Les Smith struggling to adapt from the big bore class and scoring a disappointing 21-19 for 23rd overall; and amateur sensation Jason Anderson apparently slated to take a few weeks off altogether.
4. MUTUAL MISFORTUNE: Few will forget Josh Grant strafing across Mike Alessi at Lakewood two years ago, with the pass putting Alessi down and out for the season with a re-injured knee. Last year Grant streaked past Ryan Dungey for a convincing first moto win only to get tied up in first turn mayhem in the following moto. This year, early arrivals at the track could see that JG was channeling that confidence as he whipped his way around the track in the opening practice session of the day, both flat-out and getting flat over on the many big Thunder Valley jumps. And then, in the second 450 A practice session, Grant went down and injured his knee. Not his bad knee, but his good knee... well, it used to be his good knee. Grant tried to gut it out in the first moto, but pulled out and didn't line up for race two. Alessi, meanwhile, started up front and charged to another solid fifth place finish in moto one... only to get tied up in a second turn tangle in race two that ended his day prematurely as well. Grant posted a 36-38 on the day and may be doubtful for RedBud and beyond. Alessi went 5-37 for 14th overall, by far his worst result since rejoining the outdoor tour. Neither rider can be very fond of Thunder Valley right about now.
3. RYANS RIGHT IN THE RUTS: While Thunder Valley's straightaways and jump faces were largely smooth and hard, the corners changed significantly throughout the day as the hot mountain sun baked the track surface. The turns were ripped deep and watered perhaps a tad much: In the opening practices, factory-caliber riders were getting hung up in the soft soil, catching footpegs and feet and often losing all forward momentum. But by the time the second motos ran, those same super-deep hooked-out ruts were like cement, and several turns resembled a broken slot car track– with the lines in and the lines out barely even meeting in the middle. Visible even through Ryan Dungey's deceptively smooth style was his ability – and willingness – to manhandle the Suzuki in those conditions. Ryan Villopoto, likewise, simply hunkered down and hung in behind Dungey, perhaps through sheer force of will. Chad Reed struggled to find the same grooves, and bounced right out of his chosen line on several occasions before finally backing it down – and apparently accepting that another third place moto finish would preserve at least a portion of his points lead.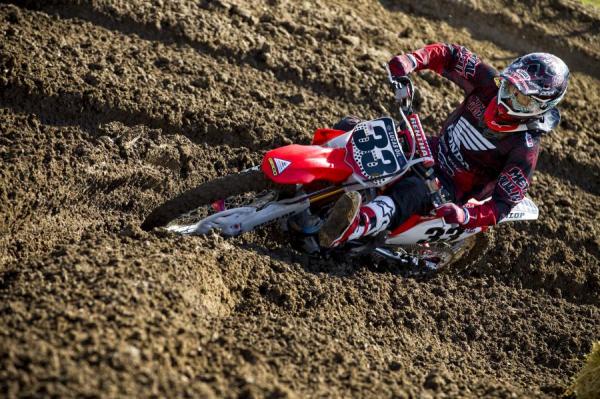 Grant hurt his other knee at Thunder Valley.
Photo: Garth Milan
2. PAYTON'S PODIUM: Mitch Payton knows how to make horsepower from sea level to up in more rarified air: Part of the proof can be found in the Pro Circuit team's history at Lakewood, where they have yet to surrender the top step on the podium since the track joined the tour. Blake Baggett's perfect 1-1 score marks the seventh consecutive day and 14th time a PC rider has stood atop the podium. Ivan Tedesco swept the 2005 race, Ryan Villopoto swept the '06 and '08 stops and split moto wins with Ben Townley in 2007. Christophe Pourcel won both motos last year, and split the wins with Jake Weimer the year before.
1. K-DUB NOT TAKING A SUMMER VACATION?: With Josh Grant maybe back out as quick as he came back in – and it now sounding like Trey Canard may be out until Washougal or beyond – it looks likely that Kevin Windham's wakeboard boat will stay high and dry for a few more weeks. Windham was early to the first turn in both motos, and rode the strongest, smoothest, and most consistent of anyone behind the top three. Windham actually finished very close to Chad Reed in the second moto. Hey, how could he pass up riding at RedBud?