Thunder Valley Motocross Park
Lakewood

,

CO
Thunder Valley Motocross
Lucas Oil AMA Pro Motocross Championship
In the roofless world on outdoor motocross, it's all about the ceiling. How fast can these guys go? How high can they raise their level? And can they keep it there?
After this weekend's MotoTees Budds Creek National, the fourth round of the Lucas Oil AMA Pro Motocross Championship, parallels are everywhere between the 250 and 450 classes. Each class now features three riders who can win, and each use three different styles.
The highest ceiling may belong to Ryan Villopoto and Blake Baggett. Similar in more ways than one, these Kawasaki boys literally grew up together. When a young Villopoto needed to get to California to ride year round, he moved into Baggett's house. I remember watching these two pal around at Loretta's a good eight years ago, which means when RV was barely a teenager and Baggett was barely into the double digits. Back then, they were the small guys on Kawasaki minibikes. Now they're the small guys on Kawasaki big bikes. Their speed is undeniable—perhaps the best in each class when they're on. Villopoto has only won two motos of eight this year, but those two wins featured a sprint that I'm not sure anyone can match. Seriously, RV moved out by a good three seconds a lap early at High Point and at Budds. That's high ceiling for how high his speed level can go.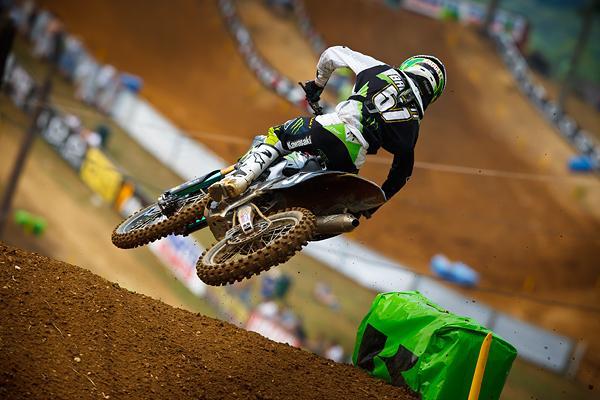 Baggett was unable to make his late race charge at Budds Creek.
Photo: Simon Cudby
And we all know how "Chupacabra" Baggett just ate up the competition late at Hangtown and High Point. But he and RV haven't been able to find that magic every time. In the first moto at Budds Creek we were all waiting to see if Baggett, while running ninth, could log another one of those crazy charges. He couldn't. Instead, he went off the track and stalled. Second moto, he was going to try to win from the front, but he stuffed his bike into a soft dirt pile and went over the front of his machine, and to the back of the pack. He may be the fastest when he's on, but he's now 30 points down in the standings despite two overall victories.
As for RV, we waited for his charge in moto two, but it never materialized. What was materializing was, um, well, something he had to wait until the end of the moto to get rid of. He finished third, which is certainly good, but when you finish one minute and two seconds in front of third in moto one, it's strange to finish forty-five seconds behind first while running third in moto two.
But Villopoto and Baggett both have to deal with riders whose ceiling never changes. Chad Reed and Tyla Rattray are the veterans, and they're always there. Even when they don't have it, they figure out a way to get it. At High Point, Rattray said his suspension setup was a little off, and he had to fight things all day. He still finished second overall. Reed couldn't get it together in the first moto at either High Point or Budds, but he bounced back strong in the second motos. As strange as it was to see Villopoto lose touch with the riders he beat in moto one, at least he had stomach trouble as an explanation. The fact that Reed improved so much just by gathering himself up mentally is inexplicable. But Reed has made a career out of bouncing back. Just like Rattray has built his on consistency.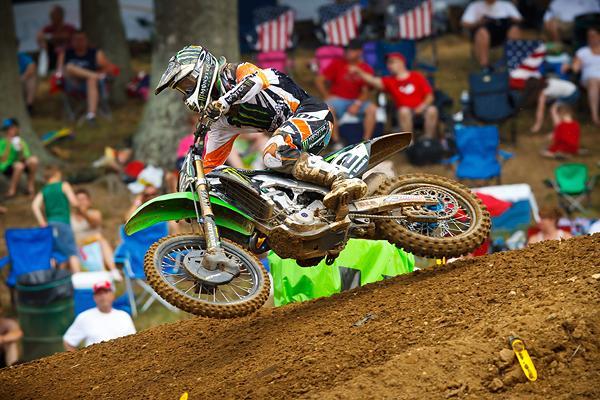 Villopoto has the speed, but does he have the consistency?
Photo: Simon Cudby
And somewhere in between lie Ryan Dungey and Dean Wilson. They each posses a mix of the Villo/Baggett speed and the Reed/Rattray consistency. They're every bit as good as the two riders they're battling, but somehow they haven't been able to get a win yet. Wilson has won three first motos this year, but crashes in the second motos (and a bad start at Budds) have cost him chances for overalls. As for Dungey, well, we all know Freestone was his. And at Budds he just couldn't quite get Villopoto in moto one (after Villopoto stalled while leading) and couldn't quite get Reed in moto two. He and Wilson are way overdue for wins at this point, as they're certainly riding well enough to get it.
In fact, all of these riders are impressive. If you have the first 450 moto recorded, watch Dungey and Villopoto push the pace late and you'll see a "how to ride a 450 fast" clinic. Both were so aggressive yet so in control on those big bikes, and it indicates to me how far the riding styles and development of these machines has come. I still believe the Carmichael/Stewart battles in 2006 and 2007 may have been the fastest we've ever seen two motocross riders go, but that speed is 100 percent raw. They were just pulling the pin and hanging onto the explosion. Watch Villopoto, Dungey or Reed when they're on their game, and they are both fast and precise on these bikes. Dungey was killing his turns, but in a controlled manner. Villo was hammering it and getting sideways at times, but even when that happened, he would calmly swing a leg out and bring the bike back where he needed it. On a 1-10 scale of "big swap" with 10 being the craziest, RV never seemed to go past a 1, even while pushing it. You get the feeling these guys can ride like this all year without trouble, whereas Carmichael and Stewart were pounding the ground so hard that they were going to start an earthquake. I found this link.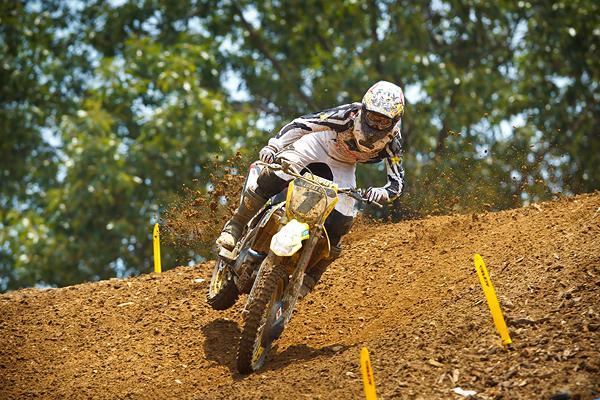 Dungey is due for a win.
Photo: Simon Cudby
Only bad news is they're separating themselves from the rest of the pack. Brett Metcalfe and Jake Weimer are riding well, too (and seem to be battling in every moto, with Metty maybe holding a slight edge right now). But they're not able to challenge the pace those guys are pushing out front. Kevin Windham rode his heart out in the second moto, especially. And Mike Alessi is maybe the closest threat right now to beat one of those three, since his starts are (shocker) really strong and he's fast enough to at least run with them for the first few laps. After High Point, I estimated that Mike would get at least 14 good starts through the final 18 motos of the series, which gives him 14 good chances to win a moto if things fall his way. At Budds he nailed two good starts, so now I'm expecting 12 more chances.
Davi Millsaps was riding a hot streak coming into Budds but it's didn't come together for him. Right now people are really high on this track—heard lots of praise from riders and spectators—but the dirty little secret is that Budds Creek has never been an easy track to pass on. 'Saps was nowhere near the front at the start of the motos, so he had no chance. I offer up two stats as proof so you don't just think I'm sucking up to a JGR rider because I stop by their shop and get a free lunch every Monday: First, I remember Damon Huffman coming into Budds in 1995 with a big points lead in the 125 class. He started seventh in both motos and finished seventh. Second, in both 250 motos, the rider who turned the fastest lap didn't win the moto (Tomac was fastest in moto one, Barcia in moto two). If you don't have what they call "track position" in NASCAR speak, you're in for a rough day here.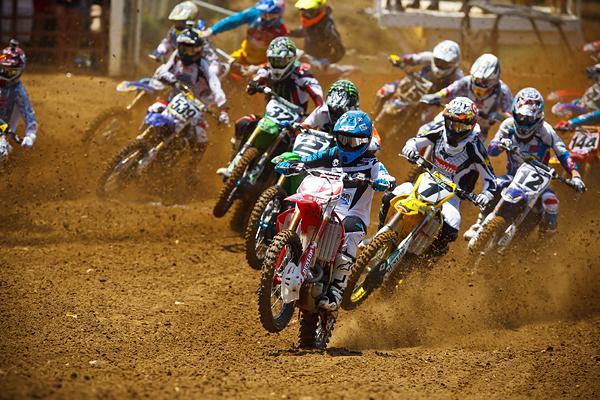 Reed has been a beast in the second motos this year.
Photo: Simon Cudby
But don't worry, it ain't NASCAR. I talked to Chad Reed's Team Manager Dave Osterman after the race, and he said Chad told him corners and ruts formed up much differently compared to last year. The turns were the same as 2010—no major track layout changes—but when you're dealing with dirt, sometimes things just change year to year.
How about we start a new award each week? Let's call it the "Guys who rode better than the results show you" award, and this weekend we'll give it to Tommy Hahn on the 450 and Darryn Durham on the 250. T-Hahn started around fifth in the first moto. He lost some ground early while the top four sprinted like crazy, but in the second half of the moto Tommy found his groove and started to catch Alessi, who was not far behind Reed). Then Tommy tucked the front end and had a simple little crash on an off-camber. He took a bar to his side and hurt himself, ending his day.
(An idiot TV announcer Jason Weigandt said "that was a routine crash he'll be fine." And he was hurt!)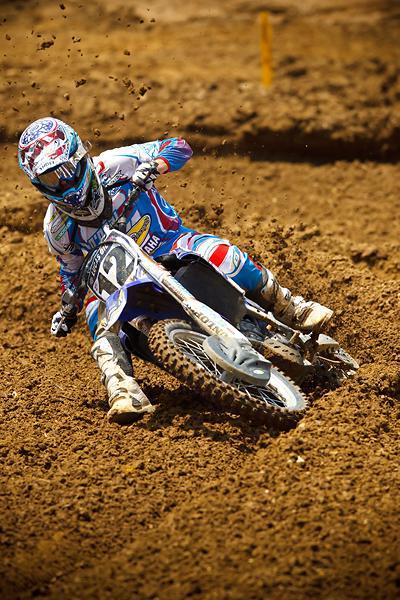 Did Weege curse Tommy Hahn? We think so.
Photo: Simon Cudby
Durham was hauling butt in the first moto just like he did at High Point. He not only passed and left GEICO Honda man Eli Tomac, but he caught third-place Broc Tickle and threatened to break up the Monster Energy Pro Circuit Kawasaki sweep. Then he crashed super hard in a valley and busted the brake caliper off of his bike. From what I've heard, his forks were actually acting up first, which led to the crash, but either way DDT was credited with 37th. He bounced back for eighth in moto two. But the dude is going FAST.
Malcolm Stewart is figuring this deal out pretty quickly. At round one he was crazy fast but could only last about three laps. Three races later and he's become pretty consistent. Went 16-6 at Budds, and yeah, I know, 16-6 doesn't sound as consistent as 8-8 or something, but the point is that he's finishing the motos. And sixth in a class this deep is really strong. You can make a really good case for Mookie being the best pro rookie this season, he's a good match with guys like Gannon Audette, Nick Paluzzi and Jason "what the heck is wrong with him" Anderson. And when Mookie does turn on the jets, he may have more speed than any of them. You know, it's all about how high you can raise the ceiling.
Shoot me an email and we'll discuss. jasonw@racerxonline.com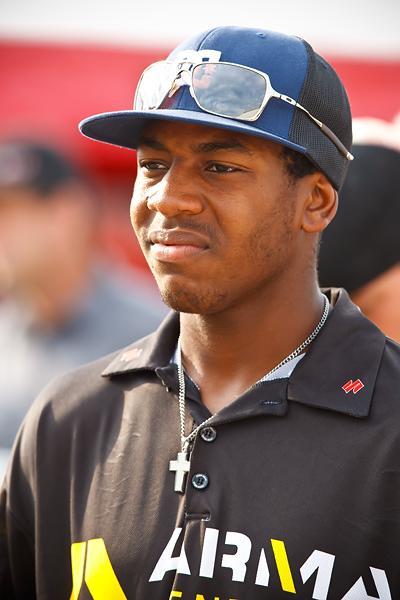 Mookie is figuring this deal out pretty quickly.
Photo: Simon Cudby