Budds Creek Motocross
Mechanicsville

,

MD
Budds Creek Motocross
Lucas Oil AMA Pro Motocross Championship
No matter how you lay out a motocross track or how you prep it, things are going to change. At Budds Creek, a whole bunch of riders commented on how much they like the track and how much fun it is. Justin Barcia even said Budds has the best dirt of the season! That said, the track, which didn't feature any major layout changes this year, did form up differently in some of the corners than it had last year, just due to the typical variances in weather, soil condition and track prep. But just about all of the riders said it was fun to ride on!
Poor Nick Wey sure has trouble with the sight lap. Last week at High Point, the Valli Motorsports Rockstar rider wanted to do a practice start in the mud, but when he got to the first turn, he was told you can't practice and start and go back to the line—you have to do a full lap if you go past the gate. Nick was the only rider to do a parade before that moto. This time, before the second moto, Wey rode over the gate to begin his sight lap, but the gate apparently didn't go all the way down, and Wey's tire caught it and sent him flipping. He got up bruised and completed his lap, and then the MX Sports crew replaced his gate with a new one while he was out. He returned, the new gate worked perfectly, and Wey, battered and bruised, took 19th.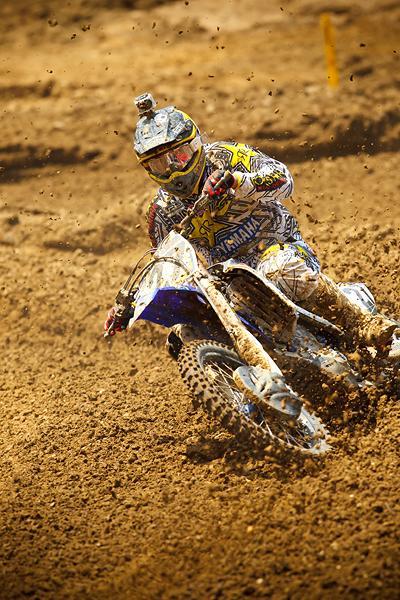 Wey rebounded from his sight lap troubles to finish 19th in moto two.
Photo: Simon Cudby
Before the race, the GEICO Honda team announced that Justin Barcia had gotten some blood work done after the High Point National, and it turns out he has mono. But he's about three weeks into it, which is supposed to mean his body has begun the healing process. Doctors recommended Barcia sit at home and rest, but he refused to, and instead sat out the second practice to rest. He ended up on the podium overall via 6-2 scores.
Darryn Durham's crash in the first 250 moto—while running fourth—may or may not have been the result of a broken front fork. Hard to say if the fork broke and caused the crash, or the crash caused the fork to break. By the time he was done tumbling, the fork lugs were ripped off, and the front brake caliper was dangling. He DNFed the moto, but came back for eighth in moto two.
Nothing major changed on the bike for the second moto for Chad Reed. He simply improved his riding to go from a distant third in moto one to a strong performance—and win—in moto two.
The Russians are coming! Evgeny Mikhaylov, listed from Maikop City, Russia, finished 28th in the 450 class via 26-27 moto scores.
Mike Brown has now scored 31 points (already) this season after racing at Hangtown and Budds Creek, which means he has clinched running his traditional number three for the 2012 season. Brown wants to make it clear, though, that he is not running the races just to keep the number, he's racing because he wants to race. "I'm going to lose the number eventually so that doesn't matter to me," says the Tennessee veteran. He went 12-13 for 13th overall at Budds.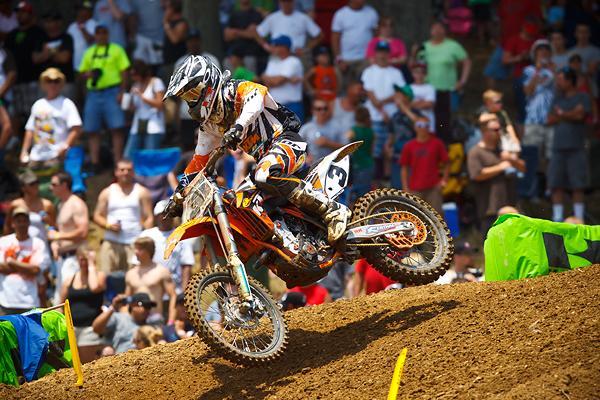 What can Brown do for you? Keep the number 3 plate obviously.
Photo: Simon Cudby
The Muscle Milk/Toyota JGR team says Justin Brayton will be back in action this weekend at Lakewood in Colorado. Brayton missed the first few races with an ankle injury suffered at the Las Vegas SX.
And Josh Grant was back in action after tearing his ACL at the Phoenix supercross. He logged solid 8-10 scores for 10th overall. With JG back, Kevin Windham was free to head home and enjoy a summer with the family. Budds was supposed to be his last race, but now we're hearing K-Dub may be back as soon as….this weekend in Colorado! Stay tuned!
Silly season rumors are getting hotter, and expect a big move to come soon. Ryan Dungey, a free agent, is the first name on the list, and don't expect any movement anywhere until he settles in. Dungey could be back with Rockstar Makita Suzuki. The Red Bull KTM and Muscle Milk Toyota JGR squads are courting his as well.
The first-ever Monster Energy Cup is coming to Las Vegas in October. This event is ostensibly a replacement for the U.S. Open as far as taking place in the fall, in Vegas, but it's a totally different event, taking place at Sam Boyd stadium, offering a three-main-event format and $1 Million to anyone who can sweep all three mains. Feld Motorsport's Dave Prater was on hand at Budds Creek to check out the action and discuss the Cup with riders and teams.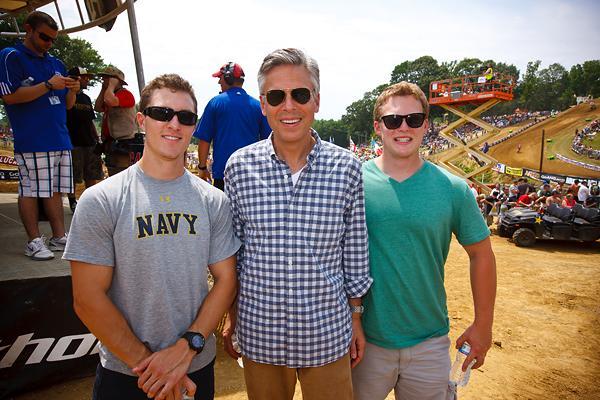 Motorsports advocate and former Governor of Utah, John Huntsman (center) was on hand at
Budds Creek
.
Photo: Simon Cudby
Prater wasn't the only one on hand to shake hands. John Huntsman, former Governor of Utah and U.S. Ambassador to China, was spotted at the race. Today, Huntsman announced he was running from president in 2012. Watching the races at Budds Creek can get a man fired up!
Rock River Yamaha's Vince Friese collected the Muscle Milk recovery award for the biggest improvement from moto one to moto two. After a big crash with Kyle Keylon in moto one, Friese finished 36th. He collected 20th in moto two. And Ryan Dungey won the Rockstar Fast Lap Award, which goes to the rider who logged the fastest lap time in the second 450 moto.