Budds Creek Motocross Park
Mechanicsville

,

MD
Budds Creek Motocross
Lucas Oil AMA Pro Motocross Championship
If you have any questions as to why they race two motos in Lucas Oil AMA Pro Motocross, a look at the action from round four of the tour, the MotoTees Budds Creek National in Mechanicsville, Maryland, will answer that question. The picturesque valley track hosted four motos—two for the 250 class and two for the 450s—but each played out quite differently, which only leaves more unanswered questions for the next rounds of the series.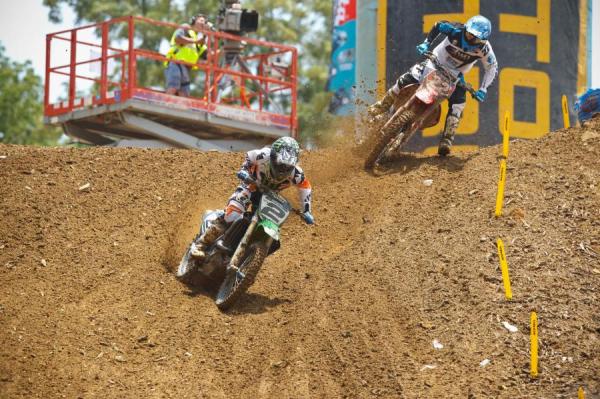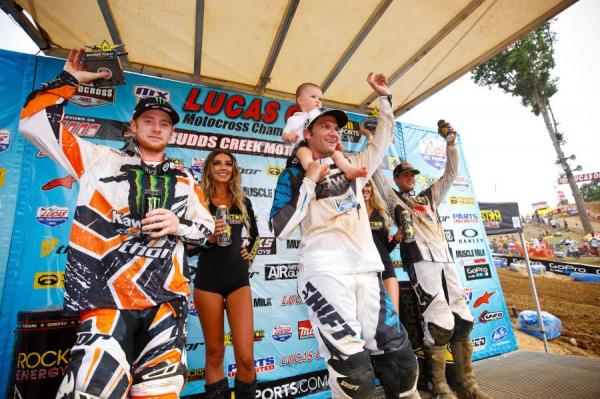 Reed's second moto win edged Villopoto for the overall.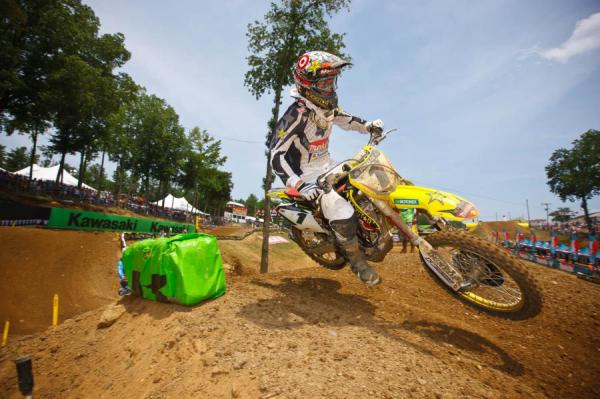 Ryan Dungey
finished third via 2-2 scores, with Reed taking a 3-1 and Villopoto a 1-3. This is close!
Simon Cudby photo
For example, in the first moto of the day, Monster Energy Kawasaki's Ryan Villopoto appeared to establish himself as a perhaps unbeatable force in the 450 class. After taking last week's overall win at High Point Raceway in Pennsylvania, RV2 served up another reminder of his outdoor motocross speed by speeding away with the first moto Budds Creek win. He did it convincingly. Series points leader Chad Reed grabbed the holeshot on his TwoTwo Motorsports Bel-Ray Racing Honda, but Mike Alessi quickly knifed in front of Reed on his Red Bull KTM. Before Reed could go back after Alessi, Villopoto quickly made a move to get into second, and then went after Alessi and took the lead. He then took off, just like he did last week at High Point.

Meanwhile, Rockstar Makita Suzuki's Ryan Dungey passed Reed and Alessi and tried to run Villopoto down, but just like last week, the gap stayed stable at about eight seconds. It appeared Villopoto had an easy moto win in hand, until he stalled his machine with just a few laps to go. Dungey quickly ate up that entire gap and pulled to Villopoto's back fender—the battle for the lead was on. Dungey kept applying pressure, but he could never make his way around, and Villopoto hung on secure the moto win (and keep his career undefeated streak at Budds Creek alive).

Reed passed Alessi for third, and Alessi ran into some problems midway through the moto. He came under attack from MotoConcepts Yamaha's Tommy Hahn, but Hahn tipped over in a corner and took a handlebar to his side and injured his ribs, ending his day. American Honda's Kevin Windham came through next, and he eventually got Alessi for fourth.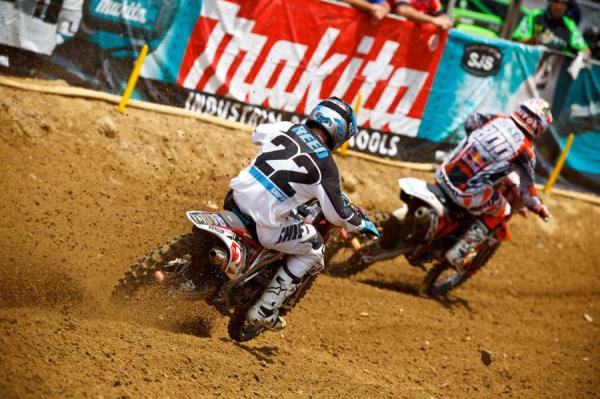 Mike Alessi was a factor in both motos due to his (shocker) good starts.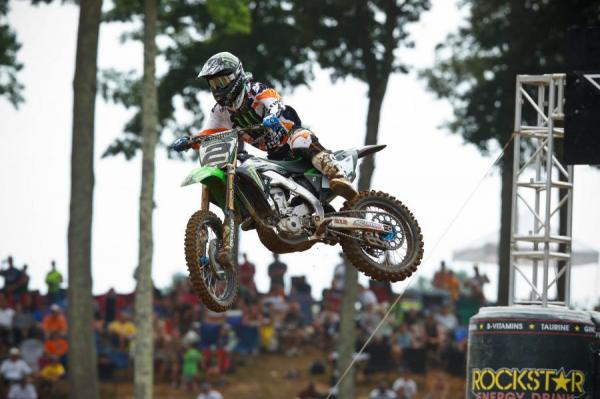 Villopoto had the speed in the first moto but couldn't duplicate the performance in moto two.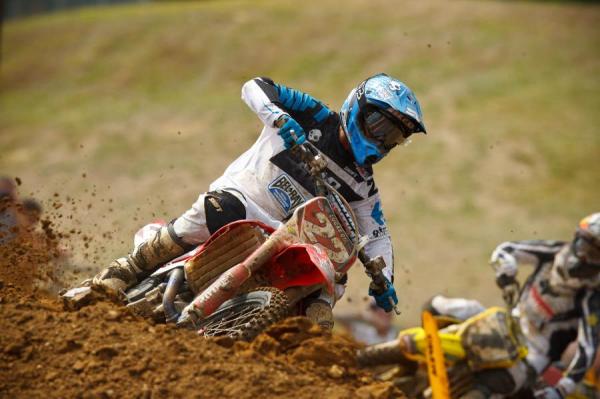 Reed didn't have the speed in moto one, but bounced back strong in moto two.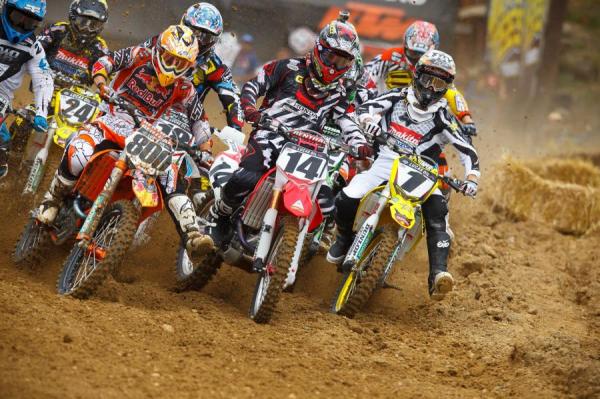 Alessi (800) Windham (14) and Dungey (1) tussle for the second-moto holeshot.
Cudby photos
But the big story focused on the big three, with the Ryans running away from Reed by about 30 seconds. Reed said he "didn't even have a pace" on the podium. At that point, things weren't looking for hot for the series' leader, who saw his points lead cut from 15 to 10 by Villopoto, who was clearly getting back into his typical Budds Creek groove.

But that's why the run two motos. In moto two, Alessi fought his way into the lead over Dungey, Reed and Villopoto. This time, Reed looked like a different rider, and he immediately made a pass on Dungey for second. He and Dungey then went to work on Alessi, with Reed busting through first, and then Dungey. The lead duo then chased each other around, just like they had in the second moto at Hangtown and Freestone. And where was Villopoto? It wasn't happening. He eventually worked his way past Alessi, but could never find the pace he had in moto one, and lost ground to the lead duo the exact way Reed had in moto one. In fact, Villopoto had to deal with heat from Alessi and Windham late in the race. After the event, he said he had been suffering through stomach problems during the moto.

Meanwhile, Dungey kept attacking Reed, but was not able to make a pass. With two laps to go the lead was down to nearly nothing and Dungey looked ready to make a pass and take his first overall win of the year, but then Reed, persistent and tough like he has been all season, refused to succumb to the pressure. He pulled back away from Dungey on the last two laps—like he had done at Hangtown—and took the win. It was an amazing bounce back after the first moto.

Reed's 3-1 scores edged Villopoto's 1-3 and Dungey's 2-2. Windham edged Alessi for fourth overall.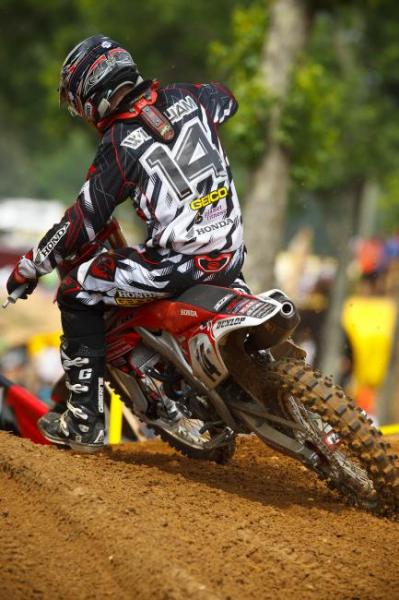 Budds Creek marked Kevin Windham's swan song for the summer, as he will slip into some off-time now that Josh Grant has returned. Windham logged a strong fourth-place finish.
Cudby photo

In the 250 Class, Monster Energy Pro Circuit Kawasaki's Dean Wilson finally overcame his season of bad starts by nailing a good one in the first moto. He fended off an early challenge from DNA Shred Stix Star Racing Yamaha's Kyle Cunningham, his teammates Tyla Rattray and Broc Tickle, GEICO Honda's Eli Tomac and Eleven10 Mods' Darryn Durham. Further back was last week's dominant High Point winner Blake Baggett, although Baggett is beginning to build a reputation for coming from behind. Didn't work out this time, as he went off the track and stalled his bike at about the time he usually starts to put in a charge. He finished seventh.

But Wilson clearly enjoyed controlling the race from the front, and while Rattray kept within three seconds and applied consistent pressure, Wilson would never be headed. Tickle held third, but the big mover was Durham, who passed Tomac and Cunningham and went after Tickle for third. Then Durham crashed hard, and his bike was too damaged to continue. The race ended with a 1-2-3 Monster Energy Pro Circuit Kawasaki sweep.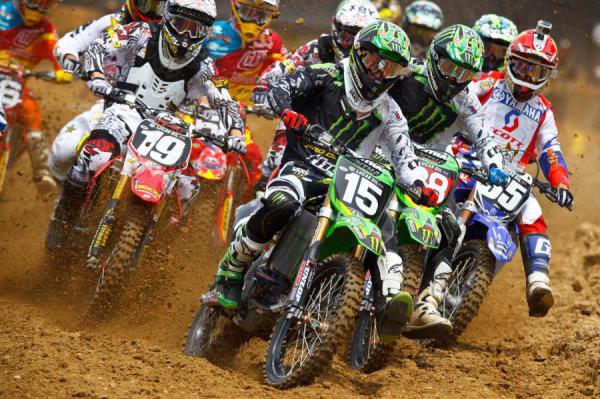 Dean Wilson
finally got the start he wanted, and he used it to win moto one.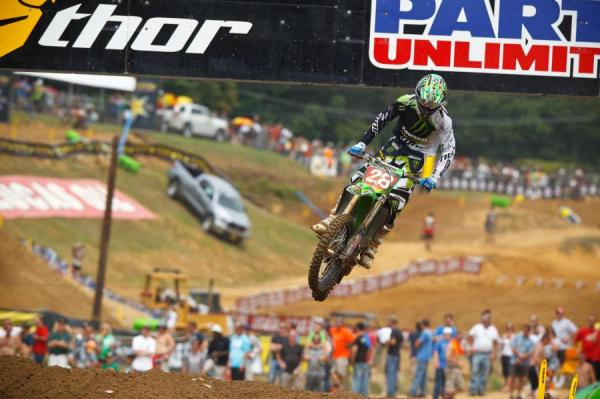 Tyla Rattray took second in the first moto and struck back to win moto two and the overall.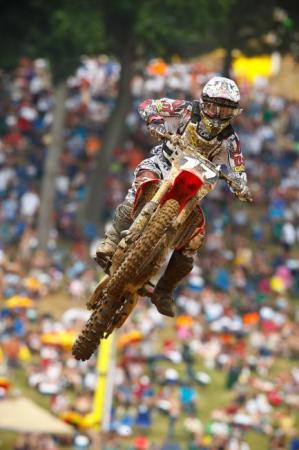 Justin Barcia had a solid second moto two end up third overall.
Simon Cudby photo
The second moto started out, of course, much differently. Baggett got a good start and Wilson got a bad one. But Baggett's charge was cut short when he landed in a soft pile of dirt, and his bike suddenly stopped and tossed him over the bars. He got up in 39th place.

Rattray led DNA Shred Stix Star Yamaha riders Gannon Audette and Gareth Swanepoel, but soon Justin Barcia was on the move on his GEICO Honda, and he climbed into second and closed the gap on Rattray. Wilson eventually got to third, but was too far back to make a run at Barcia or Rattray and preserve the overall win. Barcia—who before the race was declared to have mono—finally lost the pace of Rattray in the final few minutes, and Rattray went on to a 2-1 overall win. He also added two points to his small points gap over Wilson. Barcia's 6-2 put him on the podium in third overall, as Tickle had a bad start and went 3-9 on the day. Baggett recovered from his crash and went 7-7 for seventh.

The series resumes next weekend with the Thunder Valley National in Lakewood, CO.
Lucas Oil AMA Pro Motocross Championship
MotoTees Budds Creek National
Budds Creek MX Park - Mechanicsville, Md.
June 18, 2011
Round 5 of 12

450 Class (Moto Finish)
1.    Chad Reed, Australia, Honda (3-1)
2.    Ryan Villopoto, Poulsbo, Wash., Kawasaki (1-3)
3.    Ryan Dungey, Belle Plaine, Minn., Suzuki (2-2)
4.    Kevin Windham, Baton Rouge, La., Honda (4-4)
5.    Mike Alessi, Victorville, Calif., KTM (5-5)
6.    Brett Metcalfe, Australia, Suzuki (6-6)
7.    Davi Millsaps, Murrieta, Calif., Yamaha (7-9)
8.    Jake Weimer, Rupert, Idaho, Kawasaki (10-7)
9.    Andrew Short, Colorado Springs, Colo., KTM (9-8)
10.    Josh Grant, Riverside, Calif., Honda (8-10)

450 Class Championship Standings
1.    Chad Reed, Australia, Honda - 183
2.    Ryan Villopoto, Poulsbo, Wash., Kawasaki - 168
3.    Ryan Dungey, Belle Plaine, Minn., Suzuki - 155
4.    Davi Millsaps, Murrieta, Calif., Yamaha - 130
5.    Brett Metcalfe, Australia, Suzuki - 118
6.    Kevin Windham, Baton Rouge, La., Honda - 112
7.    Jake Weimer, Rupert, Idaho, Kawasaki - 93
8.    Ricky Dietrich, Snohomish, Wash., Yamaha - 92
9.    Christian Craig, El Cajon, Calif., Honda - 76
10.    Andrew Short, Colorado Springs, Colo., KTM - 75
250 Class (Moto Finish)
1.    Tyla Rattray, South Africa, Kawasaki (2-1)
2.    Dean Wilson, Scotland, Kawasaki (1-3)
3.    Justin Barcia, Ochlocknee, Ga., Honda (6-2)
4.    Eli Tomac, Cortez, Colo., Honda (5-5)
5.    Broc Tickle, Holly, Mich., Kawasaki (3-9)
6.    Gareth Swanepoel, South Africa, Yamaha (9-4)
7.    Blake Baggett, Redlands, Calif., Kawasaki (7-7)
8.    Kyle Cunningham, Irving, Texas, Yamaha (4-15)
9.    Martin Davalos, Ecuador, Suzuki (10-10)
10.    Nico Izzi, Rochester, N.Y., Honda (8-13)
250 Class Championship Standings
1.    Tyla Rattray, South Africa, Kawasaki - 174
2.    Dean Wilson, Scotland, Kawasaki - 170
3.    Blake Baggett, Redlands, Calif., Kawasaki - 144
4.    Eli Tomac, Cortez, Colo., Honda - 136
5.    Justin Barcia, Ochlocknee, Ga., Honda - 116
6.    Kyle Cunningham, Irving, Texas, Yamaha - 114
7.    Broc Tickle, Holly, Mich., Kawasaki - 99
8.    Gareth Swanepoel, South Africa, Yamaha - 91
9.    Martin Davalos, Ecuador, Suzuki - 75
10.    Cole Seely, Newbury Park, Calif., Honda - 72