Mechanicsville, MD
Budds Creek Motocross
Lucas Oil AMA Pro Motocross Championship
Chad Sanner is the man behind Eleven10Mods—the company responsible for getting privateers Darryn Durham and Alex Martin to the races. The High Point National is the homecoming race for the team, as they're literally located fifteen minutes from the track and are sponsored by several Western Pennsylvania-based companies, including Morgantown Powersports. The team had quite the showing at Mount Morris and we rang Chad up today to get his thoughts on the weekend.
Racer X: Chad, it has to be a good vibe around the race shop this week after such a great showing at High Point.
Chad Sanner: Umm, it's kind of business as usual. We're just trying to push and it seems like there might be a little light at the end of the tunnel. It's getting to where stuff is starting to get a little easier. But it really hasn't been very different from any other weeks other than that fact that we did so much work last week that this week has been a little easier. Darryn's mechanic (Nate Alexander) is a little down on himself this week after some of the bad press he got for them missing the gate pick for the second moto at High Point, but other than that I think he did an awesome job. There was a lot more reasoning behind why they were late, so he deserves a little more credit than that.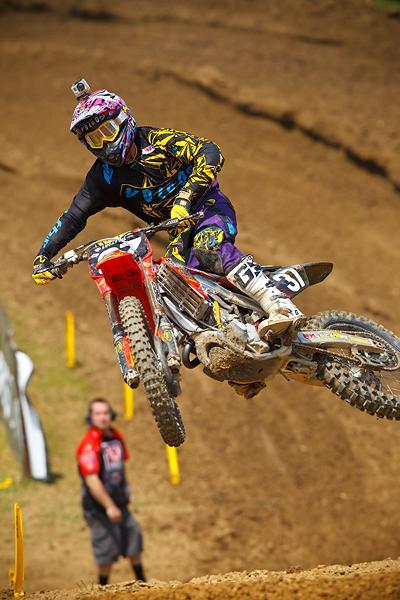 Sanner (bottom) watches Durham lead moto 1 at High Point.
Photo: Simon Cudby
Can you give us some details about what exactly did happen?
Between motos there was a huge rainstorm and he had Darryn's bike all ready. He did everything he could do aside from tearing the engine apart. So once the rain storm blew through he changed the clutch and the oil and everybody was up in the box truck trying to stay out of the rain, and he had to get in and out of the truck to get different parts and it made it a little bit tight. There's not much time between motos anyway, so it was due to the rain and the fact that we don't have a very big awning. It's tough to have two riders under one EZ-UP, so that's kind of what happened. Top guys miss their gate picks sometimes. Kyle Cunningham was later than us, and they have a full team of mechanics and a semi truck. So, it was just a bad deal. It happens.
It had to be pretty frustrating though, because do you think that mistake maybe cost Darryn a shot at the podium?
Honestly, yeah, it was very frustrating, because I grew up racing at High Point and I know you can't do anything from the outside gates. But whenever they loaded the gate I walked down and found a gate in the middle that nobody had taken, so at the last second they chose that gate. Darryn came around the first corner pretty good. He did his job from the outside, man. I know most people would sit out there and just give up knowing that they can't get a good start from out there. But when the gate dropped he went for it and he actually came around pretty good. He was behind Alex [Martin] in the first turn, so that was around tenth. He really got a good start, but then someone fell right in front of him and knocked him down.
Let's talk about that first moto…beautiful sunny day, big crowd, your hometown track, tons of family and friends cheering and your rider leading thirty-nine of the fastest 250cc riders in the world for over twenty minutes. That had to feel like a dream for you, Chad.
It was phenomenal. I think what really made it great was the fact that he just wasn't leading the moto—he didn't just get a good start and the other guys got a bad start. He got a second-place start and passed Izzi, and all the major players were right there off the bat and Darryn was stretching the lead. He was gapping the guys. He kind of spun around backwards in the turn by the start and it allowed Sipes to cut his lead in half, but then the next lap he pulled his lead back out in one lap. I was just in awe. Actually at one point it started to bring tears to my eyes. Just all the work we put in over the past two years, it was all coming together right in front of our eyes. I feel like this is where he belongs, though. I don't feel like it was a fluke or anything. He's a front runner and it's my job to give him the equipment to be up there all the time. But yeah, it was a good feeling, for sure.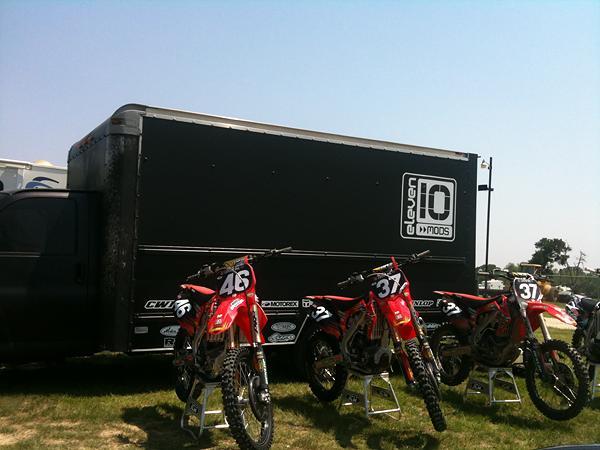 The Eleven10Mods rig.
Photo: Jason Weigandt
Your other rider, Alex Martin, kind of got overshadowed a bit by Darryn's first moto, but I was watching him that second moto and he picked off a lot of fast riders on his way to finishing sixth.
No doubt. He got sixth, but he was about two seconds from fourth place. He got tangled up with a lapper two laps from the end which stopped him and he lost some time, but he was right there for a fourth-place finish and he was the aggressor trying to pass. Alex is fast, man. We can feasibly have two guys in the top five at any given time. We just built Alex a better practice bike last week. He said one of his biggest problems was that his practice bike was too slow compared to his race bike, so we gave him something better the week before High Point and it looks like it paid off. Darryn told me the same thing. In fact, Darryn raced his practice bike at High Point. He rode his race bike on press day and didn't feel comfortable on it, so we got his practice bike ready and he raced it.
Some days I'll see your Facebook status and it says that you're still working on bikes at like 3:00 a.m. How gnarly is it working in your shop?
[Laughs] You know, there's been more than a few times this year where I didn't go home and we didn't stop working for two or three days. The week before High Point we came in the shop Monday morning and didn't go home till Wednesday night. But last week kind of got us ahead of the game because we have several races in a row now, so we wanted to be prepared. When you're working on dirt bikes it seems like the hands of the clock just spin so fast. As far as the race team goes, up until last week there was just me and Nate working on two riders' bikes, but we just got a guy to help Alex the rest of the year—Cameron Rodriguez. He's a good worker so we're pumped to have him on board.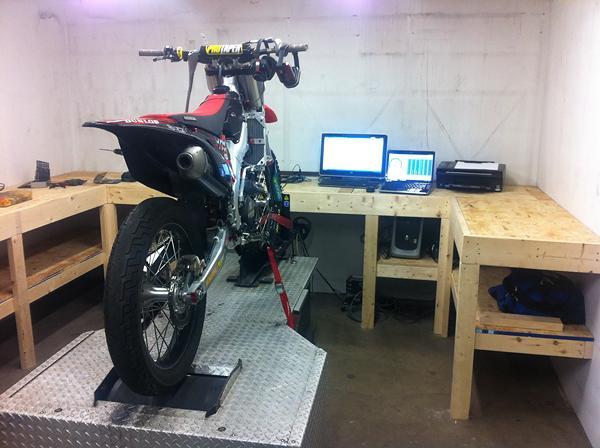 The new Eleven10Mods shop is still a work in progress.
Photo: Eleven10Mods
Your team has no factory support and you have two guys in the top ten. You guys have to be on a shoestring budget.
That's to say the least. I mean, the other thing is that I don't just take sponsors to get money. There were a lot of companies that wanted to pay us to run their stuff, but on a 250 team you just can't use just any part. We use what we feel is the best. Even if we have to buy stuff, we'll do that just to use the best. With that being said, it makes it hard. There's no budget money. With Darryn, it feels like I'm a mini dad just taking him racing. With Alex, he has a couple other sponsors that help out—Husker Off-Road and Rod's Powersports—so he has a little help there. Darryn also has a few personal sponsors, but as far as getting everything to the races, that's all on me.
What one thing would help you and your team out the most right now? Would it be getting factory parts, money for travel expense, etc.?
The hardest thing for us right now is the budget situation. I can't be like other team managers and sit down and book flights and hotels for the next eight weeks. We go week by week and that is tough. But we somehow find a way. The guys fly to the races, we get a hotel and a rental car and their bikes are at the races, but it's difficult. I've said it before and everyone knows it's hard to beat a Pro Circuit or a GEICO rider, but we've been doing it.
Where would you like to see yourself in five years?
In a perfect world I'd love to be racing with Pro Circuit and GEICO every weekend and beating them.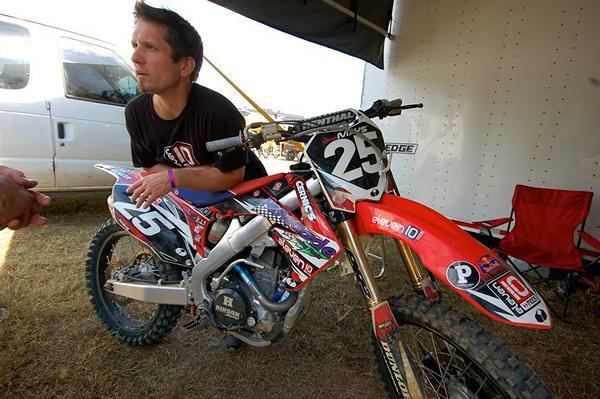 The man behind Eleven10Mods, Chad Sanner.
Photo: Eleven10Mods
The sixth dragon!
Exactly. That's where I want to be. Who wouldn't mold themselves after Mitch at Pro Circuit? I hear the stories of how hard they work and we try to do the same thing. The race team is actually second in my agenda. We do the customer's bikes first. In an ideal world I'd like to have a customer relations department to help everything run smoother. I didn't go to school for Business Management---I just learned from experience. I was a mechanic and I was a consumer. I used to get my bikes worked on, so I know what someone would like because I've been in their shoes.
I know you guys depend a lot on your sponsors, so who would you like to thank, Chad?
We recently picked up Morgantown Powersports as a main sponsor, so that's been a big help. There are a lot of people, man. I'd like to thank PR2 Suspension, Total Image Autosport, FMF, VonZipper, Plum Contracting, Pro Taper, Kicker, Raptor footpegs, Dunlop, Patter33, Straightshot air filters, Excel, MotoTassinari, Atlantic Promotions, Motorex, LeoVince Carbon Fiber, Hinson, Crank Works, Motion Pro, RK/Excel, DP Brake Pads, ICW, ARC, Ride Engineering, Vortex Ignitions, QTM, and Josh Pitts at Renegade Racing Fuels. He helps me out with the latest and greatest fuels, testing, and ignition mapping. It's a big help. And for Alex, Husker Off-Road and Rod's Performance.
For more information on Eleven10Mods and the services they offer, check them out online at www.eleven10mods.com or call them at 724-562-8877