High Point Raceway
Mt. Morris

,

PA
High Point Raceway
Lucas Oil AMA Pro Motocross Championship
Interviews by Aaron Hansel and Steve Matthes
Ryan Dungey, Rockstar Makita Suzuki, 2-3 for 2nd overall in 450 Class
Second moto, I lost my front end once, and then like three or four corners later, I did it again. I was like "Man, I can't be doing that." I made my way back up to third and went 2-3. All in all it was a good day.

Chad Reed, TwoTwo Motorsports Bel-Ray Racing, 5-1 for 3rd overall in 450 Class
Yeah the mud and the rain always adds some excitement. I just tried to get a good start, but my starts were absolutely horrible today. I don't know what it was, but my technique was terrible. I just didn't feel focused on the line.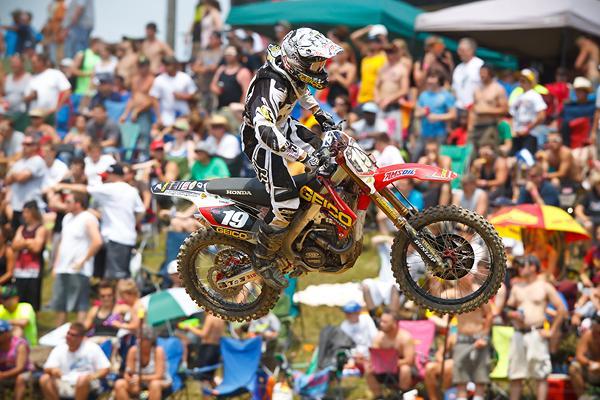 Tomac scored his first podium of the season at
High Point
.
Photo: Simon Cudby

Tyla Rattray, Monster Energy Kawasaki, 3-2 for 2nd Overall in 250 Class
It was tough, but obviously our moto was a lot drier from that second 450 moto. I was happy with my riding, by Blake was riding awesome, he had a tip over and was able to get around me to take the win.  I pretty much didn't have anyting for him today. I also got pretty messed up wth the lapped riders, they were waving the blue flags but they didn't seem to move over. I lost quite a bit of time to Blake, but yeah, to finish second, I'm happy with that.

Eli Tomac, GEICO Honda, 6-3, 3rd Overall
On the gate, my reaction time was about the speed of a turtle or something. My reaction time was terrible in both motos. But that's no excuse, because in the first moto, I was only one spot behind Baggett, and he went up there and won the thing. So, yeah, I just need to get better. The second moto, it was wet and slimy, and I'm usually pretty good in those conditions, so I got up to third and put together a podium finish.

Jake Weimer, Monster Energy Kawasaki 7-11 for 9th overall in 450 class
I think my first moto was pretty good, I started like 3rd or 4th and then I think (Ryan) Dungey hit neutral or something in one of the first turns and Windham and I plowed into the back of him. This allowed a couple of guys to get through. I think I was riding pretty good from there and moving forward and caught Windham late in the race. I made a mistake on the face of a jump when I spun, I went sideways, clipped a bale and went down. It could have been way worse for me, I barely fell down. So I ended up seventh which was okay but could've been way better.

Second moto it started raining pretty good and I made the wrong choice in tire selection. Then I fell in the second turn and I think I came around in 36th or something like that. I kept on trucking and thought I rode pretty good to get 11th. I should have had 10th but I let (Brett) Metcalfe pass me with like a straightaway to go because I thought he was Dungey. The officials were freaking out on me with the flags. My fault though, I thought I rode good in the moto, it was my best riding since the nationals started. I was really racing out there and moving forward.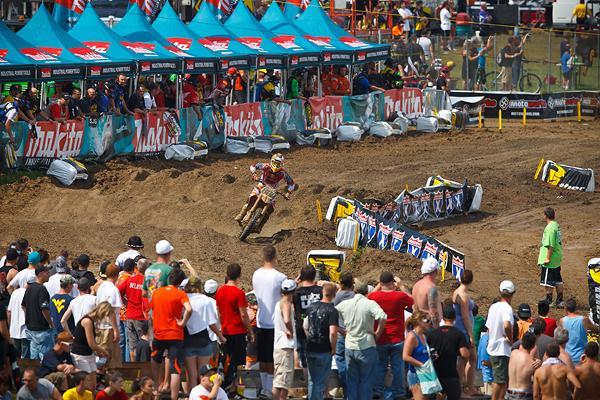 Alessi returned for
High Point
and finished the day fourth overall.
Photo: Simon Cudby
Darryn Durham,  4-14 for 9th overall in  250 Class
The first moto was great. I got a good start and moved into the lead and was riding really well. Then I kind of tensed up, I saw the Pro Circuit guys coming (laughs). I started making a few mistakes, and I got a rock in my brake pedal with a couple laps to go. That was kind of a bummer, I missed out on the podium. In the second moto I missed my gate pick, and went down in the second turn. I rebounded okay, but I was bummed out and didn't ride my best. But I'm looking forward to Budd's Creek!

With this being your home race, were the fans helping you out?
Yeah! It's cool, the fans were going nuts. All my friends and family were here, and I could hear them the whole way around the track. It kept me going.

Did the track get pretty nasty after the rain came through?
It wasn't that muddy, it was just really slippery. I didn't think it was too bad, I was happy with the track today. It was pretty one-lined after the rain. The start really played a big part, and I didn't get one.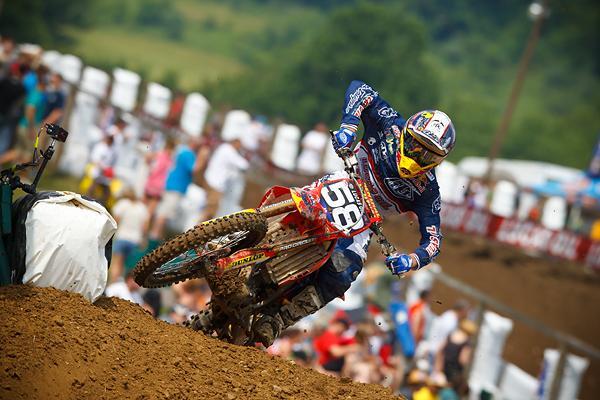 T-Bake finished 12th overall at
High Point
.
Photo: Simon Cudby
Roger Decoster, Red Bull KTM Team Manager
With Mike, considering what we went through the last couple of weeks, I think he did pretty good. He got docked a position in the first moto because he hit the gate on the start. I don't really think that was really his fault, there was a guy next to him that flinched a little bit and he went, and he ended up hitting the gate and they docked him one position. But even 4-4 for a comeback is pretty good I think. Short was struggling today. I'm not sure what was wrong with him, he did not feel right, and he did not get the speed he needed.

Travis Baker, Lucas Oil Troy Lee Designs Honda, 15-9 for 12th overall in 250 Class
It went all right today. I've never actually been here, it's an awesome track, I liked it. I qualified I think fifteenth, not the greatest, but I had some fun trying to figure out the track. In the first moto, I had an all right start, passed a few people and ended up fifteenth. In the second moto I a little bit better of a start, turned some solid laps, stayed consistent, and ended up ninth. I got twelfth overall, and I'm excited to keep improving every week. The track got really slippery. From videos that I've watched of this place, it always looks like the second moto gets pretty slippery.

Did it get tackier as the second moto progressed after the rain?
It stayed pretty slick. Once the wetness started going away, it was dry and it stayed slippery.