High Point Raceway
Mt. Morris

,

PA
High Point Raceway
Lucas Oil AMA Pro Motocross Championship
If you're a rider who doesn't like the way things are going for you in Lucas Oil AMA Pro Motocross, just wait a bit and things will change. Ryan Villopoto and Blake Baggett both demonstrated great patience through the third round of the series, the 35th Annual Rockstar Energy Drink High Point National in Mt Morris, Pennsylvania.
Villopoto was patient through the first two weekends of the season, while his bike and body were not quite 100 percent, and then took advantage of a weekend off in the schedule last week, and showed up at High Point much closer to the form that made him a three-time champion in this series in the 250 class. For Baggett, he was patient in the races, choosing to save himself at the beginning for incredible charges late in the races.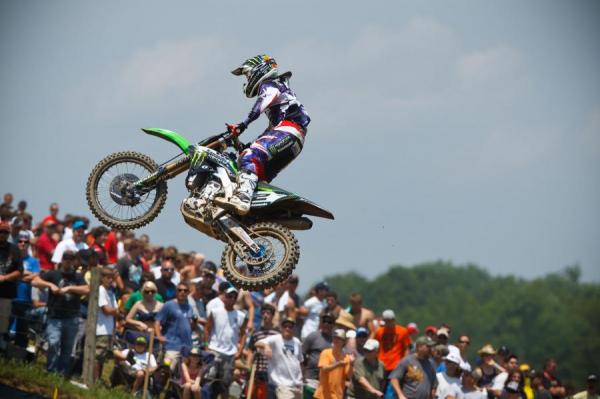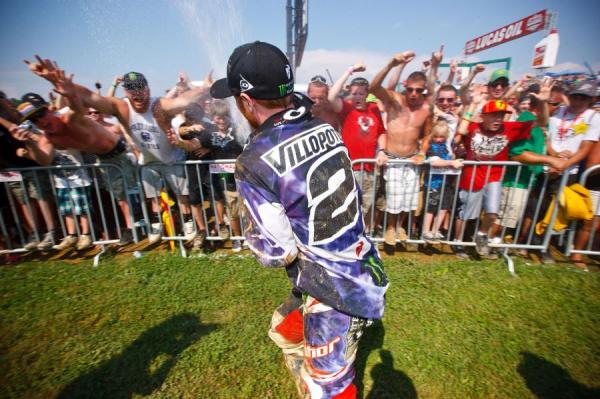 A dominant moto win in the first race and a steady ride in the second netted Ryan Villopoto his first AMA Motocross win in over two years.
Cudby photos

Villopoto immediately demonstrated his return to form in the first 450 moto. Rockstar Makita Suzuki's Ryan Dungey, the defending series' champion, grabbed the early lead but made a mistake coming out of the second turn, allowing Villopoto to slip past him. Monster Energy Kawasaki's Villopoto immediately began logging fast laps and pulled a gap on Dungey. Dungey had a bolt break on his helmet visor right before the moto began, and had to ride the race with his visor pointing upwards.

Meanwhile, Mike Alessi made a high-profile return to the series on his Red Bull KTM when he mistimed the gate off the start and plowed right through it. He ran third for most of the moto, while behind him Muscle Milk Toyota Yamaha's Davi Millsaps, Monster Energy Kawasaki's Jake Weimer and series points leader, TwoTwo Motorsports Bel-Ray Racing's Chad Reed, battled for the final podium spot. Reed got hit in the collarbone with a rock and had to slow his pace slightly, allowing Millsaps to slip past and take over fourth, behind Alessi, Dungey and Villopoto. But Alessi was then penalized a position for jumping the start, handing third over to Millsaps.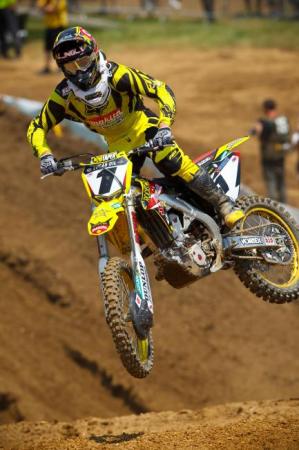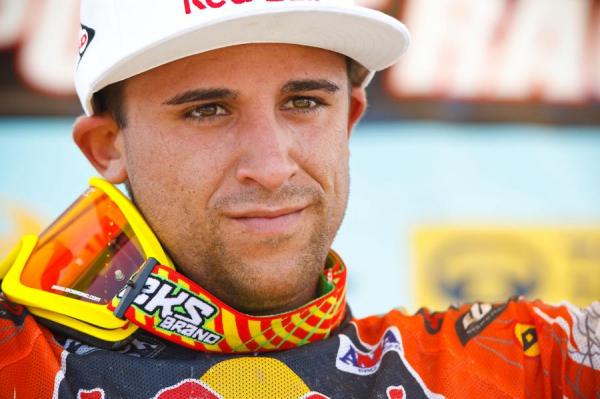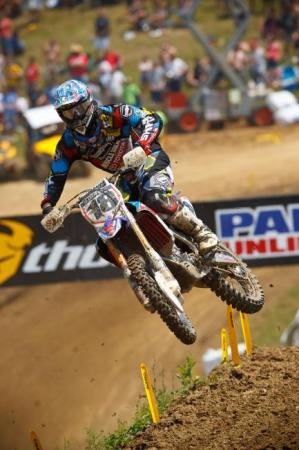 Ryan Dungey rode to a solid second in the first moto, while Mike Alessi crossed the finish in third but was penalized a position for jumping the starting gate. Davi Millsaps was credited with third.
Cudby photo
Then the whole "just wait" thing came into play again. The race changed completely when heavy rain came down between the motos, leaving a muddy mess for moto two. Alessi grabbed the holeshot and checked out early, while Dungey crashed while running second. Then Millsaps crashed while running third. Alessi led Reed by a big margin until he fell, too, putting Reed into the number-one spot. Villopoto rallied in the slop to get second, which gave him the overall on the day via 1-2 finishes. Dungey rode hard to get back to third, pushing Alessi to fourth. Dungey's 2-3 gave him second overall on the day ahead of Reed's 5-1.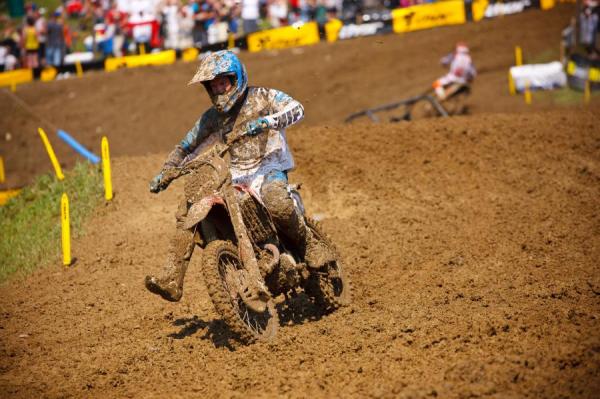 Chad Reed stayed steady in a sloppy second moto to take the victory.
Cudby photo
Patience paid off in the 250 class for Monster Energy Pro Circuit Kawasaki's Blake Baggett, too. Baggett won the season opener at Hangtown, then crashed back into the pack at round two at Freestone Raceway in Texas. He logged the fastest qualifying lap in 250 practice at High Point and got a good start, but soon dropped back to the tail of the top ten.

Up front? Pennsylvania's own Darryn Durham, a privateer on an ElevenTen Mods/Morgantown Powersports Honda, and a rider who grew up racing in the area. Durham has never won an AMA Pro moto, but he was looking good as he passed Kilbarger Racing's Nico Izzi for the lead and took off. DNA Shred Stix Star Racing Yamaha's Ryan Sipes took over second but then crashed out for the day. This moved a torrid battle between Monster Energy Pro Circuit Kawasaki teammates Dean Wilson and Tyla Rattray in second. Wilson made the pass to take the runner up spot, but he was running out of time to catch Durham,

Then Baggett caught fire, and the whole race changed.

At the halfway mark, the Californian found another gear (just like he did en route to his overall win at Hangtown), passed Rattray and Wilson, and then closed the gap and passed Durham for the lead. Durham came unravled and made a few mistakes, partially because mud had built up under his rear brake pedal. Wilson and Rattray both got past to relegate the home track hero to fourth. Baggett took the win over Wilson and Rattray.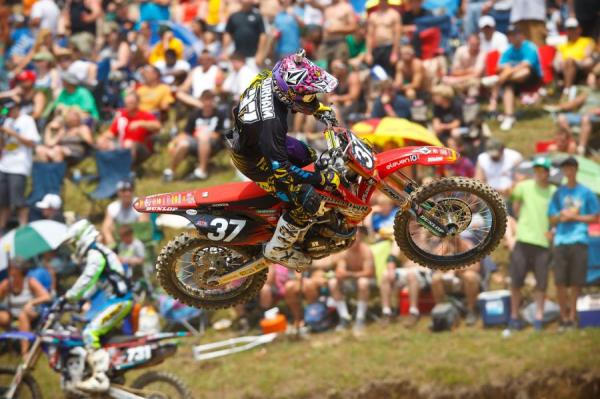 PA's own Darryn Durham dominated most of the first 250 moto.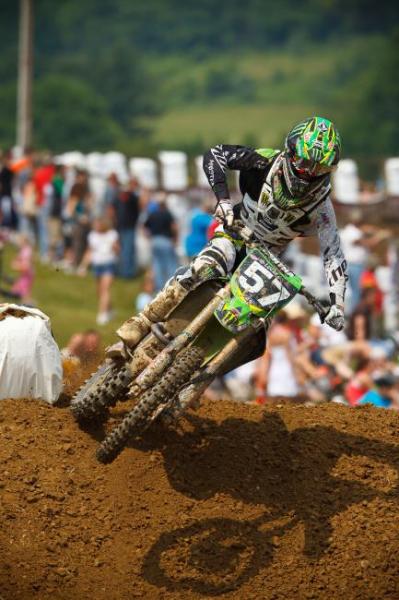 But Blake Baggett logged a strong late-race charge to get him and take the win.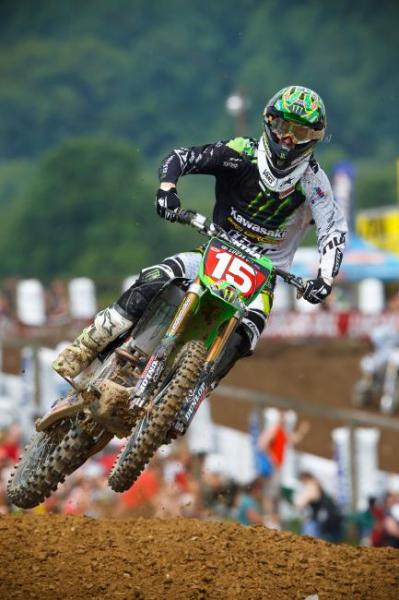 Dean Wilson followed his teammate Baggett through for second in moto one.
Cudby photos
Wilson and Rattray led off the start in moto two, and Wilson snagged the lead. It lasted for half only a few turns before he washed out and fell. Soon Baggett was in the lead again and looking to pull a big lead. He did, until he got sideways on a downhill and crashed hard. Rattray took the lead over Lucas Oil Troy Lee Honda's Cole Seely, while Baggett went back to third, riding with his helmet visor bent backwards after the crash.

For a moment, it looked like Rattray would deliver the moto win. But once again Baggett found a whole different level of speed in the second half of the race, reeling in Seely and Rattray and simply leaving them behind, heading to an unquestioned 1-1 result and overall win for the day. His late race laps were up to four seconds faster than anyone else on the track.

Rattray's 3-2 finishes put him in second overall, and he took the points lead from Wilson. Wilson fought valiantly to come back to eighth after his first lap crash, while GEICO Honda's Eli Tomac caught fire late in the race and snagged third. Tomac's 6-3 scores put him on the podium for the day.

The series next moves to Budds Creek in Maryland next weekend.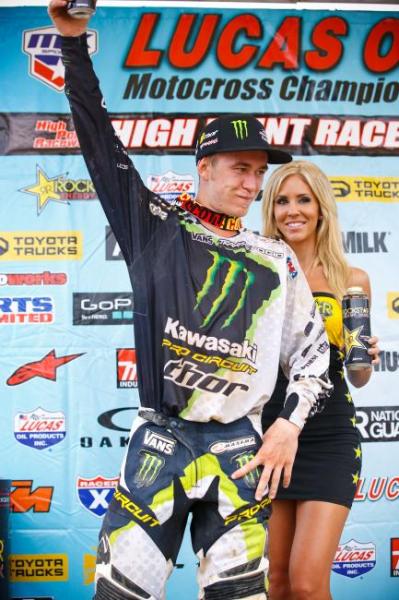 Baggett now has two wins in three races.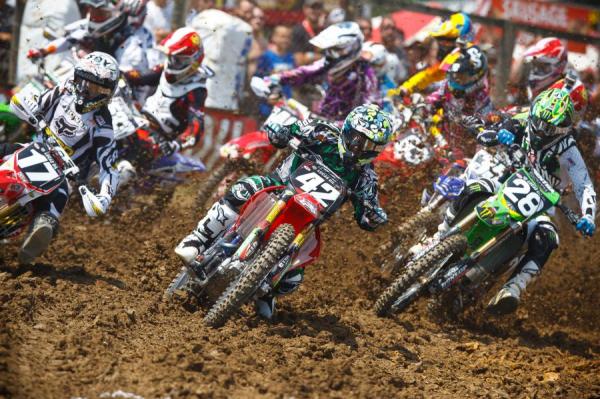 Nico Izzi (42) had good starts but couldn't hold on for a top ten overall, but Tyla Rattray (28) took second overall to take over the series' lead.
Lucas Oil AMA Pro Motocross Championship

Rockstar Energy High Point National
High Point Raceway - Mt. Morris, Pa.

June 11, 2011

Round 3 of 12
450 Class (Moto Finish)
1.    Ryan Villopoto, Poulsbo, Wash., Kawasaki (1-2)
2.    Ryan Dungey, Belle Plaine, Minn., Suzuki (2-3)
3.    Chad Reed, Australia, Honda (5-1)
4.    Mike Alessi, Victorville, Calif., KTM (4-4)
5.    Davi Millsaps, Murrieta, Calif., Yamaha (3-9)
6.    Kevin Windham, Baton Rouge, La., Honda (6-5)
7.    Tommy Hahn, Great Bend, Kan., Yamaha (10-7)
8.    Brett Metcalfe, Australia, Suzuki (8-10)
9.    Jake Weimer, Rupert, Idaho, Kawasaki (7-11)
10.    Nick Wey, Dewitt, Mich., Yamaha (14-8)
450 Class Championship Standings
1.    Chad Reed, Australia, Honda - 138
2.    Ryan Villopoto, Poulsbo, Wash., Kawasaki - 123
3.    Ryan Dungey, Belle Plaine, Minn., Suzuki - 111
4.    Davi Millsaps, Murrieta, Calif., Yamaha - 104
5.    Brett Metcalfe, Australia, Suzuki - 88
6.    Kevin Windham, Baton Rouge, La., Honda - 76
7.    Ricky Dietrich, Snohomish, Wash., Yamaha - 72
8.    Jake Weimer, Rupert, Idaho, Kawasaki - 68
9.    Tommy Hahn, Great Bend, Kan., Yamaha - 65
10.    Christian Craig, El Cajon, Calif., Honda - 59
250 Class (Moto Finish)
1.    Blake Baggett, Redlands, Calif., Kawasaki (1-1)
2.    Tyla Rattray, South Africa, Kawasaki (3-2)
3.    Eli Tomac, Cortez, Colo., Honda (6-3)
4.    Dean Wilson, Scotland, Kawasaki (2-8)
5.    Broc Tickle, Holly, Mich., Kawasaki (10-4)
6.    Justin Barcia, Ochlocknee, Ga., Honda (8-7)
7.    Cole Seely, Newbury Park, Calif., Honda (11-5)
8.    Kyle Cunningham, Irving, Texas, Yamaha (5-11)
9.    Darryn Durham, Butler, Pa., Honda (4-14)
10.    Alex Martin, Millville, Minn., Honda (13-6)
250 Class Championship Standings
1.    Tyla Rattray, South Africa, Kawasaki - 127
2.    Dean Wilson, Scotland, Kawasaki - 125
3.    Blake Baggett, Redlands, Calif., Kawasaki - 116
4.    Eli Tomac, Cortez, Colo., Honda - 104
5.    Kyle Cunningham, Irving, Texas, Yamaha - 90
6.    Justin Barcia, Ochlocknee, Ga., Honda - 79
7.    Cole Seely, Newbury Park, Calif., Honda - 68
8.    Broc Tickle, Holly, Mich., Kawasaki - 67
9.    Gareth Swanepoel, South Africa, Yamaha - 61
10.    Martin Davalos, Ecuador, Suzuki - 53