Wortham, TX
Freestone Raceway
AMA Pro Motocross Championship
The second round of the Lucas Oil AMA Pro Motocross Championship (the nationals) was held in Texas, and besides the tough track, the riders had to deal with the extreme temperatures. Although it was slightly cooler than in the past, it was still plenty hot. The
Freestone
track isn't that technically difficult but it's challenging because of the braking bumps and square edges. And oh yeah, like I was saying--the relentless heat.
They dumped a lot of sand on the track and allow me to pontificate here on how I believe the track owners are getting a little out of control with the sand, saw-dust, rice-something or the other (that stuff that Fro was talking about at Hangtown last week) and whatever else they can find. It's gotten to a point where the tire selections and riding technique are the same each and every week in the nationals. I say if you want to do that to your track, fine but lay off it a bit. These tracks are turning into the exact same soil each week! What happened to the hard pack of Hangtown? If you watch old tapes of RedBud, it's not even the same track anymore. Let's leave a track the way it is (no man-made sand whoops please) and let's see which riders are better on which surfaces.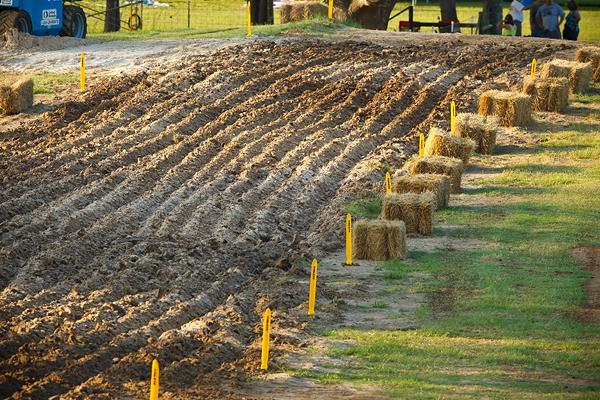 Freestone was a little more sandy than usual this year.
Photo: Simon Cudby
There were more than a few riders telling me after the first practice sessions that they didn't know they were racing Southwick! Another deal with dumping so much stuff on the tracks is that the first practice session ends up being almost always the fastest because of the track's pristine condition. If you have a bike problem or crash in the first session, you are almost always out of luck. Got to lay down that fast lap quickly!
Ryan Dungey should have won Texas, it was his by rights and he rode the best out of anyone out there. But with one and a half laps left, his Suzuki R-Z450 came to a halt. Dungey's 2-1 win and great ride was up in smoke and he was forced to push his bike back to the truck with his third DNF of the year which is three too many at that level (Anaheim 2 with a broken chain, a heat race in Daytona and now this).
As much praise as Reed got last week for his great ride, I feel like Dungey deserved the same this week as he sprinted away in the second moto when Reed was on him, and although Reed could match him, he couldn't catch him and then Reed went down. Unlike supercross where all you can do is score 25 points, in the outdoors you have a shot at fifty each weekend and Ryan is going to need the remaining twenty motos to work at getting the deficit cut down.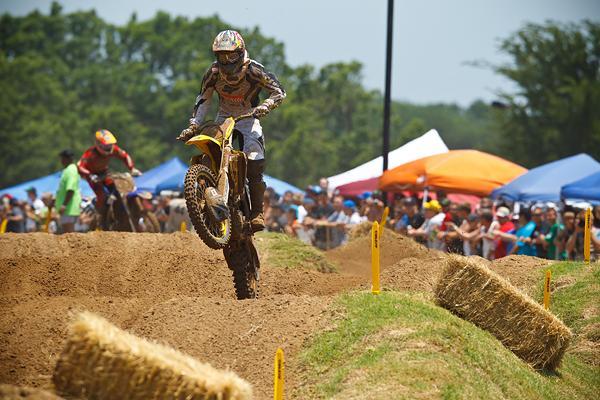 Heartbreak for Dungey and Suzuki at Freestone.
Photo: Simon Cudby
This has absolutely nothing to do with new team manager Mike Webb but let me tell you that I know how this sport works from the inside and this isn't a good thing to have happen in a contract year for Dungey. When Roger DeCoster and Ian Harrison were at Suzuki, Dungey didn't have any problems at the races and now, with those two gone and Webb now the manager- there's problems. Again, it's not Mike's fault at all—the chain came off at Anaheim because Trey Canard ran into Dungey's bike, a freak accident. Here, Suzuki says the fuel boiled in the second moto, causing it to vaporize, and then run out.  No parts on the bike actually broke or were installed incorrectly, but the illusion is there and it's too bad for Webb (who is a great guy who spearheaded Suzuki's numerous off-road championships) and Suzuki that this stuff will be held against them in contract talks.
When I worked for FMF Honda in 1998, I took the job about halfway through the SX season and my very first race, the bolt backed out of the front sprocket in the heat race and my rider Danny Smith DNF'd. It wasn't my fault, I didn't build the motor but it came down on me and Smith (or Honda) never really trusted me much after that. Then I screwed up on my own a couple of times and that was it, I was done there. Trust me when I say I know how this stuff works.  The agency/family/friends of Dungey will point to the chain that fell off as a reason the SX title was lost (never mind that Trey Canard said that he absolutely plowed right into Ryan's chain guard the turn before) and if this MX championship goes down and Ryan loses by 25-points, the Texas DNF will be brought up.
Bummer for Ryan, he was the best rider on this day but the man that won was Chad Reed for the second straight week. In the first moto, he had Dungey on him but pulled away for the win. It was another impressive win for the 22 and he now has a nice lead on the field only two races in. Reed's been way better than most everyone thought and although the Pro Circuit machine he was riding in SX is very capable, I think you can see the effects of a full-on works bike in this case. Reed's stepped up his game on the new bike in the last four races he's had it, no doubt about it.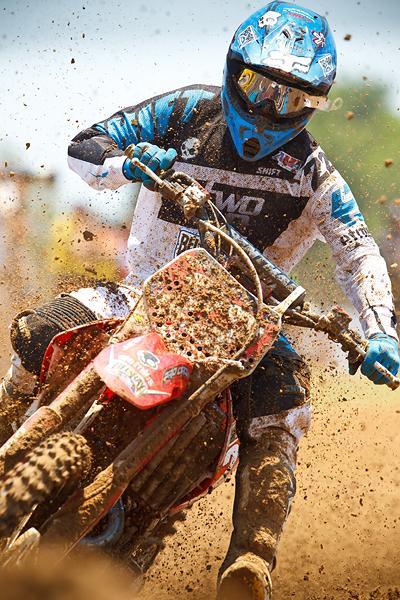 Reed has started 2011 with two straight victories.
Photo: Simon Cudby
I was thinking about how good Reed is at the PR game these days. He seems to be willing and able to talk to anyone at anytime about his race. There are people in the industry that tell me they text him, and when I hear that, it makes me wonder A) How did you get his number? (Reed's got two different numbers) and B) You can't tell me he actually texts you back. Turns out he does text these people back, and I'm just thinking back to when he didn't care all that much about the media game when we worked together at Yamaha. He's done a complete 180 on that and judging by him texting these jerkies back, he must love the press.
And when you interview him, you get real information like him telling you he was hungover for two days after Vegas, how he's got this old Honda at home that he rides, how he talked to this person or whatever. It's gotten to the point that if Reed came into the media tent after a race and told us he had a T-Rex in his backyard and it's really cool, all of us media guys would just nod our heads and wonder how he avoids getting eaten. Reed's realized that you can be media friendly and most fans (and media) will give you the benefit of the doubt.
Props, kudos or whatever the kids are saying these days to Dungey for him pushing his bike back to the truck. Kids, don't leave your bikes out there for the mechanic to get. Life sucks when your bike breaks but the Moto Gods don't like that kind of stuff. Look, Reed dropped his bike at RedBud '04 (when his chain fell off) and it's taken to 2011 for the Gods to forgive him! Okay not really but whatever.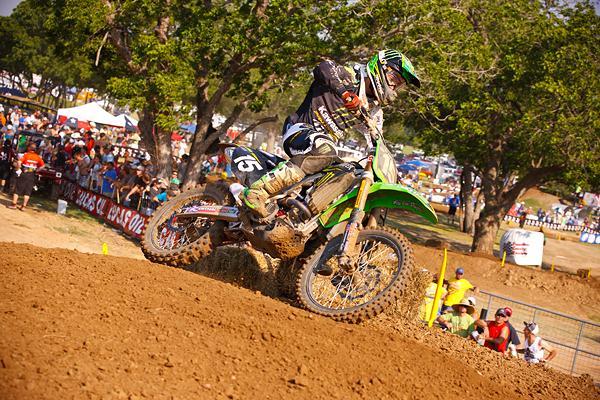 A second moto crash would cost Wilson the overall, but he leaves Texas with the points lead.
Photo: Simon Cudby
I don't think there are too many people who wouldn't tell you that Dean Wilson was the fastest guy in the 250 class in Texas. Wilson, who had heat problems here last year, blitzed the first moto to an impressive win. In the second go around he was all over the leader Justin Barcia when he went down. He got up in seventh and caught back up to third to end the day in second overall. Wilson's speed and endurance was impressive for sure and he's now got the points lead.
Whereas Wilson is flashy and exciting to watch, his teammate Tyla Rattray is kind of the opposite. Rattray won the second moto in Texas last year when Wilson melted down and he won the overall this year with the help of a Wilson crash and strong, strong riding. Rattray is just an animal out there, he keeps the same pace for the entire moto and charged hard to 2-1 scores. Ratters is a quiet, unassuming guy who doesn't go around looking for attention but he's going to get more and more of it as the year goes on and he stays in title contention. This track doesn't really have anything too unique about it, but I feel like Tyla's conditioning has something to do with his success here.
What a day for Davi Millsaps who rode two strong motos to get second overall in what was, by far, his best ride on the JGR Yamaha team. Millsaps, never thought of as a supremely conditioned guy, never wilted in the heat and proved many people wrong (including myself) with his rides. Millsaps was the only guy jumping over the sand wall thing in the second moto and used it to his advantage to catch riders. It was a ride that has to leave team JGR really thinking about what they need to do to get Davi to ride like this every weekend. Whatever it was in Texas, Davi do the same things at every race and bring the same attitude to every race and he'll end up on that box a lot!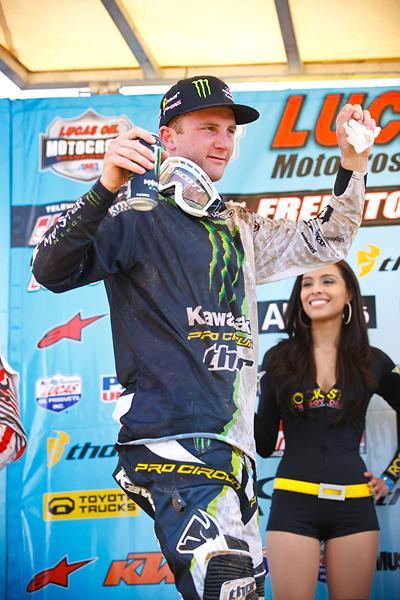 Rattray would take the overall at Freestone.
Photo: Simon Cudby
As good as Davi's day was, Christophe Pourcel's day was bad. The newly signed Motoconcepts Yamaha rider was riding great in the first moto when he pulled out for no apparent reason. He was a shoe-in for a top five when he went out and was even in second for a while as well. Once back at the truck, team manager David Vuillemin tweeted that he complained of arm pump. The team changed triple clamps, fork and shock for the second moto but Pourcel pulled into the mechanic's area early on when the shock locked up. He must have gotten a rock or something in the linkage because the shock was taken apart and found to be perfect afterwards.
So CP377 DNF'd both motos and has taken a while to get going so far in the 450 class, but to me, you don't win as much as he did and overcome what he has if you're not interested in working hard. He'll get better but for right now, frustrations are high with CP, with his team manager and with the team owner. I think we'll see a much better Pourcel at High Point. Bank on it.
Kyle Cunningham is a guy that I've made fun of before for his tendency to crash. Cunningham's certainly got talent and is fast but he just can't seem to put it together so far in his pro career. Although he got second in a moto at Washougal a few years ago, this weekend's 3-4 for 3rd overall was his best national ever. Kyle was strong in both motos and rode great in the heat and in his home state to get his best overall finish. Afterwards he was almost apologetic in the fact that he had to go get an IV but I say there's nothing wrong with that, the Asterisk Medial Unit probably looked like a WWII triage center after the day was over!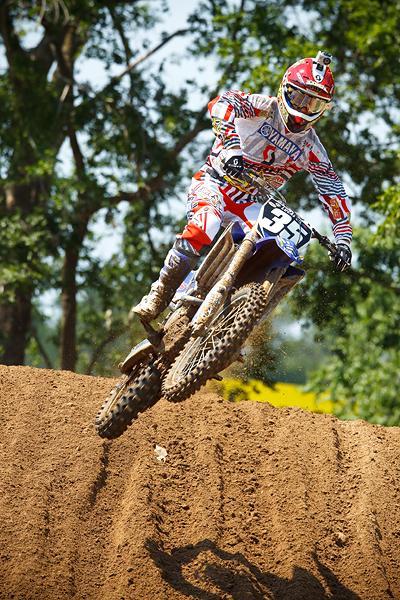 Cunningham rounded out the podium at Freestone.
Photo: Simon Cudby
I believe (and I can't check because I erased Hangtown on my DVR to make room for the Pawn Stars marathon) that GEICO Honda has pulled every holeshot so far this year with Barcia getting three and Eli Tomac getting one so there's that little nugget that the team can hang its hat on. But the fact is that Barcia and Tomac have been a bit off so far this season due to crashes and other factors. The team only had two riders at Hangtown and soon fill-in Jimmy Decotis will be back to go with new fill-in rider Lance Vincent. Barcia's first moto charge from last to ninth was very good and Tomac was steady but third and sixth in the points wasn't what 'Iron' Mike Larocco was hoping for.
My name is Steve Matthes and I used to make fun of Star Racing Yamaha. That's how my Jokey McJoke rehab stint would start off if I were have to go to such a place (and judging by how many of you thought I was serious on Saturday night when I launched a bunch of "Dear…" Tweets you would not be admitted to such a club). I have launched a few salvos at the official 250 team of Yamaha. For years, the team hasn't made the best rider choices, they've given up on riders too soon and their bikes seem like they lacked something (never mind the fact that Yamaha seems to really think that carbs and their seven-year old engine package is still solid) but this is 2011, I think we have to stop mocking them.
Ryan Sipes, Cunningham, Gareth Swanepoel have all been pretty good this year and Gannon Audette is learning the ropes as he goes. The bikes are out front in the starts, they seem like they can do all the obstacles (in SX) and I don't see them even coming close to the all-time record of most times a team has pushed their bike off in one year (held by the Bills Pipes Suzuki team of '06). The team added Alan Brown as a manager in the off-season and he's probably helped so that Brad Hoffman can concentrate (with the help of Cosworth) on the engines and we all know Enzo knows what they are doing with the suspension. All in all, they've come a long way and next year Sipes and Cunningham should be right in there for wins.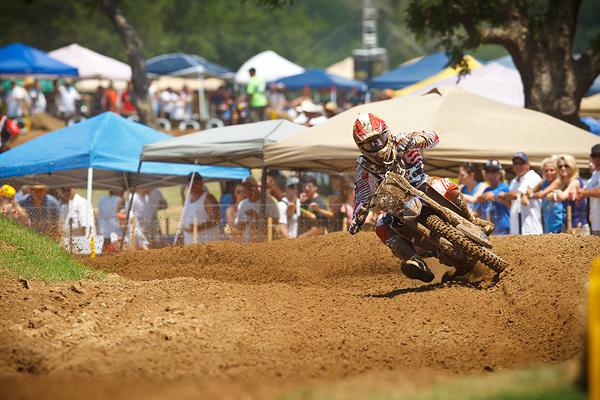 Swanepoel is helping lead a resurgent Star Racing Yamaha effort.
Photo: Simon Cudby
So now I'm forced to make fun of the Rockstar Suzuki team as they've had a rough go of it this year.  But I can't really say too much about them though because they just hired Dave Gowland as their new team manager and he used to wrench for Ross "Rollerball" Pederson and therefore, he got to work very closely with my MX Jesus. Is there any doubt he'll turn that thing around soon?
Andrew Short continues to start the outdoors in a bit of a hole. The silent assassin had motor problems last week (one DNF) and now this week he goes down on the first lap in the first moto and is 30-seconds behind the last place guy. Being the charger that he is, he made it up to 15th and second moto, he was 6th but let's take a look back at his early season "performances":
2008-On a Honda at Glen Helen, he breaks something in his motor while running fifth or so and gets an early season DNF.
2009-Crashes at Hangtown and is about 20 minutes back of the field and eventually gets 20th place and one point
2010-At the second round, bike won't start and he completely misses the first moto.
2011-Motor blows while he's charging and he nurses it to finish but not to worry, it blows up completely in moto 2 to give him a DNF.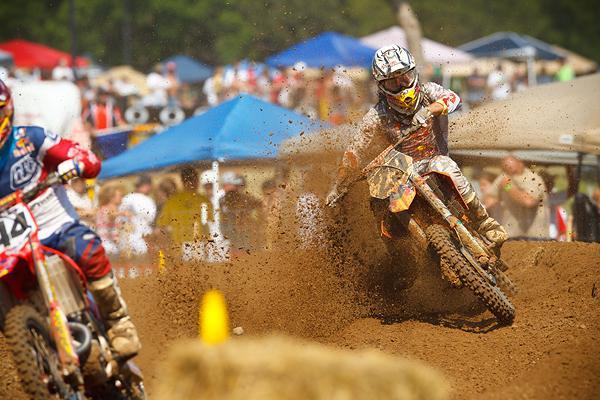 Andrew Short's early season struggles have continued in 2011.
Photo: Simon Cudby
Let's take a look at the results shall we?
250 Overall
1. Tyla Rattray (2-1) Kaw
2. Dean Wilson (1-3) Kaw
3. Kyle Cunningham (3-4) Yam
4. Justin Barcia (9-2) Hon- As I was saying, strong comeback in the first moto for JB.
5. Eli Tomac (5-6) Hon- Like Tomac told me in our post-race podcast- it was a "decent" day.
6. Martin Davalos (10-7) Suz- Davalos came from pretty much dead last to a tenth in the first moto in a great ride.
7. Mathew Lemoine (8-11) Kaw- Pretty good for a guy out of his van.
8. Cole Seely (14-8) Hon
9. Blake Baggett (7-16) Kaw- Last week's winner was in the process of checking out in the first moto when he went down and banged his head pretty good.
10. Gannon Audette (12-12) Yam- 12-12 for 10th? The Moto Gods smiled on him.
11. Gareth Swanepoel (4-28) Yam- Swanepoel's been better than I thought he'd be.
12. Broc Tickle (39-5) Kaw- Tickle lost a motor in the first moto and there's nothing funny about that at all.
13. Lance Vincent (16-10) Hon- GEICO picked up Vincent for a fill-in for at least through Millville, if not longer and he did pretty well but I believe he got tired at the end of each moto.
14. Austin Howell (18-9) Suz- Maybe Rockstar should look at this kid?
15. Nico Izzi (6-29) Hon – Izzi got great starts and ran up front both motos before dropping out of the second one with heat issues.
16. Nick Paluzzi (15-13) Suz
17. Malcolm Stewart (11-33) Suz-Mookie crashed both motos I believe. I know, hold on to your hats- that's very rare.
18. Justin Sipes (20-14) Kaw- All hail Pooh!
19. Killy Rusk (13-34) KTM
20. Travis Baker (33-15) Hon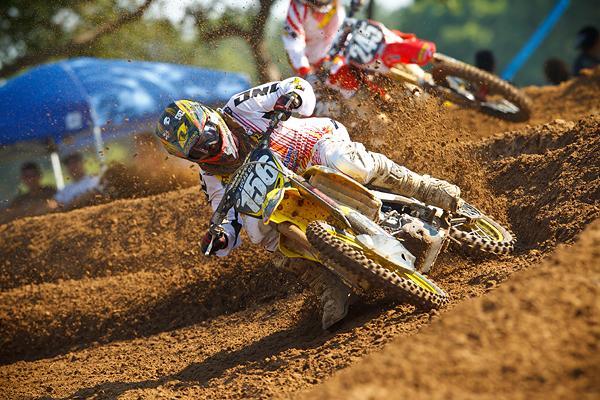 Rookie Jason Anderson and the Rockstar Suzuki team have gotten off to a rough start.
Photo: Simon Cudby
450 Overall
1. Chad Reed (1-1) Hon
2. David Millsaps (4-2) Yam
3. Ryan Villopoto (3-5) Kaw- RV was outside the top 20 in the first moto and worked his way to third.  Second moto, he was charging again and went down about halfway through the race. We haven't seen the real RV yet. It's got to be a little disheartening for the rest of the field that these top three guys are so much better.
4. Brett Metcalfe (9-3) Suz- The heat got to Metty in the first moto and he dropped back quite a bit but he redeemed himself in the second one with a strong ride.
5. Ricky Dietrich (8-4) Yam- Ricky told me last week that if he can get a start in the top five, he'd be good because of his endurance and in the second moto. He got it and proved himself right.
6. Jake Weimer (6-7) Kaw- Weimer was steady both motos, he's done well so far in his four 450 motos.
7. Christian Craig (5-8) Hon
8. Ryan Dungey (2-25) Suz
9. Andrew Short (15-6) KTM
10. Nick Wey (10-11) Yam- Wey passed a whole bunch of dudes in the second moto to get his 11th.
11. Michael Byrne (14-10) Suz
12. Tye Simmonds (13-12) KTM- Simmonds looks like he belongs in Mario Cart because he's so big and his bike is so small.
13. Les Smith (11-14) Yam- This should have been a 11-10 but Les, in his first ride as a fill-in on the JGR Yamaha team fell over near the end of the second moto with heatstroke. So he was the last place guy on the lead lap. Considering he passed out and didn't finish, to only lose four spots is pretty good!
14. Vince Friese (12-16) Yam- Good ride for Friese.
15. Tommy Hahn (7-39) Yam-Hahn had a gas cap malfunction when the black rubber diaphragm thing fell into his tank. That's what I heard anyways…
16. Ben LaMay (16-13) Yam
17. Kevin Windham (28-9) Hon- KW blew up a motor in the first moto and second one he went back a bit from the heat.
18. Calle Aspegren (17-17) Hon- He's from Sweden, that much I do know.
19. Kyle Chisholm (39-15) Yam- The Chiz crashed out in the first moto.
20. Noren Perris (19-19) Hon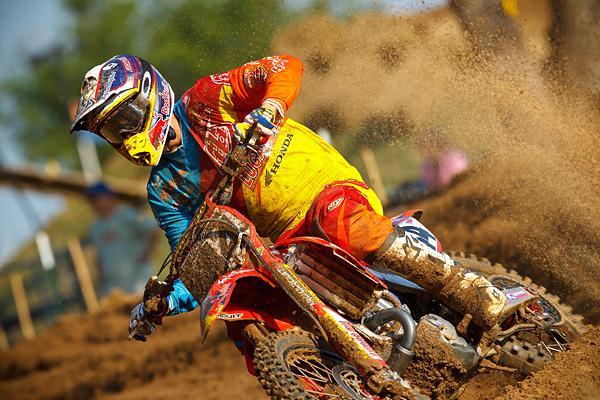 Craig has been an early-season surprise in the 450 Class.
Photo: Simon Cudby
We should've listened to Ping-adamus when he was telling us that TLD Honda's Christian Craig was going to do something in the 450 class in our pre-season motocross podcast. I wasn't that impressed with him at the USGP but a solid tenth at Hangtown and then this week, the kid led half of the first moto! Sure, everyone can get a start and lead a lap or two but this guy did it for half the race and then, when you would think he would fade badly, he kept it under control and ended up in fifth. Second moto, he was eighth, so this just in: Christian Craig is for real. He's got his dad's great riding style and let's hope he doesn't have the weirdness because he looked awesome in Texas.
Thanks for reading this column and feel free to email me at matthes@racerxonline.com and let me know what you think about all this stuff.