Freestone Raceway
Wortham

,

TX
Freestone Raceway
Lucas Oil AMA Pro Motocross Championship
It was a little (okay, a lot) fortunate but Team TwoTwo Motorsports Bel-Ray Racing's Chad Reed came away with his second win in a row (third if you count Vegas SX!) in the Lucas Oil AMA Pro Motocross Championship, and combined with Ryan Dungey's DNF, already has a healthy lead in the points. It's quite a turn of events for a rider that wasn't even sure if he was racing the outdoors a couple weeks before the opener. Before the press conference, I caught up to Reedy as he was signing autographs for his take on the day.
Racer X: Reedy, great ride today and to get the win is definitely fortunate for you, but you still rode pretty awesome today.

Chad Reed: Thanks. The first moto I had to be patient and this track is difficult to pass on for sure, because when it goes into the trees it's always, no matter how hard they try, it's always pretty one-lined.  So I was patient and got into the lead and Dungey was on me pretty good and I went hard and kind of dropped him and rode smart from there. In the second moto, I was in position and thinking I was pretty good. I was taking a lot of roost and backed off, then put in a charge, got up to him and tried to take a smoother line. Unfortunately, it was smooth because there was mud underneath there [laughs] and I went down. I didn't find that out until it was too late. I highsided a bit and was disappointed. I then laid down a couple of good laps but he stepped up to that and for me, I thought I'd play it smart and didn't want to end up on the ground.
Unfortunately for him, he had an issue there. Looks like he ran out of fuel. Looks like there was a deeper issue than their fuel there, but we capitalized on the error and won. I was fast enough and strong enough to win but just thought I'd play it smart.
In the second moto, you and him were going hard and sprinting away from the pack big-time. It was impressive as both of you were pretty much matching each other's times and going way faster than anyone else.
Yeah, for sure. You can feel it, you can feel the intensity out there. He was laying it down and I was like 'all right' and I knew that I was going to have to lay it down if I wanted to win this thing. So I stepped up, he stepped up, and we were going at it. Unfortunately, I went down and then I laid down two good laps and closed the gap but he still had five or six on me. I felt like that we had to do that; I felt like he was going to be able to match that and I would have to really go hard and maybe end up on the ground if I went that hard.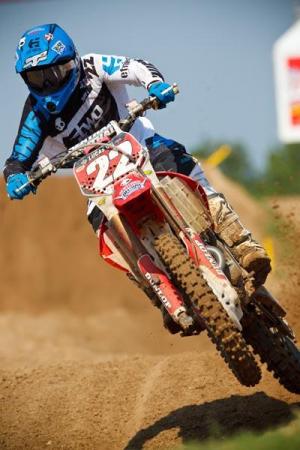 Reed is all alone atop the standings now.
Simon Cudby photo
Did you know he was out of it before you came up on him or was it a complete surprise?
I saw him there on the side on the track before I got to the pit board. I saw he was just sitting there and then the pit board said "Dungey out" and obviously that wasn't going to change anything for me. I'm disappointed and bummed for him, for sure, but we'll take it.
It's early and I don't want to sound too dramatic or anything like that but do you feel like this is something magical happening here with everything that has been happening?
I feel like I'm riding really strong and I'm putting good laps together for a guy that sucks outdoors [smiles]. I had Dungey on me in the first moto and I was able to pull away. I know the pace is there, the bike is really good and I would honestly say the feeling I have and the reason why I'm so excited is that the bike is awesome. It takes less effort to ride than other bikes and that's why I'm having fun out there. It's enjoyable to lay it on the line with a bike that incorporates and helps you do what you want. I feel like I'm riding the best I ever have outdoors and I'm excited for that.
Win or lose, I'm happy that it's been this good so far.
And you'll be the sole owner of the red plate for next week, which has to make you happy. What was with the white backgrounds in practice. A silent protest?
Yeah, pretty much. I stand by what I said and I thought it was lame that we shared it and I got into a battle with Davey [Coombs] over it and I think I won because he left the semi [laughs]. Whether he met his match or not I don't know, it was just cool that we basically agreed to disagree. Actually no, we didn't. He left thinking I won the battle so I guess that means I won! (DC left Reed's semi laughing, and he was cool with the whole deal).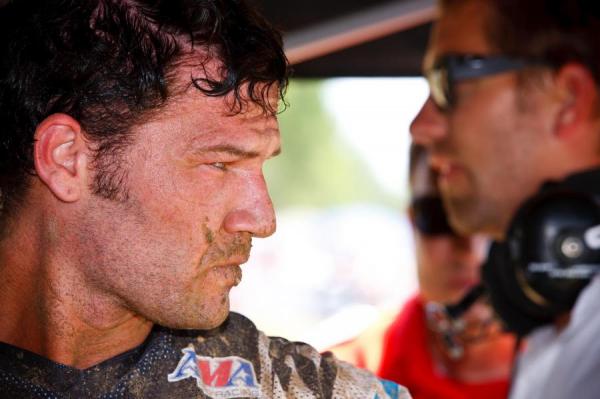 All in all, it's a good thing Chad Reed decided to go racing this year!
Simon Cudby photo