Freestone Raceway
Wortham

,

TX
Freestone Raceway
Lucas Oil AMA Pro Motocross Championship
Hello, everyone, and welcome to the Rev Up. Before I get into the upcoming race in Texas, I want to send my thoughts and sympathy to the folks of Joplin, Missouri. What's happened and still happening there is terrifying. I grew up about 150 miles from Joplin and have seen dozens of tornadoes. They are simply the most humbling power of nature there is. You can get away from the ocean; we know hurricanes are coming, and even earthquakes pale in comparison. Any tornado is bad. But, that one was the deadliest in recorded history. It was a half of a mile wide. I never like to write about bad things, but this tragedy struck home. The weather and the storms are getting worse with each passing year. There are tornadoes on the ground as I write this...
Now, onto round two in Texas.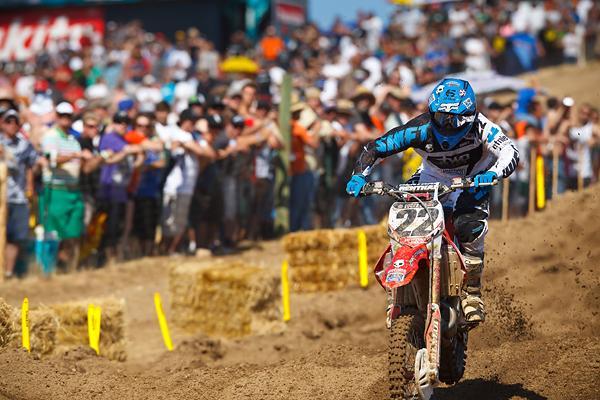 Reed used his "old-man strength" to outlast Dungey at Hangtown.
Photo: Simon Cudby
First off, my jaw dropped when I saw how rough and nasty the Hangtown track was. That was one mean son of a bitch right there. None of those guys could have been truly prepared for that immaculate buffet of chop, ruts, and gnarl. It was heavy duty status, for sure. That said, I wasn't surprised to see Reedy step up and win the O/A. Motocross is a lot like other athletic genres in that it takes years and years to gain strength beyond strength. You can weigh your food, train like a wild animal and bust 30's for months and never find the salt that Reed's ten-plus years have. The Thunder even said as much that he was basically still hung over from Vegas, and he still outlasted Ryan Dungey. That's old-man strength, and it's stronger than a garlic milkshake.
Transversely, it's traditionally the youth gone wild that wins the opener in the tiddler class. Blake Baggett has a season under his belt, but his career becoming was when he threw a leg over the Monster Energy PC destroyer. Blake got left in the cold behind Barcia and Tomac and you just know he was prepared to display a vulgar display of power. I was happy to see him offer sandblasted skin to the competition.
Now Texas. Last year we had the boys seeing Indians on the side of the track transforming into hawks and flying into the crimson sun. It was stupid hot and hallucination didn't quite cover it. Brink of death was more like it. It's pretty gnarly how hard those guys push themselves and how far they'll pound the track with a primal concrete sledge until giving up. The problem is, they won't. The weatherman is saying she is going to be 96 degrees this Saturday afternoon. Not quite as nasty as last year, but damn hot.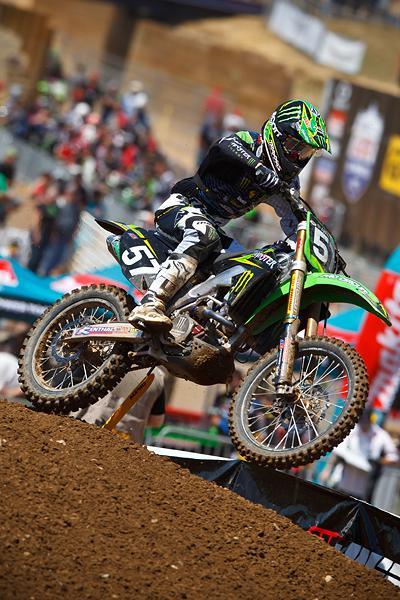 After being passed over last year, Baggett is proving his doubters wrong.
Photo: Simon Cudby
It will be almost twice as hot as Hangtown was, and Freestone is far from a cakewalk. Those sand whoops are straight evil, and when you're twenty minutes deep into a moto flapping off the back of your bike you have a strong chance to get far beyond driven. The track as a whole is "Texas style" all the way. The Texas tracks I used to race on were super fast, rough, and had everything from a little hard pan to washed out sand sections. Like most of the outdoor national tracks, Freestone will change a ton throughout the day, but the looser than typical soil means each corner can be different with each grueling lap. The nice little notch you spent three laps barking in on the inside could be blown out the lap you go to make your pass. The lip on the face of a jump could have gotten cupped out to the point of bucking you, just within a lap.
As awesome as Hangtown was, we haven't seen anything yet. What we will see is two different winners this weekend. The outdoor championship canvas is relatively dry until after High Point in my opinion. The opening few rounds are pivotal, though. You have to score points and survive. Easier said than done. But the cannons have fired. The art of shredding has begun, and the game is afoot.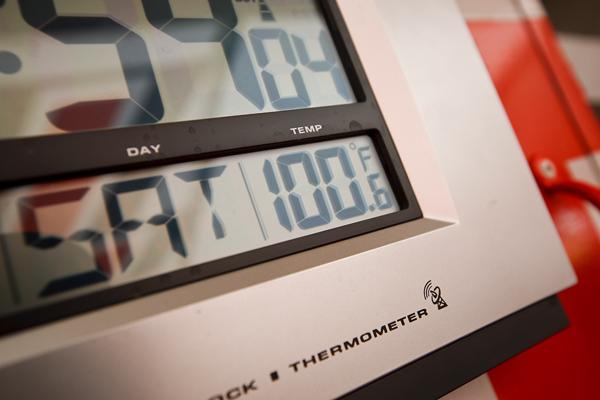 Texas was scorching last year.
Photo: Simon Cudby
In closing, my favorite three things about Texas are in order:
#1. The women. NFM.
#2. The fans. Texas fans are an animal of their own. If you want to party, well, they're ready.
#3. Pantera. Obviously. (wink)
Round two is here. She'll be different this time around. Let's get ready to see the show!
Thanks for reading, see you next week.