Freestone Raceway
Wortham

,

TX
Freestone Raceway
Lucas Oil AMA Pro Motocross Championship
Chad Reed wasn't as prepared as he could have been coming into the Lucas Oil AMA Pro Motocross Championship opener, but that didn't seem to matter. Armed with a works Honda, Reed went 2-1 for the overall and , logged a great second moto performance where he outlasted last year's champ, Ryan Dungey for the win.
After the press conference, Reed ambled out of the tent by himself and I grabbed him for a quick interview on his day.
Racer X: Chad, great ride and very impressive- what are your thoughts on it?
Chad Reed: I felt good today, I felt like the first moto I made a good push with it. And then we had some problems out there….
Your airboot?
Yeah, that was it and the bike lost a little bit of power out there and we fixed it. It was a bit confusing because it made weird noises and I wasn't sure if it was the silencer or the motor or what so I backed it down a bit. I came into today feeling good, the riding and the testing was going well. We made good choices on the tracks that I tested on and the Honda guys worked hard on getting the bike dialed in. The last two supercrosses and now this have been a nice transition. I always feel like coming into the outdoors from supercross, I struggle with the change in tracks, the way the track shapes up. And I feel like on this bike, I'm pretty confident and I feel good. I always think back to '09 and how I felt back then comfort-wise, and I feel that same way right now. We'll see, it's a long season. I respect these two guys (Ryan Dungey and Ryan Villopoto) so much, they are great outdoor riders and they'll be fighting all season long. Villopoto, he's been sick or something I heard and looked like he was fighting some bike issues or something like that as well so he's got some work to do like we all do.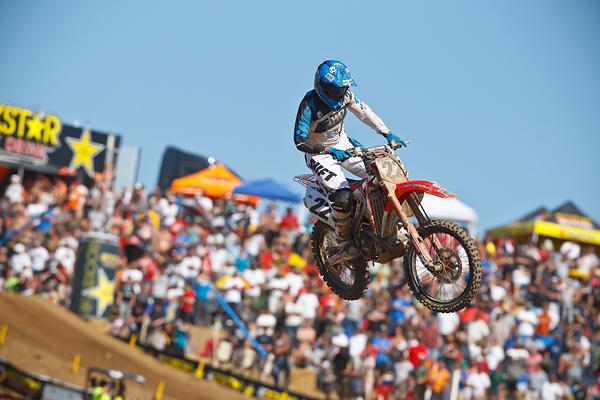 With little testing beforehand Reed still managed to grab the overall at Hangtown.
Photo: Simon Cudby
How much better is the full factory bike for you?
I think I would put it like, it's a factory bike and with that you have a lot of options to refine the bike for you. The weight and the ability to customize it for the rider is what I would say.  I never rode my PC bike outdoors so I'm just comparing the supercross to the motocross bike. My supercross bike was great, I won races and made the podium but it's just little things that I didn't have at my disposal. We can customize the bike to what I want. The hydraulic clutch was great, I was a little nervous about it because I hadn't used it outdoors and it's not that I didn't think it would work, it's just an unknown for me. But I loved it, it's great and every time you pulled it in it's the same feel and worked great.
I feel like it took a bit for you to get going early in the motos but then you caught fire and found some lines or something. Would you agree?
I felt like early in the first moto I could go and if those guys weren't there, I felt like I could drop the hammer and go. It was a bit wet also and I think that's somewhere in the past where I struggled when they put water on the track and today I felt better. That was a positive sign for me as that was my biggest weakness before. Today, I felt like I had the pace and had even more if I had to use it. It was a pretty sketchy racetrack and I was getting after it but it had to be purposeful you know? That's something that I didn't have last year against Dunge and to do it was cool and good for me going forward.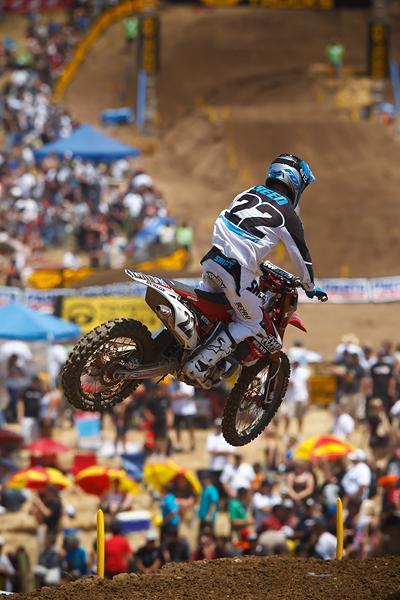 Can Reed make it two in a row at Freestone?
Photo: Simon Cudby
You did something today in the second moto that no one could do last year when it seemed you outlasted Dungey, which had to feel good.
Yeah, I think for me- I'm a little surprised because I know those guys are pretty anal about their training program, I've seen them in California doing thirty's. This was the first thirty that I've done, we haven't been focused on this at all. So to come out and do two 35-minute motos and be strong, I'm excited that my fitness was pretty good.
We can work on it a little bit but we'll go back and do it. It's always hard to juggle Vegas SX because there are mornings when I went to bed at seven and was hung over. It was the end of the year for me on a successful season. I think to look back at what we've done, we can only get better from here. I don't think that last year was a good indication of what I can do…
But you won here last year!
Yeah but that wasn't the same, I think Andrew (MacFarlane) was looking over me that day, it was one of those things. It was a tough year and other than that year, besides James (Stewart) and Ricky (Carmichael), no one has really beaten me outdoors. Red Dog here and there and Kevin (Windham) as well, but I feel like I've been right there.