Freestone Raceway
Wortham

,

TX
Freestone Raceway
Lucas Oil AMA Pro Motocross Championship
Picking between supercross and motocross is like picking a favorite between your two kids. They both come from the same genetic code, but they look and act a little differently. They're different, but they're both your boys, and at the end of each day, you'd never want to choose one or the other.
(Although there are plenty out there who would probably say you could just take both off of their hands and life would be a whole lot easier).
So when the Lucas Oil AMA Pro Motocross Championship kicks off at Hangtown, and all the awesomeness of the outdoors is on display, and you're fired up and soaking up the moment, it's not because supercross isn't awesome in its own way. Outdoors is just different in its awesomeness, and Hangtown had it all. Superb weather. Gnarly track. Long motos. Great racing. Hangtown was everything we like about motocross.


Was it just me, or did the Hangtown track look rougher than usual? Did the motos seem longer than usual? Did the bike setups, and race strategy seem more different than supercross than usual? I think this supercross season captivated us so much that we looked at it a little more closely. We bench raced harder, made more predictions, what ifs and second guesses. And after focusing that hard on indoor racing for 18 weeks, I think the outdoor racing came on like a cold glass of water after a hot cup of coffee.
I could go on and on about how Hangtown felt different than, say, Houston. Clearly, the track was rough as hell, and the riders had to worry about finding the right lines instead of figuring out the right rhythms. These races were long, and no one could just pin it from the start and hope to stay in front for the whole race—otherwise Kevin Windham, Eli Tomac, Ryan Villopoto and Justin Barcia would have won motos (they pulled starts and led for a bit, but in outdoors, leading for ten minutes is just the beginning).
But even that is not the biggest difference between the two genres, as I see it. The biggest difference? In supercross, round one is an instant gauge over who is ready and who will be fast. Outdoors, round one may not mean all that much.


So we have to be careful trying to interpret what happened at this race. No doubt, Chad Reed and Blake Baggett were the best of the best (and so was Jessica Patterson in WMX). But will it hold up? I have no idea.
Look at Trey Canard's run to the 250 title last year outdoors. In supercross, no one ever starts the year reeling off fifth and sixth place finishes, then figures something out mid season, gets hot, goes on a tear and wins the title. In supercross, if you're not fast at round one, you almost certainly aren't going to be winning a bunch of races later (I'll put up Chad Reed's 2011 SX tour as the very rare—like, the only time ever—example of when this did happen. Reed improved immensely from A1 to Vegas). The AMA MX record books are littered with championship comebacks, as well as first-round dominators that couldn't find the magic again.
Examples? Well, obviously last year Eli Tomac and Reed dominated Hangtown and never won another race. In 2007, Grant Langston was nowhere to be found in the first half, only to make big bike improvements late in the year, and strike when Ricky Carmichael and James Stewart went out of the series. In 2006, Mike Alessi owned Ryan Villopoto at Hangtown. Within a few weeks, Villopoto had turned the tables on him. Forever. Mike Brown looked like the man to beat, as a privateer, no less, on a 250F in 2005. But he faded at mid season, and Ivan Tedesco, not even a podium guy early in the year, rallied and claimed the crown. I remember Sebastian Tortelli absolutely destroying the field at the Glen Helen opener in 1999, and then never winning another overall for the rest of the season. I remember Jeff Emig getting hammered by Jeremy McGrath early in 1996, and then hammering back at the end of the season.


We may have lost sight of this after Ricky Carmichael and James Stewart ambushed the series with perfect and near-perfect seasons for a while. That's not normal. There are so many variables at play that someone may finally get something right after weeks of getting it wrong. And someone who had so many weeks of getting it right can have it slip away from him, too. Throughout a season, you're talking over 12 hours of actual racing—a lot of time to crash, DNF, or burn out. Blowing a big lead in supercross usually requires one huge mistake. Outdoors, your fall can come more gradually. You have to keep watching. You have to keep guessing. And that's what is going to make this season so exciting.
So I have no idea if what we saw at Hangtown will hold up, but let's just look at the race as it was. First, I thought Chad Reed's 2010 performance at Hangtown was a better ride than anything he logged during his 2009 championship run. And now, I think his 2011 Hangtown performance was better than his 2010 ride—yes, I think this is Chad's best-ever outdoor performance. And how can you argue? He rode right through Ryan Villopoto and Ryan Dungey to win it, and clearly the 2011 Hangtown Dungey was more like the 2010 Champion Dungey, not the 2010 Hangtown Dungey.
Last year, Reed was aided by extra prep time outdoors. A broken hand ended his supercross hopes, so he was focused on outdoor stuff well before supercross was complete. Note that at Hangtown last year, most of the riders who ran up front were riders who had missed most (or all) of supercross: Reed, Tomac, Mike Alessi, Josh Grant.


This year Reed had no such advantage. He had only officially decided to race motocross two weeks ago, and he didn't test outdoors during the Easter break. He most probably has much to gain over the next few weeks as he logs more riding and testing time.
And he's healthy. Chad spent most of his 2009 (championship) season dealing with a stomach issue. And last year, he dropped from the tour with Epstein Barr. He's a different rider now. We all know that Dungey's endurance shined last summer. He ended the year as the new gold standard of motocross fitness. But at the Oakland supercross, in February, Reed outlasted Dungey in a battle for the podium, and when I talked to Reed about it after the race, he wasn't surprised about this.
"I feel like I'm in the best shape I've ever been in," said Reed back then. "I've been working hard with Platinum Fitness and it's going well. I've never looked at Ryan as some guy who was stronger than me. I think he had a great year last year, but this is a whole new year."


Dungey demolished riders late in the motos last season. It seemed hard to believe that Reed—or anyone—could match his strength. But Reed did it over and over in supercross, matching him down the stretch in Oakland, Daytona, Indy, even holding him off through the last turn in Las Vegas. Then came the second moto on Saturday afternoon, when Reed quite simply outlasted Dungey in a battle of strength, will, and fitness.
Reed is quick to point out that his motocross prowess has been underrated, because he was usually left to battle Ricky Carmichael, and that would make anyone look bad. He says he's comfortable, and you could see that instantly. A few riders had a chance to ride on Thursday for press day, and it looked to me like Reed and Kevin Windham were the happiest riders out there. The track was super beat after 700 amateurs had run their Loretta Lynn Area Qualifier. Everyone else was just kind of riding around, but Reed and Windham were chasing each other around, whipping it, clearing the biggest jumps, nailing their turns, and just looking like two guys out having a fun day at the track. It looked like work for everyone else.
They looked that way in practice on Saturday, too. Finally, during the final session, my broadcast partner Jeff Emig turned to me and said, "Who do you think is going to take it today?" And I said, "You know how Reed always seems to do best when people don't think he's going to do it? Well this is one of those situations."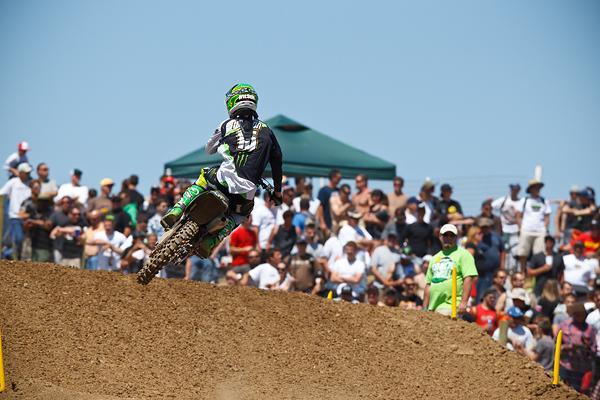 Wilson finished runner-up to teammate Blake Baggett.
Photo: Simon Cudby

It was, and he won. Reed has made a career of bouncing back from tough situations and long odds, but he's turned that into an art form this season.
As for Windham, you could see he enjoyed it, too, and that's why he was able to run the pace early in the races. I don't think KW is quite ready to out-fitness everyone for 30 plus two, but it's still amazing to see what he can do on a bike.
Finally, I don't want to take anything away from Dungey. This is much, much better than Hangtown last year, and it's hard to say anything bad on someone who went 1-2. You just know Dungey will be in this to the end, heck he could dominate at Texas this weekend and it wouldn't surprise anyone. And for Villopoto, I talked to him after the Vegas SX and he was clearly already sick by then, and he sounded worse at Hangtown. We definitely didn't see what he really has.
Really, I don't think we've seen what anyone has, for certain, yet. I know Brett Metcalfe will be closer to the lead group in speed soon, and Christophe Pourcel is clearly a work in progress. Still lots of talent in this class.


But the 250 class is even more loaded. This group is so evenly matched, it's going to be a game of inches…wait, Blake Baggett was going FOUR SECONDS A LAP FASTER than anyone else during the final laps of the first moto. Even more impressive, Blake logged his fastest lap in moto one on lap 15 (of 16) and lap 11 (of 16) in moto two. Kind of reminds me of the old RC Pro-Am game for Nintendo, where the tan car would suddenly make this strange sound and take off late in the race with ridiculous speed. In the video game, all you could do was shoot the car with a missile before he was out of sight. Hmm. This all seemed much cooler before I actually typed it out.
I'm pumped for Blake, he's a much funnier and cooler dude than you may know, but if he keeps staying in the spotlight like this, this won't be a secret for long. His parents are also really cool, far different than the typical moto parents who are just hyper-focused on themselves. Blake's mom and dad have sacrificed a lot for Blake to get here, but when you see them at the races, they don't seem any different than any other random fans.


Baggett was actually super fast last year, too, but his bike broke a bunch, and then he broke himself at Budds Creek. I don't know if it's possible for him to be quite Hangtown fast all season, but I wouldn't be surprised to see him up there every week.
Then again, things can change. They always seem to do so outdoors.