Hangtown Motocross Classic
Rancho Cordova

,

CA
Hangtown Motocross Classic
Lucas Oil AMA Pro Motocross Championship
Chad Reed came into the 2011 Lucas Oil AMA Pro Motocross Championship saying he was riding for fun, and because he enjoyed being around his team. But clearly, he's here to work, too, as the TwoTwo Motorsports Bel-Ray Racing rider won the opening round of the series, the Rockstar Energy Drink Hangtown Classic, and won it the hard way.
Hangtown was rough on everyone, as the track turned out softer and rougher than usual, thanks partially to heavy rain soaking into the track during the week, as well as lots of hard work by the Dirt Diggers crew who work the track. All of the riders were commenting on how rough the track was, however, they were offered some relief by the weather, which was sunny, but only offered up temperatures in the mid 70s. Perfect weather for racing.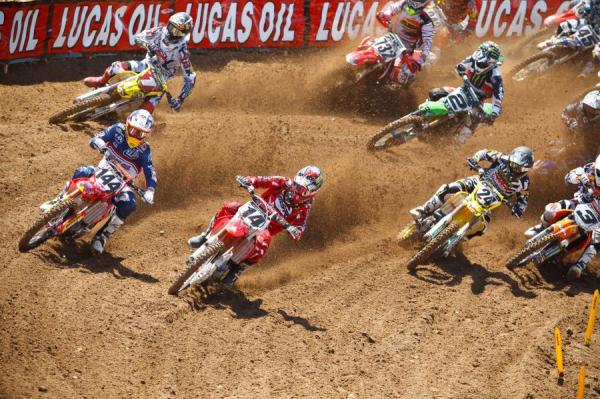 The great outdoors.
Cudby photo
And the big crowd, estimated at around 21,000, got what they wanted when Kevin Windham grabbed the holeshot on his Honda. And K-Dub ran strong early, holding back a pair of Rockstar Makita Suzuki men, Ryan Dungey and Brett Metcalfe, while holding the lead. Dungey made the move on Metcalfe, then Metcalfe tipped over. Windham nearly went off the track, allowing Dungey to close the gap. Dungey pulled the trigger on a pass and took off from there.

With a superb Monster Energy Supercross season just two weeks into the rear-view mirror, Ryan Villopoto, Dungey and Reed entered the race as the favorites. Dungey had fired the first shot, pulling away for a solid first-moto win. Villopoto and Reed eventually worked their way into the top three, as well. At one point Villopoto made a pass on Reed, but then Reed got him back, and then they both passed Windham, who started suffering from a mechanical issue with his Honda (traced to a bad airboot). Windham dropped off the pace, eventually finishing sixth. Late in the race, Davi Millsaps was on the move on his Muscle Milk/Toyota JGRMX Yamaha, taking fourth, ahead of Metcalfe.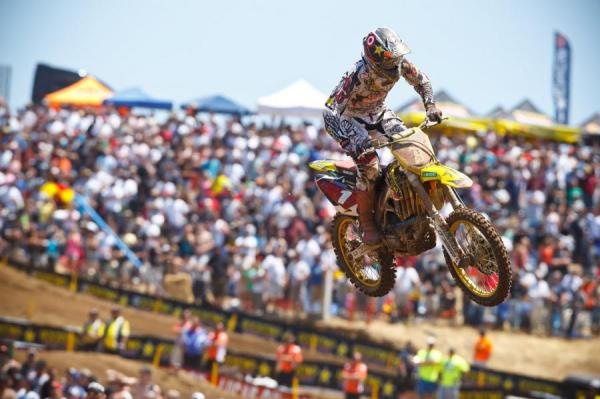 Dungey pulled away in moto one.
Cudby photo
Christophe Pourcel was fast early on his Motoconcepts Yamaha, but he dropped off the pace after the first few laps and took seventh.

Villopoto grabbed the holeshot and led early in moto two, but the Monster Energy Kawasaki rider was feeling a bit under the weather coming into the race, and wasn't quite able to maintain his pace all the way to the end. Dungey kept applying pressure and then took the lead, with Reed sitting back and lurking the whole time. But with Dungey having just thrown down a solid win in the first moto, it seemed like the race may be over.

Not to Reed. He stayed within sight, and around the halfway point, Reed started applying the pressure on Dungey, made the pass and started pulling away. Dungey learned Reed's lines, and mounted one last charge to get Reed, and with two laps to go he had climbed back onto Reed's rear wheel. It looked like a battle to the finish was about to materialize, but then Dungey ran out of steam, and Reed pulled away again and won with a big gap at the finish.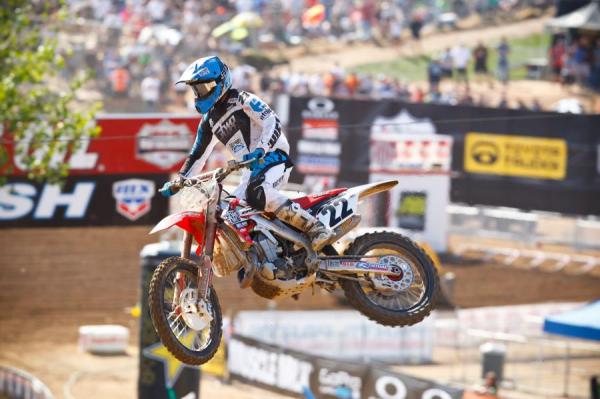 Reed dug down deep in moto two and delivered a straight-up win over Dungey and Villopoto.
Cudby photo
For Reed, who struggled last year with an illness, it was an impressive show of strength. Dungey was second, and Villopoto, clearly not at 100 percent, rounded out the top three, both in the moto and overall. Windham and Metcalfe rounded out the top five.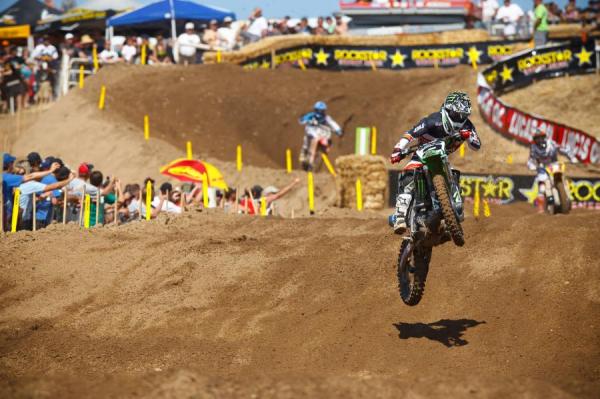 Villopoto led some laps, but, fighting an illness, just couldn't quite hold up to Reed or Dungey.
Cudby photo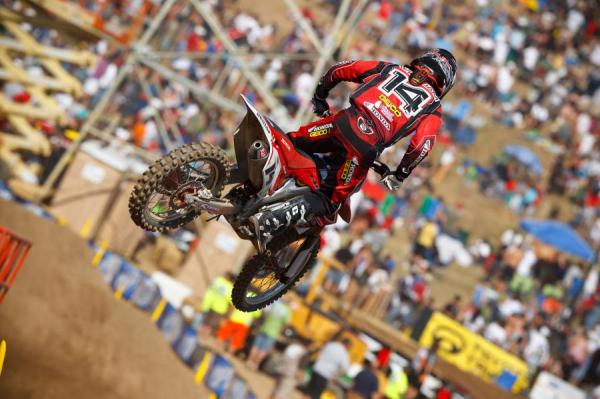 Kevin Windham rode well in both motos.
Cudby photo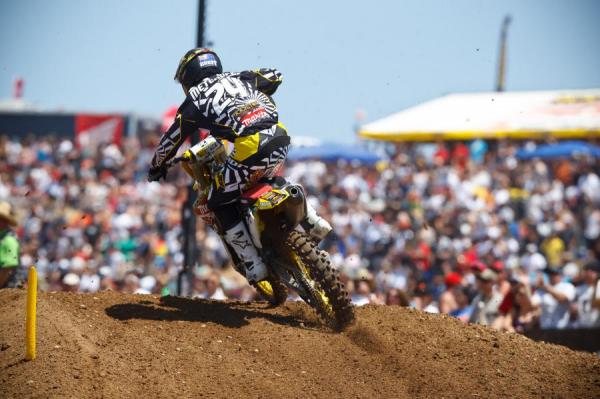 Brett Metcalfe ran top five in his first race back from an injury in supercross.
Cudby photo
Reed and his TwoTwo Motorsports Bel-Ray Racing team have won two races in a row going back to the Las Vegas Supercross.
Cudby photo
In the 250 class, there were lots of contenders on the list, but one that perhaps had slipped through the cracks on most favorite's lists was Monster Energy Pro Circuit Kawasaki's Blake Baggett. The field included MX GP Champions and AMA Supercross Lites Champions, but Baggett was clearly the fastest of all.

In the first moto, last year's Hangtown winner, GEICO Honda's Eli Tomac, nailed the holeshot, and based on his performance on the track last year, started pulling away and looking solid for a win. But not for long. Dean Wilson quickly fought past Suzuki City rookie Malcolm Stewart to take over second, and the ran Tomac down and took the lead.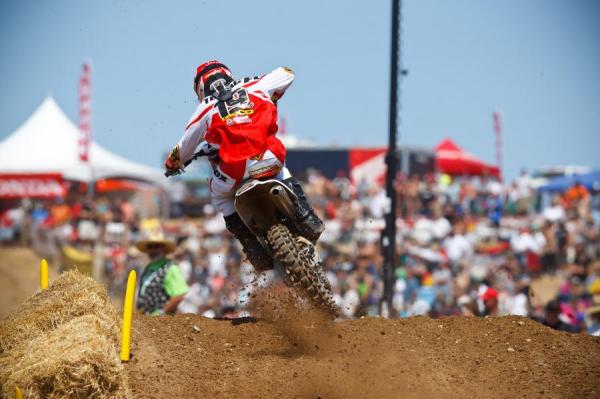 Eli Tomac led early in the 250 class, just like last year.
Cudby photo

Behind them, a wild battle raged, with ElevenTen Mods Honda rider Darryn Durham logging a superb ride and holding third, ahead of big hitters Justin Barcia, Marvin Musquin, Cole Seely, Kyle Cunningham and Tyla Rattray. Baggett fell and temporarily ended up at the back of this group, but in the second half of the race, he started reeling off incredible lap times. He passed everyone in the group, eventually getting past Barcia and Durham to move into third. Then Durham tipped over, dropping to tenth.

Late in the race, the order seemed set, with Wilson leading Tomac and Baggett. But Baggett kept getting faster, eventually logging the fastest lap of the moto just past the 30-minute mark, and catching Tomac from a long way back. He even got within sight of Wilson at he finish, but ran out of time. Wilson, Baggett and Tomac rounded out the top three.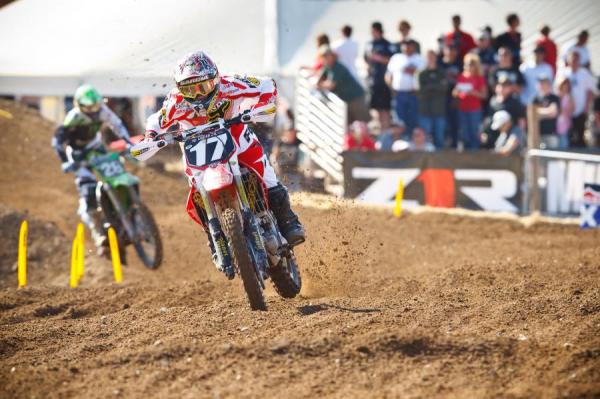 Justin Barcia led early in moto two, but like Tomac, he couldn't hold back an attack from the Monster Energy Pro Circuit Kawasaki team.
Cudby photo
In the second moto, Barcia grabbed the holeshot and looked good for a few laps, but soon a trio of Monster Energy Pro Circuit Kawasaki riders, Rattray, Baggett and Wilson, caught him. Under pressure, Barcia hooked a haybale on the inside of a corner and flipped over the handlebars. This left Rattray leading Wilson and Baggett. Once again, Baggett started going crazy in the second-half, pressuring Wilson for second. Wilson then clipped a bale and crashed, too, putting Baggett into second. Wilson could have won the overall with a 1-3 ahead of Baggett's 2-2, but Baggett kept pushing, and then caught and passed Rattray for the lead, putting him in overall position with a 2-1. It was an incredible display of speed from Baggett in both motos. Wilson and Rattray rounded out the podium, making for a Monster Energy Pro Circuit Kawasaki sweep.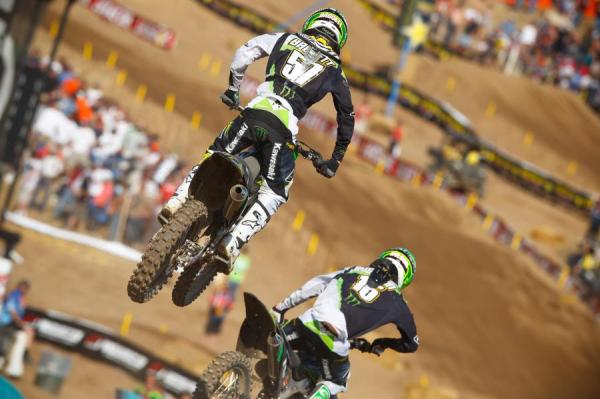 Baggett and Wilson battled in moto two.
Cudby photo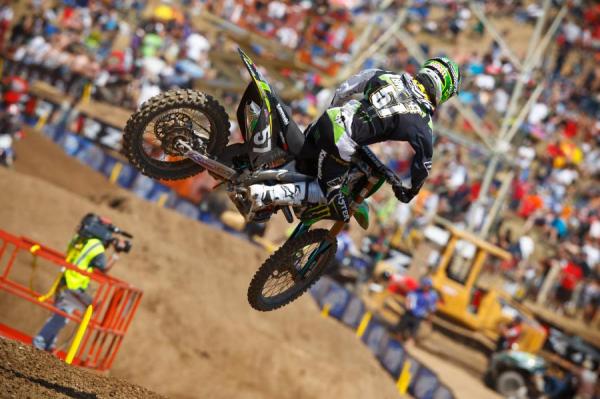 Baggett's speed in the later stages of both motos was pretty much incredible.
Cudby photo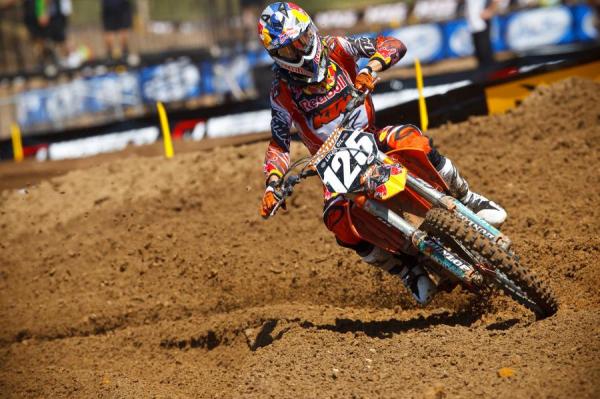 Marvin Musquin, the 2009 and 2010 MX2 Champion from the GPs, rode well. He took fourth in moto one, then crashed in the second turn of moto two and rallied from 40th to 6th!
Cudby photo
In the Women's Motocross Class, DNA Shred Stix/Star Racing Yamaha's Jessica Patterson cleaned up, going 1-1 on the day to top American Honda Racing's Ashley Fiolek. Patterson led the first moto from gate to checkered flag, but in moto two, she grabbed the early lead but crashed. Patterson then put in a strong charge to catch Fiolek and get the win. Patterson is the defending WMX Champion, and looks like a strong contender to defend it.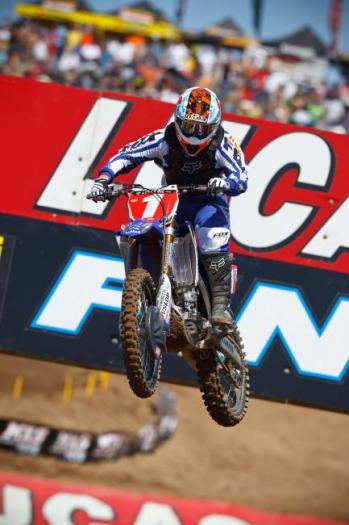 JP$ was simply unstoppable at Hangtown.
Cudby photo
Second moto action airs on SPEED tomorrow, May 22, at 11 a.m. EST and 12 a.m. EST.
The 2011 Lucas Oil AMA Pro Motocross Championship continues next week, with round two from Freestone Raceway in Wortham, Texas and the Rockstar Energy Freestone National on Saturday, May 28.
Lucas Oil AMA Pro Motocross Championship
Rockstar Energy Hangtown National
Prairie City SVRA - Rancho Cordova, Calif.
May 21, 2011
Round 1 of 12

450 Class (Moto Finish)
1.    Chad Reed, Australia, Honda (2-1)
2.    Ryan Dungey, Belle Plaine, Minn., Suzuki (1-2)
3.    Ryan Villopoto, Poulsbo, Wash., Kawasaki (3-3)
4.    Kevin Windham, Centreville, Miss., Honda (6-4)
5.    Brett Metcalfe, Australia, Suzuki (5-5)
6.    Davi Millsaps, Murrieta, Calif., Yamaha (4-7)
7.    Tommy Hahn, Decatur, Texas, Yamaha (8-8)
8.    Christophe Pourcel, France, Yamaha (7-11)
9.    Ricky Dietrich, Menifee, Calif., Yamaha (11-9)
10.    Christian Craig, Hemet, Calif., Honda (14-10)

450 Class Championship Standings
1.    Chad Reed, Australia, Honda - 47
2.    Ryan Dungey, Belle Plaine, Minn., Suzuki - 47
3.    Ryan Villopoto, Poulsbo, Wash., Kawasaki - 40
4.    Kevin Windham, Centreville, Miss., Honda - 33
5.    Brett Metcalfe, Australia, Suzuki - 32
6.    Davi Millsaps, Murrieta, Calif., Yamaha - 32
7.    Tommy Hahn, Decatur, Texas, Yamaha - 26
8.    Christophe Pourcel, France, Yamaha - 24
9.    Ricky Dietrich, Menifee, Calif., Yamaha - 22
10.    Christian Craig, Hemet, Calif., Honda - 18
11.    Michael Byrne, Dade City, Fla., Suzuki - 18

250 Class (Moto Finish)
1.    Blake Baggett, Grand Terrace, Calif., Kawasaki (2-1)
2.    Dean Wilson, Scotland, Kawasaki (1-3)
3.    Tyla Rattray, South Africa, Kawasaki (5-2)
4.    Eli Tomac, Cortez, Colo., Honda (3-4)
5.    Marvin Musquin, France, KTM (4-6)
6.    Gareth Swanepoel, South Africa, Yamaha (9-5)
7.    Kyle Cunningham, Aledo, Texas, Yamaha (8-8)
8.    Darryn Durham, Butler, Pa., Honda (10-9)
9.    Broc Tickle, Holly, Mich., Yamaha (11-5)
10.    Cole Seely, Newbury Park, Calif., Honda (7-13)

250 Class Championship Standings
1.    Blake Baggett, Grand Terrace, Calif., Kawasaki - 47
2.    Dean Wilson, Scotland, Kawasaki - 45
3.    Tyla Rattray, South Africa, Kawasaki - 38
4.    Eli Tomac, Cortez, Colo., Honda - 38
5.    Marvin Musquin, France, KTM - 33
6.    Gareth Swanepoel, South Africa, Yamaha - 28
7.    Kyle Cunningham, Aledo, Texas, Yamaha - 26
8.    Darryn Durham, Butler, Pa., Honda - 23
9.    Broc Tickle, Holly, Mich., Yamaha - 22
10.    Cole Seely, Newbury Park, Calif., Honda - 22

WMX Class (Moto Finish)
1.    Jessica Patterson, Tallahassee, Fla., Yamaha (1-1)
2.    Ashley Fiolek, St. Augustine, Fla., Honda (2-2)
3.    Steffi Laier, Germany, KTM (3-3)
4.    Tarah Gieger, Puerto Rico., Honda (4-7)
5.    Jacqueline Strong, Sedona, Ariz., KTM (7-5)
6.    Tatum Sik, Temecula, Calif., Yamaha (8-6)
7.    Mariana Balbi, Brazil, Yamaha (13-4)
8.    Kasie Creson, Byron, Calif., Honda (10-8)
9.    Sayaka Kaneshiro, Japan, Suzuki (9-10)
10.    Elizabeth Bash, Riverside, Calif., KTM (14-9)

WMX Class Standings
1.    Jessica Patterson, Tallahassee, Fla., Yamaha - 50
2.    Ashley Fiolek, St. Augustine, Fla., Honda - 44
3.    Steffi Laier, Germany, KTM - 40
4.    Tarah Gieger, Puerto Rico., Honda - 32
5.    Jacqueline Strong, Sedona, Ariz., KTM - 30
6.    Tatum Sik, Temecula, Calif., Yamaha - 28
7.    Mariana Balbi, Brazil, Yamaha - 26
8.    Kasie Creson, Byron, Calif., Honda - 24
9.    Sayaka Kaneshiro, Japan, Suzuki - 23
10.    Elizabeth Bash, Riverside, Calif., KTM - 19