Hangtown Motocross Classic
Rancho Cordova

,

CA
Hangtown Motocross Classic
Lucas Oil AMA Pro Motocross Championship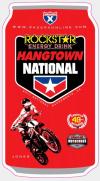 This weekend, the Lucas Oil AMA Pro Motocross series kicks off the 40
th
season of competition with the Rockstar Energy
Hangtown
Classic. The
Hangtown
Classic is a both a unique and historical event – for two reasons. For starters, it is the only round of the series that is promoted by a club, and it also takes place in a California State Park, which happens to be designated as a Off Road Park.
The Dirt Diggers North (DDNMC) has been around since the late 1960's, and has promoted the Hangtown Classic since its inception. The "Diggers", as they are known to locals have a long-standing history of making changes and improvements virtually every year. To find out what they had in store for 2011, we called up DDNMC President John Allen and got the full scoop on what they have been working on.
Racer X: John, whats going on out there? I heard it has been raining this week?
John Allen: Yeah, it was raining earlier this week, but now it is clearing up and we are getting out on the track again, and things are coming together well. The outside infrastructure is starting to go up and the track should look awesome by tomorrow morning, and for our amateur day.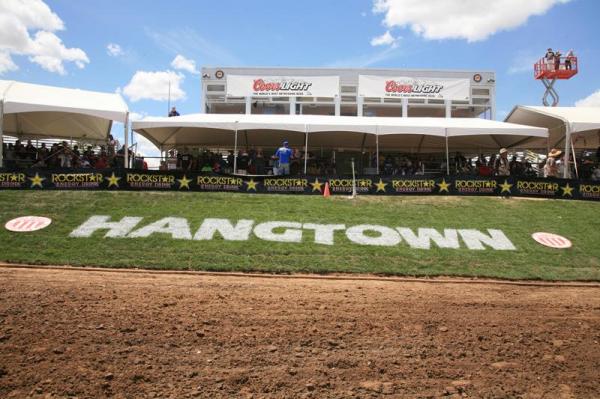 The 2011 Lucas Oil Pro Motocross Championship kick off this weekend at Hangtown.
Photo: David Gatti
You guys have been doing this a while – how many years has the Classic been going on?
Well, 2011 marks the 43rd annual running of the Hangtown Classic. So the event is actually older than the series – it used to run as a stand alone before we got the national status in 1974. The race started in Placerville, and was there for one year. It was then moved to Plymouth, and then finally to our current home at Prairie City in 1976.
Tell me a little about the Diggers - you guys are certainly a unique and colorful club.
The Dirt Diggers North were formally organized in 1967 and today, we are have 31 members. We have a few guys who have retired, and the Club has a max cap of 35 members. We are both family oriented and very closely knit. For example, at this year's event, Billy Hilton will be retiring. He is 73 years old, and his son and grandson are also members of the diggers. Billy has been part of the Diggers for over 30 years, and its neat to see his son and grandson continue the legacy that he started back in the 1970's.
So the big question everyone is asking is, what's new for 2011?
Well, our biggest changes are centered around making the event better for spectators. We have removed a few trees that will help open up the viewing and make it better than ever. We also opened up the infield and are selling seating for the fans. The infield area holds 125 people, and is the best seat in the house, as it is dead center. It should sell out pretty quick.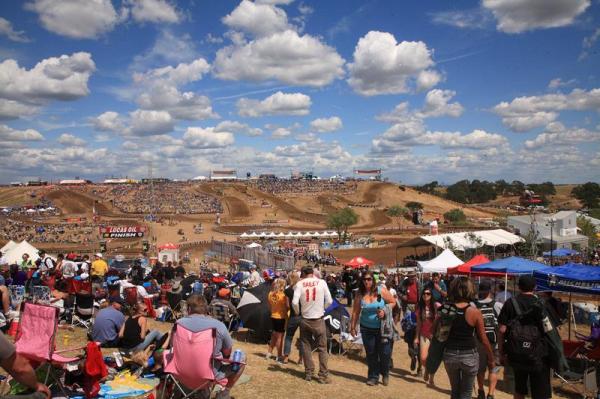 Expect a full house this year at Hangtown.
Photo: David Gatti
What about the track? Any changes planned to the layout or format?
Well, we moved the finish line, and it basically is now on the starting line straightway, and past the old finish line, and right in front of the tower and VIP area.  We also made a number of small layout changes, just some reshaping of turns and few jumps. But it is still the traditional Hangtown layout.
One thing that a lot of people don't know is that you guys use rice hulls in the dirt. Tell me a little about that, and what they do?
We do use rice hulls, and lots of them. This year, we brought in three full semi trucks of rice hulls and we spread them around the track. Basically, it is an old Northern California trick and has been used for years. We are located in the area of a huge rice farming community, and so the hulls, which are basically the protective casing of the actual rice, are always available. They are a byproduct of the growing process. So we use them like some tracks use sand – we work them into the soil. When they are dry, the hulls absorb water and hold it, like a sponge. So we use them to keep moisture in the track, and it makes the soil more predictable and loamy. It's an old trick that other local tracks like Argyle have used for years.
Well, now that the rain is moving out, the track should be really, really nice!
For sure, the rain was great to get it in and out early in week. There is now plenty of moisture in the track, but we are expecting 73-75 degree temperatures and sunny weather on Saturday.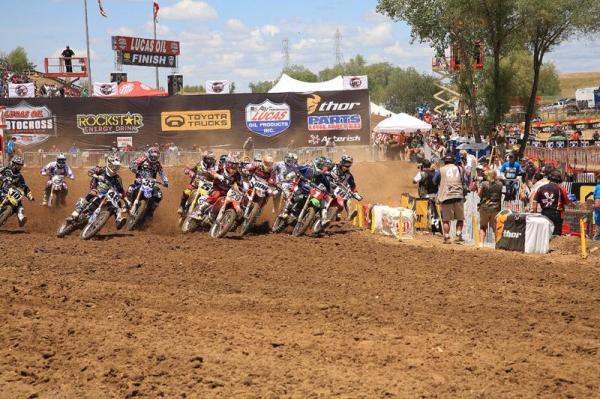 The boys of summer at back at it this weekend.
Photo: David Gatti
How are ticket sales going?
We are ahead of the game on ticket sales, so that's a good sign. We have also sold out on our super tickets, as well as our VIP ticket sales, and those are now sold out and now we are selling out the infield area and GA tickets. Anyone who wants to buy tickets can get them at local shops PCP and Carmichael Honda. They are both offering a sale with three tickets for the price of two. But if you can't make it to the shops, we you can buy them online at Allisports.com or HangtownMX.com as well.
What about the Press Conference at the State Capital? That was a pretty cool deal last year.
Yeah, we are planning on doing that again, but this year we are on the front steps, which is arguably one of the most prestigious locations in the state!  It should be really cool. The event kicks off on Thursday at 3:30 pm and it is open to the public. All the trucks will be parked downtown and in front of the State Capital building. It is a really cool event, and if you are a fan, it is a great chance to come down and get an autograph and check out the bikes. We are expecting several state senators to pay a visit, as well as our partners at the California State Park Service. Anyone who is in the area should really make an effort to attend this event, it's cool.
Well, it sounds like things are coming together! Anything else you want to add?
Well, amateur day kicks off tomorrow [Thursday] and we are expecting over 700 entries. This year, our amateur day also serves as an area qualifier for Loretta Lynn's, so the schedule is packed, but it's all good. Our Amateur program runs Thursday and Friday, and we also have the minibike madness on Sunday as well. It's a unique event, and the Sunday deal is cool for the kids, as they get to ride the whole national track, which is pretty rare.
Well John, good luck, and I'll see you this weekend!
Thanks man, it's a lot of work, but it is so rewarding, and fun.