Had Ryan Dungey not won so many darned titles over the past two seasons, maybe he would have felt differently. In his second year in the SX class in Monster Energy Supercross, Dungey stayed right in the hunt until the end, despite losing a pile of points early in the season and having to come back from a massive deficit. He kept fighting to the finish, ultimately finishing second to Chad Reed in the race and third in the series behind Reed and Ryan Villopoto.
Not a bad season by any means, but Dungey's title streak—2009 250 SX Lites West, 2009 AMA 250 Motocross, 2010 AMA Supercross and 450 Motocross—is now over. And, make no mistake, Dungey races for wins and championships, not third-place trophies. In the Rockstar Makita Suzuki pit after the race, we found Dungey, ready to take inventory on the season that was over, while readying himself also for the outdoor tour about to begin.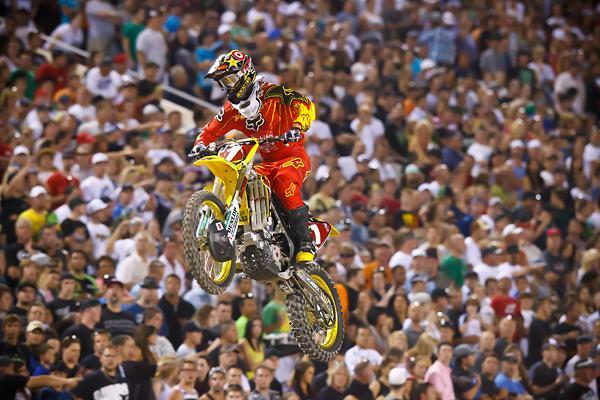 Dungey's title run is over at four.
Photo: Simon Cudby

Racer X Online: What were your thoughts coming into this one, and how did it go?
Ryan Dungey: Really, tonight, coming in, I was focused like this was just another race. If we got the championship, I'd be even happier, but we knew that would be tough to do, so I just wanted to focus on winning the race. In the main event, I got off to a pretty decent start, I would have liked to have gotten an even better one, but at least we were able to get up there later. I was about sixth, and I have to be up there quicker and faster, and that's going to make my job a lot easier. I got through some carnage on the first lap and got up to fourth or fifth, then Stewie and Windham had a bad fall. I don't know what happened, but then I was third. I got by Villopoto and then I set my sights on Chad. I got right up on his butt for a few laps, and that roost coming right off of him for a few laps really hurt man. I mean, it wasn't anything, that didn't slow me down or anything, but it did hurt. I tried everything, I just couldn't get around him. We went all the way down to the last turn but he had the inside covered. So, second on the night, third in the standings. It's tough, it hurts, the goal is always to win a championship and we came up short of that goal. We put a lot of effort in. So all we can ask for is another opportunity and another challenge for next year, and of course for outdoors this year.
You'd close in, he'd pull away. What led to that?
There was just one good line, and if you got outside of it, you were losing time. I wanted to get right on him so I could run it in on him in a turn, but the opportunity never presented itself.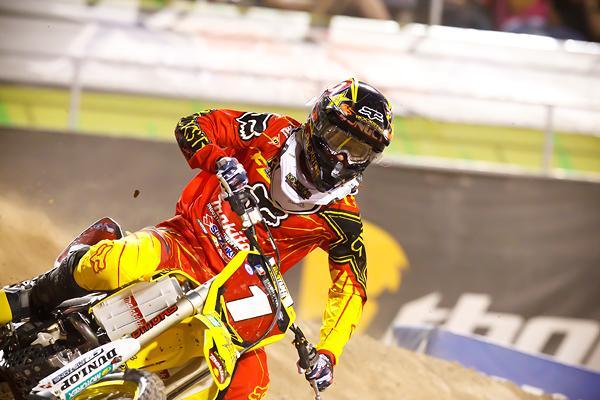 Dungey and Reed engaged in a heated battle for the win at Vegas.
Photo: Simon Cudby
What happened with the starts this year? Last year they were great, this year they weren't. Did anything change with the bike or anything like that?
Yeah, last year it was good, especially at the beginning of the year. But we have some bugs we can work out on the bike and with myself. We do have to work on starts, but I think we have a great base setup with the bike for outdoors so we're looking good there.
The main thing everyone wants to know is this: the results weren't as good this year as last, but do you feel you're riding better and faster this year?
Absolutely. Absolutely. Things are definitely better. This supercross season was challenging, it was tough. You know, usually in my career, I've only had to worry about one or two guys, this year you had to worry about four! So you had to be sharp every weekend. We had a couple of mishaps that set us back a little bit. We need to look back at the season and see what we could have done better, as far as bike setup and things like that. Maybe we need to go back and evaluate things, take what we can from it, and see why we weren't getting those good starts. I really think it's just a matter of fine tuning and adjusting. But we'll be ready for outdoors.