Ryan Sipes has for the most part, been pretty underrated his whole career. The Kentucky Kid has bounced around a few different teams and finally, with some age and maturity, he's really been hitting his stride. Now at Star Racing, Sipes took his first career win earlier this year in Indianapolis and got his second career win in the Dave Coombs Sr. East/West Lites Shootout this past Saturday night in Las Vegas. Sipes almost pulled the double off but was passed late in the east main by Blake Baggett. I called up Ryan to get his take on the night.
Racer X: Hey Ryan, Vegas went well for you but I think that most people aren't talking about your shoot-out win with all that happened in the other main events. Do you feel that way?
Ryan Sipes: Yeah a little bit, I haven't read the Observations yet but the Racer X race report seemed to talk about all the other stuff that happened (laughs).
Well, I kind of glossed over it in Observations as well. Sorry.
Well that's ok, I'm used to it. The races still went well for me.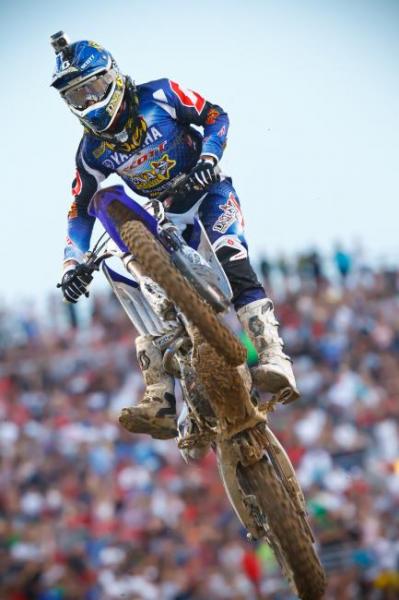 Sipes had a successful weekend in Vegas, finishing with a second and a first.
Photo: Simon Cudby
What happened in the east main event there?
It was kind of a dammed if you do, dammed if you don't sort of thing. Looking back on it, he wasn't on me as much as I thought he was. That section I was a bit quicker then him as well as in the whoops. I felt like I needed to guard my line when I kind of didn't. I should've held my line because of where I was quicker. I tried to guard the inside and blew that, slid too far and Blake was riding good. He was right there, I can't look at it like I got tired or I made a huge mistake. It was just something that happens. He was killing it also, really fast.
I'm wondering how hard it was to get up for the Shootout and get motivated?
At first I was bummed out and I'm sure my podium interview after the east main was pretty bad, I was like- whatever. But then in between I was kind of thinking about stuff and realized that I had another race. My plan was to go out there and do the same thing, just go and win it. I just told myself to get over it, I have another race coming up! I can't go into that bummed out, that's never good.
How were the extra ten more laps at race pace?
I felt great, when we do endurance days, we do more than one main event anyways. It wasn't a big deal, it was ten laps and I felt pretty good the whole time. Barcia led one lap, he went down and I held it the rest of the way. I just put my head down and was in the zone. I didn't hear the crowd or anything, I didn't look at the pitboard and just pushed hard. With two laps to go, my mechanic put out +5 seconds and I thought well, I can back it down a little bit now. Then I came around and he put +6 so I was ok.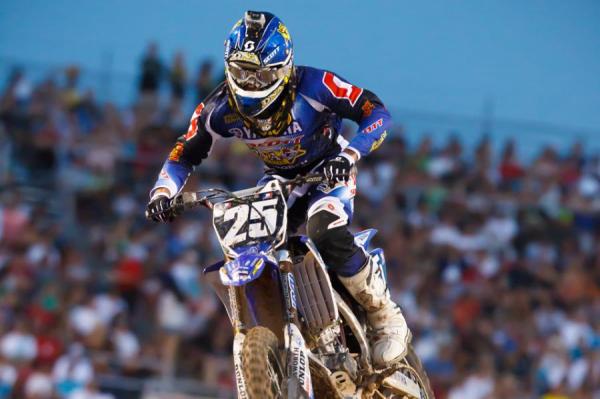 2011 has been Sipes most consistent year as a pro.
Photo: Simon Cudby
Did you like the track?
The layout was awesome, I thought it was sick. The dirt was terrible, it was jumpy, big triples and the whoops were big but not dangerous. I thought it was cool.
How about the new format, what did you think about that?
I think it's cool man, if you mess up the first main then you have another one! It was kind of weird going right into your main event and I wasn't sure I would be ready for it physically. Sometimes you need that heat race to get your body warm and ready. It was fine.
Do you get Yamaha bonuses for both main events?
I'm not sure, I really hope so! I'll be mad if I don't. Maybe the Shootout wasn't as important but the exposure and sponsor time is the same. Whatever, I guess it will all figure itself out in the end.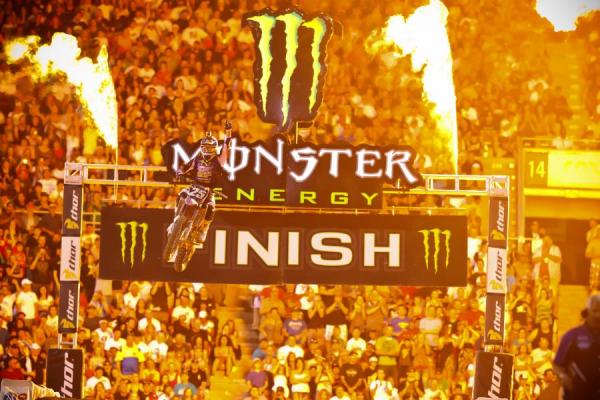 Sipes took the win in the East/West Shootout.
Photo: Simon Cudby
Ryan, you were always good but it seems like you've really taken a step up this year and even last year. What do you attribute this to?
I don't know, I think I quit trying so hard. I swear that's it, it's not that I don't try hard but you know what I mean? Mentally, it's not everything to me now and it's just what I do. If there's a bad race, then there is another one next week. I think before, I was scared to lose and I'm not scared anymore. I know that doesn't make a lot of sense but it does to me. I've crashed too many times to be dumb anymore!
What are you thinking about the for the Lucas Oil AMA Pro Motocross Championship?
The whole goal is the title for sure but being there every single race is the key. It just takes one bad moto to put you behind. I want to be solid and get better as the year goes on. I'd love to win races but the championship is there and more important.