By: Sharon Cox
A glimpse behind the lense of New Zealand Motorcoss legend Darryll King is certainly special. On the eve of competing in FIM World Vets at Glen Helen, DK speaks candidly on an illustrous career which has spanned two decades. Racing Grand Prixs in Europe throughout the 1990s, Championship Series in Australia and New Zealand and the latter World Vets twice over is a phenomenal achievement to say the least.
Racer X Online: With over two decades of MX racing inclusive of Grand Prixs in Europe, Australian and New Zealand Championships and the latter FIM World Vets, what would be the highlights of your career to date?
Darryll King: It's always a tough one to name the best moment in my twenty years of racing as a professional. Really, I've had lots of special races and podiums. Each year I get to ride a bike, whether it's a 250 two-stroke or YZ450F, new highs come about from new races I race in.
My biggest highlight while racing through the '90s was winning Grand Prixs in Europe, especially the Belgium Grand Prix in Namur back in 1997. Last year was racing the MX2 Lites opening round at Horsham in Australia and then racing with Doug Dubach in the first World Vets race at Glen Helen.
This year so far it's been winning the NZ Grand Prix MX 2 Lites class and then winning the NZ Championship in MX2. Who knows what Glen Helen will hold for me this year, but I am ready to race fast against the world's best 40-year--plus riders again.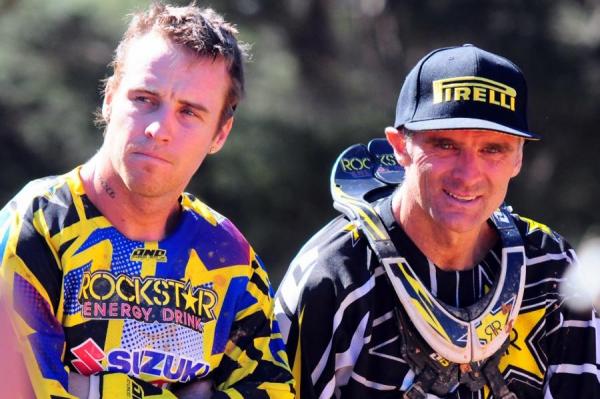 King (right) is preparing for the World Vet race this weekend at the USGP at Glen Helen.
Photo: Andy McGechan/BikesportNZ.com
From all your experience racing at the pointy end of Grand Prixs, MXoNs, World Vets, not to mention Australian and New Zealand Championship events, how have you developed as a racer over these years?
I have really become a smoother rider as the years have gone by. I try not to take stupid risks or make any mistakes whatsoever. I still take risks from time to time when I have to--there is a small part of my brain I just cannot control [Laughs]. I enjoy practicing more every year and love to race my YZ250 against the 250F machines. The way I ride the bike has never changed. I love to ride the bike hard into corners and use the front wheel to turn off berms or flowing turns. I love to ride ruts and technical tracks, the slippery and tacky tracks are my favorite ones.
Motocross as a sport has developed phenomenally throughout your career. What are your thoughts on how the professionlism of the sport has geared itself towards the future including the technological development of bikes, general and pro?
Big changes have been made since I raced Grand Prixs in the '90s. The Grand Prix scene is a fantastic spectacle and I would love to be part of this era if I could do it all over again. The modern MX bikes handle so much better and the factories have got the balance of the bike so good. The brakes are better, and general things like clutches last longer and the bikes take less energy to ride.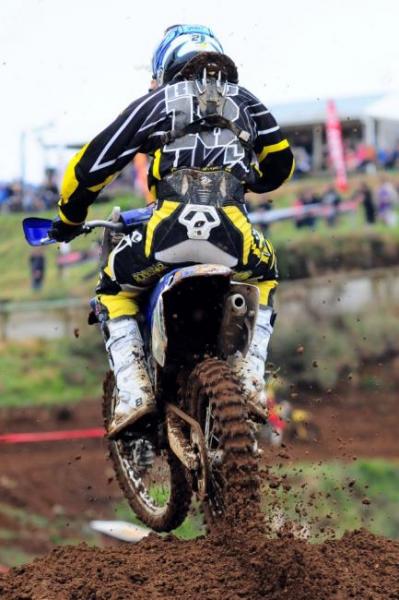 King has been strapping up his racing boots for quite some time.
Photo: Andy McGechan/BikesportNZ.com
After hanging up your boots from GP racing in 2000, you have focused on World Vet races. Where do you get your drive and determination? It must be more than a will to win.
I'm no different than any other Vet rider; anyone who is 40 years plus and has ridden bikes all their life can not stay at home and do nothing on the weekends. I have friends who go out and hunt deer, others go scuba diving. Motorbikes are my life and I love to ride and race when I get the chance. I do not get nervous anymore before I ride and when I get the chance I just enjoy the ride and racing against the fastest young riders from NZ.
Having come off the back of the NZMX Championship in 2011 where you won MX2 title, what preparations have you put in place leading up to the USGP on May 14th?
I'm in the same shape as I was earlier this year when I won that championship. The only thing I've been doing is riding the YZ450F a few times. This time last year I had only ridden the new model YZ450F twice, I flew to the USA, bought a bike and raced it stock. The bike was different to ride than the 2009 model so I didn't quite have it set up as to how I wanted at the 2010 U.S. Grand Prix. This year I have Pro Circuit doing my suspension and exhaust, so I will be better prepared than last year.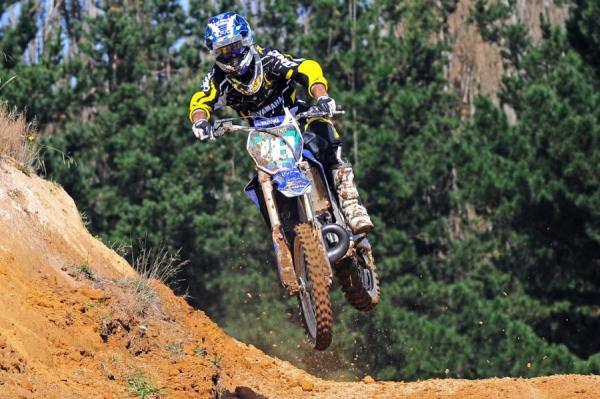 King has raced all over the world throughout his illustrous career.
Photo: Andy McGechan/BikesportNZ.com
Finally, the challenges of the sport, the highs, the lows, the passion and uncertainity of what's next--does the sport and all its complexities get easier with experience or does it still keep adrenaline flowing no matter what is around the corner?
No, it gets easier with experience. I know my body and mind inside out now and prepare myself in the best possible way each time I get on the bike. I stay fit all year long and make sure my injured body parts are stronger than ever before. I really know my limit and with the developments of the new era of MX bikes, riding is even easier on the body and mistakes become less and less as the years tick by. I would like to thank some of my sponsors including Yamaha, Rockstar Energy Drink, Pro Circuit, Tag handlebars, Alpinestars, One Industries, Smith goggles, DVS Shoes , Arai helmets and Pirelli tires. I look forward to seeing everyone at the USGP at Glen Helen.