Maxima CMMC Nationals & Mini Madness
LAKESIDE, Calif. – The California Mini Motorcycle Club (CMMC) is proud to present the 23rd annual Maxima CMMC Mini Nationals featuring Mini Madness 8 at scenic Barona Oaks MX Park on July 9–10, 2011. Rich in racing history and lucrative for pro competitors, the Maxima CMMC Mini Nationals take place over two full days on professionally prepared racetracks, creating one of Southern California's top motocross events of the year.
More than just racing format and tracks make this event special. "CMMC's nonprofit organization status allows us to really focus on giving back to our Mini Nationals participants," explains CMMC event and marketing coordinator Debbie Wallace. "Nearly every resource acquired by the CMMC is returned to our riders in some way or another. This year will be no exception!" From kids racing for the first time on the Pee Wee track to Beginners, Novice, Intermediate and Pro riders competing on the main track, every amateur rider will go home with a prize from the famous Maxima CMMC Mini Nationals prize tent.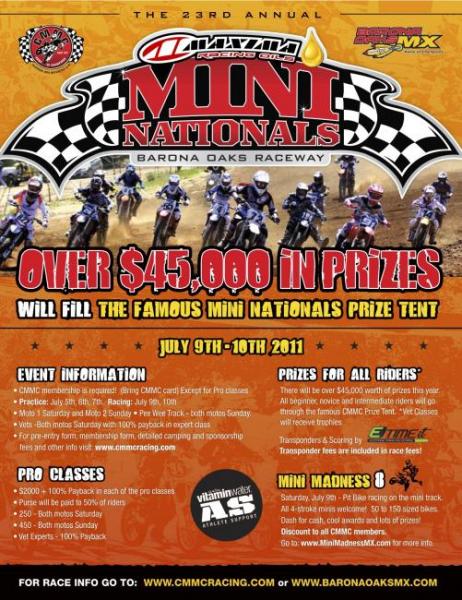 Pro riders who participate will receive genuine VIP treatment, as a $2,000 purse + 100% Payback in each pro class will have them leaving with smiles on their faces and cash in their pocket. Past champions of this prestigious event include Jeremy McGrath, Ricky Johnson, Ron Lechien, Scott Burnworth, Ryan Hughes, Mike Craig, Tommy Clowers, Billy Laninovich and, most recently, Dean Wilson.
Making the weekend even better, Mini Madness 8, the hugely popular pit-bike race, will be held Satur- day afternoon on Barona Oaks' Mini Track. This race welcomes riders of ages and skill levels on four- stroke pit bikes from 50c to 150cc. If you like action packed racing, this is it!
For CMMC membership, race entry, tickets and information on the 23rd annual Maxima CMMC Mini Nationals, visit www.cmmcracing.com, www.baronaoaksmx.com and www.minimadnessmx.com.
About Maxima Racing Oils
Developed in the USA and tested on the toughest tracks in the world, Maxima Racing Oils are proven to increased horsepower, prolong engine life and offer unsurpassed engine cleanliness. Maxima committed itself to MX and SX over 30 years ago and is now used by more factory teams, engine builders and racers than any other oil. Know you're running the best with Maxima's championship-winning Race Grade Formulas.