Rice-eccles Stadium
Salt Lake City

,

UT
Salt Lake City
Monster Energy AMA Supercross Championship
Winner's Take All
lives! The supercross-inspired 1987 film will never be forgotten by true fans, and we can all recount lines from the movie all day long. But of all the fans, Washington privateer Greg Crater went one step further by actually making his own Hurricane Cycles gear, a perfect match of the stuff used in the real movie, and racing in it at the Seattle Supercross (shoulda' been Dallas but they tore that old stadium down).
So how did Hurricane Cycles last remaining rider come up with all of this? We asked him.
Racer X Online: How and why did this happen?
Greg Crater: Well, I've literally tried to do this for three years. And I just got lucky this year, or really last summer. I found a set of the original gear on eBay so I could copy it. I wasn't going to trash that real gear, but I could copy it, and I wanted to do it. This was a home race so I thought it would be cool, and I had some friends there that were big fans of the movie, we kind of goof on it. I even tried to make the bike look kind of like the Hurricane bike, but that was kind of tough.
So wait a minute here. Someone actually had gear that was used on the actual movie set 25 years ago?
Yeah, the guy had four sets at one point. My friend Wes Parker pointed it out to me, and we each bought a set. We got identical #24 jerseys and pants. It's totally legitimate. We had a tough time believing it was real at first. But at the same time, who is going to fake this? It has the wrong logo on the pants, the Hurricane logo is going the same way on both legs, which obviously means one leg is upside down. It even had "wrong art" written on the tags in ink pen. So then we watched the movie to check it out, and if you watch the movie, there's a part where the guys are checking out the Hurricane bikes, and the Hurricane team comes over and calls Wally a fat tub-of-lard and all that. Well if you watch that part, you can see they actually have the logos upside down on the one pant leg. That was something new to me!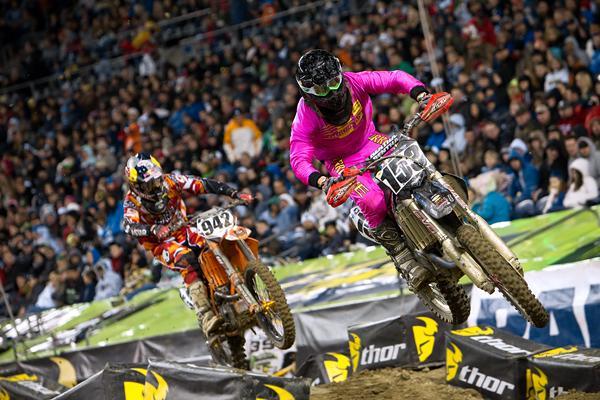 Crater actually owns the original gear that was used on the Winner's Take All set 25 years ago.
Photo: Garth Milan
So the real gear in the movie is messed up?
Yes, one leg is completely backwards. In the gear I made this weekend, I even put the logo in like that.
So how did you make the gear?
My cousin helped me make it. We had some pink spandex, and then Fusion graphics prepped all the logos and made them for me. They made all the logos and put them on the jersey and pants for me. Obviously I've gotten a good response from it.
So these weren't even real riding pants?
[Laughs] No! It was more like a bobsledding uniform, or wrestling spandex or something like that. It was a bad idea! I felt like I was dressed for the Tour de France on a cold day. It was really cold that night, and the gear was thin and light and fairly uncomfortable. The pants pretty much came down as soon as I tried to seat bounce something, so my ass was hanging out a bit.
But you made this yourself, your own idea. You didn't lose a bet or anything.
No! I didn't lose a bet, nothing like that. It was more just to surprise people than anything else. Like I said, my mom knew about it, my girlfiriend knew about it, and my cousin helped me make it. I let a few people know about it. I don't know if you saw, but we made like ten shirts for people to wear in the pits with the Hurricane logo. And my mechanic, he had the Hurricane logo on his button up.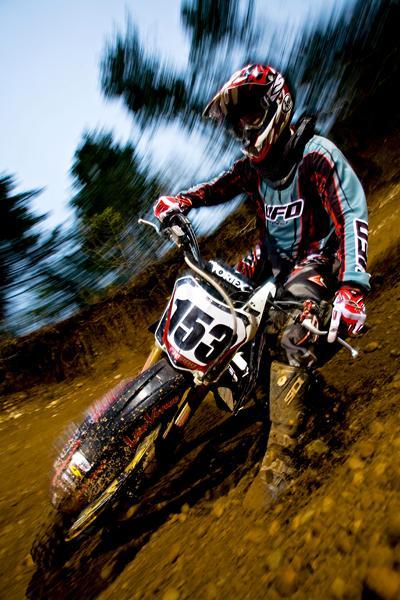 Crater is a Washington native.
Photo: Andrew Fredrickson

Your bike had stickers on the swingarm to make it look like your bike had holes in the swingarm like the Hurricane bike!
[Laughs] Yeah I spray painted the rims gold and the fork guards and disc cover gold. I tried to make it look like it, but there's not enough plastic on a new bike to make it look right.
Okay so this movie was filmed in 1986. When were you born?
1983.
This movie is so timeless in this sport. You weren't even old enough to know what was going on when this came out, but you're still into it.
Yeah! I was first introduced to it at a young age, but I guess I didn't really get into it. I saw it again when I was 16, and then I got into it. My buddy Billy Binkley, he always ran number 123, he was a big fan of the movie and that was Rick Melon's number. My first year pro, we traveled together in a motorhome and trailer, and we watched it, I would say four or five times in one trip alone. It became one of those deals.
Well, the Hurricane Cycle worked because you battled with Byrne and Iziord. In the LCQ you rode well.
Yeah I rode terribly in my heat race. In the LCQ, I wanted to make Bad Billy proud, you know? I didn't want to let the team down, I didn't want to be some squid in the back with pink gear on.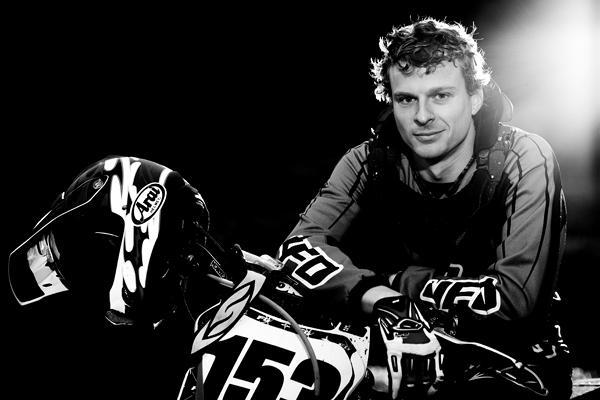 Crater came up just short of making the main in Seattle.
Photo: Andrew Fredrickson
Well, you do know why Bad Billy's name is printed on the back of his ass, right?
Yes! I do! I didn't get to use that line like I hoped. It would have been nice to lead someone and then tell him they were supposed to follow me around. Oh well.
How did Frank, the Hurricane Team Owner, react? It's no secret that the company is in bad financial shape.
Yeah, he was on me. He told me I was slipping like a young girl in her first pair of heels. We don't get a long really well. He was paying Johnny Rivera on the side with my money, so we don't get along.
What about those pit groupies who follow you and want be go to all these places with you? Like that Cindy girl?
That's a problem. Groupies are just riding on our coattails.
So how has the rest of your season gone?
Really that was my best ride of the season. I got some good TV time battling with Byrne and Iziord, like you said. I probably would have gotten some TV time even if I didn't have the gear, but I got more probably because of it.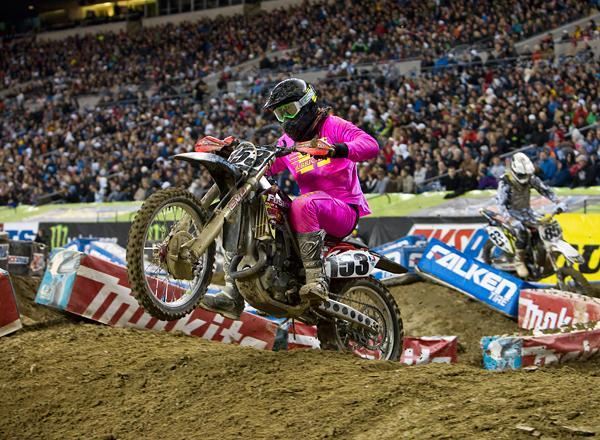 Will the gear make a return in Vegas?
Photo: Garth Milan
You coming to Salt Lake and Las Vegas?
Yeah. I may just have to bust out the gear one more time in Vegas. We'll see. I'll try to bring the real movie set stuff I brought so you guys can see it.
Awesome. Well this is privateer profile, who do you want to thank for getting you to the races this year?
My mom really helped out, she was behind it all. Also my mechanic Jake Lackie, this was his first time wrenching at that level. Also thanks to my buddy KW.  I have to thank Bridgstone, CTI, Napalm Racing, BRT, Leo Vince, SDG, Evo Suspension, UFO—which is my real gear sponsor--Smith, Pro Wheels, RMC Motorsports, Crower Cams and Crater Racing MX schools. See you in Salt Lake!