Rice-eccles Stadium
Salt Lake City

,

UT
Salt Lake City
Monster Energy AMA Supercross Championship
The pending supercross class showdown is getting most of the attention these days, with a dominant tagline to guarantee no one looks away: Two races, four guys, nine points.
This time, we don't have to rely on the Lites class to bring the heat—but oh by the way, if we did, consider that heat having been brought. While Justin Barcia is holding a comfortable 20-point lead heading into the Las Vegas finale for Lites East, the West Lites championship is still wide open. The tagline goes like this: Two races, three guys, seven points.
Let's break down the three contenders and see what's on the horizon for Salt Lake City and Las Vegas (yes, Vegas counts for points this year. The race features a 15-lap east finale, a 15-lap west finale, and then the east/west shootout).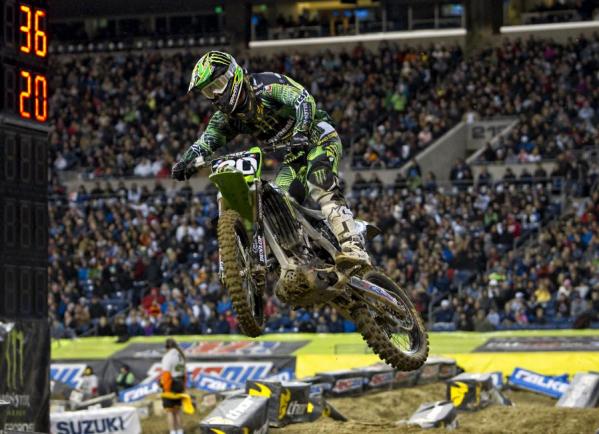 Tickle currently holds the points lead out West, but for how long?
Photo: Garth Milan
Broc Tickle, 145 Points: The Monster Energy Pro Circuit rider can be considered a veteran of the Lites class, but this is his first rodeo as far as dueling for a title. And that may be a factor. Tickle was seriously on the gas when the season began, leading laps at the first two races in Anaheim and Phoenix. But Josh Hansen overcame him in Anaheim (Ping would say this was with the help of jumping a tuff block that should have been protected by a pole) and Tickle washed out while leading in Phoenix. He bounced back to win Oakland, and when Hansen went down with an injury in Anaheim, the ball seemed to be bouncing in Tickle's direction. Unfortunately, he has not been able to grab that bouncing ball. His 4-3-3 finishes in the last three rounds have put him in the points lead, but he could have been further up, especially when you consider the muddy conditions in San Diego and the ruts in Seattle, which is the type of stuff where Tickle usually excels.
Tickle broke his collarbone about three weeks before Seattle. He had it plated immediately, and told us before the race that he would not use the injury as an excuse—he is 100 percent. That sounds great, but we have to wonder if the injury was a factor. Tickle started well in Seattle but could not hang with race winner Cole Seely, and later dropped his pace and lost second to Eli Tomac. That's a big swing in points.
Tickle has the right ingredients to win this. He has the points lead, he's surrounded by a team that has won tight battles like this before, and no one is going to work or try harder. But that championship pressure is staring him in the face for the first time ever—and it's made even worse when he sees the man he's fighting for it, Hansen, dealing with all these injuries right in front of him. That stuff weighs heavy on the mind, especially when Hanny has proven he can still go out and win while injured.
Tickle has the skills, but lately these Lites seasons seem to follow the "to win one you must first lose one" mantra. Ask Ryan Dungey about 2008 or Jake Weimer from 2009. Tickle hopes he doesn't have to learn the hard way.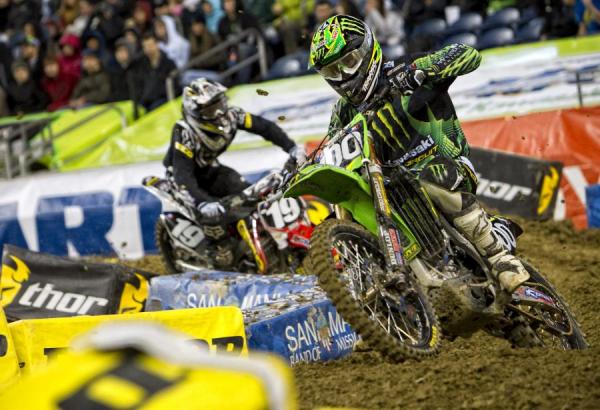 Can Hansen battle through injuries to capture the championship?
Photo: Garth Milan
Josh Hansen, 143 Points: Clearly this was Hansen's title to lose, and he could end up losing it. Hansen is so smooth, talented and calculated that it was unlikely he would crash and hurt himself. Plus, he is coming off of the Australian Super-X Title, and seemed to have learned even more about the consistency game. But he had a freak crash in the whoops in practice at Anaheim 2, and that's what has set this whole championship scenario ablaze.
Give Hanny credit. He's always been smooth, talented and calculated, but grit has never been part of his repetiour. But it sure is this year, as he managed to win the Anaheim race with the broken hand, then salvage a sixth in San Diego and another sixth in Seattle after he crashed in the whoops in practice, again, and injured the hand, again.
That's a lot of banging around for Hanny (insert joke here). If he can get the injury under control, he can still win this, but right now that same old drama that always seems to find this guy is glued back on to him.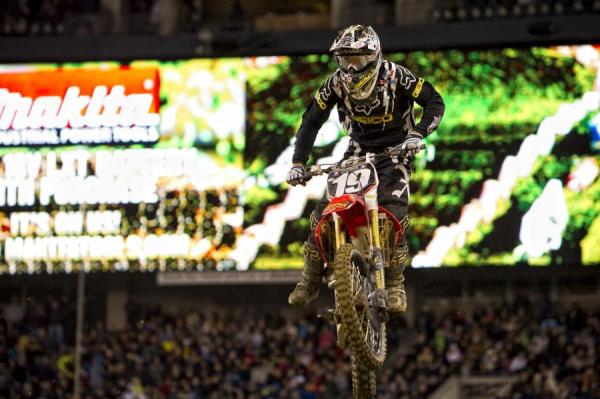 Tomac is on the attack, but is he too far back?
Photo: Garth Milan
Eli Tomac, 138 points: And in similarly fascinating fashion to the big class, the contender that is furthest back in points seems to have the most momentum. GEICO Honda's Eli Tomac was once known mostly as "the kid who won his first pro race ever," but his rookie supercross experience gone the opposite direction. The learning curve has been on full display, with finishes of 10-5-2-3-2-1-2 during the season. Do those results not make it obvious who has found his stride? Plus, Tomac took a hard hit during the break, as well, suffering from a concussion. He looked off early in Seattle, but got his groove back for the main event. After the race, he wasn't afraid to talk points or title. Eli doesn't want to treat this as a learning year, he wants to go for it.
As far as pressure goes, Tomac is playing with house money. When he finished tenth at A1, it did seem like this would be nothing more than a learning year. A championship would be a complete bonus, and surely he can feel comfort knowing he has many years ahead. In contrast, Tickle and Hansen have to be thinking of this as a life goal about to come true.
But then again, Tomac is still seven points back, which is significant with only two races remaining. Which reminds us…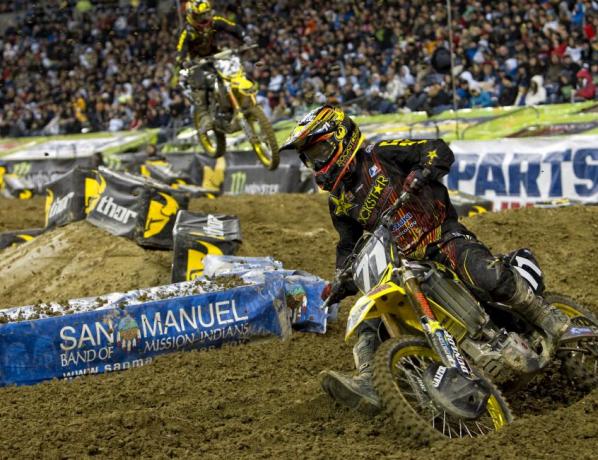 Can the Rockstar guys crash the title party?
Photo: Garth Milan
The Spoilers: Don't expect many other riders to spoil the party in the SX Class, as the four title contenders will be the only ones on the 450 gate this Saturday night with race wins this year. Not the case in the Lites class, where Lucas Oil Troy Lee Honda's Cole Seely has won two races this year, including a dominant ride in Seattle. He's not alone up front. DNA Shred Stix Star Racing Yamaha's Kyle Cunningham has been fast all year—all career, really—but has crashed in six out of seven races. If Cunningham nailed a start and stayed up, he could easily win one of these things and jack up the points for everyone.
Rockstar Suzuki has two veteran pilots in Ryan Morias and Martin Davalos. Both have come so close to winning so many times before. If you're Seely, Cunningham or either of those two, you don't care who is leading the points, you just want wins and podiums. If that messes up the works, so be it.