Qwest Field
Seattle

,

WA
Seattle
Monster Energy AMA Supercross Championship
The plot thickens and the points tighten in Monster Energy Supercross, and after Saturday night's race in Seattle, the title contenders are not only under even more pressure, but they have more time to think about it. There are only nine points separating the top four in the series, and the tour now heads into its only off-weekend of the season. That time is supposed to build some relaxation into a grueling schedule, but it will be tough for anyone staring at a two-race championship run to relax.

Unless you're San Manuel Red Bull Yamaha's James Stewart, who won for the second straight weekend but still sits fourth in points, nine markers down. "I think we're going to go to the Bahamas and have some fun with my family for Easter," explained James after the race.

His ride for the win in Seattle's Qwest field was comparatively relaxing, as well, as even on a rough, rugged, rutted track, Stewart made few mistakes en route to his fifth win of the year. Suddenly, Stewart's two-month drama of crashes and bad decisions seems like a distant memory. Instead, his competitors are now dealing with rough patches as they fight for each point, and Stewart closes up on them.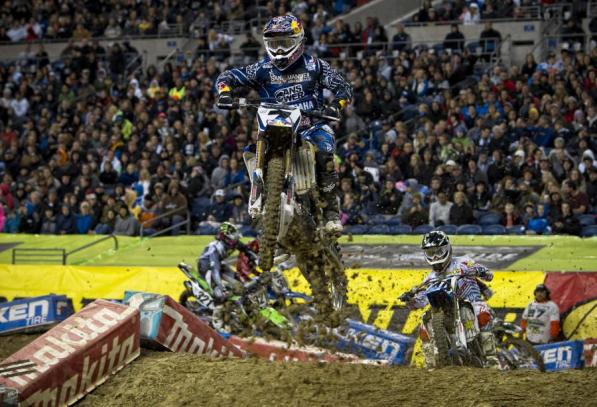 It's all starting to roll for James Stewart.
Garth Milan photo
For the second-straight weekend, Dodge Motorsports Hart and Huntington's Ivan Tedesco nailed the Nuclear Cowboyz holeshot. Stewart's long-time rival, TwoTwo Motorsports' Chad Reed, then snuck in to battle Stewart for the lead on lap one. The duo passed each other back and forth before Stewart secured the top spot and immediately started to check out. Meanwhile the other two title contenders, series' leader Ryan Villopoto and Rockstar Makita Suzuki's Ryan Dungey, were way back. Dungey crashed on lap one, and Villopoto got a terrible start and got hung up on a tuff block in the first turn.
The last rider with a mathematical shot at the title, American Honda Racing's Trey Canard, missed the race after breaking his leg a few days ago while practicing, but a new contender for race wins and podiums emerged, and it was also an old one: Kevin Windham. The 33-year-old GEICO Powersports Honda rider got in the groove on a track he won on last year, taking the fastest time in qualifying and winning his heat race. In the main event, he was up to third quickly behind Reed and Stewart, and the Seattle fans started pushing hard for the veteran. Then a surprise emerged in Mike Alessi, who logged fast laps early, made a pass on Windham and briefly challenged Reed for second. Alessi soon started making mistakes, though, and Windham took the third spot back.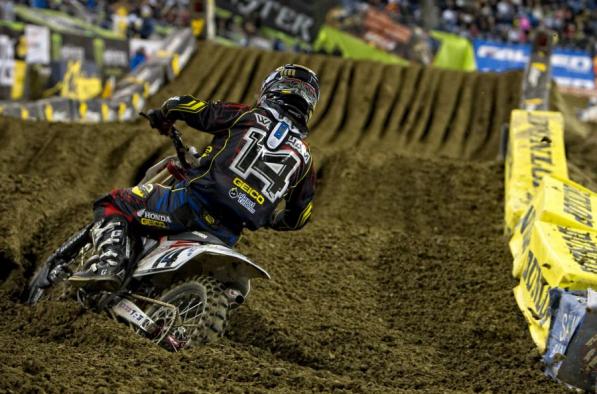 Kevin Windham thrived on the rutted track and stayed in podium contention all night.
Garth Milan photo
The top three then strung out. Stewart had built a good distance on Reed, and Reed found his stride about four laps in and pulled away from Windham. From there, attention shifted to Dungey and Villopoto coming through the pack. They found themselves in fourth and fifth, and the order seemed set with just a few laps to go.

But this 2011 season won't quit that easy when it comes to creating drama and excitement. With two laps remaining, Reed came up short on an on-off tabletop and crashed hard, handing second over to Windham. He got up just in front of Monster Energy Kawasaki's Villopoto, and the race for the final podium spot—and two significant championship points—was on. The fans cheered home state rider Villopoto hard, and he jumped to the inside of Reed to try to make something happen. They collided, but Reed hung tough and maintained the spot. Villopoto tried one more run through the whoops—which were extremely rutted—and hooked a line wrong and went down. Reed survived for third, Villopoto got back up for fourth, and Dungey took fifth.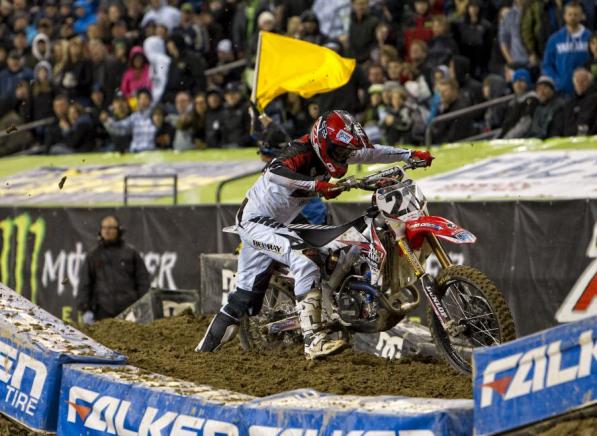 Reed held second but went down late, handing the spot to Windham.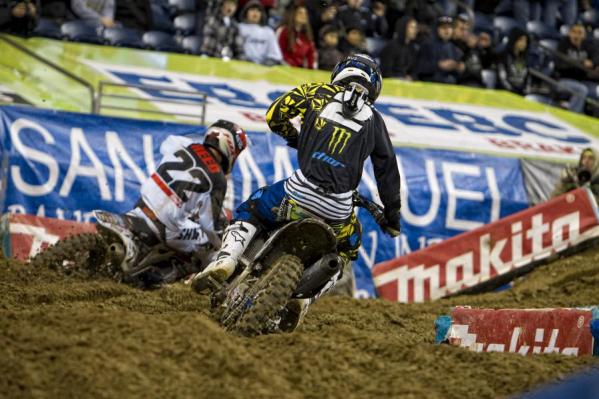 After coming through the pack, Villopoto caught Reed after the crash and battled hard on the last lap. Reed held on.
Garth Milan photos
Alessi and Stewart's teammate Kyle Regal were sixth and seventh. Muscle Milk Toyota's Davi Millsaps was involved in a harsh first-turn crash with Red Bull KTM's Andrew Short and Valli Motorsports Yamaha's Austin Stroupe (the crash also caused Villopoto to get hung up), but he came all the way through the pack for eighth, with Motoconcepts Yamaha's Tommy Hahn in ninth and Short digging his way through the pack for tenth.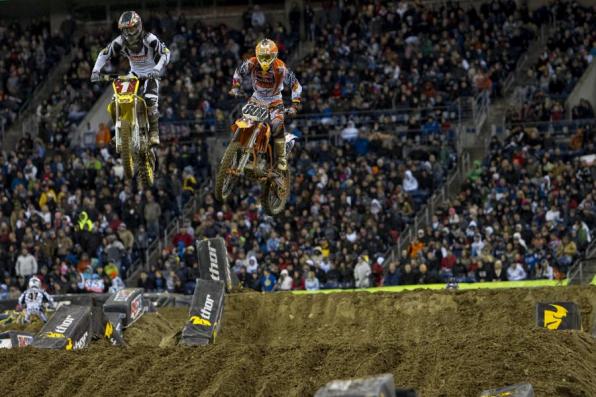 Dungey was even further back on the first lap but came back to fifth, Alessi (800) logged his best race of the year and took sixth.
Garth Milan photo
The West Region Lites Championship was back on after a break of over two months, and all three of the championship contenders were nursing injuries—Monster Energy Kawasaki's Josh Hansen (broken hand) and Broc Tickle (broken collarbone) and GEICO Powersports Honda's Eli Tomac (concussion). All three looked fit and ready for Seattle, until Hansen crashed hard in the whoops in practice and landed on the surgically repaired hand, again. It was going to be difficult for Hansen to even ride.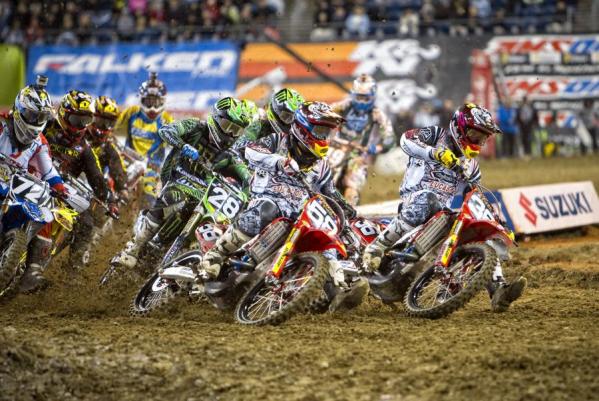 Seely (36) and his teammate Travis Baker ganged up on the start, and Seely never lifted on his way to the win.
Garth Milan photo
When the gate dropped a spoiler emerged in Lucas Oil Troy Lee Honda's Cole Seely, who snagged the holeshot and pulled away, just like he did when he won the race in Los Angeles. Behind him Tickle and Hansen found themselves second and third, but Hansen could not maintain the pace in pain. A deep pack emerged to challenge him, including his teammate Tyla Rattray, DNA Shred Stix Star Yamaha's Kyle Cunningham, Rockstar Suzuki teammates Martin Davalos and Ryan Morias, and Tomac reeling him in. Cunningham briefly passed Hansen for third before going down and falling to the back of that train. Tomac found his rhythm a few laps in and really started to make time, passing Hansen and then quickly closing on Tickle. Tickle was suffering from arm pump and couldn't hold Tomac back, and the rookie from Colorado took over second, pushing Tickle to third. But no one could catch Seely, who was long gone out front.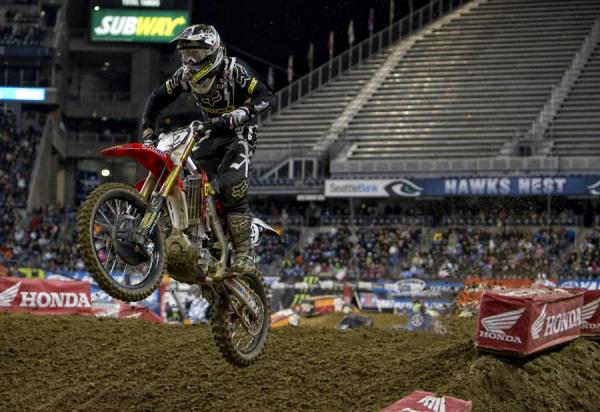 Tomac found his speed after a few laps and plowed his way to second.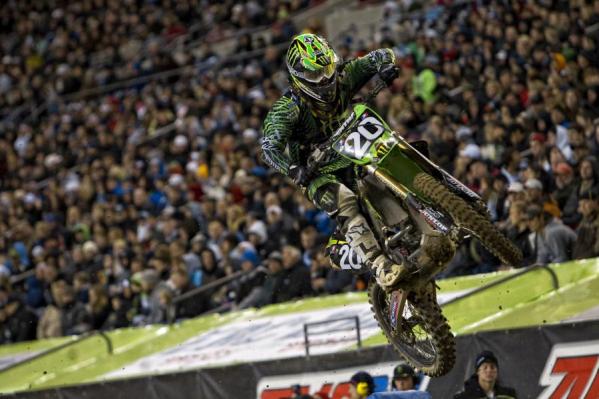 Tickle snagged the points lead with a third.
Garth Milan photos
Hansen fought gamely, but dropped to seventh. On the last lap, however, he dug extra deep and managed to pass Morias back to get into sixth. Tickle takes over the points lead, but Hansen in just two points back, with Tomac only seven points behind Hansen.

The series has a weekend off—vacation time for Stewart—before resuming for a two-race stretch run in Salt Lake City and Las Vegas.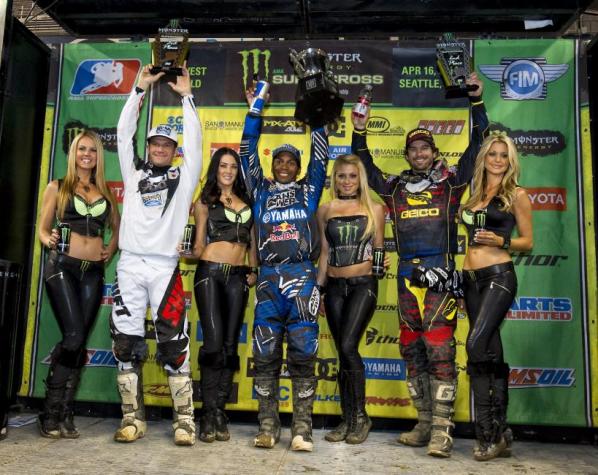 The SX Class podium.
Garth Milan photo
Results: Seattle Supercross
SX Class
1. J. Stewart
2. K. Windham
3. C. Reed
4. R. Villopoto
5. R. Dungey
6. M. Alessi
7. K. Regal
8. D. Millsaps
9. T. Hahn
10. A. Short
11. M. Byrne
12. N. Wey
13. F. Izoird
14. I. Tedesco
15. J. Thomas
16. V. Friese
17. T. Bowers
18. C. Siebler
19. C. Blose
20. A. Stroupe
1. C. Seely
2. E. Tomac
3. B. Tickle
4. K. Cunningham
5. T. Rattray
6. J. Hansen
7. R. Morais
8. M. Davalos
9. T. Baker
10. G. Steinke
11. B. Evans
12. T. Ingalls
13. N. Paluzzi
14. T. Weeck
15. P. Mull
16. T. Bright
17. D. Vawser
18. P. Eckman
19. B. Nauditt
20. T. Tapia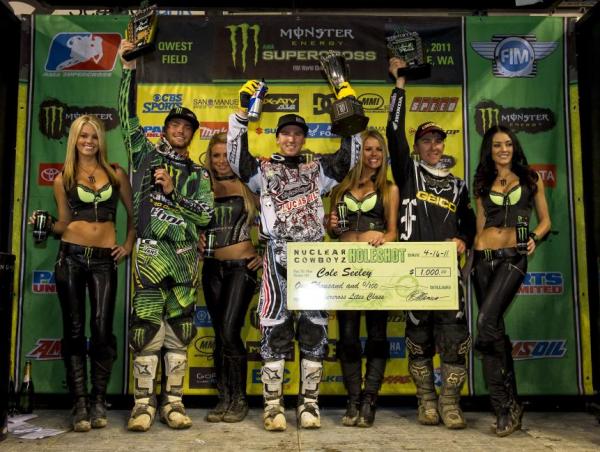 Lites podium.
Garth Milan photo
Supercross Class Season Standings
1.      Ryan Villopoto, Poulsbo, Wash., Kawasaki – 293
2.      Chad Reed, Tampa, Fla., Honda – 287
3.      Ryan Dungey, Belle Plaine, Minn., Suzuki – 286
4.      James Stewart, Haines City, Fla., Yamaha – 284
5.      Trey Canard, Shawnee, Okla., Honda – 255
6.      Andrew Short, Smithville, Texas, KTM – 196
7.      Kevin Windham, Centreville, Miss., Honda – 187
8.      Davi Millsaps, Carlsbad, Calif., Yamaha – 156
9.      Justin Brayton, Cornelius, N.C, Yamaha – 141
10.   Ivan Tedesco, Murrieta, Calif., Kawasaki – 134

Western Regional Supercross Lites Class Season Standings
1.      Broc Tickle, Holly, Mich., Kawasaki – 145
2.      Josh Hansen, Elbert, Colo., Kawasaki – 143
3.      Eli Tomac, Cortez, Colo., Honda – 138
4.      Cole Seely, Corona, Calif., Honda – 113
5.      Ryan Morais, Murrieta, Calif., Suzuki – 110
6.      Tyla Rattray, Wildomar, Calif., Kawasaki – 96
7.      Kyle Cunningham, Aledo, Texas, Yamaha – 89
8.      Ken Roczen, Germany, KTM – 83
9.      Martin Davalos, Cairo, Ga., Suzuki – 82
10.   Jimmy Decotis, Peabody, Mass., Honda – 67