Qwest Field
Seattle

,

WA
Seattle
Monster Energy AMA Supercross Championship
Welcome to Racerhead. Bad news used to come in threes. Let's hope it doesn't this week.
Supercross was firing on all cylinders. The 2011 Monster Energy AMA Supercross tour was closing in on a dramatic conclusion, with five very fast and capable men in the mix for the title. They were piloting four of the five major brands. The grandstands have been full, the pits abuzz, the industry stoked on the good fortune of having such a compelling title chase. It was much different than last year, when it happened in threes: Josh Grant, then Chad Reed, then James Stewart all got hurt in a hurry. More followed. It took the air out of the series, at least as far as the drama goes.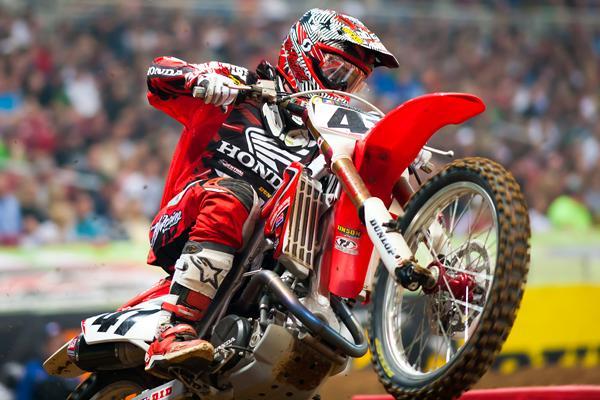 Tough break for rookie sensation Trey Canard this week.
Photo: Andrew Fredrickson
This time, everyone's AMA Supercross rookie of the year, the superbly talented, friendly, and funny Trey Canard, suffered a cracked femur on Thursday while preparing for the outdoors. It was a huge blow to what was shaping up as the most compelling title chase in years. Canard, who writes a column for Racer X Illustrated, had just told us how long he had waited to get his first main-event win, which he accomplished back in Houston before adding two more. He was right there with Ryan Villopoto, Reed and Stewart, and defending champ Ryan Dungey, and seemed to have some momentum behind him.
Not anymore. Canard's injury did spark a rather unfortunate and downright misunderstood flame fest on Vital over, well, his devout nature and his poor luck here. I will spare you the details—well done on the clean-up on Aisle 12, GuyB—but it overshadowed the downright bummer deal it was for everyone.... Oh the power of Twitter and the unsure reach of sarcasm across language barriers.... Thankfully, it's behind everyone.
Except for Christophe Pourcel. Keep an eye on what happens there. Honda lost Grant and has now lost Canard—the only healthy factory rider they have is Ashley Fiolek.
I am sorry for Trey, but he's young, he's amazing, and he will be back soon. And we still have four great riders in this to win it. Let's hope this time it doesn't happen in threes.
I'm off to Texas for Diamond Don's Vintage Classic in Jefferson City, so I need to catch a flight. Make sure you check out our 40-day/year countdown to the opening round of the 2011 Lucas Oil AMA Pro Motocross Championship here, and also watch tomorrow night's Seattle Supercross live on SPEED (thanks again, Feld!).
Let me turn it over here to Weege:
Oh yeah, it's going to rain. Seattle mud fest. Who is good in the mud? On and on we go. But just because we have an open stadium and a place known for rain doesn't mean we're definitely going to have a mud race. I mean, San Francisco was always gnarly, and this year the race moved over to Oakland and…oh, wait, that's right, it rained.
Last weekend I checked the Seattle forecast, and it showed rain from Saturday through Saturday. I'm not kidding. But when I tweeted that, Pacific Northwesterners immediately tweeted back with facts on inaccurate forecasts up there, and how nothing is certain a week in advance. They may be right—now Saturday's forecast is looking better, with some clouds, sun, and about a 40 percent "chanceability" of rain. It may not be a mud race after all.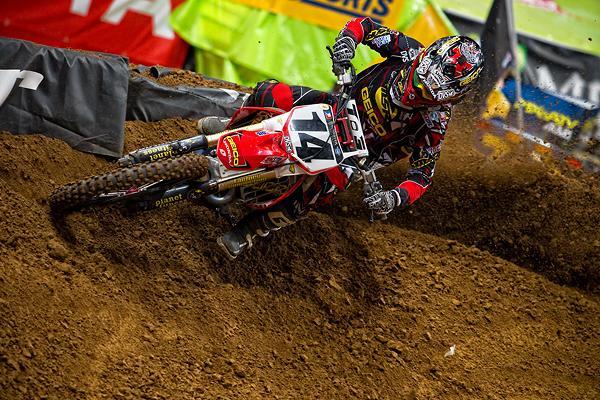 Can Windham make it back-to-back in Seattle?
Photo: Garth Milan
I'm not sure how much it matters. Without Canard, we're down to four contenders for this title, but all four can point to credentials in mud races, anyway. It's kind of like indentifying which of the four would be most comfortable during the Florida races—they all live there! Stewart has won a few Seattle mudders, Reed won in the slop as recently as San Diego, and Villopoto is from the area. Dungey did struggle a bit in Seattle and Salt Lake City last year, but that was probably due more to his championship circumstances than anything. He's from Minnesota, he can handle rough conditions.
Of course Kevin Windham won this one last year. So far, no one has been able to get into the podium mix and take a lot of points away from the top five. Windham's last two races were pretty good (fifth and a sixth). In the right conditions he could be prime for a breakthrough.
And we have this crazy Lites championship back on. Hansen, Tickle and Tomac all had to deal with injuries at some point over the break, so it's hard to say what we'll see. Ken Roczen is not back in the U.S. yet, but he will be back for Salt Lake City next weekend.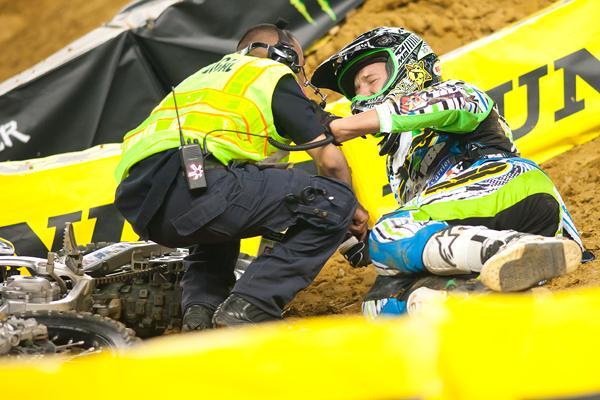 Boni is slowly recovering from a gnarly get-off in Dallas.
Photo: Andrew Fredrickson
Talked to Matt Boni this week, and he says he is coming along much better than expected after compound fractures to his tib and fib in Dallas. He says his surgery went great and he should be able to start putting weight on the leg in the next few weeks. He's hoping to be all healed up within two to three months. They don't call Matt Boni Bob Gnarly for nothing—he's one tough dude. And, in a related story, I saw Boni and Weston Peick chatting on the way to the track walk in Dallas. I'm thinking WWE tag team champions when I look at those two.
For more on Seattle, check out 10 Things to Watch that I penned today.
Now let's turn it over to Ping:
I don't have too much this week since I was out of town for a few days. I did hear that Nick "Snookie" Paluzzi will be filling in for the injured Ian Trettel over at the Rockstar Suzuki team. Nick has been putting in some impressive rides as a replacement rider over at Star Yamaha, despite having less than two weeks on the bike prior to Anaheim. Still, his deal with them was only for supercross. Snookie grew up riding Suzukis, so the fit should be a good one with the Rockstar guys. Between the excellent equipment over there and the speed he's been showing, it could be a great combo for the summer.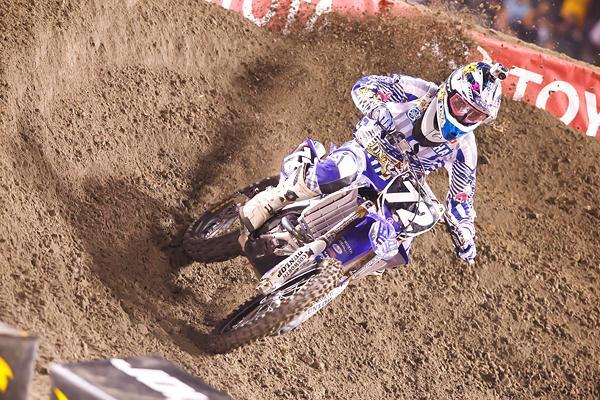 Paluzzi will be filling in for Ian Trettel on the Rockstar Suzuki team for outdoors.
Photo: Simon Cudby
Does anyone remember the dirt in Seattle last year? It was hands-down the most treacherous set of whoops (if you can even call them that) I have ever seen, and the ruts and soft soil made for a very interesting racetrack. Maybe it rains this weekend or maybe it doesn't—I don't think it matters. The track will be technical and both classes are going to have great racing. In the 250 class, I'm still sticking with my Eli Tomac prediction. I was horribly wrong on the East Coast when I said Baggett or Sipes was going to sneak in and take the title, but I think Eli is in a good position. He has momentum on his side and nothing to lose. Hansen isn't going to let it go easily, though, and if I had to put money on any one rider to win this weekend, I'm putting it on Broc Tickle. That guy can flat get with it in the mud and soft dirt.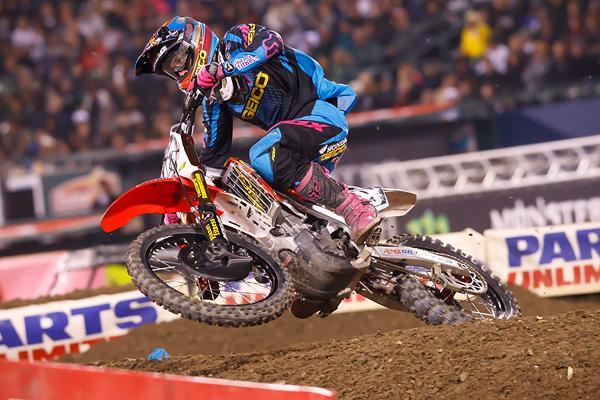 Can Tomac keep the momentum going?
Photo: Simon Cudby
I'm so bummed out for Trey, and I didn't believe it until I saw the PR from Honda today. I actually drove right past Competitive Edge on Wednesday around noon and saw Canard there with a fleet of Honda technicians and the testing vehicle they lovingly refer to as the White Whale. It all looked good as of lunchtime, so things must have gone sideways later in the day. Either way, it sucks. Would any of you currently sipping on a 40 please pour one out for our homey?
Here's Matthes:
Well this weekend in Seattle should be interesting huh? With the news of Trey Canard getting injured still fresh in our minds, I started thinking about what this does to the points series now. So looking at the stats, the "fast five" group of James Stewart, Chad Reed, Ryan Villopoto, Ryan Dungey and Canard have taken the top five spot 77% of the time (14 races x 5 positions up for grabs= 70 spots. The five riders have taken 54 of those potential top five spots) and in fact, including last weekend, have swept the top five four times in fourteen races.
So judging by those stats, there are five guys who have been better than everyone else in the class, and you can also know this by looking at the 70-point gap between fifth in the points (Canard) and sixth (Andrew Short). So again, what is Canard's injury going to do? Well, to me it will make Ryan Villopoto's road to the championship a little easier. And by that I mean Canard won't be around to get in the way and take away valuable points.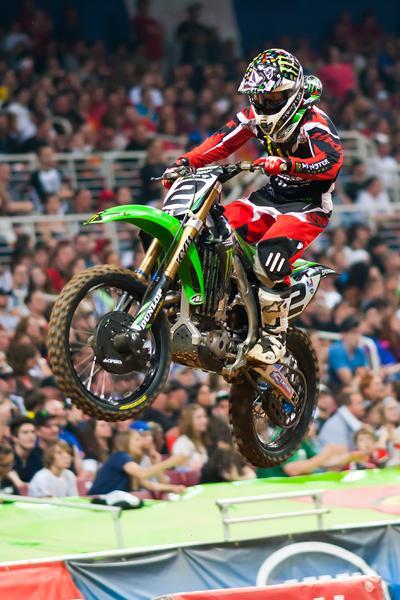 Will Canards injury help or hurt Villopoto's championship hopes?
Photo: Andrew Fredrickson
The worst RV can do now is fourth, whereas before it was a fifth. The difference between that spot is two points, and those things are valuable this time of the year. Now just as much as Canard's absence can help RV, it can also hurt, because say Ryan Dungey falls in the first turn—well, now he can climb up to fourth instead of a fifth. It's all bench-race talk because who can really predict anything in this year, but it's something to think about out there as the fast five become the fabulous four for the next three races.
You never know what you're going to get in Seattle anyway. The track usually is very simple and easy because you have to anticipate the rain coming, or at least the dirt being very soft and spongy. Last year I really thought Tommy Hahn could have won the race had he started a little better. T Hahn was on fire! You just don't know but having won there before and in front of his home crowd, I'm instilling Villopoto as the slight favorite. Although when I was writing Kawasaki's SX History column this week, I started thinking about just how fast James Stewart was going in some pretty crappy conditions back then. All of us "experts" have been pretty fooled this year, so who knows what's going to happen?
Some other random thoughts this week:
- Had Justin Barcia and Jeff Emig on the Pulpmx Show this week and it was a good one. Emig had some great thoughts on Chad Reed and his hopes for the championship. To be perfectly honest, when Jeff was talking I was thinking to myself that I'd love to hear this sort of stuff on the TV broadcasts, but as Fro explained, it's tough to get something that in-depth in the 10-15 seconds he has to get his point out. One thing about Jeff: he has spent a lot of time on the mental end of things and really looks at it from that angle.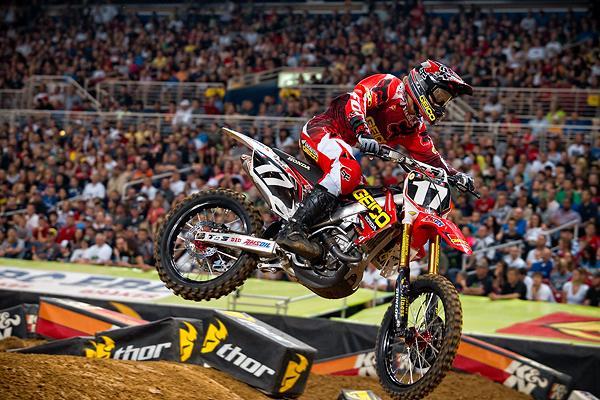 Barcia is still struggling to get his wrist/hand healthy.
Photo: Garth Milan
- We had Barcia on to tell us that he might be put in a cast for a couple of weeks to let his hand/wrist heal up. He's been riding with this injury for almost the whole series and until recently hadn't been practicing much during the week. He's got 20 points going into the final round at Vegas, and he's going to need it with that different format. Tune in every Monday at 6 p.m. Pacific and listen to myself and Kenneth Watson wax on.
- The MotoConcepts Yamaha team is adding privateer Ben Lamay for its hometown race this weekend, and I say good for them!
- It will be interesting to see the West Coast guys return this weekend for the final battle to the title. When we last left the guys a couple months ago, Eli Tomac had some serious momentum with a win and a bunch of podium finishes, but that's long gone as Eli crashed hard during the break and had to heal up. Not to worry, though, his main competitors—Josh Hansen and Broc Tickle—are also both coming off injuries and won't have all this time on a bike to get any sort of advantage from anyone.
- So with that in mind, anyone else feel that if there was any momentum to be had by a rider, Cole Seely might just have it? Seely raced the 450 for a few rounds and took to it pretty well if you ask me. So Cole's been racing, been into it, and maybe that gives him a little advantage going into this weekend? I guess we'll see.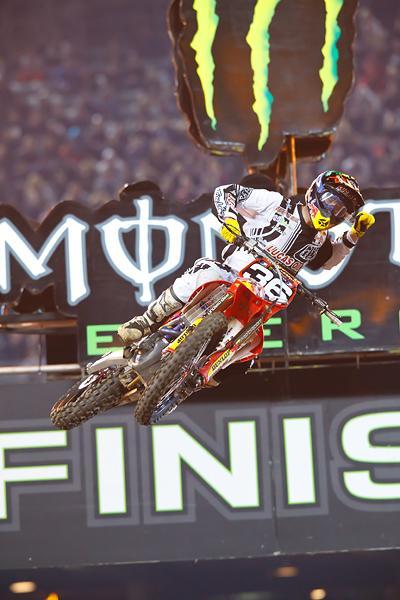 Can Seely make it happen again in Seattle?
Photo: Simon Cudby
- Another rider out this weekend is JGRMX's Justin Brayton, who is still struggling with an injury from Dallas. So we're missing Canard and Brayton, and that's a couple of heavy hitters.
- I posted something on Twitter yesterday wondering what Honda would do for the outdoors with Canard probably missing a few races, and from what Eric Kehoe told me, Josh Grant won't be ready at the start either. I predicted that they would park their truck when none other than Chad Reed made a comment to make me think he might be under the factory tent for the motocross season. Then I got a text from "someone who knows things" who said, "Done deal, Reed's on the factory team for the entire outdoors" so I guess we'll see.
- Still in the rumor department, I hear that Stewart's getting his outdoor program into shape and will be doing the entire motocross season. That's what some people on his team are telling other people, so let's hope that's true.
- Spent some time talking to the Beast from the East Damon Bradshaw for a series of "Tell Us a Story" over on Pulpmx.com, so check them out and revel in his greatness. Here's part 3.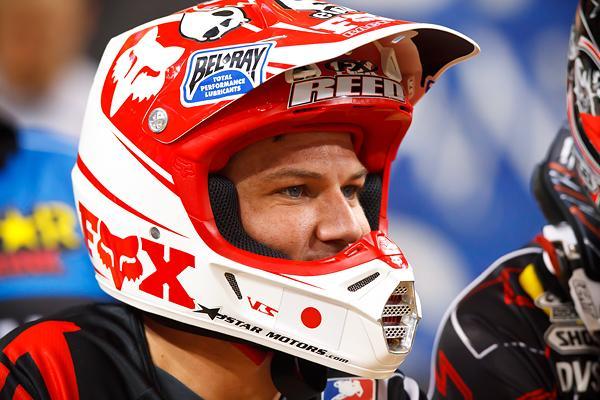 Is Reed going to American Honda for outdoors?
Photo: Simon Cudby
And finally here are some miscellaneous notes:
Today's a good day for fans of Mad Skills Motocross for iPhone, iPod Touch, and iPad. As of this morning, there are now an additional 20 tracks available, in the form of two expansion packs. One of the packs was made especially for hardcore motocross fans who wanted more tracks with technical rhythms, and no power-ups. It's called Real Rhythms, and every track showcases the awesome physics of the game, without the rocket boosts, jump-a-roo, etc. The second pack, called "Arcade Madness," is targeted at the people who like the arcade feel of the game, and it includes only tracks with power-ups. At only 99 cents each, they're both a bargain and will provide many more hours of entertainment with this awesome game. If you already have the latest update on your device, just open it up and hit the 'More Tracks' button on the main menu. If you don't have the newest version of the game, or you haven't picket it up yet at all, you can remedy that little problem at http://mad.mx/hcvL6U.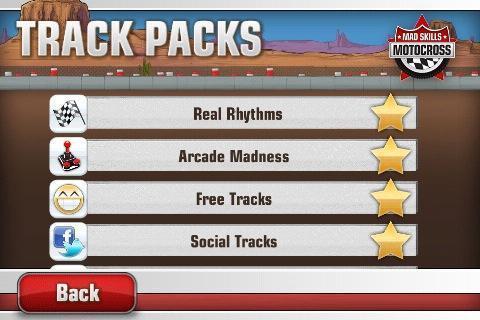 Here's a look at opening day at Washougal last weekend, which was actually a ride day, filmed by Crazy Money Productions—the soil looks fantastic up there this time of year! Check it out HERE.
And check out this video, Handmade Portraits: Liberty Vintage Motorcycles"
Here's Ryan Villopoto on the cover of Cross Magazine: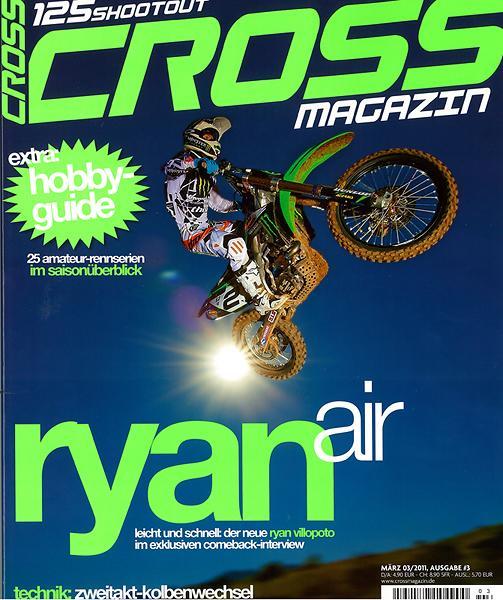 Daniel Lamb pulled together an interesting interview with the sidelined Josh Hill, who has not raced since injuring himself attempting to learn a backflip before the X Games. Check it out right here.
Our friend Stephan Legrand is the man on point here in the U.S. when it comes to news on the Frenchmen, and here's his latest.
Don't forget to stop by the Racer X booth this weekend in chilly Seattle to subscribe or renew and get this huge Ryan Villopoto stadium blanket free with your subscription! Pay only $25 for this awesome blanket plus 13 issues of Racer X, a $60 value. Only 250 blankets are available on site - don't miss your chance!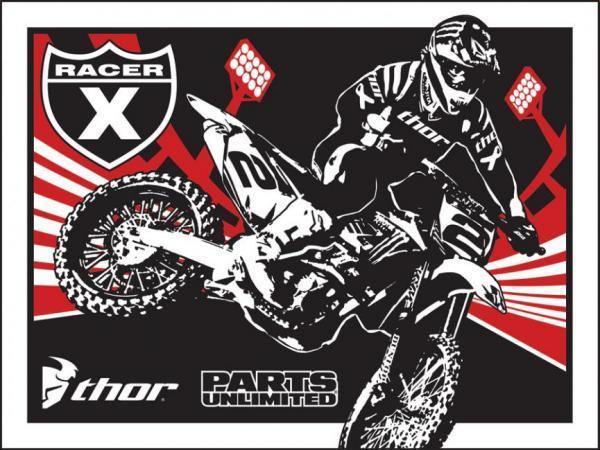 Last week we showed you a small photo we found on Google of Bulgaria's godfather of Grand Prix motocross, Dimitar Rangueluv (or Dimitri Rangelov, depending on how you translate your Bulgarian names). Our friend in Texas Warren Price was stationed in Europe in the early 1980s and went digging through his archives to find this exceptionally cool photo of the #3 rider in the 1980 250cc world championships.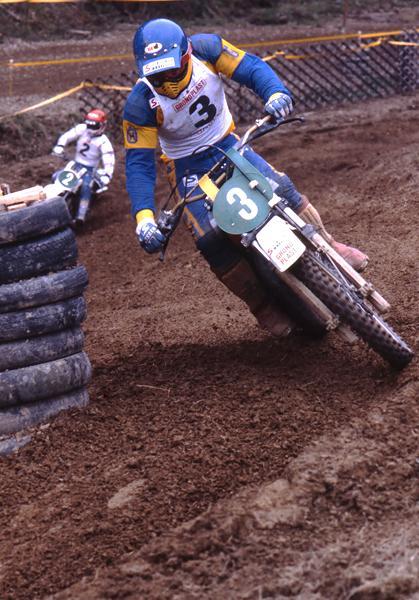 Dimitri Rangelov is the only man from Bulgaria to ever win a Grand Prix MX race.
Be sure to like the new American Motocross Facebook page, the official Facebook page of the 2011 Lucas Oil AMA Pro Motocross Championship. Featuring up-to-date series information, prizes, giveaway contests, and exclusive photos and videos, the new page is one definitely worth checking out.
Racer X reader Chad Cook sent this our way. As you can tell he is a big RV fan.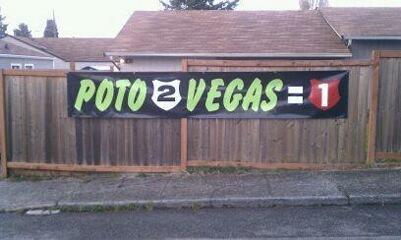 That's all we've got for this week—enjoy your weekend. See you at the races.