Qwest Field
Seattle

,

WA
Seattle
Monster Energy AMA Supercross Championship
Whenever I write this Week in Kawasaki SX history, I always try to make it relatable to the race that's coming up. Maybe write about the same venue the series is heading to, or the same date we're racing on. You know, something to give it a little twist for the upcoming race. And seeing as how Kawasaki has had so many great riders over the years, it's easy to figure something out.
Well folks, it doesn't get any easier than this, as we have the Seattle SX coming up this weekend and a quick glance at the record book shows that a Kawasaki rider won the Seattle SX in 2005 on the, get this, exact same date as this weekend.
Factory Kawasaki's James Stewart's supercross season was already down the tubes as the youngster had broken his arm at round two in Phoenix but his return was highly anticipated as he was a rookie in the then-250 class. Everyone wanted to see what the #259 could do against heavyweights Chad Reed and Ricky Carmichael and when he won his second race back (Dallas), well we all knew we were watching something special.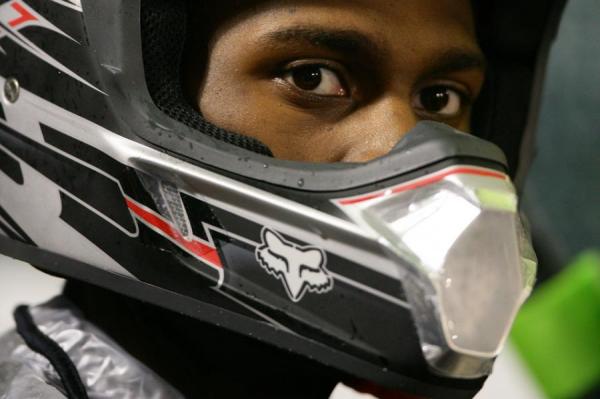 Stewart dominated the field en route to victory in 2005.
Photo: Simon Cudby
So the series rolled into Seattle on April 16th, 2005 (just like this weekend!) and with nothing to lose and the track a rutty, wet mess (hey, probably just like this weekend!) the green KX250 grabbed the holeshot and immediately opened up a big lead on the field.
We just did a Racer X Podcast the other day with privateer Jason Thomas and this race was brought up. JT commented that he was in 11th or so and Stewart came flying by early in the race and he was riding like it was dry.
"It was amazing really because the track sucked, I was riding good but still had some major sketchy moments out there and this guy just went by like it was perfectly dry," said Thomas years later.
Eventually Stewart backed it down a bit and only won by about six seconds but it was a thorough beat-down by James and signaled that if it wasn't for the injury early on, Reed and Carmichael would have had their hands full.
After the race James had this to say: "I definitely feel good. The more I race, the more confident I get. I like to get out front like I did tonight and it makes it a lot easier and a lot more fun."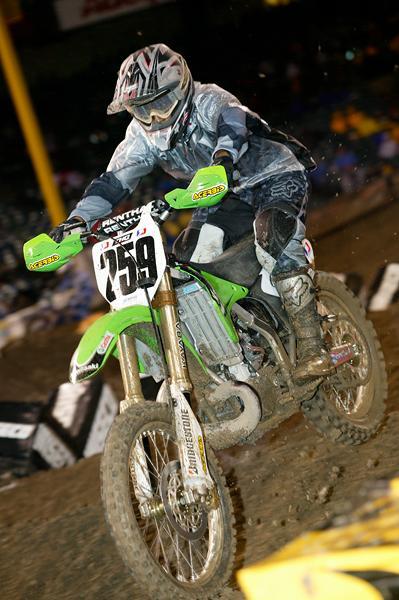 Will history repeat itself this weekend?
Photo: Simon Cudby
Stewart's ride was so dominating in the tough conditions that he ended up lapping everyone but the top four on the night and led all twenty laps.
This weekend in Seattle, team Monster Energy Kawasaki definitely hopes that history repeats itself only this time with Ryan Villopoto onboard and not Stewart. He's now on Yamaha!
250 Results:
1. James Stewart (Kawasaki)
2. Kevin Windham (Honda)
3. Ricky Carmichael (Suzuki)
4. Chad Reed (Yamaha)
5. Mike LaRocco (Honda)
6. David Vuillemin (Yamaha)
7. Travis Preston (Honda)
8. Tyler Evans (Suzuki)
9. Heath Voss (Yamaha)
10. Tim Ferry (Yamaha)