Qwest Field
Seattle

,

WA
Seattle
Monster Energy AMA Supercross Championship
West Lites points leader Josh Hansen broke his hand and was in a points salvaging mission the last time the West series meet in February. But while Hanny was healing up from his injury, his fellow Monster Energy Pro Circuit Kawasaki rider (and fellow title contender) Broc Tickle, went down with a collarbone injury over the break. Here's an update on Broc.
Racer X Online: So you broke your collarbone?
Broc Tickle: Yeah I got hurt two and a half weeks ago. It was not last Sunday, Sunday two weeks ago.
What happened?
My hand slipped off the bars and I just crashed. I had surgery the next day, and I woke up and felt amazing after surgery. I don't know what happened! Dr. Alexander did a great job, and I was going to the gym with Eddie Casillas right after that. Ever since then I've been hard at it with rehab.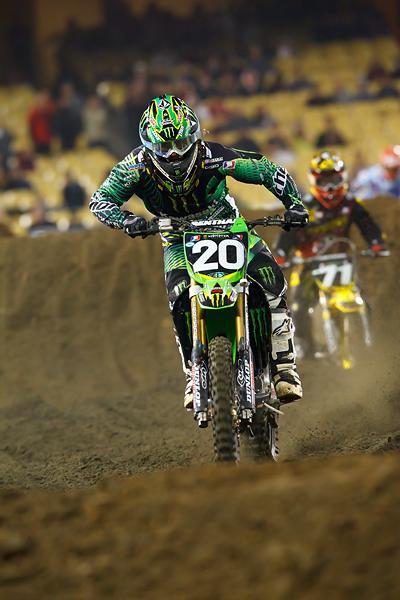 After breaking his collarbone during the break Tickle should be 100 percent this weekend.
Photo: Simon Cudby
Did you think you'd even be able to race Seattle?
I was just questioning it, I knew I broke my collarbone and I thought I may have broke my hand. Luckily the hand was just bruised. I called Dr. Alexander and had surgery the next night. I called everybody and got everything lined up. I've never been in this situation before, going for a championship, so I wanted to do everything that I can.
Yes you are going for a title, and your teammate Josh Hansen is going for it as well. Then he got hurt in Anaheim. What was that experience like? Battling a teammate, seeing him get injured, all of that.
To be honest with you, the first thing I heard was he broke his collarbone, and the first thing that ran through my mind was, I was bummed. I don't want people saying I won it because a guy got hurt. He motivates me to push myself. You know how it is, all the guys are all good, you just never know who is going to win. It was just weird, I don't want to finish second to a teammate, but I want him to be there, too. I want people to say I won it because I earned it and I did everything I could to do it.
Was it weird in the truck dealing with this?
You know the whole vibe around the truck is awesome. We all watch the tapes together in the truck, we all watch the tapes together on Monday night at the shop, and it's not weird at all. It's relaxed, we'll talk about lines, we'll talk about what to do in each section. Even though we're going for the championship, it's not awkward, we're not sitting there all serious faced only worried about ourselves.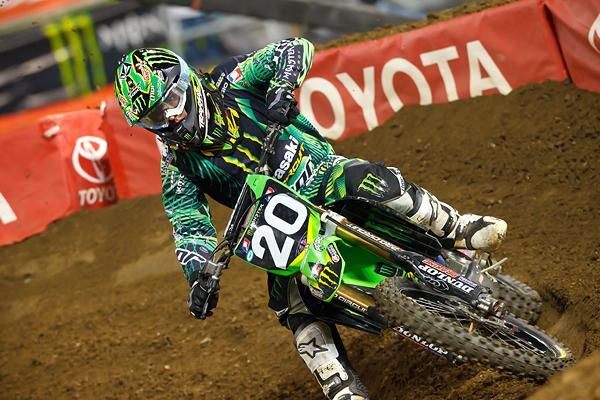 Tickle is three points back of teammate and points leader Josh Hansen.
Photo: Simon Cudby
So you're in title contention for the first time in your career. Has the pressure made things different?
Oh yeah, definitely. Obviously I've been thinking about it since the beginning of the season, since it started well for me. It's been there in the back of my mind. But it's something I've wanted my whole life, so that's in the back of my mind, too. And that can help relieve the pressure, when I think of it that way—this is a situation I've always wanted to be in. It will be good, I mean either way, I'm in it to win it. I know none of us are going to win it this weekend. It's all about putting myself in a good position. I just want to be in a good spot in Vegas to bring it home.
Seattle, you won it last year.
I'm definitely looking forward to it because that's where my first win was. You know how a guy like Chad Reed has won so much in San Diego? I think it could be a place like that for me, and I'd like to keep that ball rolling for Seattle. It would be cool to keep getting wins there.
Well everyone always talks about how well you ride in ruts and mud and things like that—last year it didn't even rain in Seattle but it was rutted and you won. Are those conditions as good for you as we all seem to think?
Oh yeah I'm fine with racing in the rain, and I'd be fine if it did rain this weekend. There would be some more variables in there to separate us. But it depends on how everything goes. With three races left, you never know what can happen.
So, overall, do you feel like you've lost anything with the collarbone?
Actually, I'm kind of glad it a happened. Well, not totally, glad, obviously, but it almost motivated me a little bit more. I wanted it so bad, and that little break helped. It kind of set me back a little bit. I've only ridden supercross twice, I was riding outdoors the whole break until I got hurt. Then I've ridden supercross twice this week, and yesterday was one of the best days I've ever had on a supercross track. I've been working hard with my trainer, Charles Dao, and I'm ready to go.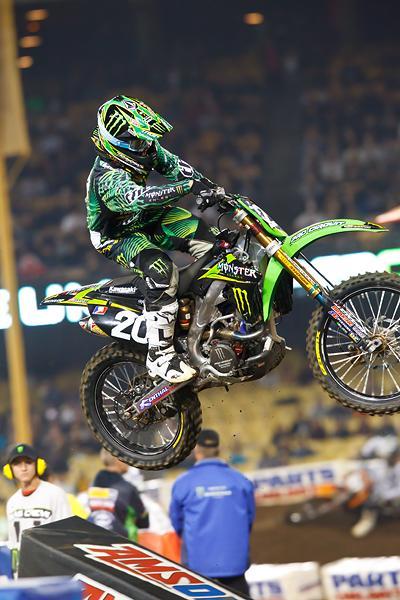 Tickle is looking to go back to back in Seattle.
Photo: Simon Cudby
So the collarbone is not an excuse.
That's the thing. I'm never going to say, "I would have won if not for the collarbone." I'm not going to sit there and say that, shoulda' woulda' coulda' and all of that. That's not a factor.  So I'm going into these next three races to win. No excuses, no complaints.  I'm so pumped right now. A week after surgery things really turned around. It's stupid, and it doesn't really make sense to me, but I feel better than I've ever felt.
Well that sounds good. I think everyone wants to see a straight up battle like this.
I cannot believe the support I had from the team. As soon as I got hurt, Mitch told me I'll be fine and I'll be racing in Seattle. He told me how Villopoto broke his collarbone two weeks before Anaheim 1 in his first year in supercross, and he made it to the race and got on the podium. That's why the team is what it is. That's all I'm saying.