Edward Jones Dome
St. Louis

,

MO
St. Louis
Monster Energy AMA Supercross Championship
The St. Louis track featured something the riders and teams haven't seen all year—tacky dirt! Even the tracks once known for sticky, rutted conditions, such as Atlanta and Indianapolis, have dried out over the years, so St. Louis and its trademark soil reigns as one of the last of the truly loamy supercross tracks. A few riders admitted they had to make changes to bikes, tires and even riding styles to deal with the increased traction and ruts.
More changes came after the second seeded Lites practice session. A tricky section of the track claimed both Malcolm Stewart and Blake Baggett with crashes. The riders would jump off a small roller, wheel tap off the top of a bigger jump, and double over the next jump. But the second jump wasn't big enough to launch riders far, and if the wheel tap wasn't clean, a ride could come up short and crash on the third jump. After that practice, the second jump was built higher. There were no more crashes in that section.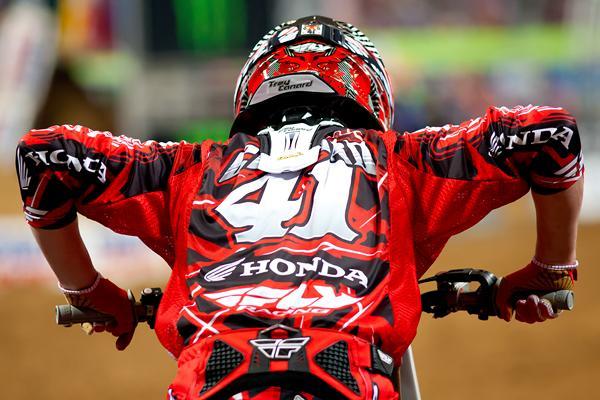 Canard overcame a rough start in St. Louis to finish fifth.
Photo: Andrew Fredrickson
James Stewart has made a habit of nailing a fast lap in the first practice session and then just cruising around in the second session to check out lines. But due to the track change, he knew a fast rider in session two could top his session one time, so he pushed it in both practices. He logged a 47.6 in session one, and a 47.7 in session two. But late in the second practice, Trey Canard stepped up with a 47.5 to nail the fastest qualifying spot. Canard was also the fastest qualifier at Indianapolis.
Canard was riding with the momentum of two wins in three races, and that fast qualifying time. But he got a terrible start in the main event and finished the first lap in 15th, ending his chances for a podium finish early. Late in the race, he closed to the back fender of Chad Reed's Honda in a battle for fourth, but a big mistake and near crash in a rhythm lane gave Reed the needed breathing room to hold the spot.
Reed surely wasn't pumped on finishing off the podium himself, and losing two more points to series leader Ryan Villopoto. A press release from Reed's TwoTwo Motorsports/Bel-Ray Racing team explained his night: "I think it is easy to make excuses but the truth is I don't believe I was riding at my full potential tonight," Reed acknowledged. "It seemed like I couldn't get any front end feel for the bike but the fact is we have developed the bike around me and when I am not at my best, I am not getting the best from the bike. I know I sound like a broken record but it isn't the biggest issue to me, there is still a lot of racing and a week off to come. As we have seen this year, more so than ever before, things can change massively in a week."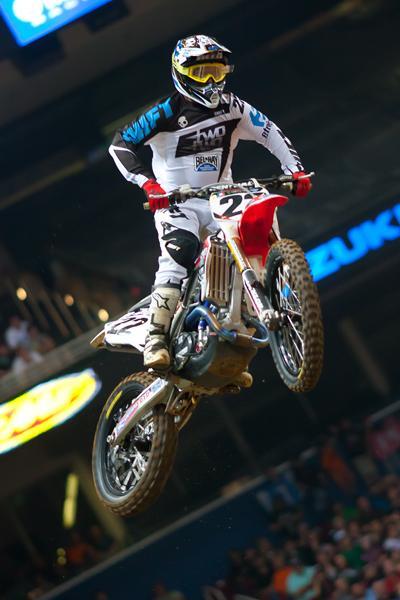 Reed lost valuable points to Villopoto in St. Louis.
Photo: Andrew Fredrickson
Reed had made some changes to the front end of his bike before last weekend's race in Dallas, but he had actually intended to make the changes at the beginning of the season. Unfortunately, the custom part takes eight weeks to order and create, so he had to wait. Such is life when you're on a new team that was only created in November. However, Reed maintains that although he is a privateer (the only parts he has on his bike from factory Honda are triple clamps, and a transmission part that prevents his bike from hitting a false neutral) his bike is not at a disadvantage to the factory machines.
Ryan Villopoto had a hard get off in the first timed practice, and his Monster Energy KX450F landed on his back. Villopoto got up slowly at first. He later said he was okay, except for the massive Dunlop tire track on his back.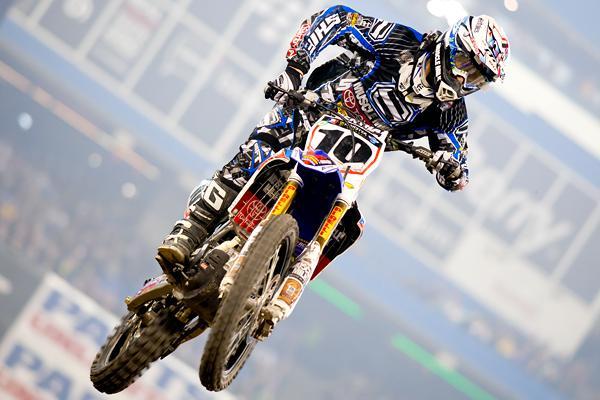 Brayton gave it a shot in St. Louis, but in the end had to pull out after a few laps of practice.
Photo: Andrew Fredrickson
Muscle Milk Toyota JGR's Justin Brayton crashed hard last weekend in Dallas and hurt his back. He came to St. Louis anyway to give it a try, but pulled out after a few laps of practice. JB still came out for opening ceremonies, since the St. Louis race is the home event for the Iowa native.
After next weekend's Seattle SX, riders and teams get a weekend off. But it won't feel that way, because the outdoor motocross testing season begins. Villopoto's mechanic Mike Williamson explained the grind. He had a bare frame sitting at his work station at the Kawasaki shop. On Monday (today) he'll do a frame up build and create an outdoor test bike. Then on Tuesday he flies to Seattle so he can rebuild RV's supercross race bike on Wednesday, as the team has press day obligations on Thursday and Friday. They race Saturday, then Williamson flies home Sunday, with outdoor testing on the bike he built today starting next Monday.
With five riders and teams all in the hunt for the SX Title, don't be surprised if the focus isn't as heavy on outdoor testing as it may normally be. Reed said he tried to ride some laps on his outdoor bike and track last week, and was, "pretty much over it. I'm trying to win this supercross championship right now." Surely the four other riders battling for the supercross title probably feel the same way.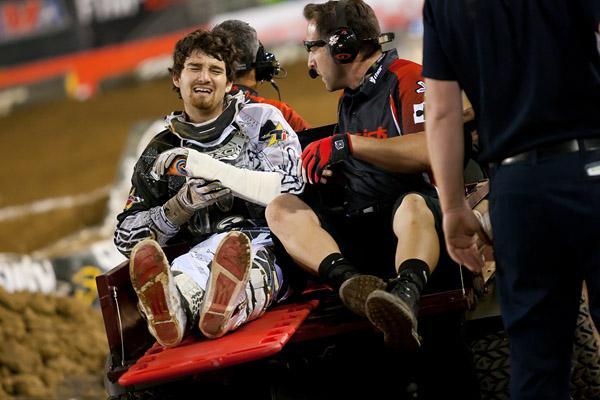 The Ti-Lube Kawasaki team is sporting an all-new lineup after injuries to
Matt Goerke
(above), and
Matt Boni
.
Photo: Andrew Fredrickson
The Ti-Lube Kawasaki team was sporting an all-new lineup for St. Louis, since Matt Goerke broke his wrist and pelvis (ouch!) in his crash with James Stewart in Jacksonville, and Matt Boni had a compound fracture of his tib-fib (ouch!) last weekend. Bobby Kiniry and Cody Gilmore took over, and Kiniry grabbed the final transfer spot to the main in the LCQ, with Gilmore finishing right behind, leaving him out of the main by one spot. In the main, Kiniry and Monster Energy Kawasaki's Fabien Iziord got into it, with Iziord getting the worst of the deal and flying off the track. Kiniry finished 16th and Iziord 18th.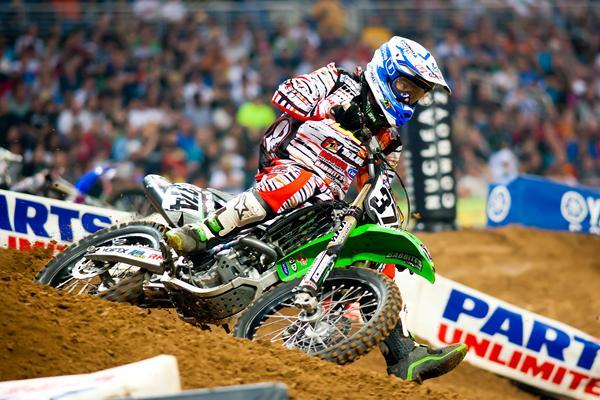 Cody Gilmore joined the Ti-Lube Kawasaki team in Dallas.
Photo: Andrew Fredrickson
Tough break for ElevenTen Mods Honda privateer Alex Martin. He fought hard in the LCQ and was running second on the last lap until he crashed under pressure from Matt Lemoine. Lemoine grabbed the last transfer spot to the main via the crash. Lemoine was also hurting after a massive over-the-bars crash in his heat race.