Edward Jones Dome
St. Louis

,

MO
St. Louis
Monster Energy AMA Supercross Championship
Chad Reed came into St Louis looking to make a move towards the front in this title chase but unfortunately for him, the 22 actually lost ground with his fourth on the night. The Honda rider has now had two off races in a row (one his fault, one not) and when I spoke to him today, he sounded a bit frustrated about his night in the Show Me State. As always with Reed, he was honest about his struggles and this upcoming outdoor season in this quick interview.
Racer X: Chad, fourth is definitely not where you wanted to be and I imagine you don't want to rehash it but can you talk about the race?
Chad Reed: Yeah, pretty bummed on my performance. It was one of those days I didn't feel well. I was fighting it all day long. It wasn't the bike, it was me and it was one of those days. It was pretty much a mirror image of Indianapolis where I struggled all day long. I just couldn't pull it together and I knew that triple/triple was going to be done in the main. When I went out for the parade lap in opening ceremonies and saw that they had worked on it. I knew we would do it then. I was off and I didn't do it. Ryan (Villopoto) did it right in front of me and I don't know- I just didn't do it. Yeah, I landed on that Tuff Block but at that point, Ryan was doing the jump behind me and it was going to be tough to hold him off.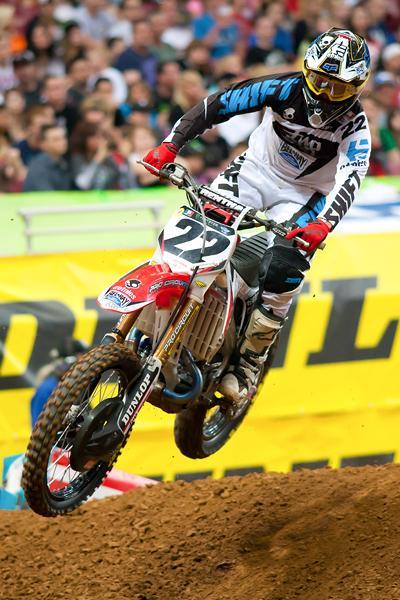 Reed's fourth was not what he was looking for in St. Louis.
Photo: Andrew Fredrickson
So you're not that upset about that Tuff Block being there?
No, I mean it could've been worse, I could have crashed when I hit it and unfortunately Tuff Blocks seem to be coming on the track more and more. It's part of racing and being in the right place at the right time. I'm just bummed that I didn't jump that jump because I had a shot at being on the podium at the worst.  I think I rode well in the main but I just didn't get that jump and it pretty much ruined my lap and the rest of my race.
And I hate to bring this up but if you were doing the triple/triple, you would've sailed over the Tuff Block. Sorry.
Yeah, for sure. I was actually kind of scared because I knew Ryan was doing it behind me and when I hit the block, I was in the race line and luckily he was going more left than the other two were. Thankfully, he missed me.
What was the deal with you not being into it? The dirt? The city? Wake up on the wrong side of the bed?
Yeah, I don't know. Maybe I just did wake up on the wrong side of the bed. I wouldn't say I had a tough day-I didn't crash-I was just off and couldn't get comfortable. I was struggling in the turns. The dirt was a little looser than normal and I was struggling to stay in the bottom. I was going back and forth between three different front tires and I ended up where I started for the main event. It was one of those things and it wasn't for a lack of trying.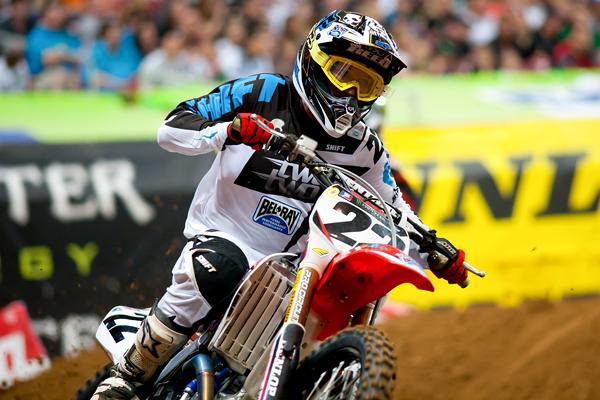 With three races to go, can Reed win his third Supercross title?
Photo: Andrew Fredrickson
So looking ahead to Seattle this weekend, thoughts about the ruts and maybe the rain?
Yeah, I think that looking at the weather, we may have a wet one. At this point, I'm ready. It doesn't matter and I'm excited to race no matter what. Seattle has been a tough race for me over the years. I also had some less than stellar races there, I've also crashed in the first turn a few times. I like the ruts, the weather doesn't bother me and it brings a whole different feeling to what's already a crazy supercross season. Looking forward to that!
Generally, the off weekend in the supercross series brings outdoor testing for most of the guys, are you going to do that?
To be honest with you, I was pretty pissed and pretty disappointed after this week's race. Last week I was in a good position and nothing to do with me, my position was taken away from me.  And then this weekend, it wasn't a mistake-it was an off-weekend. It's time to go, the championship is on the line and you can't have those. You have to rise above that. I was bummed on myself, I came in from the race, took a shower and split. So after that, I pretty much decided right then and there that I don't care about outdoors- I have to win this title.
I'm not even 100% committed to outdoors to be honest. There's a lot of stuff going on with that, like am I going? When do we start testing? Are we going to hire another rider? After this weekend, I don't even care. I shut it all down and for me, all I want to do is win this championship. It's all that matters. I'm going to focus on this and win. I wish there wasn't a weekend off, I would like to race straight through and then have two weeks off for the nationals. There are five guys going for this thing and they all have to do outdoor testing. I think none of us want to do it, we all want to win this thing. I think Trey's going outdoor testing but he's twenty points back and is a bit of a long shot for the title. I can see where he's going to get ready for it.
For me, we have three races to go and it's time for me to go for it. I have to show up and be better than I was this past weekend. It's going to be good and being eight down sucks but it's not that big a deal and I'm ready to pull it off.