Edward Jones Dome
St. Louis

,

MO
St. Louis
Monster Energy AMA Supercross Championship
With the 2011 Monster Energy Supercross series rolling into St Louis this weekend, the championship is still very much in doubt. Five riders realistically still have a shot at this thing and with all the drama going on, every fan will be glued to the live timing this weekend to check out what transpires at the Edward Jones Dome in the Show Me State.
But there was no such scenario in 1996 as the SX series visited St Louis for the very first time. The championship had been clinched long ago by Jeremy McGrath but on this night, no one was thinking about the title. McGrath's '96 season was certainly one of the best ever, as a matter of fact coming into St Louis, MC had won every single supercross and with St Louis being the penultimate round, the odds were long that anyone would be able to beat "The King". Could he nail down a perfect season?
In St. Louis, history unfolded. Lets let 1996 factory Kawasaki rider Jeff Emig tell us about it:
"First and foremost, that night was great.  As the riders even know today that the dirt in St Louis is one of the best of the whole series.  It's great for aggressive riding. I lined up on the gate next to Jeremy, on the outside. I normally lined up on the inside of him, I always tried to get the jump and just move over!"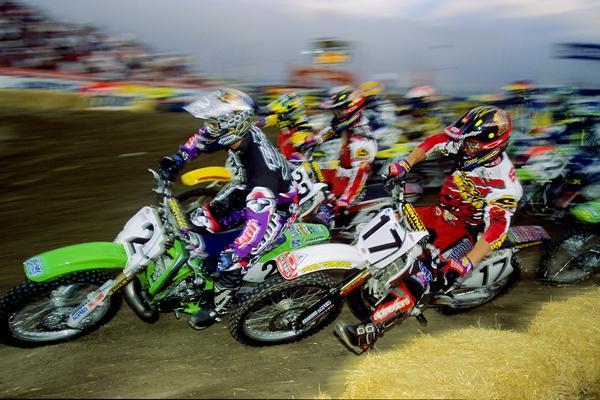 McGrath dominated the '96 series, but Emig had his moments of glory as well.
Emig continues, "I think coming into this race, I had shed the frustration of not winning a race. There were a couple of races this year that I handed to him, He (Jeremy) just never slipped up. I was focused and confident and I was very motivated for this race."
Emig shot out to the front on the number 2 Kawasaki KX250 with his good friend and fellow Kawasaki rider Phil Lawrence behind him. McGrath was fifth or so and was moving up rapidly. Mike LaRocco moved into second and then Lawrence went down about halfway through the race, setting up the battle.
"My plan was to ride fifteen laps at the same pace and those guys (LaRocco and McGrath) were pouring it on," said Emig. "The fans were so much behind me at this race as I was from the area and people wanted to see the underdog win."
LaRocco tried to make his move for the lead a few times but the St. Louis track was tricky as ruts started forming. McGrath was biding his time in third and snuck inside of LaRocco on the start straight. But before MC could focus on Emig, LaRocco stuffed McGrath a few turns later and the race was on between the three.
LaRocco kept charging and got by Emig at the end of the whoops, but Emig smartly cut inside and doubled back by. "At that point, I just tried to ride the same lines and I think LaRocco was getting frustrated. I was blocking every inside line that he tried."
The two riders made contact and LaRocco got squirrely, which allowed McGrath to get by and into second. Now the rider they called Fro had the man who had won the previous fourteen races breathing down his neck. This would become a true test.  "I had won one main event win before but there was a bit of an asterisk besides it because Jeremy didn't race that one-It was the night the lights went out in Las Vegas in 1995, and he didn't race."
McGrath's Honda was all over Emig's Kawasaki, and those two put on an epic run to the finish. McGrath tried everything and couldn't find a way by the hungry rising star.
"I remember that I had some breathing room on the last lap so that was good. When I got the checkers, it was a great feeling. There were lots of guys congratulating me afterwards as everyone knew how special it was to beat the guy (McGrath)" said Emig. "I'll be honest with you, it sucked to be one of the riders trying to stop his win streak because we just couldn't do it. He was so good."
It was the night that everyone there will always remember. McGraths's streak was stopped. There would be no perfect season by The King. Jeff Emig had done the impossible and won the 1996 St Louis Supercross on a Kawasaki KX250.
[If you want a first hand audio commentary from Emig on his St Louis 1996 win, click HERE and scroll down to find the race. Click play and the Pulpmx Classic Commentary will start as Jeff and I go down memory lane.]