AT&T Stadium
Arlington

,

TX
Arlington (Dallas)
Monster Energy AMA Supercross Championship
At this point, the only truly shocking thing that could happen in Monster Energy Supercross is to see a race where something shocking does not happen. The tour is riding about a ten week streak where something wild, crazy, dramatic and unexpected happens, repeated to the point where no one is even really surprised anymore.
This weekend over 51,000 fans came to Cowboys Stadium in Arlington, Texas to see the latest episode of the show. And it didn't dissapoint.
We'll run through our heat race and LCQ primer before getting into the mains.
Lites Heat 1: We nearly had another Blake Wharton/Ryan Sipes run in. Wharton grabbed the start but Sipes snuck up on him in the second turn. Wharton went down and Sipes grabbed the lead and took off, barely missing Wharton's downed bike. Malcolm Stewart went down right off the start, and then fell again, but still managed to come all the way back to make the main. Wharton recovered from his crash to sneak into the main as well.

Lites Heat 2: This one was stacked with Baggett, Barcia and Wilson. But Barcia and Wilson really only saw each other, as they ran it in on each other a bunch of times early while battling for second. After a few hard block passes, Barcia made a slick move around the outside of the sand to pass Wilson clean and get second. But he wasn't going to catch Baggett.


SX Heat 1: Another stacked one, with Villopoto, Reed and Dungey. Villopoto got the start, Reed passed Dungey for second and started closing on RV. Reed was flying—he made a big mistake, charged forward again, made another big mistake, then charged again and finally crashed back to fourth. Not a typical ride from Reed! Villopoto rode solid the whole time to get the win, while Dungey, who had a fall of his own, took second after riding past the downed Reed.

SX Heat 2: Trey Canard knifed underneath Ivan Tedesco off the start here and tried to get away, but that's not happening when James Stewart is out there. He picked off Tedesco and got to Canard, then made the pass—but Canard put up a good fight and held him back for a bit. Stewart looked super fast through the very difficult whoops, but he was definitely on the edge at times. But he held on over Canard and Tedesco.

Reed actually logged the fastest lap of the heat races with 49.449. Villopoto had a 49.640 and Stewart a 49.844.

Lites LCQ: Gannon Audette got tangled in Wharton's crash in the heat race. He started second here and took the lead when Les Smith crashed. Darryn Durham, another crash victim  in the heat, took second for the final transfer spot.

SX LCQ: Kevin Windham went down hard in his heat and had to race this one. He made short work of it, handily pulling away from Weston Peick, who took the final transfer spot.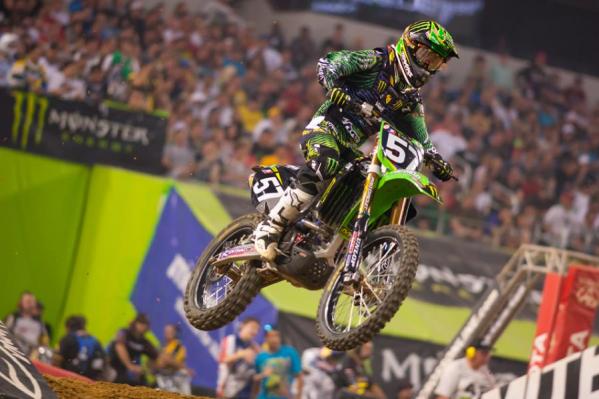 Blake Baggett looked strong on way to winning his heat race, but a bad start ruined any chance of contending in the Lites main.
Andrew Fredrickson photo
In the Lites class, GEICO Honda's Justin Barcia snagged the holeshot, but Ryan Sipes made the pass and started pulling away. Sipes looked to have the speed needed to win the race as he pulled away early, but the DNA Shred Stix Star Racing Yamaha rider made a big mistake in a rhythm lane, and Barcia closed back in. Barcia then knifed to the inside and pulled one of his patented hard block passes, and that seemed to take Sipes out of his rhythm. On the next lap, Sipes made a mistake and clipped a haybale in a corner, sending him down
Barcia had a solid lead at this point, but Monster Energy Pro Circuit Kawasaki's Dean Wilson was way too determined to just sit back and take second. Wilson slowly reeled Barcia in, and the duo engaged in another one of their patented block pass and brake check fests. The duo cut across the track in corners to slow each other down and cut each other off, and Barcia ended up back in the lead after a series of passes. With two laps to go, Wilson then pulled off a slick (and clean) pass on the inside before the whoops to get the lead. Barcia showed him a wheel a bunch of times but couldn't work a pass on the last lap. Wilson took the win, Barcia second and Blake Wharton third.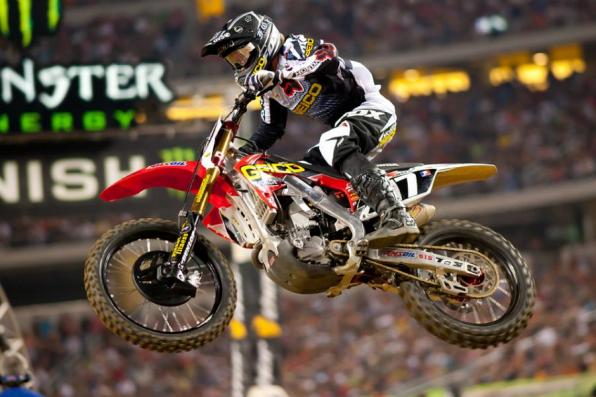 Barcia led late into the Lites main, but couldn't seal the deal.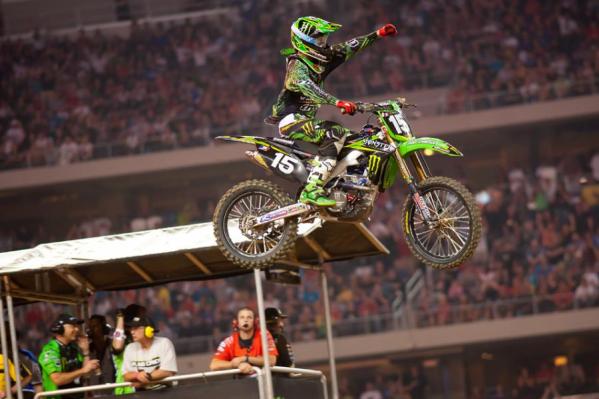 Wilson rallied and overcame Barcia to take his second-straight win.
Andrew Fredrickson photos
Great racing in the Lites class, but it got even better in the SX Class. Amazingly about the only position that didn't feature a wild, unpredictable struggle was the lead one. Mike Alessi grabbed the holeshot on his Red Bull KTM, but Trey Canard made quick work of him to get the lead and immediately start pulling away. The Honda man was pretty much the only rider to race 20 clean laps on a slick and technical track, and before long he had a five-second lead.

Behind him....chaos! Ryan Dungey passed Alessi for second but Alessi fought back, and when Dungey got held up, Chad Reed snuck by him and then Alessi for second. Then James Stewart passed Alessi and Dungey, got to third, then passed Reed for second. Reed fought back, stuck with Stewart and passed him back a few laps later. Stewart lost some ground, regrouped, and closed back on Reed when the TwoTwo Motorsports Bel-Ray Racing rider made a few mistakes.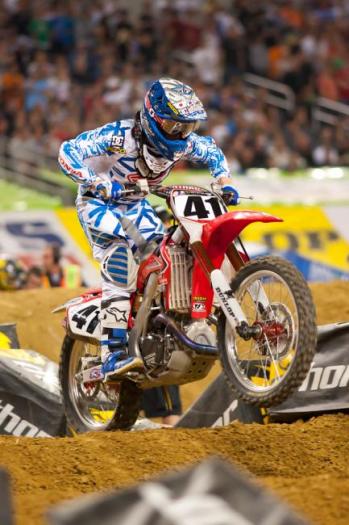 On a slick and technical track, Canard rode smoothly through all 20 laps.
Andrew Fredrickson photo
Stewart was back on Reed's wheel. He tried charging down the inside of a super-tough whoop section, but his feet came off the pegs while trying to maintain his speed. Stewart went flying out of control into the berm and took Reed down with him in spectacular fashion. Reed went flying over a berm and over the bars, while Stewart stayed on the track but went down. When Stewart got back up, his bike was smoking, but he was still in fourth, while Reed got back up in eighth, and then had to stop briefly to make sure his bike was in proper running order.
Once again, the season had created a dramatic moment. This put Dungey in second, with Stewart back to fourth and Reed in about tenth. Then Dungey crashed while lapping Michael Byrne, and Ryan Villopoto slipped past him to take second.

Although it was smoking, Stewart's bike kept running all the way to the end, and he finished fourth. Dungey made a late charge on Villopoto but couldn't get him, settling for third. Reed got up to seventh but crashed again on the last lap, ending up eighth. And no one could touch Canard, who sailed to his third win of the season, and second in the last three races.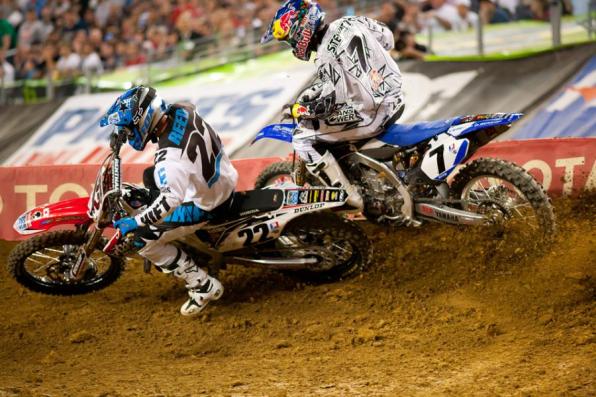 Reed put a hard pass on Stewart for second, Stewart would fight back even harder and send both to the ground.
Andrew Fredrickson photo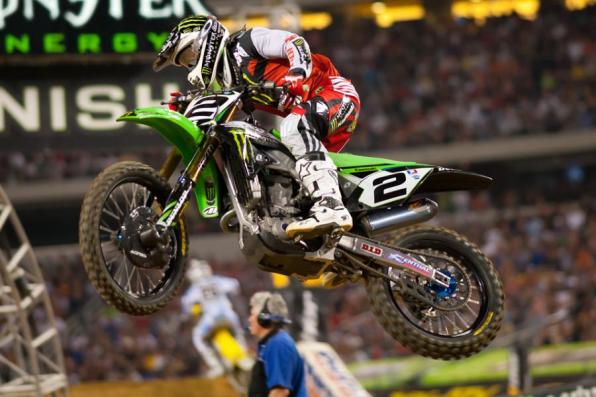 Villopoto said he was suffering from a mechanical problem and couldn't charge as hard as he wanted--but that paid off when his competition went down.
Andrew Fredrickson photo
Later, Villopoto revealed he was dealing with a mechanical problem (loose seat) and was happy to have salvaged second, and retake the points lead.
Check out the racing in the SX Class on CBS Sunday at noon EST, with Lites action on SPEED at 6 p.m.
SX Class

1. T. Canard
2.  R. Villopoto
3. R. Dungey,
4.  J. Stewart
5.  K. Windham
6. A. Short
7. T. Hahn
8. C. Reed
9. A Stroupe
10. M. Alessi
11. W. Peick
12. F. Iziord
13. C. Blose
14. M. Byrne
15. I. Tedesco
16. K. Regal
17. J. Brayton
18. N. Wey
19. C. Seely
20. D. Millsaps

Lites Class

1. D. Wilson
2. J. Barica
3. B. Wharton
4. M. Stewart
5. M. Lemoine
6. D. Durham
7. B. Baggett
8. G. Audette
9. A. Martin
10. T. Bright
11. H. Hewitt
12. J. Anderson
13. T. Futrell
14. L. Vincent
15. H. Clements
16. L. Kilbarger
17. R. sipes
18. A. Cantanzaro
19. J. Sipes
20. N. Myers
Supercross Class Season Standings
1.     Ryan Villopoto, Poulsbo, Wash., Kawasaki – 255
2.     Chad Reed, Tampa, Fla., Honda – 249
3.     Ryan Dungey, Belle Plaine, Minn., Suzuki – 248
4.     Trey Canard, Shawnee, Okla., Honda – 239
5.     James Stewart, Haines City, Fla., Yamaha – 234
6.     Andrew Short, Smithville, Texas, KTM – 174
7.     Kevin Windham, Centreville, Miss., Honda – 150
8.     Justin Brayton, Cornelius, N.C, Yamaha – 141
9.     Davi Millsaps, Carlsbad, Calif., Yamaha – 128
10.  Ivan Tedesco, Murrieta, Calif., Kawasaki – 114

Eastern Regional Supercross Lites Class Season Standings
1.     Justin Barcia, Ochlocknee, Ga., Honda – 160
2.     Dean Wilson, Menifee, Calif., Kawasaki – 147
3.     Ryan Sipes, Vine Grove, Ky., Yamaha – 119
4.     Blake Baggett, Grand Terrace, Calif., Kawasaki – 114
5.     Blake Wharton, Pilot Point, Texas, Honda – 109
6.     Matt Lemoine, Collinsville, Texas, Kawasaki – 96
7.     P.J. Larsen, Murrieta, Calif., KTM – 80
8.     Malcolm Stewart, Haines City, Fla., Suzuki – 73
9.     Alex Martin, Millville, Minn., Honda – 59
10.  Lance Vincent, Youngsville, La., Honda – 56