AT&T Stadium
Arlington

,

TX
Arlington (Dallas)
Monster Energy AMA Supercross Championship
10. Early Returns:
Are you going to get your tax returns filed by April 15th?
Kyle Regal
and
Tommy Hahn
are actually early, getting their returns dialed by this weekend. Regal is back from a broken wrist and Hahn from torn cartilage in his rib area. And both are based in Texas. Speaking of….
9. Home Cooking: The Dayton and Jacksonville races in Florida get lots of attention since so many top riders are based in the Sunshine State. Be there are plenty of Lone Star stars as well. Regal and Hahn, for example, as well as Andrew Short, Blake Wharton, Matt Lemoine, Hunter Hewitt and others. Texas has become prime ground to set up shop and get to work.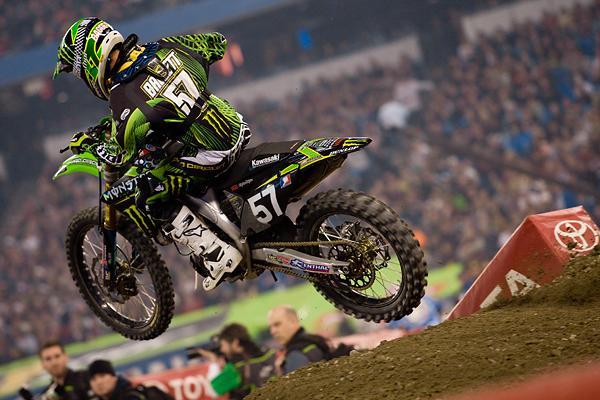 Can Baggett rebound at the site of his first career win?
Photo: Matt Pavelek
8. Record Crowd? With so much drama and excitement going on in this series, fans should be flocking from far and wide. And no matter how many show up, there will be room in Jerry Land, the billion-dollar home of the Dallas Cowboys. They can fit 100,000 in there if they use the standing room only section—and why not? The fans will be standing and cheering anyway!
7. Baggett Back on Track: Monster Energy Pro Circuit Kawasaki's Dean Wilson has his season back on track after taking a second and first in the last two races. Blake Baggett hasn't been so fortunate, with a DNQ and a sixth in the last two. Baggett won here last year.
6. Sipes' Revenge: But Baggett only got the lead last year when Ryan Sipes got held up with a lapped rider while running in first. Baggett was keeping the heat on, but Sipes definitely has to feel like this one got away. Then there was last week's race in Toronto, where Blake Wharton punted Sipes out of the top spot. Expect Sipes to be fast in practice (as usual) and railing in the races.
5. RV on Offense: Ryan Villopoto led the standings for nearly two months, but now he's back to second, three points behind Chad Reed. No doubt, this series is a game of chance, and just as soon as the good luck breaks for one rider it gets bad for someone else. The last two races have been RV's turn. He didn't get that points lead by accident (or by gift). He's been fast and strong ever since he started the season with a win in Anaheim. If it comes down to pure racing instead of crazy drama and bad circumstances, RV2—just three points down--may still be the best title candidate.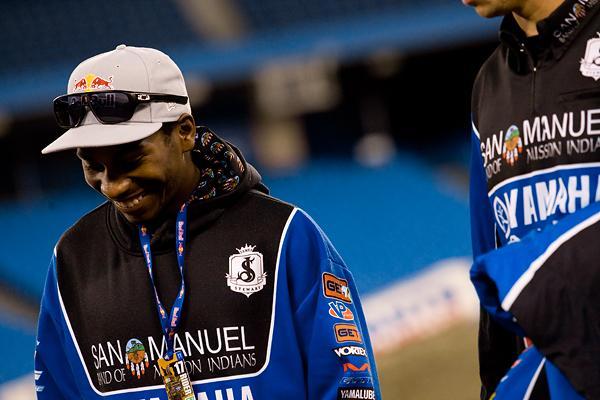 How will Stewart be received this weekend?
Photo: Matt Pavelek
4. Reed's Needs: Yeah, Chad Reed has made up a mountain of points in the last two weeks, but he's still not happy. Since he owns his own team, Chad isn't paying himself huge bonuses for podium finishes. If he wants the dough, he's must win three races, at which time a big insurance policy bonus kicks in. He saw the leader at the last two races but couldn't get it done. Can he do it this time?
3. Stewart's Reception: James is definitely racing this weekend, but you have to think there will be some uncomfortable moments as he deals with this week's incident in his first public appearance since (and if you haven't heard about it, that rock over your head must be really heavy). We'll see if he can shrug it off and focus on 20 clean laps in the main. It's been awhile, but in this crazy season, he's not out of the title chase yet.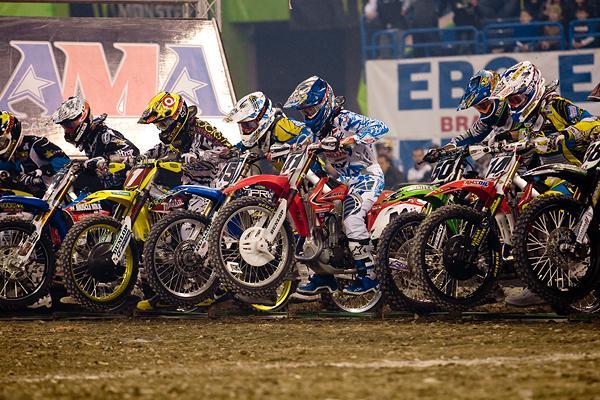 The start is more important than every with the championship coming to a close.
Photo: Matt Pavelek
2. The Start: All of this year's drama and hype has clouded the most important factor at the races—the starts. It's still the biggest game-changer of all. Ryan Dungey started behind Trey Canard and Chad Reed in Jacksonville and finished behind them. He started in front of them in Toronto and finished in front of them. This field is so close that often the first 100 feet is all it takes to turn a rough season into an amazing one.
1. The Season: We have five riders within 22 points. What else do you need to know?