Arlington, TX
Arlington (Dallas)
Monster Energy AMA Supercross Championship
What a series we have going on this year, there isn't any way possible this thing can get any better, can it? There's only one thing that the folks at Feld could possibly do to make this series any better and I think we can all agree on what it would take.
Take it to Canada!
That's right, it was time to put the "an FIM World Championship" part into play as the series headed north to Toronto to truly make this series an international one. I'm sure most of you reading this know that I'm Canadian and even though I'm not from Toronto, this round still gets me excited to return to the motherland.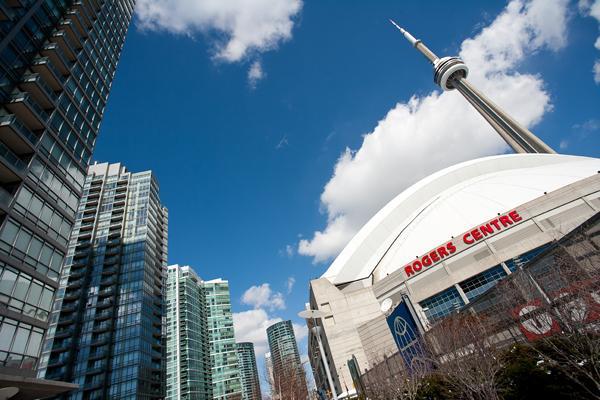 Matthes returned to the motherland this weekend.
Photo: Andrew Fredrickson
And you know what? I think the fans are getting more and more excited about this race as well. Before Feld was involved, any sort of motorsports held in the Rogers Centre (formally named the way cooler "Skydome") didn't attract flies, and when the World Supercross series started coming in early December, the crowd wasn't that big either but now, in the sixth year of coming to Toronto, the attendance was great, the upper decks had some people in them and all in all, over 45,000 SX-mad Canadians came out.
The track used to be not very good as the dirt was wet and soupy and would literally melt on the floor, but I kind of liked that because it made the riders look more human as they struggled a bit. But for the safety of the riders and the "show" the dirt problem was figured out. Over the last two years, it's been great. The track design, I thought, was pretty good with some options out there. One thing I was bummed about was that while one of my favorite obstacles was in (the off-camber on/off corner), the inside line was far slower than the outside, so it became a one lined section.
The track was rocky though! Andrew Short wore a chest protector because of the projectile factor, the riders were looking for foam under protectors and there were plenty of bikes with handguards mounted up. It seemed to be rockier than last year but I know that's not possible.
Ryan Dungey really, really needed a win bad. He's been up and down, some weeks looking like he's right there on the verge of winning (Houston for example) and other weeks looking he's the fifth best rider. It speaks to the quality of the racing that the defending champion had gone winless this season but yet, there wasn't anyone saying he wasn't going fast. He just wasn't going fast enough.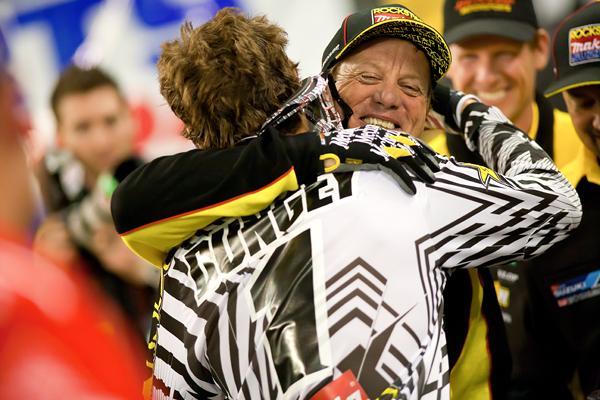 Dungey got a much needed win in Toronto.
Photo: Andrew Fredrickson
In Toronto he grabbed the lead early and rode a great race to win the main event and close to within eight points of the championship lead. It was a great ride by Dungey and although you won't get it out of him, I'm sure he was getting very frustrated by his lack of wins. He also had an in incredible save about half-way through the main as detailed in his Racer X Monday Conversation.
Points leader Ryan Villopoto has now had two disastrous races in a row. As quick as he was handed the Atlanta SX win and then inherited Daytona when James Stewart went down, his luck has gone south in an equally dramatic fashion. A DNQ last weekend was not good and neither was a collision with Stewart early in the race knocking them both down. After a stop in the mechanics area to get fixed up, RV started out from the back and salvaged a ninth.
As far as the collision, I think it was a racing incident and Stewie wasn't to blame. RV cut down from the outside of the berm and probably had no idea James was there. Stewie was coming in hot to get underneath RV and make the pass on the inside. James may have had some high-profile collisions before, but none of those moves were known as on-purpose take outs. He isn't a dirty rider, he doesn't do things like this on purpose and I think RV slicing under surprised both guys and down they went. This was nuts, but then the season got somehow even nuttier than it already was!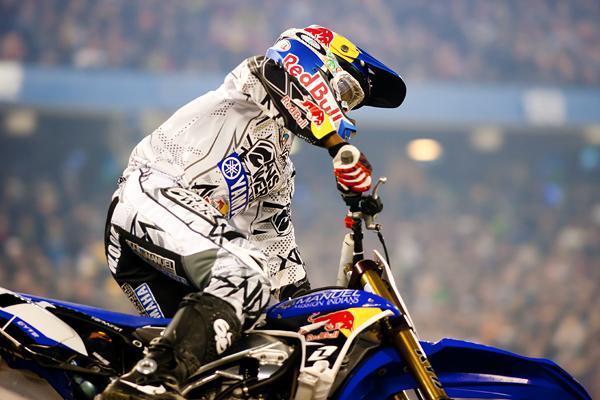 Stewart salvaged fourth after a collision with RV.
Photo: Andrew Fredrickson
As I was writing this, Stewart was arrested for impersonating a police officer when he activated some red and blue lights in his pick-up while driving to the airport. The biggest problem with that was James and his buddy Raddo pulled this trick to some off-duty officers and they called in some on-duty officers who arrested Stewie and Raddo at the Orlando airport. The season that has gone so wrong for so many reasons just got a whole lot worse for Stewart.
His fourth in Toronto seemed to be, again, not what he should have gotten (after being the fastest guy in practice) but that pales in comparison to what's coming up for the superstar of the sport. According to some smart people I spoke to, James should be allowed to travel to Dallas for this weekend while out on bail and the charge will likely result in a fine and probation for Stewie. It was a dumb idea, no doubt about it and we'll know more soon I hope.
This year has really tested Stewie's fortitude, no doubt about it and right now, I imagine he doesn't need yet another distraction in his quest for the title but now he's got a really big one.
If I had gone to Vegas and bet money that Chad Reed would be in the points lead after twelve rounds of supercross, I'd be a rich man right now. But that's exactly where he is with five rounds left. Yeah he's only won one race but his consistency is exactly what he's been known for and by golly, he's doing it again.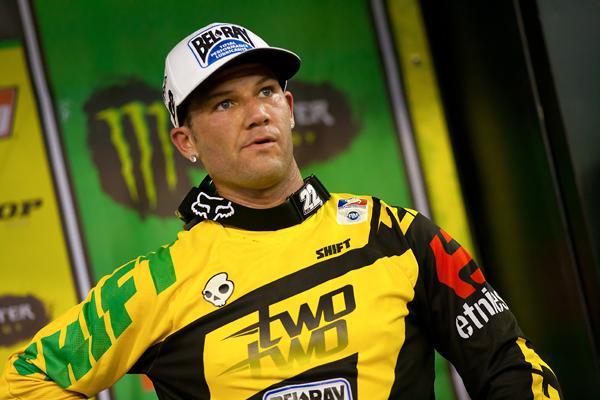 The new points leader.
Photo: Andrew Fredrickson
His second place in Toronto was well deserved; he inched away from Trey Canard and got up on Dungey's rear fender. I was thinking we were in for another wham bam thank you ma'am moment (ala Atlanta) but he made some mistakes, Dungey picked it up and Reed never got a shot to make something happen. Between the Atlanta, Jacksonville and now Toronto, I know that Chad feels he's left some wins on the table and as he explained on the Pulpmx Show, he needs to win three races to collect on some serious coin.
Reedy's a veteran and he's set himself up pretty good for this stretch run right now and no matter how this thing ends, he's playing with house money at this point. 2011 has been very good for Reed
In the 250 race Dean Wilson won in front of his, errrr, hometown crowd (and let's not forget his superstar mechanic Paul Perebijnos once thrilled Canadian moto fans with his skills on the Canadian motocross circuit). The Scottish-born, Canadian-raised, American-living wee lad needed this win to try and keep Justin Barcia in sight for the title and he got it. Riding what looked to me like a flawless race, the number 15 (sigh) got the win, and with him going 2-1 in the last two races, I'd say his mini-slump is over. There was only one piece of bad news on this night for Wilson and that is the fact his rival for this title finished second and therefore Dean's chink into Barcia's armor was only a lonely three points.
Barica has been smart this series. He went down in Atlanta and hurt his wrist, so he's been in conservative mode at the races and apparently, he's not riding much, if at all, during the week. Remember last year Bam-Bam came out with guns blazing and caused so much chaos out on the track during races and practices that Honda boss Erik Kehoe had to pull him aside for a little talk about reducing that chip on his shoulder by about fifty percent. Well that Barcia is sort of gone, he's still got a chip and can still dish it out but to me, whether it's his wrist or his rustiness from not riding, he seems more in control.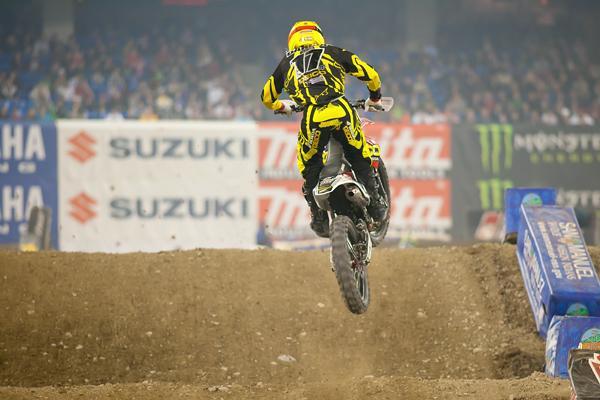 Barcia is still in control of the championship after a second in Toronto.
Photo: Andrew Fredrickson
If the win is there, he'll take it, but like at Indy when he was all over Ryan Sipes for first. There were a couple of spots where he could've taken a shot and maybe the old Bam-Bam would have, but in 2011, he lays up and takes the second. I've been impressed by his control this year and if it all goes to plan, he'll end up with his first championship in Las Vegas.
By all accounts Ryan Sipes should have won Toronto. There has been only one race this year that the Kentucky Kid did not record the fastest practice time and Toronto was not it. Sipes was blazing fast all day and looking to get that second career win. He made a hella-sweet pass on Blake Wharton and Barcia to get into the lead but two corners later, it all went BLAMO in his face when Wharton put him onto the pavement.
Blake said on the podium that it was payback for Houston where he felt (as did I) that Sipes move there was a little dirty. So Blake got him back pretty good and I'll be dammed that if it didn't ruin Sipes' night. He got up about four turns from being lapped, but charged through the pack to end up with a fifth place on the night. Upon checking the lap times, I was surprised to see that Sipes did not have the fastest lap of the night but what he did have was a bunch of very consistent ones.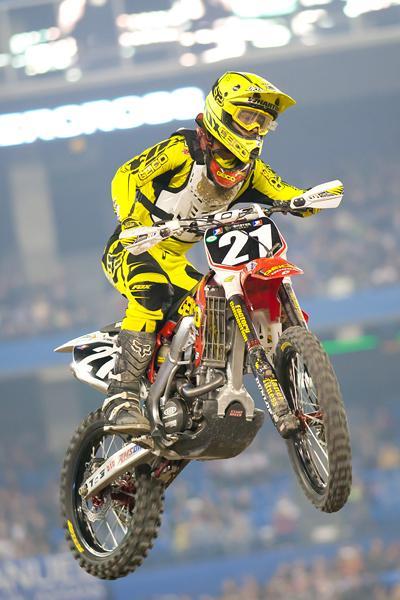 Wharton scored his first podium of the year in Toronto.
Photo: Andrew Fredrickson
Let's take a look at the results shall we?
AMA Supercross Lites Class East:
1. Dean Wilson Kaw
2. Justin Barcia Hon
3. Blake Wharton Hon- Blake does end up on the podium but we're all hearing he has a serious shoulder injury. This could be it for Wharton for a while.
4. PJ Larsen KTM- PJ has a great race in the dome for his second straight top five finish.
5. Ryan Sipes Yam
6. Blake Baggett Kaw- Oh man, that sure went downhill fast huh? From dominating Daytona to now a DNQ and 6th in the next two races pushes Blake down in the points even further. Ping said that after Wilson's little slump, Mitch Payton had a nice talk with Dean and looked what happened since then. Maybe Blake gets pulled into the office this week. If so, look for another win at Dallas this weekend for the BB Gun. He won there last year
7. Gannon Audette Yam
8. Hunter Hewitt Suz- I feel like I see Hewitt up front way more than his actual results say he's been up front. So a top ten as a semi-privateer is a pretty good finish.
9. Darryn Durham Hon- Durham was up there before going over a berm and getting stuck for a bit.
10. Matt Lemoine Kaw- Lemoine went down late in the race otherwise he would have been better.
11. Justin Sipes Kaw- Yeah Pooh gets an 11th!
12. Les Smith Hon- It's always a battle with Les Smith, Alex Martin and Lance Vincent to see who does the best with the least. There are four points separating the three Honda riders and in Canada, it was Les with the win!
13. AJ Catanzaro Hon
14. Alex Martin Hon- Martin's footpegs are just these massive bear traps that look like they could trap an Ewok. Yep, I said it.
15. Lance Vincent Hon
16. Ricky Renner KTM
17. Taylor Futrell Hon
18. Bradley Ripple Hon
19. Malcolm Stewart Suz- Oh no, Mookie! Malcolm was in third when he mistimed a triple and didn't case it. He faced it. Mookie has the skill for sure but last couple of weeks, he's crashed out. My Mookie fever is right around a 100 right now, down from a 139 a few weeks ago.
20. Jason Anderson Suz- I didn't see what happened to Anderson but ever since his teammate Ian Trettel got seriously hurt at Daytona, his results have plummeted. Can't say I blame him either.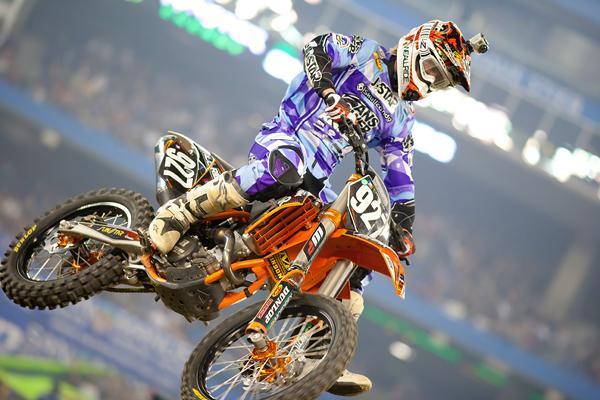 Larsen had his best finish of the season at Toronto.
Photo: Andrew Fredrickson
AMA Supercross Class:
1. Ryan Dungey Suz- What a story if he could win this championship!
2. Chad Reed Hon- What a story if he could win this championship!
3. Trey Canard Hon- What a story if he could win this championship!
4. James Stewart Yam- What a story if he could win this championship!
5. Justin Brayton Yam- After his DNQ last weekend, JB needed a good finish and he got it with another fifth place. Great ride for Justin he really looked…awww crap, I barely noticed him out there. I suck, I'm a terrible person.
6. Nick Wey Yam- Wey got his best finish of the year and let me just say the people that said they didn't like the Canadian SX champion PR last week can suck it. That was funny.
7. Andrew Short KTM- Wow, Shorty almost had a really poopy night. His bike had a fuel related problem (as in it wasn't getting any) and he DNF'd the heat race. So he had a bad gate pick for the LCQ. The #29 came out with a good ride and then in the main got a solid seventh. Walking on the razors edge!
8. Kevin Windham Hon
9. Ryan Villopoto Kaw- What a story if he could win this…you get my point right?
10. Cole Seely Hon- Hey a top ten for Seely and Brayton got fifth so Rich Alexander probably was the happiest guy in Toronto on Saturday night.
11. Davi Millsaps Yam- Millsaps tangled with Tedesco on the start straight but I'm not sure if that's the reason for Davi's finish or not to be honest.
12. Weston Peick Yam- Weston pulled the holeshot in the heat and even led for a little bit. He was so inspired, he went out and got his best finish of the year.
13. Fabien Izoird Kaw- Somehow, incredibly Izoird pulled the holeshot in the main event from the far outside. He was out so far, I think he was actually inside a Tim Hortons when the gate dropped.
14. Michael Byrne Suz- Byrne was not a happy camper after the main.
15. Tye Simmonds KTM- Simmonds got together with Matt Boni and those two had words after the race. They are big dudes, it looked like Godzilla and Mothra going at it.
16. Matt Boni Kaw- Matt claims that Simmonds brake checked him down the start straight after Boni slammed him and made a pass.
17. Chris Blose Kaw- Tough night for the H&H guys, Blose is riding with two jacked up ankles and wrists now. Five more…
18. Ivan Tedesco Kaw- Tedesco went down hard once again and he's had plenty of speed the last little while but it's been crashes for IT9 and now, he may have hurt his knee.
19. Austin Stroupe Yam
20. Mike Alessi KTM
These last two jokers cut the track off the start and Stroupe at least held up and looked around, Alessi just took off! It was pretty funny and I can't blame them for it, the way the turn was made it so. So anyways both guys got docked a lap but it didn't really matter as the motor let go in Alessi's KTM and Stroupe crashed and hurt his man-parts so in a way the moto gods showed their displeasure with the antics.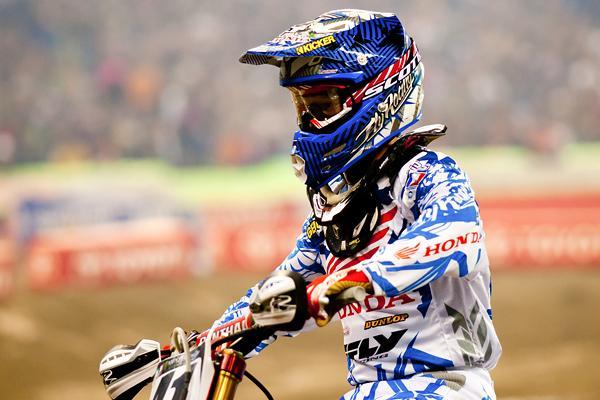 Thanks to Matthes, Canard was ready for the main event.
Photo: Andrew Fredrickson
Funny moment before the night show, I was in the Honda truck talking to the guys when Trey Canard needed his helmet liner put in and he gave it to his mom Kari. She didn't quite know which way it went so I volunteered to help out but then I wasn't able to quite get it either! Eventually I figured it out but I kept watching the 41 to see if a piece of liner flew out at some point.
Good to see some of the industry come out for the Friday night pre-race party at the Loose Moose bar and restaurant right down the street from the dome. It was also cool that the whole TwoTwo team came down from the restaurant to the bar to hang out for a little while including Reed.
I stocked up on all things Canadian while I was up there. Just got some delicious treats that you Americans don't know about. Things like Hawkins Cheesies, Ketchup chips and Crunchie chocolate bars which are all Canadian food staples. I am also proud of myself for not visiting a Tim Hortons while I was up there.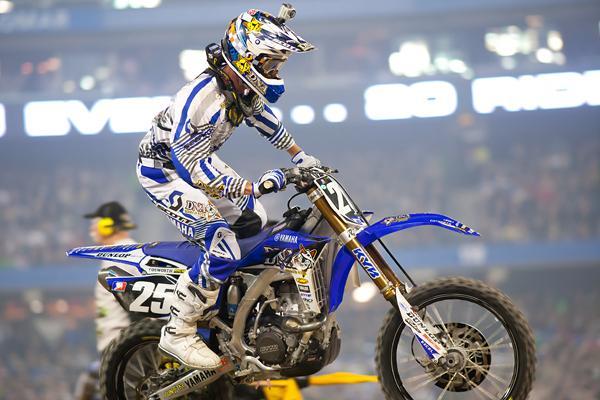 Sipes sliced through the pack en route to a fifth place finish.
Photo: Andrew Fredrickson
I don't know if you guys have noticed but I've stopped awarding the best dressed rider each and every weekend. I did this for a couple of reasons and one is that the guys have mostly stuck to the same colorways that we've been seeing and I'm not just going to frivolously award something as prestigious as my award and the other reason is that too many gear guys were on my case. I got some people telling me they understand my choice because gear brand "X" advertises a lot or that gear guy "Y" was bros with DC. In truth, Davey's never asked me to award anyone anything (I highly doubt he even knows I'm back with RXI, he's so busy) and I don't want to catch any more flack so unless something really blows my wig back (ala Fox retro stuff), I'm done with my dumb award.
Thanks for reading, see you this weekend in Dallas and email me with all of your praises at steve@pulpmx.com