Rogers Centre
Toronto

,

Canada
Toronto
Monster Energy AMA Supercross Championship
You don't get to be a supercross champion by just sitting around and being happy to not get wins on Saturday nights. Rockstar/Makita Suzuki's Ryan Dungey has been plenty fast enough at times to win main events but it wasn't happening for the friendly guy from Minnesota until this past weekend in Toronto. Dungey grabbed the lead early on and rode an almost (as you'll read here in a bit) flawless twenty laps to win his first race of the year. Perhaps Dungey is peaking at the right time with only five races left and only eight points out of the lead.  I spoke to Dungey on Monday afternoon to get his take on the race.
Racer X: Ryan thanks for calling and great ride on Saturday night, it's got to be a big relief for you to finally get one?
Ryan Dungey: Yeah, it definitely is coming this far into the season and getting that first one is great for myself and the team as well. Now we have that one scratched off. Being twelve races in is tough, it's been a challenging season for us but we've been working hard, trying to put in our time and no matter what keep progressing forward in all situations. I'm very excited and pumped on the whole night.
Do you feel like you've been riding as well as last year, to me you haven't been getting the starts like last year, but is there something else?
Yeah, I definitely feel as good if not better than last year. Like I said, this year has brought more challenges for us but that's a good opportunity as well. I have been lacking in my starts this year and those are obviously important, putting yourself in a good position to win and not having to fight through a pack of riders. Getting off to a good start and putting in good laps so that you can win is important and we've been trying to put ourselves in that spot.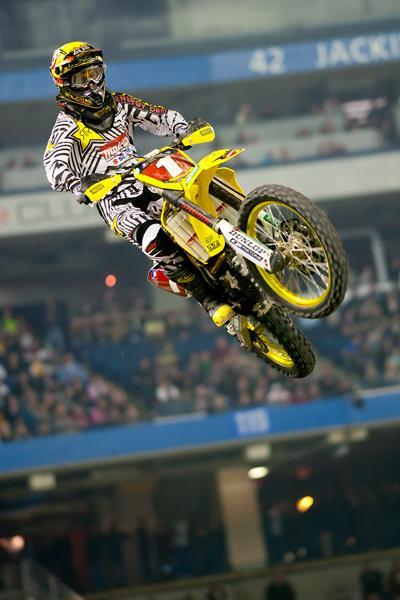 Dungey finally got the monkey off his back in Toronto.
Photo: Andrew Fredrickson
You've got media guys like myself wondering if you can win, the fans are talking about why you haven't won but does any of that chatter get to you and cause you to feel any more pressure than usual? Just the fact you didn't have a win yet…
I think going into the year, we were trying as hard as always. You have to remember the goal --and that is the championship at the end of the year, that's always been the goal. Although we didn't win any right off the bat, there were some good rides in there. I didn't go back during the week and run myself into the ground and get tired. I would go back and work on areas that I thought I could improve on though. I didn't really care what people thought. We are doing our deal and being consistent throughout the season.
Throwing that chain at Anaheim 2 was a tough deal to take for sure, but like a lot of things in life, you get tested and it's how you handle those things and how you bounce back is the measure. What's done is done and you can't go back and change anything. You have to keep looking forward in the right direction. It was a bummer that it (winning) didn't happen earlier but we got one and now we have to keep trying to win some more races.
Would you say that Jacksonville was the lowest point of the season for you and now it's funny that you win the very next week?
Jacksonville wasn't that bad, I was happy on the night. Third place is ok and at the end of that race we took away the fact that we were healthy. There was some stuff going on that was crazy in the supercross class. So just being able to race the next weekend was good. I was more bummed that I made a few mistakes and I lost some time. It was what it was but it didn't knock me down at all. We found some areas that we could improve on this week and it ended up working out pretty good in the end. Just need to say thanks to my team and it was nice to do that for them.
I just thought on the podium at Jacksonville, you seemed bummed out, but let's talk about your race in Toronto, were you marking Reed out there?
Yeah, once I got into first, I saw Chad right there and he quickly moved into second. I really just tried to focus on my race and I found myself in that position that I've been wanting to be in. I just tried to ride my own race and maintain that little lead I did have. I had some close calls, got into lappers and made some mistakes on my own but thankfully nothing major and it worked out in the end. We came away with the win.
The track was chewed up, one of the toughest ones of the season. Throughout the night we made changes on the bike, even going into the main. The track kept changing, getting very slippery throughout the night. I think we made some good changes on the bike and it worked out in the end.
Yeah, Reed told me the whoops were getting very scary.
And you know when he's saying that, they were gnarly. They must have been because usually he's one of the better guys through them.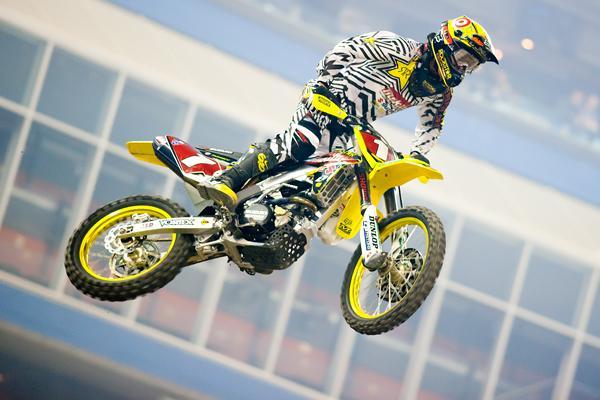 Dungey is still very much in the title hunt after Toronto.
Photo: Andrew Fredrickson
I don't think the SPEED cameras caught it but you had an incredible save out there where you were in-between the rhythm lanes and seat bounced your way back onto the section and downsided a jump. Do you remember that?
It got a little hairy there! I was going up the face of the triple and lost my rear for a second there right at the very top of the jump. Lucky it didn't catch anything but it stepped out on me and when it hooked back up it shot me to the left. I landed on the downside of the jump but on the outside of the tuff blocks! Then there was more tuff blocks there and I was stuck in-between the lanes, so then I thought "How am I going to get back on the track?" but the next jump was actually going all the way across to the other lane. So I hit that in the middle, jumped over the blocks and downsided the next jump.
That's what I meant -- the track was crazy. Once you thought you had it, you would lose your rear end or something. You really had to focus on the track.
Good job on the win and I think the guy that was happier than you was your team manager Mike Webb. I saw him at the end of the night and he was very happy!
(Laughs) That's good, being a new team manager it's good to win for him. We were all happy on the night and we look forward to what's coming ahead.
I know you're a Minnesota guy but with you living in Florida, were you as miserable as some of the other riders I spoke to in regards to the weather?
I know I'm from Minnesota but people forget that I have lived in Florida for four years and it's hot down there. It wasn't too bad, it was cold and chilly but I like four seasons. I don't mind being in the cold here and there. It didn't really bother me.