AT&T Stadium
Arlington

,

TX
Arlington (Dallas)
Monster Energy AMA Supercross Championship
In bench racing circles, the 1980's hold a special place. This was the super training era, and the list of riders who could realistically win each weekend was staggering—Hannah, Johnson, Bailey, O'Mara, Lechien, Ward, Glover, Barnett, Hansen, Howerton and on. It was impossible to accurately predict who would win races, and the results bear this out. The 1982 AMA SX title was decided by 16 points, and the 1983 title by two. In 1985, the top five riders (Ward, Glover, Lechien, Johnson and O'Mara) finished within 22 points of each other. In the 28 races held in 1984 and 1985, only twice did a rider put together a win streak of any kind. Yes, only two win streaks of any length in a two-year span--Bailey won back-to-back in Foxboro, Massachusetts and Sacramento, California in '84 and Lechien won on back-to-back nights in Seattle in '85. That was it! No one else even won two in a row at any point over the course of two seasons!
Old timers refer to the 1970s as the golden age. Back then, every kid had a minicycle in the garage, Bob Hannah lit the sport on fire, and everything was less costly, less serious and more fun. Good times mixed with nostalgia. And today's setup is pretty good, too, with way more fans, media, attention and rewards than back in the day. Each era has good points and bad, but for sure, the mid-80's hold high water mark for parity, and each year before Anaheim 1, some old-school guy makes sure to remind us.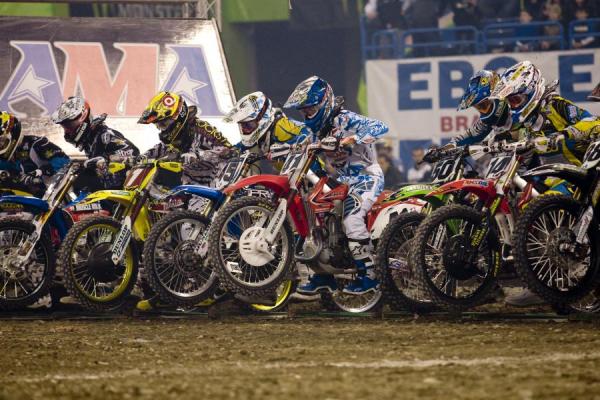 Will 2011 go down as the best season ever?
Photo: Matt Pavelek
I'm always intrigued by how fluid those 1980s seasons were. On one weekend, a rider would blow everyone away, but the next week, someone else would turn the tables and beat him. It changed every week, and you could never exactly pin down who was faster or better, because each week seemed to start a completely new season.
We've had years that matched the1980s for depth. We've had years with points races that were just as close, and we've had years with more off-track drama. But what we haven't seen, in 25 years, is a series this dynamic. This 2011 Monster Energy Supercross Championship has reached that point.
Look at the last few weeks as a reference. Chad Reed was faster than Ryan Dungey in Atlanta. But Dungey was clearly faster than Reed in Indy, where he caught him, crashed, then caught him again. But then Dungey wasn't faster than Reed last week in Jacksonville, in fact, when Dungey lost the pace of Reed and Trey Canard, many declared his championship hopes dead and buried. Now, one week later, Dungey turns the tables on Canard and Reed and beats them both in Toronto the exact same way they beat him in Jacksonville! By the way, Canard caught and passed Dungey twice in the heat race, but Dungey was better in the main. Amazing.
Each time you think you finally have this season figured out, it changes as soon as you can say "next week." Two weeks ago Ryan Villopoto was in control, now he's not even in the points lead. It was clearly not Chad Reed's championship when he was digging his head out of the sand on the first lap in Los Angeles. Now he is in the points lead. And a few days ago, no one thought this could be Dungey's year, either, until he won in Toronto, and look at that, he's down just eight points despite losing at least fifteen in Anaheim with a derailed chain.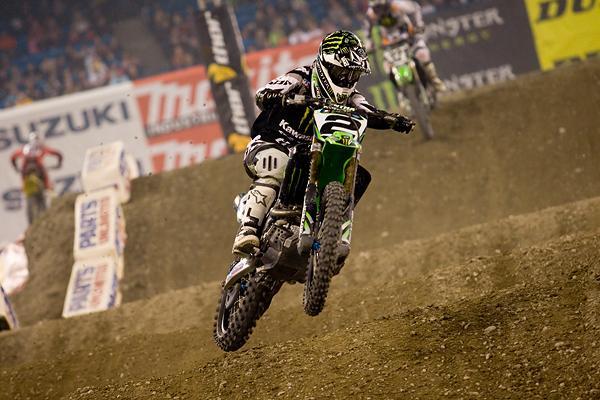 Just a few weeks ago, RV looked to have a stronghold on the championship.
Photo: Matt Pavelek
"No," you say. "You can't say 'What if' to Dungey's bad luck in Anaheim, because it has only been neutralized by Villopoto's bad luck in not making the main in Jacksonville." Fair point, but at least Dungey only lost huge points from a mechanical problem that was no fault of his own. But you could easily counter argue that by saying Villopoto and Stewart only lost huge points in Jacksonville through first lap crashes that were not their fault—their only error there was getting a bad start. Following that, Canard has admitted blame for running into Dungey's chain while they were fighting through the pack—so if Dungey hadn't gotten such a bad start in Anaheim, Canard wouldn't have hit him, just like Villopoto and Stewart wouldn't have lost points if they hadn't gotten terrible starts in Jacksonville, so maybe we're all even in the luck category. Just keep playing this game. Run through the scenarios and the evidence and the proof and we'll still be here for weeks just going around in circles. It's become impossible to determine who is the favorite, who is the best, who is the luckiest or who will ultimately win this championship.
Things might have been just as exciting 25 years ago, but not enough people cared. In 2011, we have a lot more fans to eat up all of this excitement—yeah, yeah, Anaheim drew like 70,000 back in the 1980s, but I think about 800 people showed up to see Mark Barnett win the 1983 Kansas City supercross. Back then, you'd have been hoping for a crowd as big as we saw this year in Jacksonville.
So combine all of this excitement and all of this conjecture and attention, and only one thing is for sure: this is the best supercross season ever. Sweet!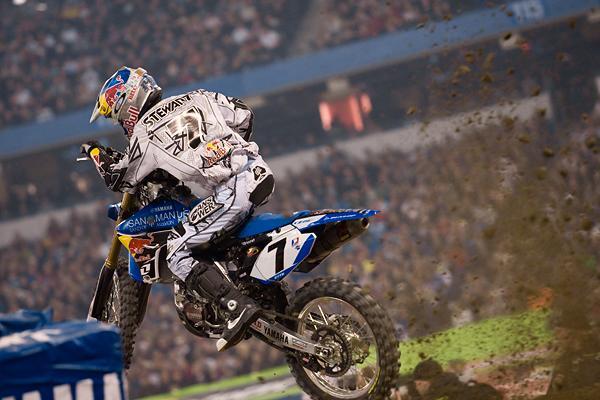 Stewart is in major need of a vicotry.
Photo: Matt Pavelek
Let's throw out some more ways in which this series is nuts. Over the last two weekends, James Stewart has taken an eighteenth and a fourth, and each time he has inched three points closer to the points lead! Chad Reed is pumped on taking over the points lead, but he'll really only get paid if he gets three wins on the season (he's got an insurance policy that pays him big if he bags three Ws). So despite gaining a staggering 32 points in the standings over the last two weeks, he's also bummed about leaving a big chunk of change on the table with two-straight runner-up finishes.
This season is like a fictitious bench-racing session unfolding right before out eyes. It's very hard to compare riders from one generation to another, except in this case it's happening right now! You've got two superstars who can still go—Stewart and Reed—matched up against the two next-gen stars in Villopoto and Dungey. And better yet, all four believe they can win, because Stewart and Reed went out last year, allowing the Ryans to build the confidence necessary to challenge two of the greatest riders to ever get on a supercross track.
Reed and Dungey represent the role of the consistent guy, making sure to never throw away huge points, but lacking either the pure speed—or the risk versus reward equation—to go after piles of wins. Besides losing his chain in Anaheim, Dungey has finished in the top five of every race (and he was running fifth when he lost the chain). Reed's worst finish is a mere seventh, while RV has a DNQ, Stewart an eighteenth.  No wonder the gap is so close between Reed and Dungey. It's like they're basically the same guy from two different generations colliding at the same time.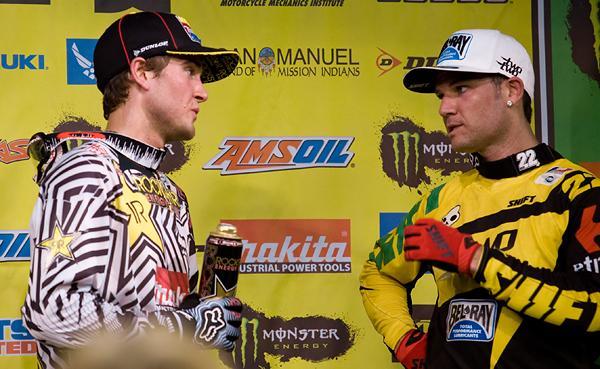 Dungey and Reed have had very similar seasons.
Photo: Matt Pavelek
Stewart and Villopoto, meanwhile, are the fast guys. I look at it like this: if Stewart and Villopoto start one-two in a race and don't crash, one of them is going to win the race. Put any other name into that equation instead, and I'm not sure. No wonder the gap is so close between Villopoto and Stewart. It's like they're basically the same guy from two different generations colliding at the same time.
Oh wait, they are actually colliding! After all of this, it would no longer be shocking if four guys get stuck in Canada with passport problems and Canard rips off a win in Dallas and gets the points lead. Or maybe one of the top riders gets arrested…. At this point, the series has reached what ESPN sportswriter Bill Simmons has called "The Mike Tyson Zone," in which if you heard any sort of story about it, you would probably find it believable.
Unfortunately, all of this unpredictability makes pundits like myself look dumb. We can vilify Dungey for taking third in a critical race last week, but then he goes out and wins in Toronto. Two weeks ago on the Racer X Podcast, I said Dungey will win a race this year. Then last week I downgraded it to a no. Look at me now!
My accuracy is probably made worse if I'm not actually at the races. And, um, I didn't go to Toronto this weekend. Remember what I said about passport problems above? Well, I ran into those. And not even in a cool way like, "I beat up some dudes up and I'm a fugitive from justice." Much lamer than that. See, I was moving into a new house over the winter, and when I told the movers to  "take only what was in boxes" they just decided to ignore that and grab everything including the briefcase with my passport and a whole bunch of other paperwork that would have come in really handy when buying a new house. And I should add that these dudes also straight-up lost my TV in the move. Lost it. Just gone. Then they shrugged their shoulders, told me I should have purchased insurance, and took off. The battle isn't over, but for now I'll just tell you to never work with Frontier Van Lines in Pittsburgh.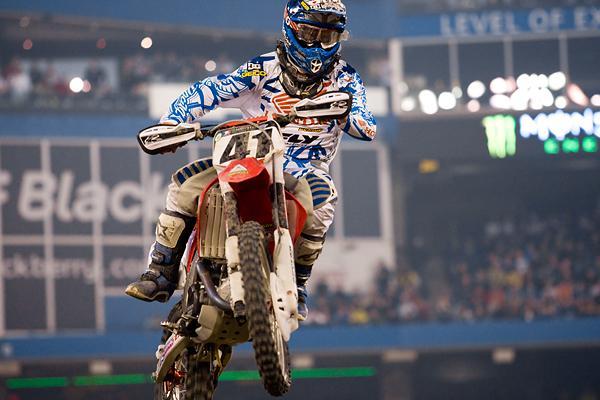 Canard is still fighting to become the second consecutive rookie champion.
Photo: Matt Pavelek
Anyway my passport was about to expire, but since I couldn't actually get access to it I couldn't renew it and suddenly Matthes had to cover the Toronto race for Racer X by himself. It was in Canada, so I had faith in him. Meanwhile I've already booked flights to the remaining rounds. See you at the races!
I figured I would be fine by just watching everything on Twitter and then making some calls and watching the race on TV. But lo and behold on Saturday, Twitter broke down to a battle between Steve Cox and Dan Dunes on how lame it is to cover races without actually being at them. Ooops!
On Sunday I watched the race on TV with my dad. While watching, Stewart comes up on Villopoto in the whoops and takes them both down. I immediately said, "Man Stewart just took him out!"
My dad didn't agree, so we hit the replay button over and over. And over. After more looks, it became pretty obvious that this was a racing incident and no one could really be blamed. Chad Reed cut off 90 percent of a corner in Atlanta to try to, um, make something happen on the last lap. That was pretty much a suicide mission. This time, Stewart just stuck it up the inside—but not nearly as far as Reed. It wasn't a suicide move, and I don't think he was trying to knock RV down, he was just trying to pass him. I don't think RV saw James on the inside, so he went to cut down and they collided--BOOM!--Madden style. I at first thought James lowered his shoulder to hit Ryan harder, but it looks like he did it to simply brace himself for the hit at the last second.
And I won't comment any further because I wasn't there so that would be lame.
Anyway, best series in ages. You know this. You saw the race on TV like I did. What else can I even tell you?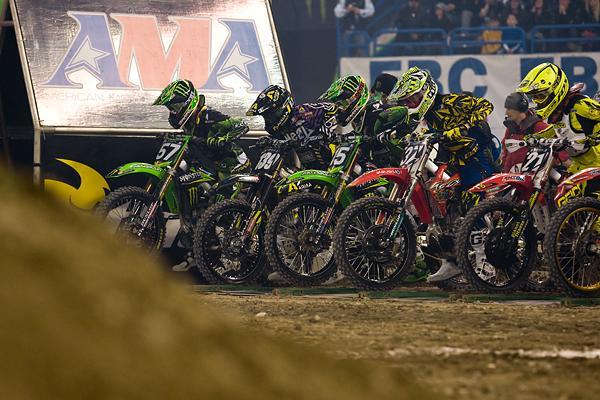 The Lites East class is being overshadowed, but is still very deep.
Photo: Matt Pavelek
Oh yeah, same story in the Lites class. One weekend in Atlanta, Dean Wilson is passing Ryan Sipes, Justin Barcia and Blake Baggett on his way to a win. So he's the fastest Lites rider. Then Baggett dominates Daytona, so he's the fastest Lites rider. Then Sipes wins. He's the fastest. Then Barcia pulls away from them all. He's the fastest. Then Wilson runs Barcia down and gets him this week!
What we're seeing here is real racing. The competition is so close that one guy may just feel a little better one week, or maybe he has one section dialed in (Wilson had the whoops this time) and that's enough to tip the scales that direction. If it stays like this, we're going to have upset winners and new storylines every week. Anyone else really excited about this?
See you right here next week. Or email me this week: jasonw@racerxonline.com