R2R Ian Trettel Update and Support Bracelets
Road 2 Recovery Update on Ian Trettel and Support Bracelets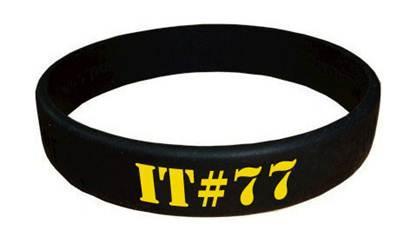 Support Ian!!
Scottsdale, AZ –On Saturday, March 5th 2011, Rockstar Energy Suzuki rider Ian Trettel sustained a head injury during practice at the AMA Supercross event in Daytona Beach, Florida and has since started the long road to recovery.
From Joe Trettel on behalf of the Trettel Family:
"On behalf of our entire family, I want to first say how grateful we all are to have been shown such love and support from all of Ian's and our family's friends and especially from those in the motocross community. We are thrilled and very excited to say that Ian continues to make remarkable progress each and every day and we can now look forward to the next state of Ian's recovery, which will be rehab."
IT#77 bracelets are now available for sale Vurbmoto.com thanks to Rockstar Energy Suzuki and the Hewitt family. Each bracelet is $5.00 with 100% of all proceeds going to Ian and his rehabilition. Bracelets will also be available at the Road 2 Recovery tent for the remaining of the Supercross races.
The Road 2 Recovery Foundation has setup a donation site for Ian to aid in his recovery. 100% of all donations will be given to Ian for his rehabilitation. Please visit the Road 2 Recovery website or https://r2r.webconnex.com/gen?comments=for:+Ian+Trettel to make a donation.
Ebay auctions will be available on Monday morning with signatures items from athletes inside the motocross industry and from athletes such as Team USA soccer player Landon Donovan, skateboarders Ryan Sheckler, Paul Rodriguez, Terry Kennedy, PJ Ladd, and surfer Julian Wilson in support of Ian!
About Road 2 Recovery:
The Road 2 Recovery Foundation is a 501 (c) 3 non-profit organization that was founded by Bob Moore, Bob Walker, and Jimmy Button in the fall of 2000, and is dedicated to helping AMA licensed professional motocross/supercross riders with financial assistance if they sustain career-ending injuries as well as providing motivational, emotional, and spiritual support to these individuals and their families. To make a donation click here.  For more information on Road 2 Recovery and upcoming events visit www.road2recovery.com or contact Anita Button at (480) 276-1131.