Toronto, ON
Toronto
Monster Energy AMA Supercross Championship
DNA Energy Shred Stix Yamaha's Ryan Sipes definitely has the speed to have more than one win this season. The kid from Kentucky has been the fastest qualifier in all but one race this year. He's got a win (Indianapolis) and two other podiums but anyone who has been to all the races knows that he should have a few more wins.
And Toronto might have been one of them if it wasn't for a collision with GEICO Honda's Blake Wharton early in the main shortly after Sipes passed both Wharton and Justin Barcia for the lead. Sipes was sent sprawling on the concrete floor and was forced to come from way back to eventually get fifth. With apologies to winner Dean Wilson, Sipes' ride was the story of the night in the 250 class and I caught up to him on Sunday as we were both stuck in airports waiting for connecting flights home.
Racer X: Ryan, great ride on Saturday but probably not what you were looking for right?
Ryan Sipes: Oh for sure not, I was hoping to win and I think I should have. I think we were the fastest guy and everything was going good until that one corner. That changed the whole race, it is what it is and we'll take the fifth.
What was it about the weekend that helped you be so fast in practice, was it just being in Canada, which is my theory?
It was just my love for Canada! No, it was just me working hard this week and doing some of the same stuff we did before Indy. Worked on sprint speed, being aggressive and I feel like my mind was ready to get the win. I started great and got into the lead. That's all I wanted to do was put myself in a good position and I did that but I also put myself in a bad position in that one turn.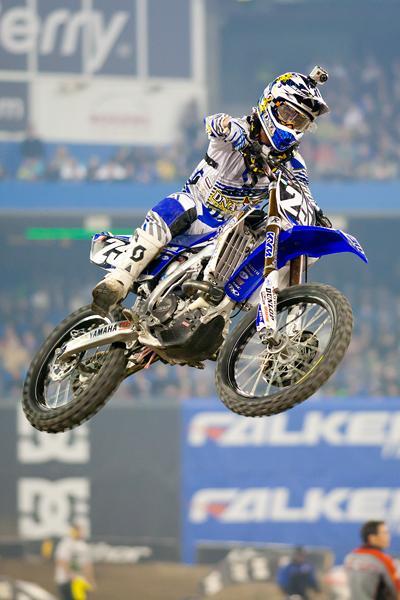 Sipes finished fifth in Toronto.
Photo: Andrew Fredrickson
Let's talk about that pass from Wharton. I'm guessing you didn't think that it was called for?
I guess he thought it was called for! On the podium he said he was getting me back for Houston but in my opinion, there wasn't anything similar about it. It is what it is, I so-called took him out and he cleaned me out so whatever…
Do we have a WWE feud now officially started?
No, I can't be worried about him or anything about it. All I can do is hurt myself by worrying about other riders and what they're doing. I just have to worry about myself and going out and winning races.
So was it anger that got you through the pack so well?
I immediately reset and pretty much just decided I wasn't going to waste this race and pull off or anything like that. I just thought I could use it for practice and really try to make the best out of it. I put my head down like I was leading and I felt like I was going through guys pretty well, I was holding my lines and jumping all the big stuff still. Other than the fifth, I thought it was my best ride of the year.
It wasn't bad, I was trying to pick my spots to get guys and I don't remember too much about it. I was in the zone but I do remember getting around Baggett and wondering why he was in tenth or whatever he was.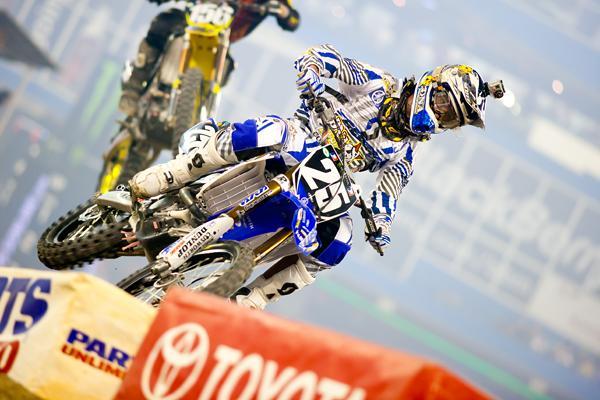 Will Sipes win again this season?
Photo: Andrew Fredrickson
So earlier this year on the Pulpmx Show, myself and Kenny Watson were saying that we thought you signed too early and you should've got a 450 ride but I'm guessing that we were probably wrong.
(Laughs) Yeah, I don't know ,I feel like I could have won this series this year but I can still win some races and I thought I could have won Saturday night. I guess we'll just go to Dallas this weekend and try to pull it off.
I'd like to move up and start that phase of my career but I thought I wanted one more shot at this title and winning some races. When I do move up, I want to get a good bike and make sure I'm not floundering around in tenth place, I want to be up there.
I'm probably guilty of this as well but lots of fans and media have been hyping up some of the younger guys in the class and maybe have forgot about you, do you feel like you've been overlooked this year?
I don't know, I've had the fastest practice time at every race but Daytona, but I think I know people know I'm fast. Maybe I'm overlooked a bit but whatever. I always look at the 450 times to see where I would stand in that class and that's cool to see I'm up there.