Rogers Centre
Toronto

,

Canada
Toronto
Monster Energy AMA Supercross Championship
When
Ryan Villopoto
, the Monster Energy Supercross series' leader, didn't make the main event in Jacksonville, trivia buffs started studying hard. We've seen lots of crazy things happen in this sport, but a points leader simply not qualifying is a rare bird, and in fact, no one could come up with a time or place where it had happened quite like this before.
In Villopoto's defense, he and the rest of the field today have a much harder time making it to the main event than riders did in the old days. Up until 2006, the SX format included three races—and three chances—to get in: heat races, semi finals and the last chance qualifier.
But the semi races were eliminated for 2007. But the top riders still had a safety net. Riders ranked top ten in points could take a "provisional" and select the twenty-first starting gate up to two times in a season. Chad Reed was leading the points in 2008 when he went over the bars hard in practice in Detroit. He simply cruised up to the first turn in his heat race, turned around and headed back to the pits, using his provisional to take a gate in the main event. He scored a few points that night and ultimately won the title.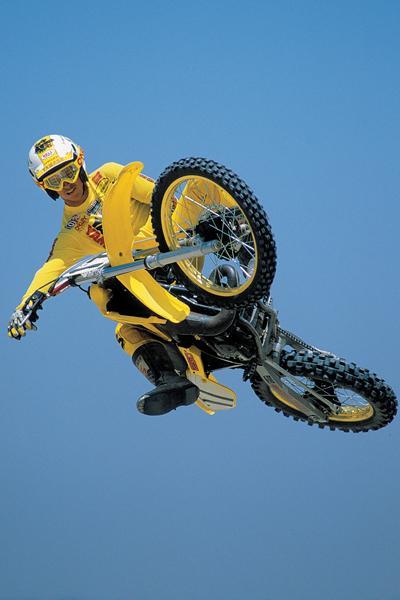 RJ had a unforgettable night in Pontiac, Michigan nearly 25 years ago.
Photo: Racer X Archives
The provisional rule went away for 2009. Since then, riders have been living without a net for the first time in supercross history—crash early in two qualifiers and you're not making the main.
We dug through the record books to find out the last time a series points leader lined up in a heat race and didn't make the main. It took place nearly twenty five years ago, when Ricky Johnson crashed in Pontiac, Michigan. Here's a snippet from Cycle News' coverage of the race:
"Team Honda's Ricky Johnson crashed in his heat race and severely injured three fingers on this right hand. Unable to finish the heat race, Johnson tried to qualify in the semis but the pain was too great for the defending SX champion. After the semis, Johnson packed his bags and headed to the hospital to have his hand X-Rayed; the pictures revealed two broken fingers. Instead of racing Sunday, Johnson caught a flight back to his El Cajon, California, home. Needless to say, Johnson scored no points in Michigan, which most likely will ruin the Honda rider's chances for the 1987 championship title. But, as Ward put it after Pontiac, "Anything can happen."
Points after:
Jeff Ward - 194
Rick Johnson – 154
RJ's weekend was especially bad because Pontiac held a double-header round back then, with a race on Saturday and Sunday. He lost 50 points that weekend by crashing in his heat.
Still, Villopoto's night in Jacksonville is the only time we can remember a points leader not making the main without having a major injury—RJ couldn't even line up for the LCQ back in 1987. The good news for Villopoto is that he's healthy and managed to hang on to a slim points lead heading into this weekend's race in Toronto.