Rogers Centre
Toronto

,

Canada
Toronto
Monster Energy AMA Supercross Championship
Lots of questions this year about who should really be called the fastest man on the planet. But this weekend, the planet got the stars. Or maybe the universe got them. Either way, Monster Energy Supercross just entered a whole new world.
By the end of the night in Jacksonville, only cosmic forces could explain the series of events. Everyone was pinning this one on the so-called Super Moon up in the sky on Saturday night. The top two riders in points had scored a combined three points, which, as far as I can tell, is the worst one-night tally ever. At the 2006 St. Louis supercross, Ricky Carmichael crashed out in the first turn, and James Stewart crashed later and DNFed when he could not restart his bike. But even then, their 20th and 17th place finishes resulted in five total points.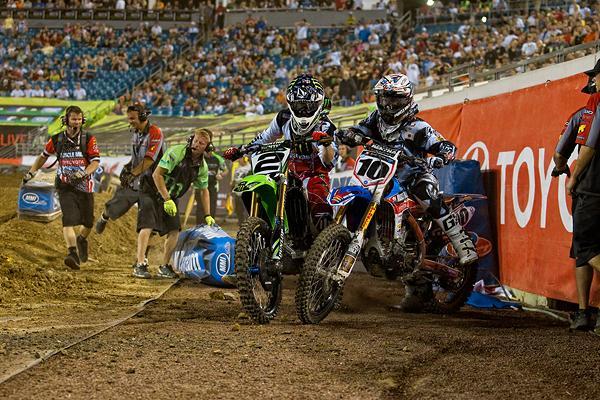 RV's lead is now down to seven.
Photo: Garth Milan
David Vuillemin was leading the SX Series in 2002 when he hurt himself in a TWMX photo shoot before Daytona. He was the points leader, but he couldn't race. In 1987, Ricky Johnson was leading the series when he crashed and broke his fingers in Pontiac, and didn't race the main. Jeff Ward's throttle cable broke at the Anaheim opener in 1986, and back then, if you finished too far back in a heat race, you didn't even transfer to the semi or LCQ. Ward was the defending champion, and didn't make the main. These scenarios are crazy and dramatic and were probably big deals at the time. But even then, we're talking about one rider having trouble. But two?
The Super Moon is being blamed for all kinds of disasters. Tsunamis and earthquakes, and the resultant threat of a nuclear meltdown. Floods and riding tides. My hair. Indeed, the world around us is very hard to figure right now.
Not only are the tides messed up, but so are two old standbys in this sport. The "fastest man on the planet" scale is all jacked up, and so is "this title should come with an asterisk" scale. If you're one of those people talking about riders getting gifts, the nametags have fallen off and we have no clue who is getting what anymore. Did Ryan Villopoto just hand back all of those supposed gifts he got earlier? Or did he get another one—and in racing at this level, should we even be considering anything a gift, anyway?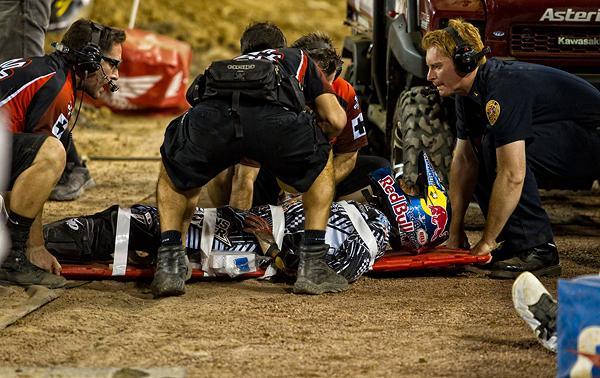 Stewart is expected to ride in Toronto after a gnarly get-off at Jacksonville.
Photo: Garth Milan
Is Reed lucky or good this year? And for that matter, was Dungey lucky or good last year? And did Dunge just get the points back that he lost with a derailed chain at Anaheim, or is it fair to say he could be just three points back?
I don't know how to answer these questions. For example, Villopoto not making the main was a bad deal, but in the end, he came out fairly well because Stewart barely gained ground on him, is probably going to be hurting this weekend, and has one less race to gain ground. Stewart obviously left the track in pain, but he did actually gain points on RV. So he gained something, too. When has a rider ever been able to A) crash out of a race or B) not even qualify and feel like he actually gained something?
That's just the way things went in J-Ville. The only thing we know for sure is that Trey Canard and Justin Barcia are bad ass riders. Everything else? Blame it on the cosmos.
It seems like this year, the key to winning isn't just going fast or being in shape. You have to avoid the drama. In Jax, Canard and Barcia were involved in the least drama during the night and they won. I'm sensing a pattern this year. Villopoto, for example, didn't get the attention in Atlanta or Daytona, even though he won, nor did Canard in Houston. Crashes by Reed, Stewart and Windham took the headlines, but in this season, it's better to shed the spotlight and just win the darned races.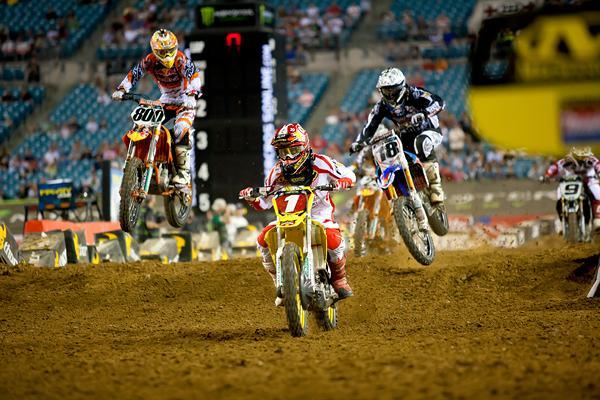 The defending champion still has a lot of ground to make up.
Photo: Andrew Fredrickson
These were long-shot wins. Canard was so unhappy after his first free practice that he asked if we could hold our Racer X Films interview request off to later in the day, when he would be in a better mood. Barcia was on the ground after his practice, and some team managers were wondering if he was going to even be able to race. Seemed like this was a night for Ryan Dungey and Ryan Sipes to win—I really thought everything was lining up for them after Villopoto and Blake Baggett didn't make the mains, and Stewart went down, and both Ryans got up to third early. But they didn't have the stuff to challenge the leaders on this night.
Only Reed was able to make a run, and should we really be surprised? On that crazy night in St. Louis five years ago, when both Carmichael and Stewart crashed out, guess who picked up the pieces and make up huge points? Chad Reed, of course. This is what the guy does.
In fact, Reed has been in this position so many times that after this race, he wasn't even surprised. He told me he expected this type of thing to happen all along, and even when he was down 29 points, he didn't consider the title out of reach.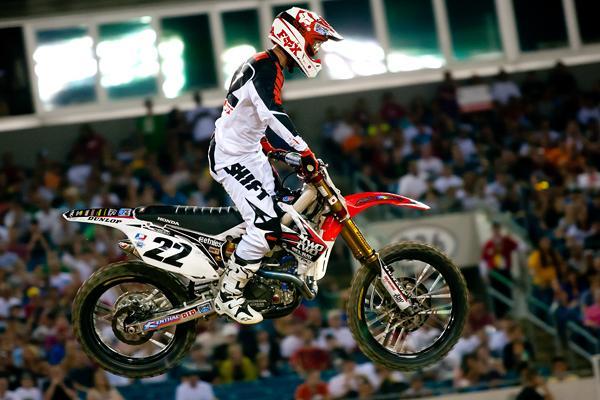 The veteran is closing ground on RV.
Photo: Andrew Fredrickson
Canard was within his reach as well, and he went after the kid late in the race. Reed closed the gap, and the pass and victory looked inevitable. Until Canard responded! A few people think this took Reed by surprise. He pulled a tear off over the triple as if he was saying "bye bye, kid" to Trey, but instead, Canard scrubbed the jump hard and made absolutely sure Reed couldn't squeeze him off in the next turn. Then he pushed through the final lap and Reed couldn't respond. It's an impressive way to win, and remember, he did it the same way in Houston.
Also, can we start coining the term Trey Scrubs?
Reed will take second on a night like this, but three more points could have come in handy. He's definitely feeling it now, and it's amazing think that back in Oakland we were just happy to see him even make the podium. Now he's in contention for the freaking championship! And by the way, every time someone crashes their way out of a huge pile of points, and Reed doesn't, it starts making you think there's a whole lot more to this stuff than just luck.
What about The Dunge? I just can't figure it out. It was there for the taking, but he didn't take it. Before the season, a lot of potential scenarios were trotted out, but I don't think anyone believed there would be a race where Dungey got up to third and just couldn't keep the pace of Chad Reed and Trey Canard. Not picking on Canard, but one of them is a rookie, and he has two wins. Dungey had a shot at him in Houston and could have done it here. Where was the anger from last week?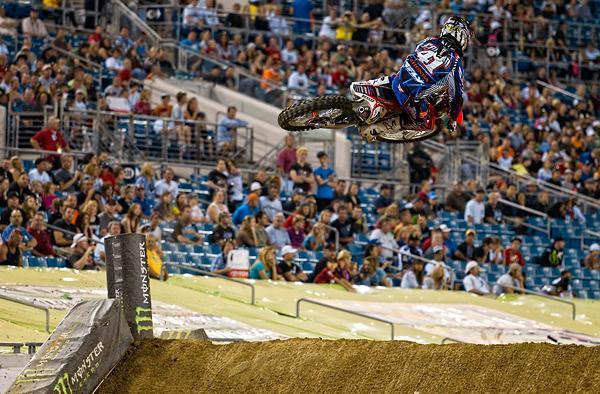 The "Trey Scrub."
Photo: Garth Milan
The last supercross season that was this wild and wooly took place way back in 1990. There, a ton of guys had their moments of glory: Matiasevich, Bradshaw, Bayle, RJ, O'Mara, Cooper, Larry Ward and Jeff Ward. But when someone had to step up down the stretch, the 21-year-old kid from the Midwest, wearing the number one plate, took control. The year before, a lot of people were saying the kid didn't prove himself as a true champion because the top stars were injured. But the next year, he met them head on, stayed in the hunt, and won two races late to repeat as champion and prove he could do it against one of the most talent-laden fields the series had ever scene. Was Jacksonville Dungey's opportunity to do like Jeff Stanton and become legend? Maybe.
Nice rides for Kevin Windham and Andrew Short for fourth and fifth. K-Dub actually admitted before the race that the hard hits he took in Houston and San Diego did have an effect on him mentally, and he had lost that willingness to go hang it out. Looks like it's on the way back now, however, the lead pack still had a gap on him, and you know K-Dub wants to at least be back up on that podium. I could see him doing it by the end of the year.
Mike Alessi is back! Lightening Mike nailed the start in his heat race and the main event. Holeshots are wired into Mike's DNA, and now that he's getting them again, all is well with the world. Wait. No. We had that Super Moon thing. Are we at the point where Mikeee Boy only gets starts on the craziest night ever? Jeez.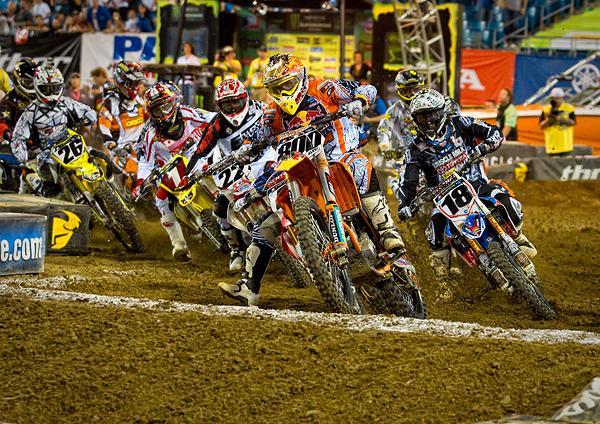 Alessi grabbed not one but two holeshots in Jacksonville.
Photo: Garth Milan
In Lites, Justin Barcia is a bad dude. He keeps it simple like Villopoto does. Doesn't over think it, doesn't get into head games, doesn't do anything but just rip on his dirt bike and figure that will be good enough to get it done. His wrist is hurt, but he doesn't hide it to get some mental advantage. He rides dirty at times, admits it and moves on. We were all going on about Ryan Sipes' confidence after a win last week. Barcia didn't care. He just hung it out for 15 laps and won—and man, not since a young RC have I seen a guy almost crash so many times but never actually crash. Wild as he is, Barcia doesn't really have a big history of crashes or injuries. So I think he's well in control of this title now.
Dean Wilson was much improved this week for second, but I think the last two weeks took just a little bit out of him. He just wanted to get out of there with a decent finish instead of taking huge chances and banging bars with Bam Bam again. And Sipes? Fastest in practice, but just couldn't use that speed when it counted.
By the way, would the whole race have been different if Sipes and Dungey had grabbed holeshots? Could be. But loser journalists/pundits like me get paid to come up with deeper theories than that, so I'll just keep going on about Barcia's mental toughness and stuff like that.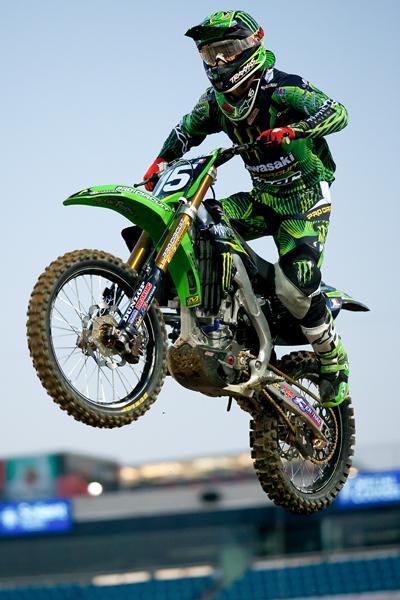 Wilson is still in the hunt after a runner-up finish in Jacksonville.
Photo: Andrew Fredrickson
Jason Anderson got totally screwed in Jacksonville. Gannon Audette tried a nutso pass on his for second place in the first lap of their heat race, and they both went down. This sent Anderson to the LCQ, where he got caught up with Baggett's first turn crash. Somewhere deep inside, this Anderson kid has crazy speed. Tomac speed. I've seen it. I swear.
The good news for Rockstar Suzuki is that Ian Trettel reportedly showed some signs of response over the weekend in the hospital. He's still in an induced coma for precautionary reasons, but maybe he'll pull out of this okay. I sure hope so and I know you hope so, too.
Once again Hunter Hewitt showed good speed in Lites, but the real surprise was Darryn Durham. He'd been back on a bike for two days since breaking his foot battling Wilson in Houston. His finished sixth. I've noticed that Darryn has that certain something every team wants: speed. Very complicated, I know. Why he is just toiling as a privateer is beyond me.
Awesome night for Dodge Motorsports Hart and Huntington (both Tedesco and Blose in top ten) and horrible night for Muscle Milk Toyota JGR (Brayton didn't qualify and Millsaps crashed out). H&H had a bad one in Indy just last weekend. That's just how it goes sometimes in this game. Unless you're Chad Reed and bad luck always escapes you.
To prove this weekend was bizarre in all circumstances, I didn't even once get lost driving somewhere! But there's a reason—I didn't drive. My personal chauffer, Steve Matthes, took care of the driving, but I did get lost at the airport and stood in the departing flights section when he showed up. I suppose that keeps the streak alive.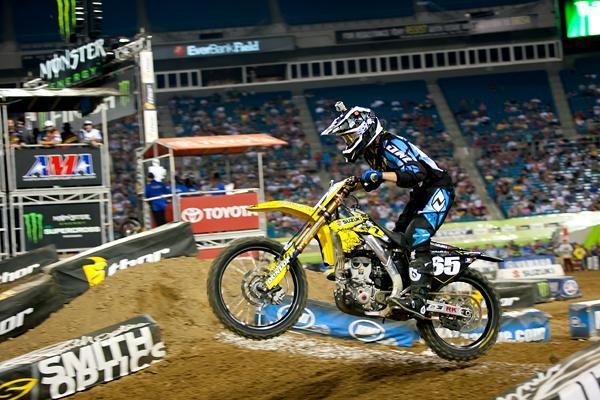 Hewitt has been solid all season.
Photo: Andrew Fredrickson
Finally, a word on Jacksonville attendance. Seems strange that Atlanta can draw a massive crowd but these Florida races never work out, but I believe Atlanta's crowd is misleading. I used to drive 11 hours to go to the Atlanta race from New Jersey. I would sleep in my truck. Everyone I know in this sport from Pennsylvania, West Virginia, Maryland and Ohio drives to the Atlanta race. If you're from the northeast, you don't have a choice—you truck it to Atlanta and Indy. Jacksonville is just that much farther, and by then, you've already gone to two races. The state of Georgia does not put 70,000 people in the GA Dome seats. That crowd comes from all over.
They should go to Toronto, though. Closer, cooler (and hopefully not colder) than you think. Let's just hope that crazy moon doesn't show up again.
Email me: jasonw@racerxonline.com