Jacksonville, FL
Jacksonville
Monster Energy AMA Supercross Championship
Ryan Dungey: Rockstar Makita Suzuki—Third in SX Class
Race was good. I felt really good. Overall I think the day was not too bad. Felt really comfortable on the bike, the team found a great setting. It got the heat race win which was good for gate pick. Didn't get the best of start in the main, kind of got shuffled back a bit, maybe fourth or fifth. Those guys put some time on me, I tried to make it up as quick and as fast as I can, but I came up shy on that. I made a big mistake, that didn't help. You would hit the knuckle, and then all of a sudden you would hit this gooey dirt, and it would catch you. It almost happened to me a couple of times, and that time it got me. Luckily I didn't go down and we were able to finish strong. Just need to put our head down, dig deep and start winning some of these races.
If you actually got a holeshot in one of these races…
Then you gotta' go!
Would you do a fist pump over the first triple? How happy would you be?
Yeah, in my mind I would. We need to get a start, and don't settle after that.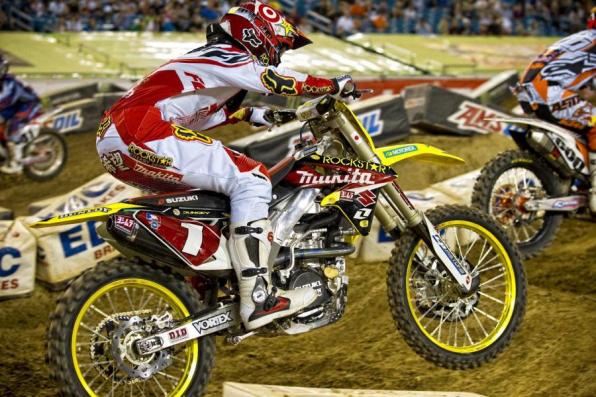 Same story, new week: Dungey is still in search of a holeshot and a win.
Garth Milan Photo
Mike Alessi: Red Bull KTM—Seventh in SX Class
The magic is back! Two holeshots!
Well, I don't know if the magic is back, but it sure was nice to get holeshots. I've been struggling, all season. It's tough, everyone is fast this year, and no one is a slouch, so for me to be able to run with these guys, be up front a little bit and get a seventh, my best finish of the year, I'm really happy.
Anything change in your program for you to get those starts?
We haven't changed anything on the bike at all, no engine changes or anything like that. I've been riding a 450 all week. I think the 450, that technique, I got my throttle position down. I'm just happy to do this, get good starts, run with the top guys, get my best finish. Happy for the team, my mechanic Kelly Lumigar, Roger DeCoster, everyone.
Is this your longest holeshot drought ever?
By far. By far. It's almost a year—Hangtown was my last one, and that was May. I wasn't happy. So getting one here was good, especially in front of my home town fans. I live 25 miles from here.
Now that it has been awhile since you grabbed a holeshot, was it strange running up front again? Did you tighten up?
In the heat race I got extremely bad arm pump. When you're not out front for awhile, it's so different, because you get used to banging bars with guys, getting stuffed. Up front, everything is clean and clear, you can pick your own lines. In the heat I got the holeshot and tightened up. In the main I got the holeshot, tightened up again, went backwards, then loosed up and put in a good charge to finish it out. So I need a few more of these to get used to being up front again. Then I'll be ready for outdoors—first the GP at Glen Helen, then Hangtown.
You're riding a 450 now?
Just practicing on one, bone stock, just riding the piss out of it. I love the 450, but we won't start testing until after Dallas. I don't know if I'm going to race the 350 or the 450 outdoors, it's my choice, I get to pick whichever one I'm faster on and whichever one gives me the best chance to win. Pick A or B.
Mitch Payton: Monster Energy Pro Circuit Kawasaki: Dean Wilson (second in Lites) and Blake Baggett (DNQ Lites)
It was a good and bad night for us. Dean (Wilson) rode great and got good starts. Blake  (Baggett) had bad starts. He didn't make the main event and that was bad. I think he struggled with the track, wasn't that good in the whoops and he blew it. In the turn before the whoops, Barcia came in and he hit him and I don't think we should have done that right there, there was no points given out in the heat races and we should have just taken the transfer spot into the main and gone from there.
Wilson was much better, what did you change if anything for this week?
Dean was a lot better today, he was impressive right from the start and he rode the track really good. We worked on starts with him this week, I went to the Kawi track and we got together and figured it out.
What about the track?
I thought the track was alright. I don't think a lot of riders liked the whoops but I did. They were really long and it took work to go through them fast. I know they are hard but we should have more of them because it's better than trying to jump past a guy. That causes problems for riders and the whoops are a low speed alternative.
Kevin Windham: GEICO Powersports Honda—Fourth in SX Class
I would like to thank everyone for not making it into the main, or for crashing. (Laughs). Nah, it was one of those rides to build on. I've had some tough falls this year and at my age, at any age, it makes you think about what was going on out there. I moved through the pack, I hooked bars with (James) Stewart and (Ryan) Dungey going into the first turn. I'm happy with the night, it's something to build on. The whoops kept us on our toes all night, that's for sure.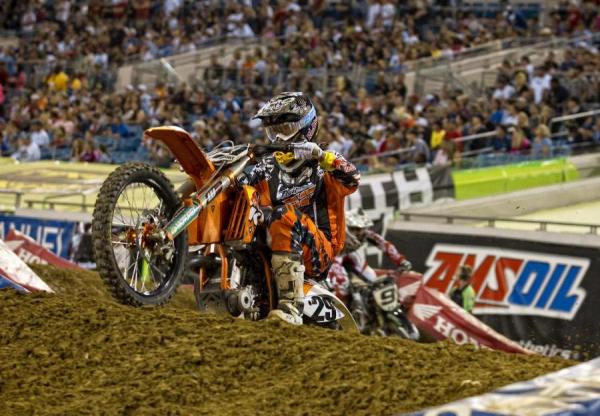 Andrew Short is sticking with his 350.
Garth Milan photo
Andrew Short: Red Bul KTM—Fifth Place, SX Class
We were struggling at the beginning of the day. I didn't ride supercross this week and was struggling with the jumps. My starts got better for sure, it was a good night of racing for me. Taking the week off from supercross was a little weird for sure, my timing was off today. Everything was good, we learned some things I think and I'm looking forward to getting some momentum. It was a crazy night of racing for sure.