Jacksonville, FL
Jacksonville
Monster Energy AMA Supercross Championship
On a wild night in Jacksonville, Trey Canard avoided such wildness and claimed his second Monster Energy Supercross win of the year. The American Honda Racing rider has been bummed over his last few races—where he had speed but crashed out of contention early—but was, obviously, much happier this time.
Racer X Online: Okay for some reason, you seem much happier after this race than after the last one. Anything go differently?
Trey Canard: Well, I just had a good breakfast this morning.
(Laughs) That makes all the difference!
Yeah and the truck was nice and clean to work out of. No man, it's hard when you put a lot of effort in. Me, I'm just a very serious guy when it comes to my racing. I get pretty mad when I don't achieve what I set out to achieve. It's something I need to work on—I should be thankful for the things I have, because I'm a very blessed person and I can't be that hard on myself. But at the same time, that's what drives me, so I can't take away too much of that. Today ended up being a good day. It didn't start out so well but it ended up good.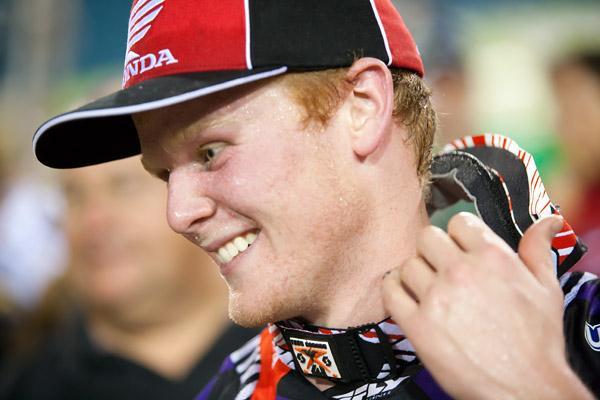 Canard captured his second win of the season in Jacksonville.
Photo: Andrew Fredrickson
Yeah did you make bike changes? Did you have to figure out different lines?
We made a change, then we went back and made another change. It really helped. But mostly, I got a good start. It makes things so much better. I'd love to rip a few more of those. It's weird, I didn't practice starts this week.
Well, I recall before Houston, I think you said you didn't practice starts that week, either, because you were frustrated. Is this going to become your thing?
I don't know man. I was just happy to pull it out. Whatever it was, I'm happy.
Take us through the race. Reed would close in, then you got back past him and held on.
I think the whoops were my weak point. I was really strong on the rest of the track. The start was great, the first few laps I tried to settle in and be conservative. The last few weeks, the early laps have been the problem, I've crashed on lap three, two times on lap one, and once on lap two. So that was a big enemy of mine. I got through those laps and started feeling good, but I got into some lappers, and that really hurt me, especially in the whoops. Then Chad came up on me, and it got kind of got into my head a little bit. It was kind of good that he passed me, it was just like Houston, where once I got passed, it kind of flipped the switch back on for me again, so I was able to push through the last two laps.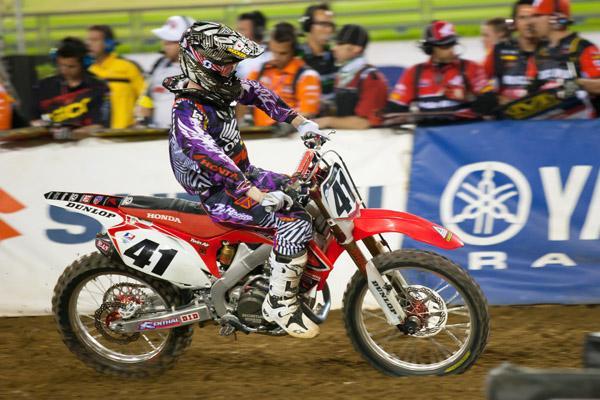 Can Canard challenge for a championship?
Photo: Andrew Fredrickson
You said the whoops were a weakness, but in the heat race you had this awesome line dialed in where you ran down the left side. You were really fast there. Was that line just gone by the main event?
The whoops, they were just gnarly. You couldn't really jump through them, they were chewed up and beat up. You just needed to put it in there and go for it. But that's hard to do when you're in the lead—it's hard to do anywhere, really!
Do you even think about points with how crazy this year has been?
No, because once you start thinking about points….I don't know. There's a lot of racing left, but I'm still down twenty some points on some really good guys. I won't be disappointed if we don't win. Of course I want to win, who doesn't want to win a championship? But this is a learning year for me. Hopefully I can learn from my experience this year and keep building.